On top of the eco-friendly, economic advantages outdoor solar lights add significant convenience and automation. Being a self-controlled and self-sufficient device it rarely needs an operator. These come in different shapes and sizes, each catering to a particular need.
Net lumen given by light is among the fundamental features like watt, size of solar panel, various kinds of sensors that require attention. You'll find the best solar light that'll mitigate exclusively your needs only by attending to these aspects. And hence all these talk about individual aspects and reviews of the best ones in the market to date.
Best Outdoor Solar Lights in Town
Solar lights are among the few which can barely be differentiated based on quality from the outlooks. Keeping the various aspects that makes an outdoor solar light for buying, we've listed down and reviewed the best ones in the market currently.
1. LITOM Original Solar Lights Outdoor
Aspects of Interest
Having served 5,000,000 customers in all environmental conditions, LITOM has a trump card up its sleeve, experience. It'll be at its peak performance during the heatwave of the summer and even during the frostbites of the winter. Being rated IP65, there's no chance of dust or water getting inside.
This, the upgraded version of the LITOM's outdoor solar lights, comes with high power LEDs. They've dealt with the high energy consumption with an advanced energy management chips. The self-proclaimed most powerful led light in the world covers an area of 200 sqft for each LED. In total there'll be 24 of those.
The area of illumination has been increased by 50% due to the light directing in three directions. As was the angle of illumination, it was upgraded to 270O from 120O. That's three times the area of illumination. Another sleek thing that piqued my interest was the motion sensor. It'll sense movement within 10-11 meters and light itself up for 20 secs. It's taken up the space of best outdoor solar motion lights in the minds of many.
Provided with three different working modes unlike those with just one. Hence, it's been customized for garage, garden, outdoor, pathways, etc. It's proven to have a lifespan longer than 3 years, the IP65 rating is what's made this possible.
Pitfalls
There's been a few counts of complaints that the light stays on for a couple of minutes upon sensing motion. And at times under harsh environmental conditions, it lasts for 5-6 months.
2. URPOWER Solar Spotlight
Aspects of Interest
This is one of URPOWER's 3rd gen spotlight, a great and efficient one indeed. The easy installation procedure is what attracted so many consumers towards this. Just stab the stake in and then screw it. You can remove the stake to drill it onto the walls.
3rd gen doesn't just mean there's been a fancy change in design, there's been a significant improvement and boost in the luminosity of the bulb. There are 3 LEDs each with 50 lumens summing up to a 200 lumen. If that's too much for you, there are two modes one's dim and the other's bright.
As I've once said, the installation process is straightforward. There's a stake, which you'll just have to stab into the ground and screw the rest of the portion together. This is what makes it the best solar lights for the garden. But, if you wanna set it up on the wall, don't worry about the stake, just drill on the walls and screw it on to the walls.
And, yeah, there's absolutely no wires, just screw 'em on and use it. Has a 2200mAh battery that backs up the lights for 6 -9 hours. Even has a rating of IP64, pretty much acceptable waterproofness.
There's a lot of ways you could orient this to your liking and situation. You can rotate the entire system within 270O and as for the light head, it can be rotated for 90O. The two 90x150mm water-proof solar panels can be rotated to 180O.
Pitfalls
One of the major drawbacks of this product is that it doesn't have any motion sensor i.e. it won't light up by detecting any motion. Another one is the IP rating, it's just IP64 whereas in the case of others in this price range is IP65.
3. TomCare Solar Lights Upgraded
Aspects of Interest
Gives a vintage look and due to its torch-like look & the very soft red flame gives the looks and safety at a time. It's a fully automatic system since you'll never have to change the batteries and neither will you have to turn it on. 
A 0.88 watts solar panel with a 2200mAh battery. That's a pretty hefty battery for such a small led light. Requires a charging time of only 7 hours. And once it's fully charged it can keep the lights up for as long as 12 hours. The entire system has 17% efficiency, might seem really low for an electronic system but that's what it is with solar-powered systems.
This 43" torch-like solar panel is indeed a contestant for best outdoor solar lights for walkways. The installation process is a piece of cake. You'll just have to stick it to the ground, no wiring, no screwing, no nothing.
Even having a diameter of 4.8" this has little to no chance of water and dust leakage. Its IP65 rating proves that it'll not be a case even under heavy rain or dusty wind.
Pitfalls
The body's made out of ABS plastic, this gives that cheap look. It beats the decorative look that it might have if it was made out of stainless steel.
4. BEAU JARDIN Pathway Solar Lights
Aspects of Interest
BEAU JARDIN certainly kept their beauty with this hexagonal-lattice diamond-patterned lamp-shade. This creates an attractive pattern on the ground. The rest of the body is constructed out of silver-colored anti-rust stainless steel shits. It is the top of the shade that has the solar panel.
The 16.54" by 4.72" inground solar pathway has a straightforward installation process. You'll just have to stab the spik in the ground and set the tube on top. Being completely wireless, you wouldn't have to worry about electrical connection and installation. 1.2V 600mAh battery is what gives it back up for 8-12 hours, taking only about 6-8 hours.
Each of the light is of 6 lumens, it's quite perfect considering it's a pathway light. It stays fully functional in all weather and temperatures. It's so due to the IP65 rating of the lights.  
Pitfalls
It covers only a small circular area, a larger area would have been required. It's an age of Li-ion battery whereas this one's an NI-MH AA battery. Hence, there's skepticism about its durability.
5. Brightech Ambience Pro
Aspects of Interest
Brightech has done it again, with this pergola lights. Suits perfectly in a BBQ party or any backyard party for that matter. It comes in 27m and 42m strands, both have bulbs placed at 3 meters from each other.
Solar panels aren't attached to the bulbs like the others. One end of the long wire is attached to the panel which you can clip to the roof or stake to the ground. WIth Brightech's WeatherTite technology these have proven to withstand the cruelty of nature up to 50MPH of wind and 122OF.
This is a great piece of decorative item for a restaurateur. Especially since it doesn't require any power. The battery just requires 6 hours of sunlight if it's fully charged and that stores enough juice for 5-6 hours.
It's ambiance definitely enlists it amongst the best solar lights for outdoors. You can stay at peace after buying it due to the 3 years of warranty that Brightech is offering. Which is very unlike in this line of products.
Pitfalls
The IP rating is unspecified by the manufacturer, which brings a great deal of skepticism to the mind.
6. GoerTek Outdoor Solar Lights
Aspects of Interest
GoarTek manufactured one of the few Solar Lights with replaceable Li-ion battery. Having a built-in 2000mAh along with a large surface area relieves the system from a wired connection to electricity. There's even a built-in sensor for automatic on/off, so, it'll automatically turn off at dawn and on at sunset.
The adjustability on this thing is out of this world. You can rotate the 20 square inches solar panel 360O horizontally and 45O vertically. The double head multi-joint portion rotates 360O and can be adjusted in a range of 180O.
The light heads itself has 7 LEDs and the larger portion has a bunch more. PIR motion sensor that comes along with this is pretty great. It's able to sense motion as far as 26 ft. Apart from enhancing the security a bit, the sensor saves a lot of energy.
Just the others this too has an IP65 rating. So, it'll be pretty much water and dustproof and be fully functional irrespective of the weather condition. Those rainy, snowy or sunny days won't be doing any damage.
Pitfalls
Some folks don't seem to be all that happy about the brightness. The lumen of the LEDs isn't even specified by the manufacturer. So, it's hard to tell how bright it'll actually be.
7. Aootek 120 Led Solar outdoor motion sensor lights
Aspects of Interest
With 120 bright LEDs, Aootek in solar light provides sufficient light over an enlarged surface, about 120O. Having an astounding 20.5% conversion rate and a wide area of illumination, it sets a standard on lighting illumination.
It increases the user's convenience and reduces the toll on the battery by having a motion sensor and light intensity sensor. Motion sensor helps implement three different modes, keeping light in a suitable lumen for that scenario. And the photo-sensor i.e. the light intensity sensor turns on the light only when it's dark out.
Security mode, Permanent On and Smart Brightness Control are the three modes that this has to offer. Lemme explain it to you, at all times the light will only turn ON when there's not much light i.e. after sunset. During security mode, the light will turn ON only when it detects motion and remain ON for a while but it'll remain OFF for the rest of the time.
As for the Permanent Mode, it'll remain ON for all time given that there's not much light out. Then there's the Smart Brightness Control, the light will remain dim and it'll get bright when the sensor detects motion.
As usual, this too has a motion sensor reaching as far as 26 feet. It too has a superb IP65 rating, meaning it's more or less dust=proof and waterproof.
Pitfalls
The body's been made out of plastic, which gives a pretty crappy look. Other lights in this price range are made out of ABS plastic.
8. Moonrays' Hanging Floral Stained Glass Solar LED Light
Aspects of Interest
Apart from the vintage glamorous look of this 92276 solar LED lights by Moonrays', it provides a 360O illumination through its translucent magnificent stained glass cleverly hiding the LEDs. Along with its variable aestheticism due to different styles of design at different sides and the 10 days' return policy, this piece of art has boldly taken the place of a heartwarming gift for a friend.
The installation process is as easy as it could get, you'll just have to stake the shepherd's hook. As for the shepherd's hook its24" high, sufficiently high to illuminate the surrounding. The light can stay up and bright for 6-8 hours or so. That's due to the virtue of the 400mAh AA NiCad battery.
And yeah, the dimensions, the length, and breadth are the same 6.89" whilst the height is 8.86". Being of this dimension and 24" in height this solar light will bring a good look to your garden pathway. There are four solar panels on the four top sides to juice up the battery.
Pitfalls
I couldn't find the exact lumen that it'll give but it's very much perceptible that it won't be giving off much light. Um saying that because that a 400mAh can keep the light up for about 8 hours, so it wouldn't definitely give much light. LEDs of this sort are usually 1-2.5 lumens.
9. SURSUN Pathway Solar Powered Light
Aspects of Interest
This is among the few that are made out of stainless steel. Apart from contributing to the aesthetics, it contributes a lot to the durability by being resistive to corrosion and rust. Talking about aesthetics, the light itself is just about the perfect size, just about 14 inches high making it the perfect size for pathway lights.
These are armed with a 400mAh 3A NI MH battery. LED light on these remains up and bright for 8 to 10 hours straight with just 6 to 8 hours of charging. Like every other light here on the list, this too has one of those sensors that automatically turn on the light at dusk and turn off at the dawn.
Being 13.78 inches high and cold white in color it indeed gives an aesthetic look. Besides, it's got one of those brightness sensors, so it'll automatically turn ON at dusk and turn OFF at dawn. Obviously, you can keep it permanently turned off using the switch beneath the cap
Pitfalls
1.2 lumens, that's all that you'll be getting from each light. So, it'll only be serving as an ornament to your pathway or garden. Apart from the brightness, there's some issue with the waterproofness, it's rated IP44.
10. LITOM Solar Landscape Spotlights
Aspects of Interest
This multi-purpose solar LED light comes with 12 LEDs each and each having an astounding 600 Lumens. Having a lighting angle of 120O, it'll keep a humongous area illuminated. Speaking of angles, the large solar panel on this can be adjusted within 90O.
As I've said earlier, it serves multi-purpose. You can use it as a light for the patio by attaching it to the wall by drilling in a couple of screws. And then you can even use it as a pathway light by pushing the spike in the ground, piece of a cake.
It's IP grading is through the roof, it's IP67. LITOM bagged in a couple of patents by this product of theirs. They've been certified by FCC, CE, RoHS, MSDS and a couple of other organizations. High impact absorption capability of their ABS plastic and effort of their R&D dept. in boosting the waterproof grade is what turned into reality. You can sleep like a baby by leaving these out in the rain.
Oh yeah, one more thing, it's got a couple of different modes. You'll have to press the ON/OFF switch just once to put it on low brightness mode and twice for higher brightness mode. Keeping it on low brightness can keep the light ON for 12hrs straight whilst it's 6hrs for higher brightness. Well, that's one powerful Li-Ion battery.
Pitfalls
A light of this caliber should have had a PIR sensor to control the modes. That's a lot helpful than we think it to be.
The route to the Best Outdoor Solar Light
Despite the simplistic look, solar lights have some complexity to them. Not assuring some particular features might lead to more of an inconvenience. We've dedicated this section of the article for such incidences. So that you can bypass such occurrences.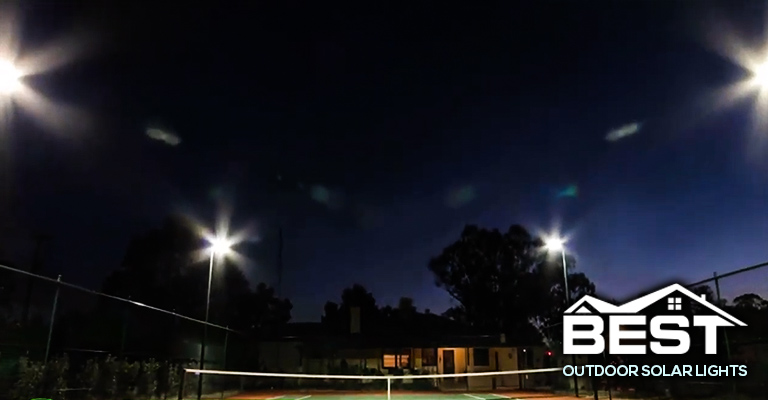 Battery
Rule of thumb in understanding how good a battery is "Higher the mAh, the more juice it can carry". But another factor that's less looked at is the charging time. The manufacturer always mentions how long it'll take to charge. It's better to have ones with 6hrs charging time but if it's anything more than 8hrs, then it'll be better to leave that light behind.
Lights those that give a lot of illumination, um talking about the ones that have about 10 or more LEDs giving off about 400-600 lumens. These sorts of lights are bound to have batteries of 2000mAh or more. Anything lesser than that will just bring trouble.
And then there are pathway and patio lights, these usually come with just a single LED giving off 1-1.5 lumens. Lights of these sorts will work fine with a battery of 400mAh. Apart from the mAh of the batteries, another factor of importance is its chemical composition. You'll usually find two kinds of them, NiCad and LiIon, LiIon's better.
Solar Panel
Solar lights manufacturers rarely specify the details of the solar panel that they're giving with the light. But a rule of thumb is "The bigger the better". You might just get lucky to see a brand specifying the wattage output of the solar panel once in a while, the higher the watt the faster your battery will charge up.
In case you see any brand disclosing the details if the panel that they're giving, you'll see that it's either Crystalline Silicon or Polycrystalline aka PV cells. PV cells have their unique applications but in this case, Crystalline Silicon's better because of their higher wattage.
Lumen
You've seen me mention the term lumen for quite some time till now. Lumens basically denotes the brightness of the light that you'll be getting from these lights. If you're looking for some real instead of some decorative purpose you should go with one above 600 lumens. Some manufacturers even calculate out the area illuminated by each LED, do take a look at them. Ones with 200sqft per LED are the bomb.
In case you want some dim light for pathways or patio, you can go with the ones that have 1-1.5 lumens. These are tiny and some are delicately designed for decorative and ornamental purposes. Having small solar panels and about 400mAh, these perfectly light up a finite area around it and serve its purpose.
IP Rating
Ingress Protection(IP) is an international standard. It denotes the extent to which the sealing enclosure is effective to protect the electrical devices within and intrusion of foreign bodies like dirt and water. In denoting the IP rating, right after IP, there are two digits which state the protective strength of the enclosure.
The first digit after represents the intrusion protection, it states the extent to which the enclosure can prevent the entry of foreign particles and dust. The digit extends from 1-6, 6 being the best. Solar lights usually require this to be 6, since they'll be out in the open all the time.
Now comes waterproofness, the second digit denotes moisture protection. This digit ranges from 1-8, being 5 will suffice in case solar lights, since the worse that they'll face is rain. Anything higher than 5 is required for those devices which will be submerged underwater.
Lifespan
All LEDs have a predetermined lifespan, it'll last only for that long. But as with many of the aspects, you'll rarely find it specified with the light. Well, some of them have it printed on the cover, those that have a long lifespan. So, keep this in mind while you're out buying solar led lights.
Installation Mechanism
The installation process in these cases is pretty straightforward. It's the same for any particular type of solar light. Like wall lights can be simply hung on the wall by a screw, just like wall clocks. Some even have holes for screws, if you're looking for some permanent fixture. For that, you'll have to drill in a couple of screws in the wall.
As for the pathway and patio lights, they always come with small spikes. You'll have to push it into the ground, that's all. But if you want to use it as patio light, you'll have to drill in screws through the holes to set it onto the wall.
Auto – ON/OFF
All solar lights come with photo resistive electrical devices for brightness sensor. These detect the intensity of natural light and turn the light on and off. So, it'll automatically turn the light on at dusk and off at dawn.
All solar light usually has this feature, if you ever find one without this, it'll be better to avoid it.
Motion Sensor
Unlike the previous feature that I've talked about, this one isn't found in all solar light, only the high-end ones have this. Originally these are Passive Infrared (PIR) Sensor, usually mentioned as motion sensors. Security is greatly enhanced by these and much of battery juice remains reserved due to these motion sensors.
Solar lights having motion sensors usually emit a dimmer but quite bright light but once it senses motion it starts to glow at full brightness. Once it starts to glow brightly it stays like that for a preset time which is usually in between 20 sec to 2 minutes.
But the difference between the light having these features is the distance up to which they can sense motion. Usually, you'll find these have 26ft proximity. Once below 20ft aren't much of a help.
Adjustability
Many of the solar lights have advanced mechanical design enabling rotation of the solar panel and the light itself. In some, both can be rotated while in some only one can be. The degree to which they can be rotated is always specified if they have these features.
Being able to rotate and change the direction and area of illumination has advantages for obvious reasons. But what's surprisingly less prioritized is the feature of a rotatable solar panel. Let me explain this to you. You'll notice that in many positions all over your property can't offer sunlight to the solar panel for quite some time. These can be solved at times by a simple rotation and displacement of the solar panel.
Warranty
There's very little to say about this. Like many of the laws of nature, having a warranty is better than the ones without. It's simple logic, manufactures offer warranty only when they themselves are confident about the product.
FAQs
Q: Can I change the battery of Outdoor Solar Lights?
Ans: In almost all the cases you can't. Well, if you're an optimistic guy and a DIYer, you can. But that'll require a lot of soldering and desoldering. Even if you manage to get it all done smoothly and perfectly you'll lose your warranty and it'll no longer be water-proof.
Q: Do larger sized solar lights mean better quality?
Ans: No, that's not the case with outdoor solar lights or any solar lights for that fact.
Q: Can I charge these lights if there's not much sunlight outside?
Ans: In almost all the cases you can't find this feature. The batteries have to be charged up by the solar panel.
Final Words
Solar lights aren't only a wireless, eco-friendly solution to outdoor lighting. It's also an automated solution due to the advent of technology. It's especially so due to the virtue of photosensor and PIR sensor.
Litom Original Solar Lights for outdoor is by far one of the most luminous solar lights out there. With 24 LEDs in total and each illuminating about 200sqft, it's something to be recognized. Another one that stands out is the Brightech Ambience Pro, it gives a vintage look like one of those sodium light from back in the days and a 100% hassle-free.
The best outdoor solar light is the one that meets your unique needs. And hence it's vital you check the specs and adjustability such that it does so. The quickest and most effective way to do so is by ensuring the aspects I've discussed are in your favor. Or you can even check the ones that I've reviewed.