Unless you want your house to look like a haunted one, you need to light up the surroundings. Whether you use landscape lighting in your residence as trail markers, security purposes, or just for decoration, they certainly look fancy and thrilling suchlike will-o-the-wisp in your yard.
When you choose to light your yard with LED, you need to carefully consider all possible ways and select the type of lighting that best suits your lighting project.
12V AC vs 12V DC Landscape Lighting
There are major differences in outcomes when you accomplish your landscape lighting with 12V AC and 12V DC individually. And in this section, we gathered the info to let you know which one is best for you.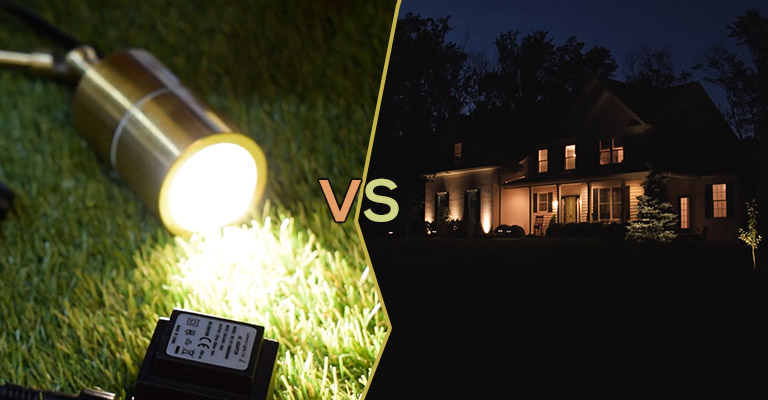 Light and Brightness
If you use 12V AC to power up LED lights, you will see a comparatively dimmer glow. It's due to the fact that AC is constantly changing direction. But if you use 12V DC, the brightness is greater and constant.
Lifespan
When it comes to the lifespan of the LED lights, the DC power supply is the best choice. LEDs are basically made for DC and thus the AC system significantly reduces the lifespan of LED light strips.
Efficiency 
For bigger lighting projects, the AC system is the best option. Because low voltage DC is more likely to have losses and voltage drops, and the longer the wires are, the more voltage drop will be there. But 12V DC is okay if you're lighting a small portion of your yard.
Safety
Safety comes first for all kinds of things. For the current system, almost all of us know that low voltage is safer. But what about AC or DC, which one is safer, and why? The answer is 12V DC. Because for the DC system, you will get injured only if you touch both receptacles at the same time.
On the other hand, in the AC system, even if you touch only the hot/live receptacle, you will get severely injured.
Do You Need a Special Transformer for LED Landscape Lights?
As most of the household has a high voltage AC supply, you need to transform it to 12V AC or 12V DC for landscape lighting. Both of the types of current system requires different types of transformers and the AC transformer is easy to create than a DC transformer.
There are again two different types of converter for 12V AC, one is a magnetic transformer and the other one is an electronic low voltage transformer.
How to Convert AC to DC for LED Lights
Converting AC to DC is nothing complicated. Just the proper type of transformer is required to do the conversion. You can buy a transformer or make the circuit yourself. To do that, you need to first know the voltage of your AC source.
You'll surely need an electronic component named diode. Select the level of voltage you want to feed your LEDs (12 volts, in this context). A 240v/12v transformer for that and connect your LED to the output terminals. To make it DC, all you need is to put a diode in between.
This is the basic level of AC to DC converter, technically known as a half-bridge rectifier. You may, put a capacitor being its two terminals connected to that of LED. This makes it a better DC. But note that this often increases the DC output voltage to some extent.
Also, consider the full-bridge and center tap AC/DC converters for better conversion. The market is now flourished with all grades of such converters.
How to Convert Low Voltage Landscape Lighting to LED
As LED needs low voltage to operate, you have to convert high voltage to low voltage. For that, you just need to add a step-down transformer and then enjoy the lighting!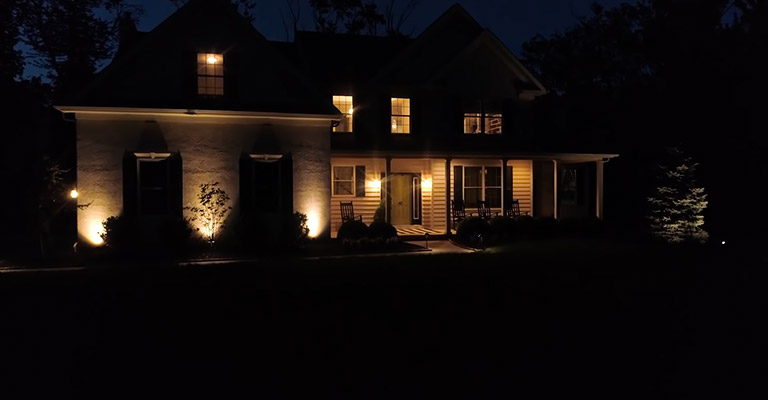 FAQs
Q: Will 12V AC LED run on DC?
Ans: LEDs are the light sources that emit light when current flows and there's no such thing as AC LED or DC LED. So, your 12V LED will work fine on DC.
Q: Will any of the power sources disrupt the architecture of my landscape?
Ans: Yes, in the AC power system, you will need an underground trench as a passageway. Constructing the trench may disrupt the original architecture and looks of your land.
Conclusion
If you are planning to use landscape lighting in a small portion of your yard, then the best choice is DC supply for sure. But if you are going for a bigger project, AC is a better option. In this case, we recommend you to consult a professional and estimate and compare the cost, pros, and cons of both of the power supply.