You know what ties together a beautiful outfit?
A gorgeous piece of statement jewelry that co-ordinates perfectly with that!
Just like a sparkling necklace adds a touch of glamor to your appearance, a floating pendant light also plays up the style of your home by turning dreams into reality.
Need to make a good first impression?
A hanging pendant in front of the entryway is enough to set a WOW-tone for the guests who enter through that into your house!
Want your washroom to look modern and stylish?
A shimmering mini pendant with nickel and glass finish would lend a twinkling effect to any tiled room, be it big or small!
And if you are the type of person who likes to make a grand entry, then the best pendant lights with gemstones or gold-dripped crystals would look absolutely gorgeous in a traditional setting!
Want to get your hands on some of these coolest hanging fixtures?
Let's light the way for you in this article!
Best Pendant Lights Reviews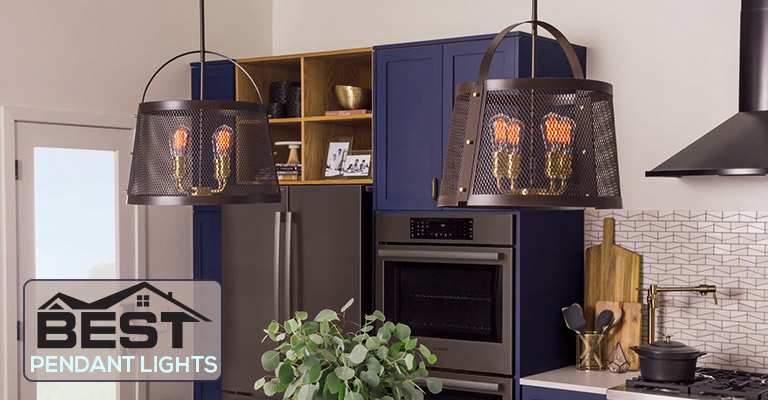 1. Westinghouse Lighting 6100700 One-Light Indoor Mini Pendant, Brushed Nickel Finish with Clear Seeded Glass
Livening up a small space is a tricky thing to do.
Especially if that place comes with a low ceiling as a bonus!
For starters, you can't add a dramatic chandelier to make a bold statement in this case. It will make the room look too cramped up and draw attention to the poor ceiling.
Instead, you need pendant lights for low ceilings that can speak elegance through simple design just like the Westinghouse Lighting 6100700 Mini Pendant does!
The one-light lamp features a hand-blown clear seeded glass shade that's perfect for dressing up your breakfast table. The brushed nickel finish on the exterior adds a retro vibe to your interior.
The lamp is around 60-inch in height and 7-inch in diameter. It comes with a cord that can be adjusted up to 50-inch so that the lamp doesn't hang too low to conk you on the forehead by mistake!
Want to go all vintage?
Instead of using regular bulbs, install the Westinghouse Timeless or filament LED light bulbs for enjoying the full-on antique vibes!
It also works pretty smoothly with a standard 60-watt medium base bulb. Before installing the product, make sure to check out the instruction manual and mounting accessories that are included in the package.
Highlighted Features
1. It can be installed in sloped ceilings.
2. The 50-inch cord allows you to adjust its height according to your style.
3. It requires a standard 60-watt medium base bulb to operate.
4. The clear seeded glass shade allows the light to pass freely into your room.
2. CLAXY Ecopower Industrial Edison Vintage Style 1-Light Pendant Glass Hanging Light
Who's looking for ways to add instant charm to their home without spending a huge fortune?
I know I am!
The CLAXY Ecopower Industrial Edison Vintage Pendant is a great portrayal of the higher-end lamp fixtures within a reasonable price tag!
With a simple dome-shaped structure, this lamp is perfect for flattering a modern area with its sophisticated presence. The glass shade on top allows the room to have an airy and fresh look that you always dream of having!
The CLAXY lamp fixture is probably one of the best pendant lights for white kitchen. The dome shade features an antique bronze finish that fits in with an all-white décor in perfect harmony.
Nothing starts the morning in a worse mood than banging your head on the hanging light fixture, does it?
Well, it's time for a change, dear! The CLAXY fixture comes with a 47.2-inch black cord that can be shortened to adjust your lighting need.
The fixture is built in a way to be compatible with even low sloped ceilings of any room. It's ETL-listed to use in a dry location and requires 1 E26-base bulb to operate. Be it Incandescent, LED, CFL or Smart bulb, this particular model works well with all of the bulb variations.
Highlighted Features
1. The fixture is dimmable when paired up with a dimmer switch.
2. It comes with an adjustable 47.2-inch black cord.
3. It's designed to be hardwired.
4. It requires an E26 bulb to operate.
5. The lamp works well with sloped and low ceilings.
3. KingSo Industrial Metal Pendant Light, Spherical Pendant Light, Rustic Chandelier Vintage Hanging Cage Globe Ceiling Light
A single statement piece is enough to enhance your room's architectural details if you know how to do it in the right way!
And what's the way to do that?
Well, if you choose a fixture that's quite unique in shape, then you get a functional light source that doubles up as a decorative piece as well!
Enter KingSo Industrial Metal Pedant Light that is all set for creating an artful look in your room with its armillary sphere-shaped cage, a matching down rod and similar canopy!
The sphere is built with 4 connected spinning rings that can be moved around the screw. The geometric aesthetic design is quite a conversation starter and therefore, is one of the best pendant lights for dining room among our collection.
Hanging pendants at the wrong height might cause you to feel overwhelmed or feel lost a bit. And we don't want that, do we?
To solve that issue KingSo allows you to choose the appropriate cord length for your room! You have the flexibility to select the hanging length up to 51-inch before installation.
Highlighted Features
1. The light has an adjustable geometric sphere design.
2. It allows you to select its cord length up to 51-inch.
3. The lamp is compatible with a dimmable bulb and switch.
4. It works well with any standard E26 bulb.
5. It brings a retro-industrial style to your interior.
4. Effimero Medium Hanging Pendant Light Brushed Nickel Kitchen Island Light, Clear Glass Shade
The kitchen is called the heart of a home for a reason.
It's the place where we spend the majority of our time (unless you are an all-time takeout person!), cook delicious meals and hang out with our friends.
So, when it comes to lighting this special place, you shouldn't cheap out!
Don't worry, we won't ask you to spend a fortune on it!
A reasonable budget is good enough to purchase this gorgeous Effimero Medium Hanging Pendant Lamp!
The specialty of this modern glass pendant is that it has a beautiful cylindrical shape that shines with its contemporary style. In fact, it's probably one of the best pendant lights for kitchen as it provides an illusion of a bigger space in case you have a small cooking area!
Having the right spacing in your room is a pretty important thing to consider, right?
Keeping that in mind, the Effimero manufacturer has included 5 hard stems in different lengths so that you can select your preferred height easily. The minimum and maximum hanging heights are 14.5 and 58.5 inches respectively.
As the lamp is compatible with dimmable features, you can transition the light from bright to dim quite easily if you want!
Highlighted Features
1. The lamp allows you to adjust its length from 14.5 to 58.5 inches.
2. It requires a standard E26-base 60-watt bulb to operate.
3. The lamp is compatible with dimmable function.
4. It works with Incandescent, Halogen, LED, CFL and Smart bulbs.
5. Primo Industrial Kitchen Pendant Lighting Chrome Hanging Light Fixture LL-P429-PC
We are going to give you back-to-back kitchen special fixtures!
The Primo Industrial Kitchen Pendant Lighting is the ultimate fixture to illuminate your gorgeous kitchen island. Clean, classic design and the polished chrome finishing is what sets this lamp from the rest of competitors.
The first thing you know about this fixture is its beautiful glass globe shape.
Featuring a clear shade, the lamp is able to spread its brightness all across the room in a uniform way!
What's more, the adjustable cord that comes with the package will allow you to hang this fixture as low or as high as you want! This particular feature actually makes it one of the best pendant lights for kitchen island that can illuminate the entire island quite easily!
People who have a sloped/vaulted ceiling are always worried about pendants not looking so good in their house.
Well, don't lose hope yet!
With a 5.25-inch round swivel canopy, the Primo pendant lamp can fit into any odd-shaped corner of yours without a hitch!
While installing this particular model, keep in mind that it's meant to be hardwired. You can use any standard medium base bulb for it as long as it doesn't exceed 60 watts of power.
Highlighted Features
1. It comes with an adjustable fabric-wrapped cord.
2. The lamp is ideal for sloped/vaulted ceilings.
3. It has a flexible hanging height of 14-inch to a maximum 100-inch.
4. It requires an E26-base 60-watt bulb to operate smoothly.
Best Plug In Pendant Lights
6. Globe Electric Amaris 1-Light Plug-In Pendant, Brushed Steel Finish, Frosted White Shade, 15ft Clear Cord, In-Line On/Off Switch
What to do when your bedroom starts to look a bit bland?
Throw a new splash of color on the wall, maybe?
Add an extra window?
A shiny hardwood flooring, perhaps?
Um. They all seem great. And expensive!
If you want your bedroom to shine a bit brighter without the extra hassle, then adding a brand-new light fixture might be a pretty good idea to consider.
Especially, when you have something like the Globe Electric Amaris 1-Light Plug-In Pendant, your room will look insanely cool even at the time the light is off!
Wondering HOW is that possible?
Well, the brushed steel accent on top of the frosted lampshade gives it a refreshing look that brightens up a room in an instant. The mellow vibe that it creates inside a room just with its aesthetic presence makes it one of the most practical pendant lights for bedroom without a doubt!
Don't have a wall socket nearby?
This particular model from Globe Electric actually offers its users a 15-foot long cord that gives you the freedom to adjust its height according to your wish!
It has a plug-n-play feature, so you don't need to worry about installation either. Just hang the device on the given swag hook, plug it in and enjoy!
Highlighted Features
1. It has an adjustable 15-foot cord for your convenience.
2. It features a simplistic design with its brushed nickel finish on top.
3. The lamp has a minimum and maximum length of 8- and 189-inch.
4. The plug-in design makes it easy to install.
7. FadimiKoo Plug in Pendant Light E26 E27 Industrial Hanging Pendant Lights Vintage Hanging Light Fixture with 13.12ft Cord On/Off Switch
Black can look seriously seductive.
Only if you know how to combine with the right elements!
The FadimiKoo Plug In Pendant Light is one of the best pendant lights for bedroom that stir up the atmosphere pretty well with its hot and black appearance!
Crafted from good-quality metal, the lampshade holds well on its own even after years of use. Be your house modern, traditional or contemporary inspired, the FadimiKoo adds a beautiful glare and WOW factor to all kinds of interiors!
Measuring 26-centimeter in diameter and 7.5-inch in height, the lamp is not too small, yet not large enough to look out place. In fact, it's just perfect for places that need a bit of extra attention and is in a need of black beauty to liven them up!
If you thought that installing/replacing a lamp fixture is hard, think again!
When you use FadimiKoo, one of the best plug in pendant lights available on the market, the installation process is just a breeze!
The fixture also comes with a 13.12-feet cord that allows you to adjust its height at a level that works for you. You can install any standard E26, E27 Edison bulb (LED/Incandescent/others) in this fixture for a long-time good experience.
Highlighted Features
1. The plug and play installation process are really simple.
2. It comes with an adjustable 13.12-ft cord.
3. It requires E26, E27 Edison bulb to operate.
4. The lamp can be operated through an on/off switch that's provided.
5. Its max wattage allowance per socket is 70 watts.
8. Pauwer Wire Cage Pendant Light Plug In Vintage Pendant Light with On/off switch
Our next product isn't a show-stopper.
But it's not your regular go-to lamp either.
It's something in the middle!
The Pauwer Wire Cage Pendant Light features a cage-like structure that's perfect for illuminating a small entryway!
From greeting guests with a soft glow and welcoming tone to updating your interior with an interesting, geometric structure, this lamp is worth every penny of yours!
The cage has a vintage charm to it that makes your mind go back to the '50s. The gold-colored accent grabs anyone's attention at first glance and compliments your décor without even needing to be turned on.
The fixture measures about 11.42-inch in height and 7.48-inch in diameter. To help you install it in your favorite corner, it comes with a 14.76-feet long cord that allows you to adjust its height as necessary.
While this is one of the most suitable pendant lights for entryway, you can install it in your living space, dining room or hallway as well.
Want to know the secret power of this lamp?
It casts a beautiful cage-like shadow up on the ceiling whenever you switch it on! Thus, you get to create a pleasant atmosphere in your living space for everyone to enjoy.
Highlighted Features
1. The painted wrought-iron frame is anti-rust and doesn't corrode.
2. The black metal cage adds an extra layer of protection around the bulb.
3. The 14.76-inch cord helps adjust the height of the pendulum.
4. It's UL-certified and lasts for a long time without any troubleshoots.
Pendant Light Buying Guide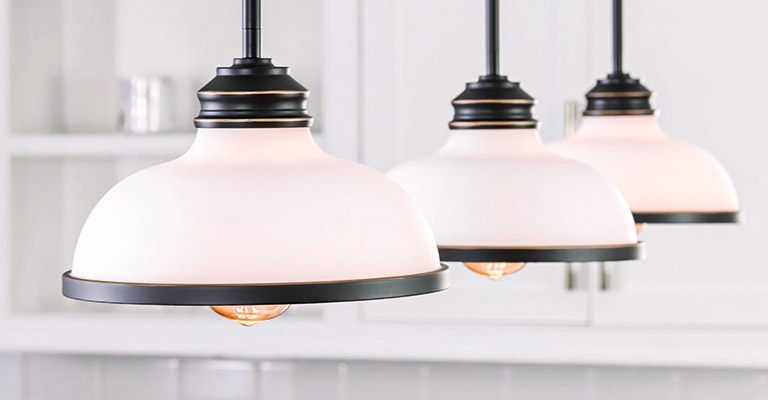 Design
Lamps come in various designs and shapes.
For instance, there are many good-old exposed lightbulbs that have traditional charms in it.
Some lampshades come with an open-top or open-bottom, which illuminates your space in a different way than your regular bulb does. While others come with a transparent shade that showcases the bulb style quite proudly!
You will also find lampshades made from metal, porcelain and wood veneer available on the market to choose from.
Material And Finish
Glass, Metal, Plastic and cloth, these are the four common materials used to build stylish and regular fixtures on the market.
And these materials matter a lot in terms of how these fixtures are going to look and perform.
For instance, a clear glass bulb will be able to spread its brightness evenly in all directions of your house.
However, if you want to find stylish shiny pendant lights for hallway, then look for the ones that come with polished chrome and brushed nickel finishes.
If your room tends to be really dusty, then it's best to go for plastic-made lampshades. And if you are concerned about the discoloration of the product, cloth-made lights are the most suitable option for you.
Size
A single big pendant or small 2-3 ones?
Which one looks good in your opinion?
Well, big, bulky fixtures seem to always look good on top of a round dining table for some reason! They kind of serve as a center of attention.
Smaller lamps, on the other hand, work best when you need less intense light around your room. For instance, you can use several mini pendant lights for foyer, balcony, hallway or other places that don't require task lights so often.
Installation
Plug-in or hardwired?
Hence the dilemma begins!
Well, we covered both of these options for you in this article, so this shouldn't be a problem anymore!
Plug-in fixtures are easier to install. However, they require a long cord to place them in a suitable place.
Hardwired fixtures, on the other hand, is a better option for a long-term investment. However, the installation process is pretty complicated and you might need assistance to help you get through with it.
Frequently Asked Questions
Q: How Should I Hang Pendant Lights For High Ceilings?
Ans: As a rule of thumb, lamp fixtures should be hung at least 30-36 inches above the target surface if you have an 8-foot ceiling. For a 9- and 10-foot ceiling, the appropriate height should be 36-40 and 40-44 inches from the bottom of the shade to the targeted counter.
Q: How Far Apart Should I Install The Lamp Fixtures?
Ans: If you have a small place to illuminate, then a single fixture is enough. However, if you intend to shine a light on a big kitchen island, then you will need to place at least 24-30 inches' distance between each fixture.
Q: What Should I Do To Adjust The Height Of The Lamp?
Ans: The height of your lamp fixture can be adjusted with the cord that the manufacturer provides with it. To hang the light properly, purchase lamps that come with at least 4- to 6-inch long for hardwire lamp and at least 9-inch long for plug-ins.
Q: What Is The Recommended Wattage For Each Lamp?
Ans: It depends on you.
Generally speaking, 60-70 wattages are enough to illuminate every 20-inch of your targeted surface.
Q: What Kind Of Shade Is Best For My Living Space?
Ans: You can choose a translucent shade of lamp if you want to illuminate the whole space. A solid shaded lamp, on the other hand, works by providing lights in a downward direction.
If you don't like the idea of casting lights in every direction in your living room, then a lamp with solid shade is better for you.
Conclusion
Are you ready to deck up your home with these cool lightings?
We sure hope so!
If you are looking forward to adding the best pendant lights in your house and don't know where to start, then this article is just for you!
With so many options out there, we know it's not easy to choose just one.
However, don't get overwhelmed and remember to select proportional lamps for your room. And make sure you don't hang it too low that you bang your head on the pendant every time you walk past it!
Already installed?
Send us a snap of your gorgeous Before Vs. After lighting! We all love to watch, learn and create decorative houses that make us happy and spark joy in others as well!