Design and decorating have certain things that every home should have. However, they are not aesthetically pleasing. One of them is track lighting.
It is track lighting that wins the battle of function over form. Several things should be addressed. You can also adjust and angle it in countless ways to meet your needs.
It is convenient and smart to have track lighting. Interior designers don't usually consider track lighting ideas when styling a room. More often than not, track lighting appears on old-fashioned decor lists.
Like other like-minded but equally maligned, contemporary elements, track lighting has an important place in interior design. 
In place of the old clunky track lights with clunky heads and tracks, today's track lights have many options, including the track itself and the light fixtures' color, style, and size.
Is Track Lighting Outdated? Why Do You Want Track Lighting?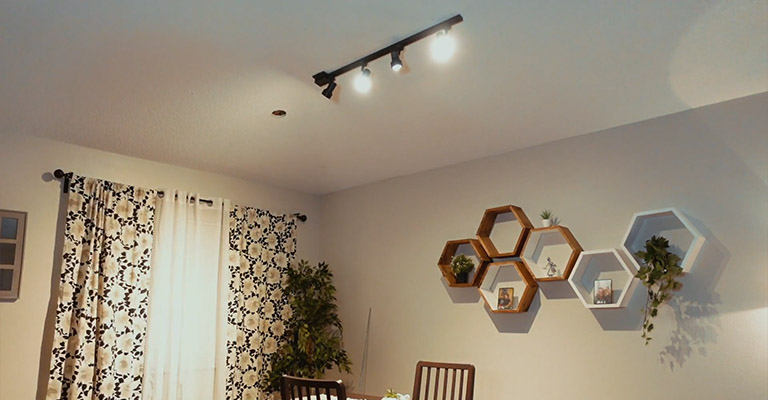 Since power is usually already present in the wiring of a ceiling fixture, tracks are easy to install, even when remodeling or redecorating a room. If you need task lighting to highlight objects or work under a directional light, track lights are the best solution.
It's hard to put in cans in exposed ceiling rooms since the ceilings are usually too high. The reason that can scare you more than holes in your ceiling is that you are cutting through several inches of material.
The versatility of tracks allows them to be designed for different sizes, placements, and fixture types. Modern track lighting is equally at home in new homes as they are in renovated spaces.
The lights can be directed at any artwork, countertop, wall, or other room feature as needed, making them valuable for anyone who likes to rearrange their furniture or artwork. Fixture heads can be white to blend into the ceiling or black or silver to make a statement.
Is Track Lighting In Or Out Of Style In Kitchens?
Contemporary track lighting is very appealing to me. The track lighting allows you to direct the light exactly where you want and need it, which I really appreciate. When you have a high ceiling in your kitchen, track lighting can be a wonderful lighting solution.
Getting something sleek and modern is still a good idea when it comes to track lighting. It is not uncommon to find ugly track lighting. If you get something cool, it's worth it to spend a little extra. A design can be made or broken by the lighting.
When to Use Track Lighting?
A track is particularly useful when the ceiling already contains an electrical box, but additional light needs to be directed throughout the room.
You can, for example, replace an old ceiling light in an old kitchen or office with a track that directs the light right where it is needed.
Modern Track Lighting Ideas
These seven modern track lighting ideas will show you how to make your space look new with this home decor veteran.
1. Spotlight Reflections
While you might not think of track lighting when you're looking for bathroom light fixtures, it can be a chic and functional addition to your modern space.
By installing track lighting over your mirror, you can make sure your reflection is illuminated exactly the way you want it. When you use this type of light to apply make-up or shave, it can be ideal.
2. Draw On The Ceiling
It's not a good idea to install ceiling fixtures in low-ceilinged rooms. Having a large fixture produce enough light to bring the ceiling down is a bad idea, so try not to install them on these ceilings.
Getting enough lamps to illuminate such rooms properly can result in clutter, even if you can use lamps to light them. This problem can be solved with track lights.
Track lights do not pull the ceiling down because their visual weight is so small. It can even be lifted a bit if you select a curving track fixture. Fixtures like this are like drawing your ceiling with art.
3. Highlight Minimalism
As its name implies, modern minimalist design is simple and clean. A design style like this requires fewer resources instead of more. 
The defining feature of this style is the use of great open spaces and uncluttered expanses. Due to their intrusive nature, most light fixtures are not suitable for these types of rooms.
A minimalistic space, however, is suited to track lighting. In places like dining rooms, track lighting can replace traditional hanging fixtures by adding just enough flair but not so much that it obscures the décor.
4. Track Lighting Ideas For A Kitchen Island
Lighting up the island with pendants is common in modern kitchens. Attaching pendant lights to track can, however, be the star of your kitchen design. Cabinets, countertops, and other kitchen design features can be overshadowed because they are situated so close to you.
There's nothing dramatic about track lighting. Modern configurations are available for track lights that curve. As a result, they'll provide an excellent backup for other design choices rather than taking center stage.
5. Illuminate Artwork
Using track lighting to display artwork on the walls is one of the most popular hall lighting ideas. 
In addition to the dark shadows created by other types of lighting, beloved framed pieces can also be lost in shadows from pendants or ceiling mounts. Lighting can be directed directly at wall displays with track lights.
6. Frame a Room
Recessed lights or a powerful central fixture are often needed to provide lighting throughout a large room. Instead of simply installing track lighting in a straight line, consider installing it in a square configuration.
This type of lighting is especially for small spaces like kitchens with smaller ceilings, so you can use the light fixture for another purpose. Using track lighting around a pot rack can help enhance the look of your kitchen.
7. Focus On A Task
The true usability of track lights is unmatched by any other light fixture. One lighting track can be pointed in more than one direction, so you can target the light in the direction you need.
For instance, two fixtures or a lamp will do if you are lighting two work areas in a home office. There is no lighting duality with track lighting. It is possible to serve many areas with one fixture. 
Track Lighting Basics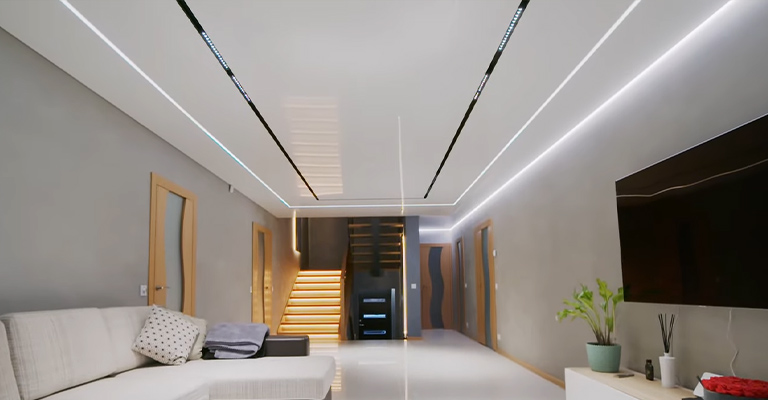 It is not possible to interchange parts of track lighting, so buy the whole system from one manufacturer.
Light heads are clipped into the track and run by the power that runs through the track. It is often possible to rotate the heads in any direction or point them in any direction.
When To Skip Track Lighting
As the heads hang from the ceiling and could interfere with the track lighting, low ceiling rooms do not make good candidates.
In contrast to general lights in a room, track lighting is designed specifically for that purpose. Lastly, consider alternatives to track lighting for spaces designed very traditionally or formally since their contemporary style may be too overwhelming.
Final Words
With the above examples, we are hoping to renew your interest in track lighting. Use track lighting to add personality and efficiency to any space in your home with a little creativity. So, there you go. Is track lighting going out of style? Not any time soon.