Many people use track lighting systems over kitchen islands, hallways, bathrooms, or even in their living rooms. Lighting these rooms is ideal if you have high ceilings and traditional lighting doesn't work.
The flexibility of track lighting allows you to configure it in numerous ways so that you can create the look and feel you want.
If you don't have any experience installing track lighting, you can purchase complete kits that include all the parts.
The basic tools and steps required to update or install existing track lights are easy to follow. You can even add stylish, modern monorail track lighting kits to any room of your home to create a whole new aesthetic.
By replacing track lights with hanging pendants, you can breathe new life into an old track. Your kitchen will look totally different after you do this.
Although track lighting is super functional and flexible, it doesn't always make for an exciting design. This fixture can easily be updated, which is a good thing. If your kitchen is on the larger side, then five pendant lights might be the best choice.
You can easily update your kitchen with this designer tip:
– A group of three-track lights looks best as a pendant, typically in odd numbers.
Installing a Pendant Light Into an Existing Track Light Fixture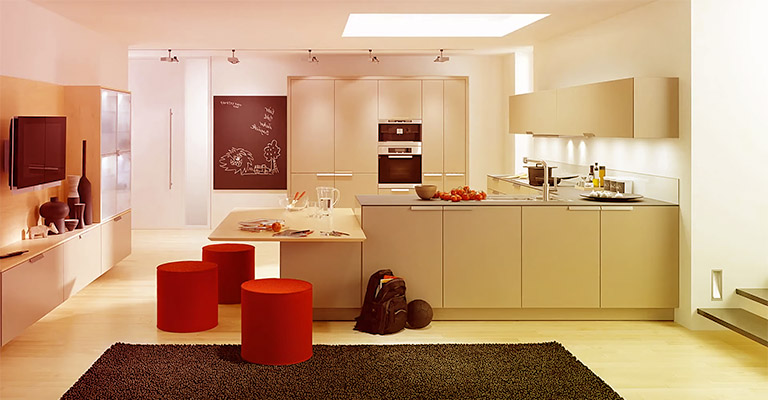 Luminaires hung from the ceiling are aesthetically pleasing as well as efficient. Hanging from the track, the lights provide more direct illumination of selected areas.
Pendant lights are most useful in areas like the kitchen where lighting is desired to be directed directly at the counter surface, instead of being distributed across the entire room.
However, a sophisticated look will still be maintained. Installing a pendant light into a track lighting system is not a complicated process and will take about a minute. Let's get to it.
Step 1
Assess whether you can add pendant lighting to your existing track lighting. Checking the manufacturer's website can show you whether it does.
Pendant lights are usually an option on modern systems. By turning on the light, verify that the track system is powered. 
Your track lighting system will look better with a pendant light. The light should be turned off. The track light should be turned off at the breaker.
Step 2
You must secure sufficient wattage for the new pendant light so as not to overburden the track light system. Removing one or more of the existing track lights may be necessary to accommodate the pendant light's wattage.
Place the pendant light in a convenient location. If any existing lights are blocking the path, remove them. Remove the track lights from the track by twisting them counterclockwise and pulling them up.
Step 3
The blades of contact should be aligned with the stem. At the point of installation, ensure that it is parallel with the track. As you turn the stem clockwise, the pendant will come to life. Once locked in place, the stem will not move.
To install the pendant light, insert the track into the base and turn the base clockwise. Pendants should be hung down.
Step 4
Shades should be installed on the stem. The shade screws into place either without hardware or with screws that must be inserted into the stem and tightened to hold it in place.
A hardware kit comes with the pendant light, and if screws need to be inserted, there are precut holes in the stem.
Step 5
Replace the pendant light's light bulb with one that meets the light's wattage specification. Ensure that the location is accurate by taking a step back. Make necessary adjustments.
Step 6
The bulb needs to be installed after the shade is removed. Test all the track lights by turning on the power to the system and turning them on. The fixture and shade should be reattached.
Step 7
Achieve the desired lighting effect by adjusting the light. Adjust the position of the screw until the lamp does not move once you have it set. Lights can be dislodged from their position over time by vibrations and weight.
Ambient, accent, and task lighting can be achieved with track lighting. By simply pointing the light in the direction you want, you can create any mood you wish.
Planning Your Track Lighting
Plug-in and hardwired track lighting are the two most common types.
It is not necessary to run electrical wiring for a plug-in track light, but it must be placed near an outlet. A junction box must be used to make electrical connections when installing hardwired track lights.
Install a junction box or hire a qualified electrician if there is no junction box along the path of the lighting track is required. In this article, it is assumed that there is already a junction box.
Decide Track Location
Lighting an object or area in a room requires you to specify the spot or area. Remember to take into account the junction box's location. 
Track installation can be determined by installing the track about 18 to 24 inches from the wall you want lit.
Indicate the placement of the track along with the ceiling. By measuring out from each end of the proposed track placement. Measure both dimensions equally.
Track Vs. Monorail Lighting
Lighting systems can be divided into two categories: track lighting and monorail lighting. Often, the terms are used interchangeably since they are closely related.
A monorail also serves a decorative purpose as well as functionality. Track lighting is the more conventional option. Monorail is a low-voltage system of its own. Usually, 12-volt circuits are used, while line-voltage circuits are extensions of your home's current electrical circuit.
Monorail track lighting kits are available that are also easy to install, although track lighting is generally easier to install. You can then include any decorative features you desire, including alternative track heads or even hanging pendants. 
Is Track Lighting Good For The Kitchen?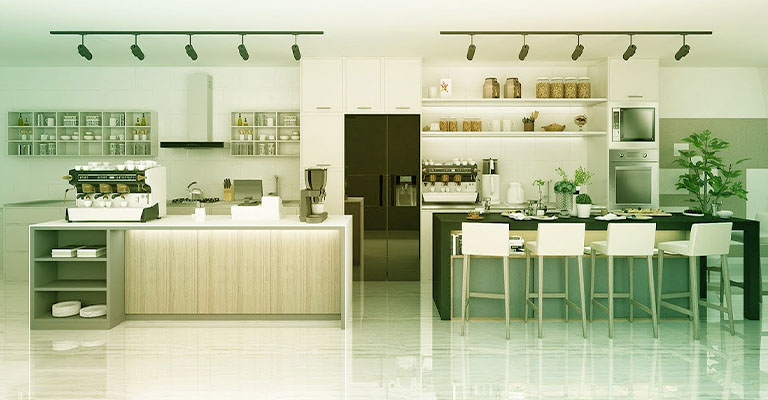 Certainly! You should consider track lighting for your kitchen since it offers versatility. It is not only beneficial for illuminating the areas of the room where you perform the most tasks, but it can also be a decorative aspect of the room.
What type of lighting is best for the kitchen?
You will need task lighting in the prep and cooking area as well as accent lighting if the general lighting in your kitchen isn't sufficient.
Calculating Electrical Load
Make sure your new lights will not exceed your home's electrical capacity (15 amps is typical). Incandescent lights can overload your circuit even with a small low voltage system.
Make sure your circuit's amperage rating is correct before you install it. Add up all the lights and appliances that draw electricity from a circuit to get the overall needs. Get help from your lighting retailer or a licensed electrician if this sounds confusing.
In addition to your solid-state transformer, you may want to invest in a quality dimmer switch (standard incandescent dimmers can also be used).
Don't overload the track, either. If wired directly into an electrical outlet or if corded to a plug-in connector, the track can handle a maximum of 20 amps per circuit.
Final Words
The tacky track lighting of the past is no longer fashionable. Modern track lighting is much more stylish. The track can be easily enhanced with pendant lights.
It is possible to install a pendant light in less than 15 minutes with track lighting systems which are extremely flexible and versatile.