Did you know a single strip of track lighting is more efficient than a series of other lighting options?
Be it a decorative hanging chandelier, floor lamps or overhead flush mount lamps, nothing can beat the gallery-worthy glow that a track light provides!
Got a long, thin corridor in the middle of the house with no windows?
As track lighting is built to be strung together, you can connect as many fixtures as you want to create an inviting path to the rest of the house this way!
From creating a starry living space in bedroom to showcasing your favorite car in the garage, the best track lighting works beautifully pretty much anywhere you want!
These string lamps also come in handy while using them under suspended kitchen cabinets. You get to enjoy focused illumination on your workspace without any direct light ruining your atmosphere!
Already fell in love with these beauties?
Let's get you on the right track with some of our amazing collection and make your lighting dream come into reality!
Best Track Lighting Reviews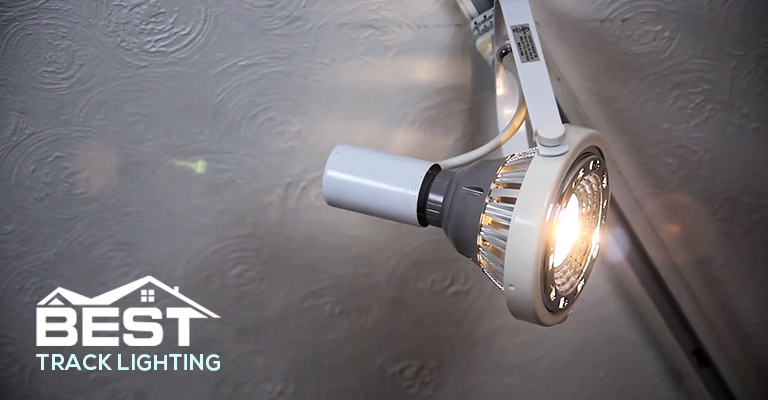 1. CANARM LTD. IT356A04ORB10 James 4 Bulb Track Light, Oil Rubbed Bronze
Nothing screams ELEGANCE more than the floating design of the CANARM LTD. Track Light!
The curved bar structure adds a modern feeling to your room and accentuates a medium to large space quite easily.
Thinking about throwing a dinner party where you want to impress your friends?
The CANARM lamp will help set a cozy scene where people feel like they are in the comfort of their own living room! Talk about an ice breaker, huh?
Beauty without functionality is of little use.
Keeping that in mind, the manufacturer has included 4 lampshades in this particular model. Each of the shades has an adjustable swivel head that rotates and directs light where it's needed the most!
This modern track lighting is covered with a gorgeous shade of oil-rubbed bronze finish that gives your room a simple, elegant vibe. Measuring 7.125-inch in height and 26.5-inch in width, this wide fixture can highlight your workspace or draw attention to a particular object quite easily.
As the glass of the shades is made of alabaster, it diffuses light softly and evenly. You will need four 50-watt bulbs for this product to operate smoothly.
Highlighted Features
It has an oil-rubbed bronze finish.
The glass of the shades is made of alabaster.
You will need four 50-watt bulbs to operate.
You can install this device on the ceiling or wall.
Although it's meant to be hardwired, it can be adapted to plug-in with a cord.
2. Globe Electric 59351 Payton 6-Light Foldable Track Lighting, Matte Silver
Using only one source of light fixture in the living space isn't enough most of the time.
Why?
Cause, it's a multi-purpose space where you need to have a balanced lighting scheme that provides functional illumination.
However, using too much lamp fixture may make you feel like you are on an airplane taxiway as well!
A better idea is to install the best track lighting for living room that consists of several fixtures in it to give your space a sense of balance and symmetry.
Take a look at the Payton 6-Light Foldable Track Lighting for example.
The lamp features a matte silver finish over its lightweight metal construction. The solid structure of the whole thing gives a promising vibe that it's going to serve you for a long time in the future.
Along with the foldable mechanism, the head of the lampshade is flexible too!
Meaning, you get to direct and focus its brightness from your bed to the reading table whenever you want!
And when you get tired at the end of the day, you can dim the lamps and create a serene atmosphere that lets you sleep peacefully as well!
Highlighted Features
It requires 6 GU10/Bi-Pin Base MR16 Shape 50W Bulbs to operate.
The lampshade comes with a folding mechanism.
The heads are movable and can be redirected to suit your need.
It's compatible with a dimmer switch.
3. Lithonia Lighting LTKSTBF BR20 MW M4 Adjustable Decorative LED Lamp
Less is more.
The best rated track lighting is often the simplest one with no extra fuss!
A minimalistic atmosphere helps bring calmness in your life. It eliminates clutters from your life and combines several needs in one single package.
Want to throw away all the distractions?
Discard your old bulb and install the new Lithonia Lighting LTKSTBF BR20 MW M4 Adjustable Decorative LED lamp, which can illuminate 2 different places at once!
The 44-inch fixture accommodates 3 adjustable heads that can be moved to adjust your style. These heads can tilt and rotate easily. And that means you can use one shade to illuminate one place and the other in the opposite direction for shining light at the same time!
Although the bulbs aren't included in the package, it's quite easy to find bulbs for this particular model. You will get 500 lumens of brightness form each bulb on this fixture. It's compatible with both LED BR20 bulbs and non-LED BR20 bulbs that are available on the market.
Highlighted Features
It showcases a clean and stylish look with its sleek white finish.
The fixture comes with adjustable heads that can be adjusted easily.
It's suitable for both LED and non-LED BR20 bulbs.
It can be used with cooper Lighting halo "H" track products (L641 and L651).
It's designed to be hardwired into the ceiling or wall.
4. Cloudy Bay 8W 4000K Cool White Dimmable LED CRI90+ True Color Rendering Adjustable Tilt Angle Track Lighting Fixture,40° Angle
Your choice of lamp fixture determines a lot of things.
It changes the look and the feel of a room. It can make you feel alert and awake or sleepy at times.
It even has the power to increase your electricity bill at the end of the month!
What? Are you ranting about the last month's utility cost already?
Relax! We wouldn't leave you like that!
The Cloudy Bay has come up with a perfect solution for a situation like this. With only 8 watts of power consumption, this lamp is a super-duper energy-saver fixture!
Just because it cuts your electricity bill, don't think it performs any less. In fact, it provides the same amount of light as a 50-watt halogen while costing you less expenditure. It can also be dimmed within a range of 10-100%.
The package comes in a set of 6 LED track heads (No canopy or rail) that work well with both H type 3-wire-1 circuit track system and Halo light circuit. With 4000K of cool white color temperature, it's the best track lighting for basement as it's similar to natural daylight that illuminates dark spaces easily.
Highlighted Features
It has a beam angle of 40-Degree.
It comes with a good CRI point that's rated over 90.
The lamp features 4000K of cool white light.
It has a dimming range of 10-100%.
5. DLLT Led Complete Track Lighting Kits, Flush Mount Ceiling Spot Lights gu10 Bulbs for Kitchen, Dining Room, Bedroom, Hallway, 4 Lights-Warm Light
Bright and flexible.
When it comes to finding the best track lighting for kitchen, these are the two words that come to my mind!
The DLLT LED Complete Track Lighting Kits comes with such settings. The metal body of the whole fixture is divided into two parts. These two parts are adjustable (a 350-Degree) and have 2 LED lampshades in each of them.
Guess what?
Those 2 LED bulb heads can be rotated too if you want!
You can easily turn its head up to 330-Degree horizontally and 90-Degree vertically to illuminate different areas of a room.
The 4 track bulbs produce 960 lumens of brightness altogether. This much output is expected from a 60-watt incandescent bulb, right?
However, DLLT outperforms the traditional lamps and gives this output while requiring only 3-watt per each bulb!
The 3000K warm white light is perfect for kitchen, bathroom, dining space and even office areas. You don't need to buy the bulbs separately as the package comes with four 3W gu10 base LED bulbs already included.
Highlighted Features
The kit comes with mounting gear, bulbs and canopy all included.
It provides 960 lumens of output.
The 3000K warm white brightness is ideal for dining space and kitchen.
The bar and the heads are adjustable.
6. Mirrea 6 Pack LED Track Lighting Heads Compatible with Single Circuit H Type Track Lighting Rail Ceiling Spotlight
Did you know proper lighting can change the entire look of the artwork you hung on your wall?
Yep!
It can be a total game changer!
As a rule of thumb, best track lighting for art should be 3X brighter than the rest of the room. Also, the bulb must NOT contain any harmful product that might damage the appearance of the artwork in the long run.
Want to have that spotlight over your wall art?
Say "Hello" to Mirrea 6 Pack LED Track Lighting Heads, which contain no UV (Ultra-violet ray), no IR (Infrared ray) that can harm the painting's condition!
With 500 lumens of brightness per head, it gives you plenty of output while consuming only 6.5 watts of energy. The direction of the track heads is adjustable. You can rotate the heads 350-Degree horizontally and 90-Degree vertically to suit your need.
Want to use this fixture as a replacement?
The Mirrea Track Lighting fits like a charm into any pre-existing track lamp you installed before!
It's ideal for a 3-wire single circuit track system and uses integrated spot type LED (COB) with a parabolic aluminized reflector to illuminate the whole space evenly.
Highlighted Features
It provides you with 500 lumens of brightness per each lamp.
The lighting direction is adjustable.
It works as good as a 50-watt halogen bulb while consuming 6.5-watt.
It fits into a 3-wire single circuit track system.
7. Unicozin LED 4 Light Track Lighting Kit, Matte Nickel 4 Way Ceiling Spot Lighting, Flexibly Rotatable Light Head
Looking for something extra that will lift your bathroom out of dreariness?
With the best led track lighting like Unicozin LED 4 Light Track Lighting Kit on your side, consider it already done!
The fixture is a blend of industrial and traditional design. The sleek, straight line of the track bar with matte silver finish adds compliments to any modern décor. Even a minimalist would love to have one of these beauties at his/her home too!
Getting bored while sitting on the chair?
Move to your bed and get cozy while reading as the Unicozin comes with flexible lamp heads that rotate 270-Degree horizontally and 90-Degree vertically!
While providing you with a generous 400 lumens of bright output, this fixture doesn't require more than 16 watts of power consumption. The 5000k daylight white lamp with an 85 CRI rating is perfect for creating an ambient environment for your home.
Made from metal and a matte nickel finish, the Unicozin fixture is pretty heavy-duty and doesn't rust, corrode or fade over time. The bulbs are ETL-listed and can be installed in a sloped and vaulted ceiling to suit your interior style.
Highlighted Features
It comes with an 85 CRI rating to provide the accurate color of an object.
The fixture has a matte nickel finish that protects it from corrosion.
Its heads are adjustable.
It produces 400 lumens of brightness.
The four bulbs need 16 watts of power in total to operate smoothly.
Track Lighting Buying Guide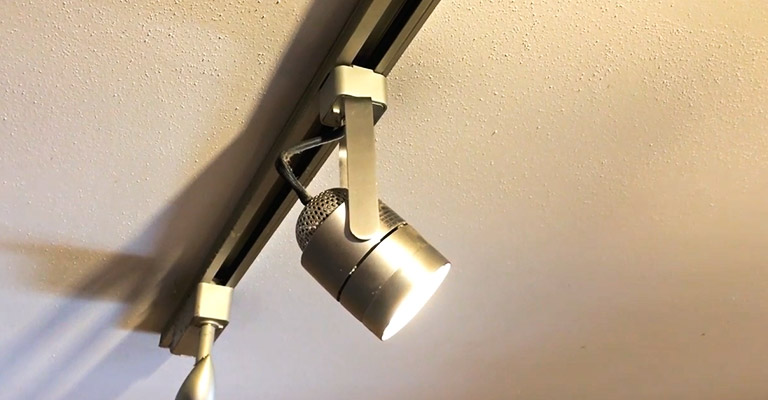 Type
There are 3 different types of track designs available on the market.
Complete Kits usually consist of adjustable track heads, rail and a beautiful canopy. The light heads are attached to a fixed/movable swing-arm bar and can be rotated according to your wish.
Some kits even allow you to install additional bulbs along the bar if necessary.
Linear Track lamps come in 4- and 8-foot lengths. These bar sizes can be extended to suit your style through a T-connector. T-connector acts as a bridge that gives you access to the second line of track that's apart from the main line.
Monorail System is one of the most popular options out there. It can accommodate both adjustable and fixed track heads. However, you can't add any extra bar on its side, unlike the linear track.
Voltage Options
You will find 2 kinds of voltage options to connect your lamp fixture.
Line Voltage System refers to your home's standard 110-120-volt feed. Usually, the lamp fixtures that require line voltage to operate come with a concealed conductor.
Low Voltage System needs a transformer as a middle-man to convert your household's regular current into a lower voltage(12-volt). This system helps generate a more controlled and concentrated beam of light.
Installation Type
Before purchasing a track fixture, make sure to check to see its installation process beforehand.
Some lamps are designed to be installed on the ceiling (concrete/faux). Some can be attached to the wall. Some even come with a bendable design to fit your sloped ceilings!
Depending on the shape of the ceiling and style, you can choose the installation process that suits your need the most.
Color Temperature And CRI
LED track lamps come with different beam angles, CRI (Color Rendering Index) and color temperature.
In order to illuminate your room, the lamp should have at least a 3000K color temperature to start with. If you want a more concentrated form of illumination, then go for 5000K daylight color temperatures that are ideal for task areas.
CRI is a lamp's ability to measure an object's true color. The color scale ranges from 0-100 and should have a minimum 80+ rating in order to reveal the vivid color of artwork or product.
Frequently Asked Questions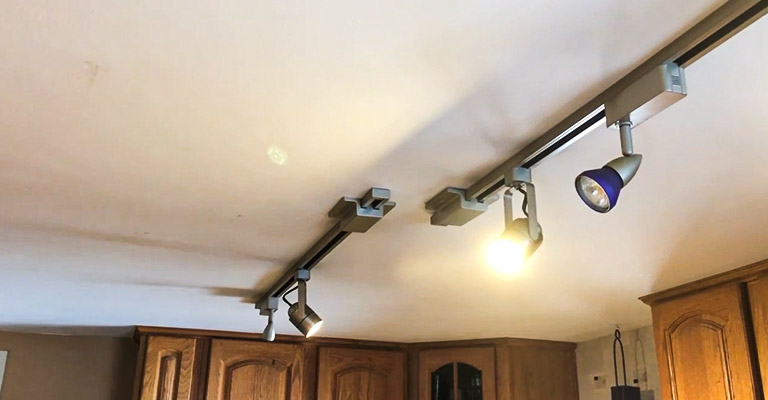 Q: How Many Bulbs Can I Add On A Track?
Ans: First, you have to check the bulb to know how many watts it needs to operate smoothly. Then, deduct 20% of the total wattage just to be safe and use up the rest of the wattage to power up as many fixtures as you like.
Q: Can You Interchange These Light Fixtures?
Ans: It depends.
In short, the answer is Yes. however, you have to find a matching replacement that works for the system. To ensure compatibility, we recommend using fixtures from the previous manufacturer that you installed.
Q: How Long Does Track Fixtures Last?
Ans: It depends on what type of fixtures you bought.
Usually, fixtures with low voltage are the best track lighting systems as they tend to last longer. Some bulbs may last up to 100,000 hours if you manage to find a good one!
Q: How To Stop My Lamp From Flickering?
Ans: Are you using dimmers?
If so, you may have been using the wrong kind of bulbs with it. A lot of LED bulb has been manufactured in a non-dimmer friendly version. In that case, you will need to change the bulb to stop it from flickering.
Q: Can I Get Burned By Track Lighting Cables?
Ans: Once the transformer is installed, the cables will carry only a little amount of voltage (around 24-volt). So, you aren't at risk of getting burned.
However, to help protect the transformer, it's best to install the cables in a way so that they don't touch each other. 
Q. Is it Difficult to Remove Track Lighting?
Ans: No.
If you know how to remove track lighting from its track you can do this job on your own.
Conclusion
Do you think you have a good design sense?
Then you can create a visual harmony while going for the wide, contrasting fixtures that make a bold statement!
And if you like to play it safe, choose the best track lighting of a matching color tone that mixes in with the background of your room. That way it will blend in smoothly while giving your space a minimalistic, modern look without the unnecessary clutter!
Until next time, keep exploring, find out more ideas and share with us which scheme worked the most!