While we all seem to pour our attention into designing our houses like the ones that are seen only in movies, oftentimes, we leave the bathroom feeling "meh"!
And that's where everything goes wrong!
From getting ready in the morning while we set for work to enjoying a steamy shower at the end of the day to relax (Or being naughty! Depends on your mood!), choosing the best light fixture for bathroom really help set the tone for all of your activities.
Want to go to a party tonight?
You will need a strong light that helps you see every small details!
Just woke up from a long nap?
You better install a dimmable light so that your eyes don't have to stare into bright lights first thing in the morning!
Without any further ado, let's show you some plausible lighting options like these for your bathroom so that you can start every day on a more positive note under the right light! 
Best Light Fixture For Bathroom Review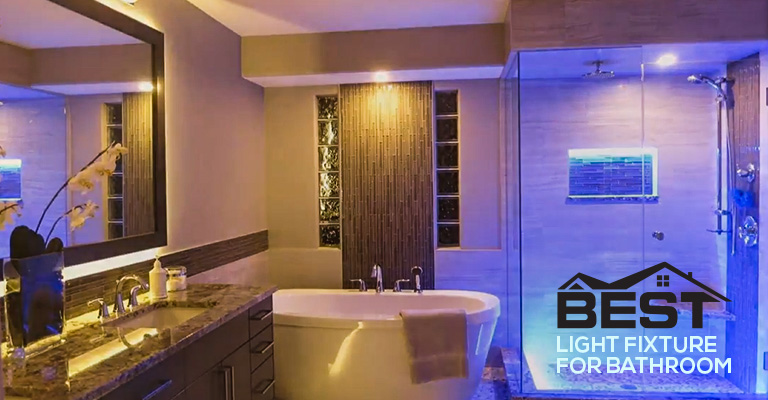 1. Globe Electric Parker 3 Chrome Vanity Light
Want to add a touch of antique charm to your newly decorated washroom?
Install an old-fashioned, vintage-inspired lamp like the Globe Electric Parker 3 Chrome Vanity Light that helps give your modern bathroom a fun, retro look in the least expensive way possible!
The vanity lamp comes in a set of three. The lights are designed to hang from the structure and they are all covered with clear glass shades which glow beautifully while illuminated.
Whether you are a handsome young man or a pretty woman in her late 40's, chances are, you love taking selfies!
To put your best face forward, Globe Electric Parker lamps are all designed to be fully dimmable so that the warm, inviting light from the lightbulbs softens up your appearance and help you take a great snap!
The installation of this 3 light fixture for bathroom is as easy as 1-2-3. All the mounting hardware needed are also included in the package for your convenience.
However, you do have to purchase the bulbs separately. Medium-base 60-watt bulbs are recommended for this particular model.
Highlighted Features
It gives off a vintage-like vibe to modern décors.
The lamps are compatible with dimmer switch.
Installation doesn't take much time and all the hardware are included.
The clear glass shades help the lights glow beautifully.
The lamp comes in a decent price tag compared to its high-quality.
2. Bennington Lakeland 2-Bulb Bath Vanity Light Fixture Bar
When it comes to choosing accessories for your bathroom, you have to be practical.
For instance, if you have a compact space, then you should probably go for lamps that are small in size or quite flexible in terms of positioning.
Whether all lamps give you this facility or not, the Bennington Lakeland 2-Bulb Bath Vanity Light Fixture Bar sure does! The 18X8.5X6.5-inch bar can easily be mounted in upward or downward direction depending on your need.
Although you can place this product anywhere you want, we would suggest putting it over a mirror if you have a narrow washroom without any extra space on the side. The frosted glass globes of the lamp with its curved lines go wonderfully with all sorts of mirrors, be it big or small!  
After all being said, looks don't matter in the end if the product doesn't last long, right?
Well, the good news is, Bennington Lakeland bulbs come with a brushed nickel finish that keeps its appearance smooth for years to come! It's even longer-lasting than chrome finishing and doesn't rust or get water spots easily over time.
Highlighted Features
It comes in 3 different color variations for you to choose from.
You can mount it on the wall in upward or downward direction.
You can install LED, CFL, Halogen, or Incandescent bulb inside it.
The lamps come with brushed-nickel finishing that doesn't fade.
It helps add a modern feel to your bath with its smooth appearance.
3. KOONTING 3-Light Industrial Bathroom Vanity Light
Even the most hyped-up trends phase out at some point.
Yet, they always seem to make a comeback!
With rustic, farmhouse-type light fixtures, the same theory applies.
While a lot of people loves to go for a unique, different type of lighting fixture for their houses, old-school and vintage bulbs have always managed to remain in one of top positions in terms of people's favorite.
Although the KOONTING 3-Light Industrial Bathroom Vanity Light is built with keeping all the modern needs in mind, it still fits the vintage picture perfectly with its rustic-looking appearance!
The bulbs are contained inside a squirrel cage, which helps send out a warm, cozy feeling around its atmosphere once its attached in place.
With the heat-resistant lamp holder and anti-deformation ferroalloy for cage, it's fair to say this little beauty will last for years to come to say the least!
The LED light fixture for bathroom is suitable for any standard E26 bulb of 110-130 voltages. You have the option to choose from a variety of bulbs including LED, CFL, Incandescent and Halogen.
Highlighted Features
It can easily be installed on the wall with the included mounting accessory.
The holder is heat-resistant and therefore, doesn't break under pressure.
It works well with all sorts of E26 base LEDs.
It's compatible with dimmable bulbs.
The shade gives off a rustic-vibe to its surroundings.
4. Pauwer Industrial Bathroom Vanity Light Fixture for Bathroom
Another plausible option for the history lovers who like to get nostalgic over styles that are from the 19th and early 20th centuries, is the Pauwer Industrial Bathroom Vanity Light Fixture.
However, there is a twist!
Pauwer has built this lamp with a subtle design that allows an exclusive modern touch along with the vintage-vibe as well! So, you get to enjoy 2 different kinds of settings for the price of one in this case!
The light fixture is ideal for brightening up spaces like bathroom, kitchen, vanity table, mirror cabinet, hallway etc. With the black metal wire cage surrounding the brass-colored base on top, the overall settings look good enough to call this piece a decorative item as well!
As the product is UL listed for safety, you can install it anywhere you want as long as it's indoor and in a dry location.
Highlighted Features
It gives your house a vintage and modern vibe at the same time.
The product is safe to use at any place indoor.
The metal wire cage shade help protect the bulb inside.
It's suitable for E26 base bulbs.
The lamp is sophisticated enough to use as a decorative piece as well.
It has a rust-proof smooth finish that lasts a long time.
5. PRESDE Bathroom Vanity Light Fixtures
Mirror is one of the most important features of a washroom.
Men use it while trimming their mustache or combing their hair. And women need it more while applying makeup. Nevertheless, the place in front of the mirror needs to be bright enough to see everything clearly.
And that's why, PRESDE Bathroom Vanity Light Fixtures has come up with 5 glass shades fitted on a horizontal bar so that you get to see lighting at different angles!
Before moving onto its performance, first, let's just admire the fact how BEAUTIFUL the crystal glass globes look shining on top of the mirror once illuminated! Even an ordinary bathroom will turn into a majestic one just by this single change!
And looking good isn't the only thing PRESDE has nailed down, apparently!
Its mirror chrome stainless-steel body is much more resistant to water damage and therefore, doesn't rust or corrode easily.
Besides giving your bathroom a modern updated look, this lamp is capable of creating a warm, cozy ambiance for a relaxed bath if you install dimmable light inside it as well!
Highlighted Features
All the hardware required for installation is included in the package.
The stainless-steel body of the lampshade is waterproof.
It's suitable for dimming and non-dimming G9 bulbs.
The direction of each lampshade can be rotated at 360-Degree angle.
It helps give your mirror a nice, updated look altogether.
6. Farmhouse Rustic Style Vintage Light Fixture for Bathroom
It's hard matching colors and shades while renovating your house, especially if you aren't particularly good with color sense.
However, there are some common combinations that never go wrong even if you try to! Like the pair Black and Gold!
And apparently, the company Elibbren seems to follow the same trail of thought while making its Farmhouse Rustic Style Vintage 3-Lights with black and gold color combination!
This vintage-styled lamp is a treat to the eyes with its black matte textured shade that's designed with golden rim impression on the outside.
And the interior?
It has a pure-white finish that helps emit a lenient, warm glow from this fixture and completes the whole look in a nutshell!
Due to its rustic design, this lamp goes well with all sorts of home décor, be it modern or traditional. From powder room to vanity table or mirror cabinet, you can install this little beauty anywhere you like!
And the best part is, all the things that are needed to install this lamp is included with the package. You also get a nice and easy direction manual for quick installation! However, it's still best if you set aside your time and patience while installing this device.
Highlighted Features
It works great with E26 medium base max 60w bulb.
The 3-light wall scone adds a sense of industrial feeling to your home.
The antique wall shade is perfect for home decoration.    
The lamp holder is UL listed and safe to use.
7. Hykolity 3-Light Bathroom Vanity Light
Bathrooms, especially larger ones, might be a little tricky to style properly. Then again, nothing is impossible if you can get your hands on the right accessories!
When it comes to styling, even a cute towel holder might make up for everything else if it's the right one for your bathroom. Seems unbelievable, right?
Not to Hykolity, apparently!
The company has come up with a 5-piece bath set that includes a cute little towel ring, towel bar, toilet paper holder, robe hook and last but the not the least, a matching 3-light vanity fixture to go with the whole settings!  
Hykolity believes in satisfying customer's every need. And that's why, it even included three E26 vintage Edison S-type/Medium Base 60W Bulb inside the package so that you don't need to purchase them separately.
Oh! And let's not forget that al the bulbs are DIMMABLE and can easily be adjusted to your mood whenever you wish to have a gentle setting in your washroom!
Each of the accessories that Hykolity offers in this set is made from durable stainless-steel material that shows a promising durability and heavy-duty performance.
Highlighted Features
It includes 5 pieces of bathroom accessories all in one set.
The stainless-steel construction looks heavily-built and lasts for a long time.
The bulbs are included in the package.
The whole setup is easy to assemble.
Buying Guide to the Best Light Fixture For Bathroom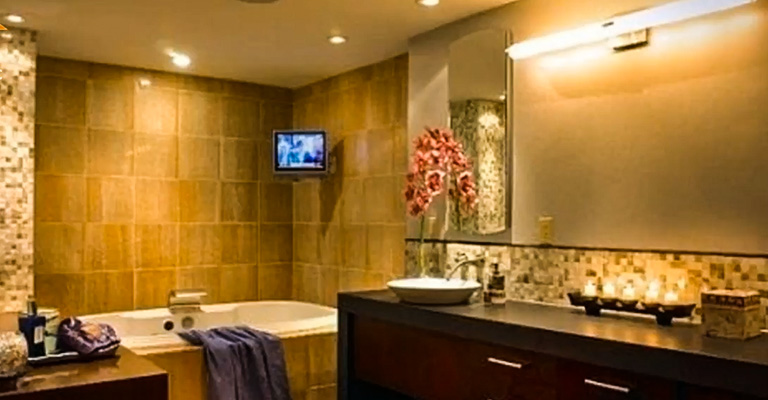 Rating
Most lamps come with ratings that will tell you if they are safe to use indoors. Some lamps are damp-rated while the other ones are wet-rated.
If you purchase a lamp that's designed to be installed in dry location, then you use them in places that are free form moisture like over the bathroom mirror or inside a cabinet.
However, for you to install a lamp inside your shower, first, you have to make sure it's wet-rated and therefore, is safe to use in such location.
Dimming Feature
Sometimes, you might want to customize the light settings for your convenience.
And that's what dimmers are for!
If you like to get a little extra from the ceiling light fixture for bathroom in your house, then check to see if the bulbs are dimmable and fully compatible with dimming switches. This way, that you can enjoy a romantic setting whenever the mood strikes!
Style
Depending on how you want the bathroom to look like, choose your favorite styling!
From traditional to contemporary to modern or even farmhouse-inspired vintage ones, there are a lot of variations you can choose from. You can pick your favorite from different types of lightbulbs, such as, wall lamp, ceiling lamp, cabinet lamp etc. to go well with the rest of your bathroom décor.
Size
Are you going to install the lights over the mirror?
Then, you need to measure the length of the mirror and choose a lamp that's about 75% of the mirror's total length to get the best possible outcome!
Also, depending on how long your mirror is, you might need more than one set of lamp to distribute light evenly.
For sconces, the ideal height of the lamp should be around 18 inches (give or take a few). Of course, for small-sized washrooms, you might want to go for smaller sconces, which are about 12 inches in height.
Frequently Asked Questions
Q; Does Mist From The Shower Pose Risk To The Lightbulbs?
Answer: It's only natural for the lamps to get a misty right after you take a hot, steamy shower.
However, that small amount of moisture isn't going to damage the bulbs in anyway. As long as it's not in direct contact of water, the lamps should be working just fine.
Q; What Bulbs Should I Use For My Newly-Purchased Shades?
Answer: If your lightbulb doesn't include sample lights, then you must check the packaging to see what kind of bulb is required for the lampshade you just purchased. For industrial lamps, usually, Edison bulbs do the trick most of the time!
Q: What's The Best Way To Avoid Having Glaring Lightbulbs?
Answer: If you've already purchased the lamp, then install a dimmer switch to dim the brightness. And if you still haven't bought the bulbs, then go for the bulbs with frosted cover instead of the clear ones to avoid getting too much brightness.
Q; Should I Install The Light Fixture Horizontally Or Vertically?
Answer: Depends on you! Suppose, you have a large washroom and want to install more than one set of lamp, then it's probably best to flip the fixtures and install them vertically in the wall. That way, you will have more than enough space for the other lights.
Q: What Color Lighting Works Best For Washroom?
Answer: Depends on what type of atmosphere you are trying to create there. For the best result, go for the LEDs that offer warm or cool white-colored light to brighten up the space.
Conclusion
By the time we reach the age 60, our eyes require 2X light for a clear vision as opposed to our 25-year young-selves, did you know that?
Yep! Lighting is that much important!
Proper lighting in the bathroom also makes you feel better about yourself and promote confidence throughout your day. 
So, start planning for your future-self from today by installing the best light fixture for bathroom in your house!
Hopefully, our article has helped choose the right one for your house and add a decorative touch to your interior at the same time.