An entryway is the first impression your guests get of your house and changing the entire interior design look of your home. In the home, first impressions are especially important. With the right type of foyer lighting, you can dazzle your guests.
Since first impressions matter so much, it's crucial for the lighting in your foyer to be both beautiful and unique. Marketers, architects, and interior designers have come up with a multitude of designs, shapes, colors, and sizes for foyer lighting.
In addition to aesthetics, it is also crucial to balance the light inside your house so that the perfect balance between warmth and coolness is achieved.
By selecting from the styles below, you can create an entryway lighting design that is simply stunning. Choosing the right lighting for your house also contributes to creating an aesthetically pleasing entrance and setting a lovely mood and ambiance inside.
Different Types Of Entry Foyer Lighting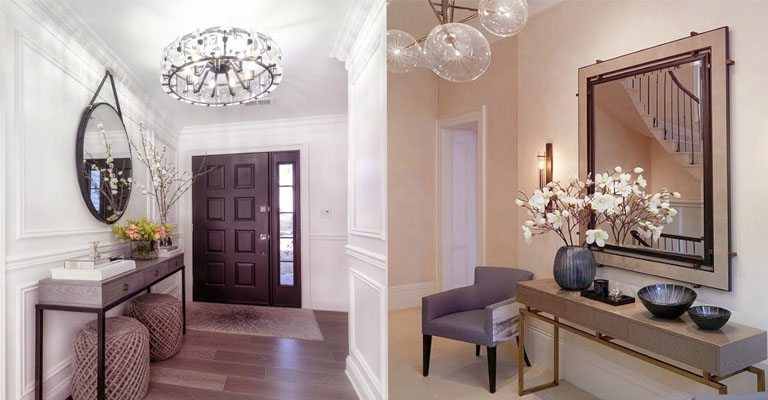 Chandeliers are one of your best choices to achieve your goal of making your home seem grand and fancy. Especially the entry foyer is beautifully lit and brightened by these gorgeous lights.
A chandelier contains many lamps usually arranged within branched frames, which is why chandeliers are commonly found in living rooms, dining rooms, hallways, and lounges.
Classic Chandeliers
There are a variety of styles, shapes, and sizes of chandeliers, each adding a decorative touch to your entranceway that is sure to impress your guests. In addition to suspended lights, they are also called girandoles, candelabra lamps, and girandole ceiling lights.
The wealthy were most likely to use these inventions during medieval times. At that time, chandeliers were easy to move from one room to another, and they were really expensive, making them symbols of status and luxury.
In the classic chandelier, refracting crystal prisms envelop the room with illumination, while in the contemporary chandelier, light is provided directly from lamps rather than through crystal prisms.
As a result, the overall look is one of subtlety and minimalism. Contemporary chandeliers have become a favorite for foyer lighting ideas these days because they offer a modernized touch, often complete with small mirrors and LED lights. Chandeliers inspired by classic style and contemporary style come together in these lights.
Crystal Chandelier
The glass of crystal chandeliers usually contains chemical content, such as lead crystal, and is made of dangling crystal prisms.
Besides adding softness and clarity to the chandelier, it also adds resonance and resonating qualities. There are a variety of crystal chandelier styles and designs, including contemporary and romantic.
Cage Chandelier
These are metal cage chandeliers with illuminations in the middle, as the name implies. The chandelier is supported by a metal structure rather than a traditional central stem.
Consequently, there will be more space and room for candles, lights, and other embellishments. Candles, crystals, and shades are some popular and common cage chandelier features.
Candle Style Chandelier
Many people prefer this chandelier style for their foyer entryway because it is one of the most popular chandelier styles. This is since the lights look like candle-shaped ornaments.
There are usually five or more arms on a candle-style chandelier, each with wax candlestick-shaped lights.
Bowl Chandelier
Using glass, metal, or ceramic bowls that are suspended in the air, this chandelier is also very popular. This bowl-shaped light is uniquely designed to allow light to diffuse slowly down through the bowl, creating an ambient, soft light that beautifully illuminates your home.
Modern-Day Pendants
Generally, pendant lighting is more modernized than traditional lighting, but it can also be used in areas that are more traditional in style. Pendants have unique qualities in that they provide an illusion of taller rooms, drawing the eye upwards. The light running through the piece also creates a calming effect.
To install a pendant light, you can either use a rod, chain, or cord to suspend it in the air from the ceiling. As well as being referred to as "drops", they are sometimes called "suspenders." Having a pendant that is hung flat makes it perfect for areas such as entryways, dinettes, and kitchen countertops.
Drum Pendant
As its name suggests, this pendant style has a drum-like shape. In these shades, a metal frame is covered by a stretching material or cloth to create the appearance of a drum. 
It hangs from a single rod or chain in the form of a drum. According to your preference, you may choose to leave the bottom of the shade open or close. It's important to remember that darker shades will let in less light. More radiance will result from lighter shades.
Saucer Bubble Pendant
Its timeless design has stood the test of time, making it the iconic lighting fixture of yesteryear. A saucer and bubble have been combined to form this design. Both the top and bottom of the piece seem to have been pressed together. 
Sauced bubble pendants are made of steel wires that are covered with a translucent layer of plastic. By allowing light to pass through it, this plastic also cuts back on glare. With the aid of supporting rods or chains, these are also raised high into the air.
Globe Pendant
As their shape suggests, globe pendants are also called spheres, spheres, orbs, and spheres. Their evolution since the 1950s and 1960s gives them a very midcentury kind of look.
Globe pendants possess a lot of light since they usually have a sphere of glass and an inset bulb or light in the middle. A cluster of these pendants can make an elegant statement in your entry foyer if you decide to use them singularly. 
Furthermore, you can set their drop lengths differently, looking breathtaking for those who are the adventurous, experimental type and want to play a little with these.
Multi-Light Pendants
Their centralized location characterizes pendants with multiple lights. The pendant can be shaped any way you like, as long as it contains more than one light source. 
Maintaining balance here is vital to avoid harsh glare by having the different lights clash against each other. Depending on the style, each chord or chain may also have lights hanging on the end.
Bowl Pendants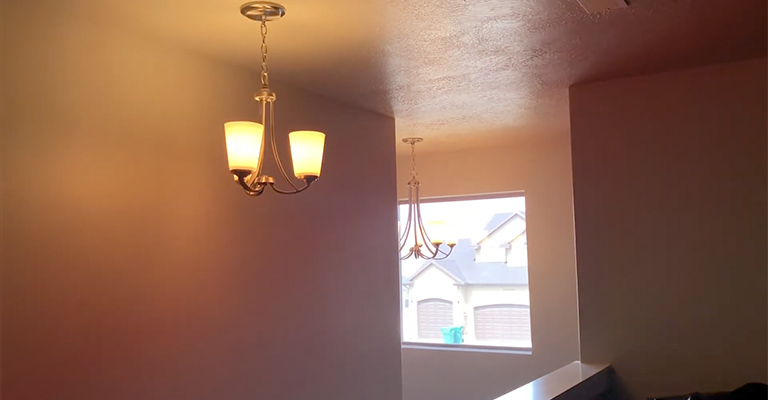 There's a slight resemblance to this style, with the exception that it has an inverted bowl-shaped pendant. Their sleek and simplistic design is both functional and elegant; bowl pendants are believed to be the most common lighting style. 
This inverted bowl results in the light casting upwards rather than downwards since it is installed upside down.
Final Words
The size of the entryway is an important consideration when it comes to lighting. Also, any furnishings, art, or mirrors that you would like to draw attention to. These are good to hang from high ceillings.
Fixtures that reflect the right light and complement your home's architecture and design should be chosen. A set of rules does not dictate the type of fixture you use in each situation.