No, you aren't a crazy person.
Your socks aren't just getting eaten by a sock-monster either.
They are most probably hiding behind the washer/dryer machine or simply waiting for you to find them nearby a trash can in the laundry room!
A laundry room is often the most overlooked space in a house. The lights are dim, the room is rarely spacious and it screams the word B.O.R.I.N.G to your face.
Since you probably spend a lot of time here (even if it's just the weekend), a good light fixture for laundry room will help you in many ways!
Want to sort out the colored fabrics before putting them into the washer? You need a brighter light than the dimmed ones!
Need time to iron and fold the clothes after getting them cleaned? You want a clear bulb that lets you see clearly what you are doing!
To help you plan the lighting arrangement, we have made a list that we think you would LOVE to splurge on!
Let's go!
Best Light Fixtures For Laundry Room Review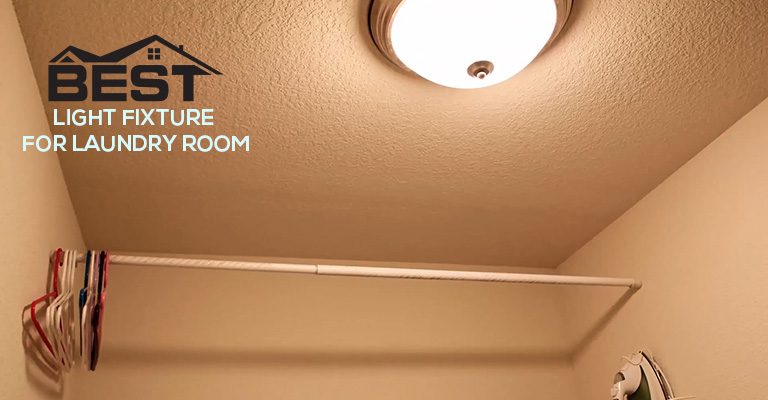 1. Hykolity 32 Inch Oval LED Ceiling Light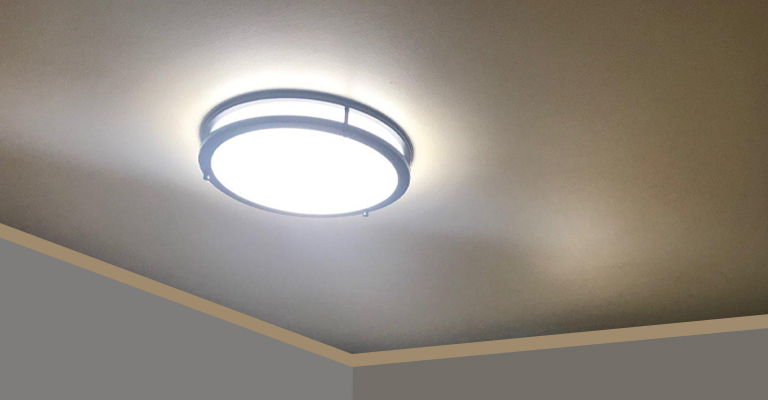 Buy on Amazon
Laundry room, no matter how small it is, should never look messy.
Who knows, a stylish laundry room with a pleasant environment might even take away the dullness of this mundane chore?
To help you design an attractive work area, the Hykolity presents a 32 Inch Oval LED Ceiling Light that shows off all those cool machines you bought for that space!
Think the light is too bright for your eyes in the early morning?
Hykolity comes with 3 different color temperatures (3000K, 4000K, 5000K) from where you can choose your favorite one with the flick of a switch. The 32-inch oval-shaped bulb has a neat design that enriches any décor with its fresh outlook!
While enjoying Hykolity's 3100 lumens of brightness, you might think it consumes a lot of power to provide that, right?
Surprisingly, the answer is NO!
Although this lamp works as good as a 300-watt incandescent bulb, it requires only 35 watts to operate. With more than 50,000 hours of maintenance-free operation, the lamp helps reduce costs in the long run as well.
Highlighted Features
With built-in LED drivers, the bulb ensures a flicker-free operation.
It's compatible with most modern LED dimmers.
The 35-watt unit works as good as a 300-watt incandescent bulb.
It doesn't spread any UV or IR radiation.
It provides you with 50,000 hours of maintenance-free operation.
2. FaithSail 4FT LED Wraparound 40W 4 Foot LED Shop Lights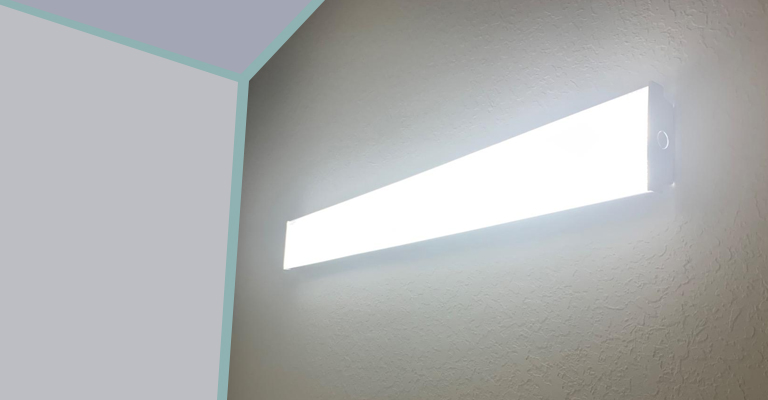 Buy on Amazon
Having trouble finding the spot where your top got stained last week?
Well, looks like it's time to change that bulb in your room!
Often times, we tend to delay replacing a lamp thinking about the cost it will take. But when you purchase a good-quality LED light fixture for laundry room, chances are, you will end up saving a lot in your electricity bill at the end of the month!
The FaithSail 4FT LED Wraparound Shop Light is such a product that requires only 40 watts of power to provide you with a whopping 4400 lumens of brightness. As a result, it cuts down your utility cost by 70% compared to other traditional lamps.
Whereas the general fluorescent tubes require you to replace its faulty ballast quite frequently, FaithSail doesn't need any ballast to operate. Convenient, isn't it?
Wait, there's more!
With the acrylic prismatic lens that's wrapped around the front part of the bulb, it helps maximize its light distribution to utilize its full potential. And if you have a bigger area that needs more brightness, you can easily assemble up to 20 of these fixtures together without any additional requirement.
Highlighted Features
The fixture is easy to install or replace.
It comes with 4400 lumens of output to illuminate a space.
It doesn't require you to replace any ballast whatsoever.
The 40-watt tube cuts down your utility bill by 70%.
It's ETL certified and safe to use for commercial and residential purposes.
3. Lysed Semi-Flush Mount Ceiling Light E26/27 Edison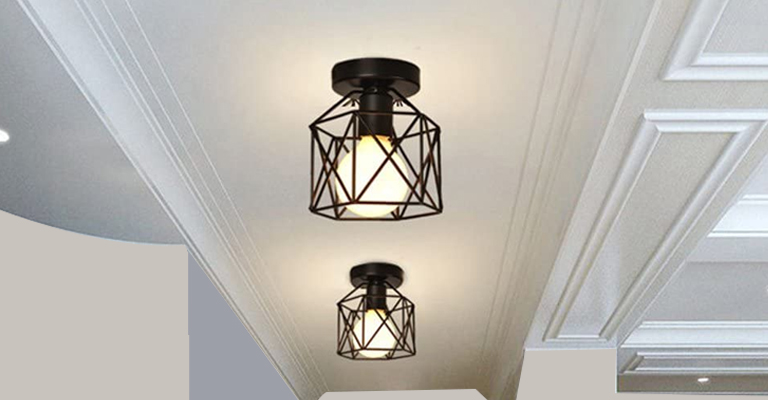 Buy on Amazon
While your kids are the most precious gifts of your life, we can't deny the fact they can be a little bit too clingy at times!
And that's probably when you decide to hide in the laundry room to have a break!
Since you are already here, we want you to utilize this break to the fullest by making a small corner of haven and just enjoy a little me time for a while!
To add a little cozy look to this area, we suggest taking a look at the Lysed Semi-Flush Mount Ceiling Light, which is both functional and pretty to look at just like you!
The ceiling fixture for laundry room features an industrial design with the help of its iron cage-like structure. The smooth painting finish on the exterior offers a retro vibe to your house that makes it look lovely without putting any extra effort!
Although the fixture is suitable for rooms with low ceilings, you can also make it work for high ceilings with the help of its long adjustable cable. The semi-flush lamp works well with any standard E26 LED and incandescent bulb.
Highlighted Features
The fixture is compatible with most 4-inch junction boxes.
All mounting gear and instruction for installation are included.
It's a statement piece that works well with both high and low ceilings.
It's compatible with standard E26 medium base LED and incandescent bulbs.
The fixture is dimmable when used with a dimming switch.
4. FaithSail 4FT LED Light Fixture 50W 5600lm Flush Mount Linear Lights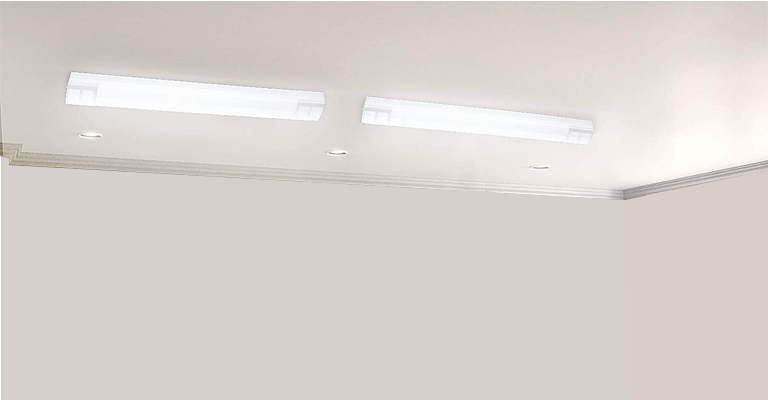 Buy on Amazon
One of the all-time favorites for traditional lamps is the fluorescent tubes.
Well, not anymore when a better version is just around the corner!
The FaithSail 4FT LED Light Fixture is far efficient than any normal fluorescent tubes available on the market. With a powerful 5600 lumens of bright output, this 4-feet LED is able to illuminate a large space in an instant.
There are a lot more factors that set this tube apart from your average go-to bulbs found in most houses.
For starters, this fixture requires only 50 watts of power to operate whereas a fluorescent tube would need 240 watts in that place! That means you get to save up to 70% energy consumption with this particular fixture.
With a durable frosted cover on top of the lamp fixture, the LED bulb distributes soft and comfortable light over the entire room in a uniform way.
Still not happy with the brightness level?
The tube also comes with dimming capabilities, which allows you to reduce its glare whenever the light seems too bright for your taste!
Highlighted Features  
It comes with a 4000K of color temperature to illuminate your space.
You have the option to dim the lights whenever you want to.
With a whopping 5600 lumens of output, it's ideal for large spaces.
The milky-white cover on top helps save your eyes from glare and spot dots.
The tube is ETL certified for your safety.
5. Drosbey 24W Ceiling Light Fixture, 10in Flush Mount Light Fixture, LED Ceiling Lamp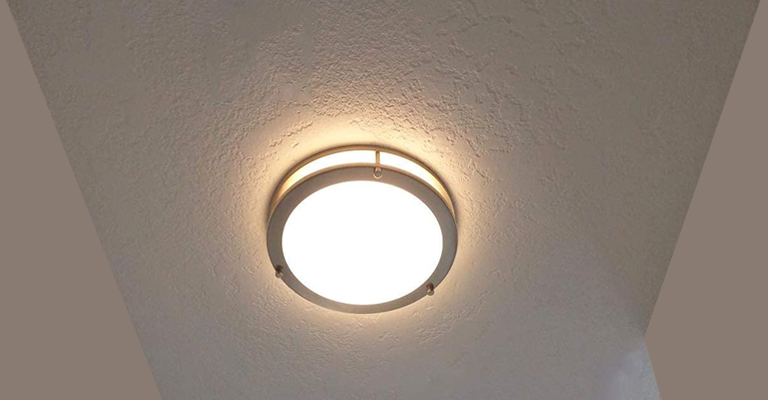 Buy on Amazon
Don't like the linear tubes that provide harsh shadows in the middle of the room?
Then a flush mount ceiling light that gives clean lighting is definitely a better option for you! 
Take a look at the Drosbey 24W Ceiling Light Fixture for instance. With a cool, simplistic line design, this lamp brings a tasteful, bright appearance to your house!
When it comes to choosing the best light fixture for laundry room, one thing you should never compromise on is your safety.
And there are only a few fixtures left that think for your safety as much as Drosbey does!
The fixture is protected from electrical overloading, short circuit and other hazards that might cause electric shock or leakage. Considering the safety measures taken by the manufacturer, it's probably one of the most reliable lamps out there.
The flush mount lamp illuminates a space with its 2200 lumens of powerful brightness.  However, to produce this much output, it needs only 24 watts of power consumption! That means you get to save up to 70% of your electricity bill when you install this energy-efficient fixture.    
Highlighted Features
It has a cool, simplistic line design that makes it look elegant.
The product has a lifespan of 30,000 hours.
It consumes only 24 watts of power to operate.
It's protected against electric overload and short circuit occurrence.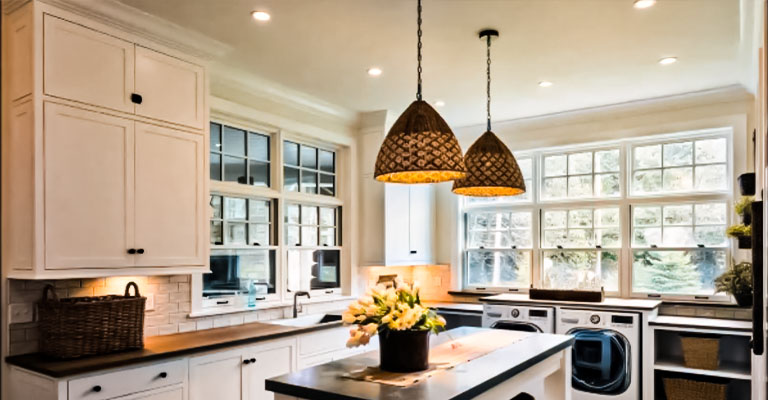 Frequently Asked Question
Q: What Type Of Color Temperature Is Best For A Laundry Room?
Ans: You can opt for either cool or warm color temperature for your laundry room. If you want to have an easier time sorting out white from the colored fabrics, then it's best to install cooler (3000K) light fixtures.
Q: What Are Some Of The Popular Styles Used In Laundry Room?
Ans: Industrial, nautical, farmhouse and schoolhouse are some of the most popular themes that are commonly used in laundry rooms everywhere. If you have a high ceiling and spacious area, you can also go for a contemporary fixture in this area.
Q: How Many Fixtures Are Needed To Light Up A Large Laundry Room?
Ans: If you are lucky enough to have a large space, then instead of regular ceiling fixtures, we recommend trying out something bold and beautiful!
Fixtures with cage-like structure would look absolutely gorgeous in this type of situation. You can place two or three of these lights in the area to cover the entire place properly.
Q: How Can I Improve The Lighting In My Basement Laundry Room?
Ans: Basement is a dark and gloomy place as there's limited sunlight in most of the places.
For that reason, we recommend using an LED tube light that comes with at least 3000 lumens of brightness. Not only it lightens up the entire place with one single fixture, but also, it transforms the dark basement into a more comfortable place to work in.
Q: Can I Install A Ceiling Light On The Wall?
Ans: No, absolutely not.
Some ceiling lamps are definitely not compatible for wall mounting. They emit too much heat and mounting them on the wall will also void the warranty of that fixture. So, make sure to read the instruction before doing anything.
Conclusion
Many of us don't think much about styling a laundry room, let alone lighting it up.
However, a musty and secluded place will only bring your spirit down and make your daily chores seem more boring than it already is!
That's why, it's important to choose a good light fixture for laundry room so that you can start your day with a fresh load of clothes and a bright, positive mood all at the same time!
Hopefully, our article has inspired you to create a modern twist to your laundry area and make it a multi-functional space for your convenience.