Modern and traditional home decorations alike include Tiffany-style lamps. Lamps can be found in a wide variety of modern shapes, including chandeliers, table lamps, floor lamps, banker's lamps, and pendant lights.
Art & Crafts lighting, like Tiffany-style lighting and decor, grew out of the machine age in America during the mid-19th and early-20th centuries. The result was a richly decorated design that was a combination of the best of American style and history.
Tiffany lamps might seem too dated to some people since they aren't as pure black and white as they are. In addition to these, several other lighting options can enhance a room's elegance.
One of them is Tiffany lamps. It has been 100 hundred years since Tiffany lamps appeared on the scene. In the meantime, Tiffany table lights continue to be produced in mass throughout the world.
Lamps were handmade, embossed with Tiffany Studio trademarks, but not authentic Tiffany lamps. Is Tiffany lighting really outdated?
Among the world's most valuable lamps are Tiffany lamps. It is designed by Louis Comfort Tiffany and his design studio; it is a unique lamp with a glass shade. These lamps dominated the art of Nouveau. There are stained-glass lamps on each table.
The term "Tiffany lamp" refers to stained leaded glass lamps made by companies other than Louis Comfort Tiffany because of Tiffany's dominant influence on the style.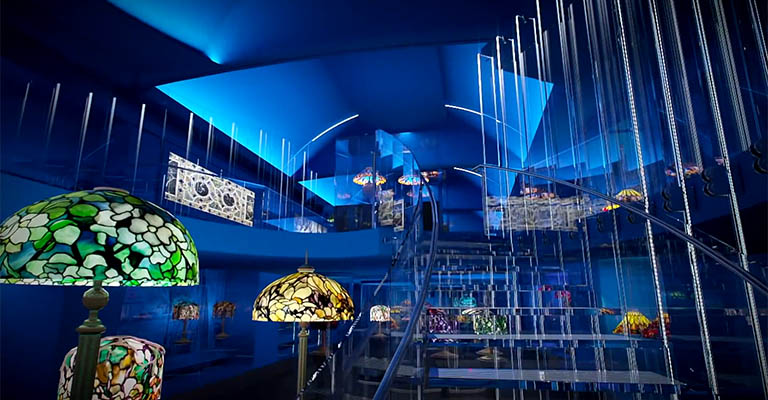 The Roots Of The Tiffany Style – Are Tiffany Lamps Outdated
Toward the dawn of the industrial age, manufacturers began using assembly lines to build a growing number of items, like furniture and automobiles. The handcrafted pieces rich in individuality are now being embraced by many artists and designers.
Art Nouveau is an ornate movement made popular by the desire to incorporate art into everyday life around the turn of the 20th century. As one of the most recognizable art forms to emerge from this time period, Tiffany glass was perfect for its artistic, handcrafted beauty.
The History Of Tiffany Lamps
Tiffany created the first lamp in 1895. The original Tiffany lamps were once believed to have been designed and made by Tiffany himself.
Yet, it was discovered that they were created by Clara Driscoll, who would become the name behind Tiffany lamps. She crafted the signature designs over a 20-year period at Tiffany Studios.
Nature-inspired ornamentation and patterns characterize the original Tiffany lamp designs. "Dragonfly," "Wisteria," and "Daffodil" are among Tiffany's most famous lamps. In stained glass, artisans spent countless hours capturing nature's intricate beauty.
Louis Comfort Tiffany
In 1848, Louis Comfort Tiffany was born and named after the Tiffany glass company. Tiffany & Co. was founded by Charles Lewis Tiffany, Charles' father. A desire to create beautiful things was clearly passed on to the younger Tiffany by his father.
She studied under artists such as George Inness and Samuel Colman in New York and Paris. After his return to New York, he turned to stained glass as a specialty and worked as an interior designer. A Tiffany glass company was formed in 1885, which later became Tiffany Studios.
Favrile Glass
The Favrile glass was created and trademarked by Tiffany in his own factory in 1893. Fabrile is a derivative of Old English, meaning "handcrafted." From breathtaking iridescent colors to art glass with strings, ripples, and flecks, he produced a variety of art glass items.
Glass is traditionally made with a minimum amount of impurities. Despite this, Tiffany found a way to manipulate the impurities in the glass to produce unusual colors and patterns. He would become known for this exquisite glasswork.
The Tiffany Legacy
Favrile glass and Tiffany lamps gained widespread popularity in Europe and domestically. As well as jewelry, Tiffany's firm specialized in pottery.
Tiffany has remained popular since the 19th century. Many new companies manufacture art glass Tiffany lighting fixtures and decor in the tradition of manufacturing the original Tiffany lamps that fetch top prices.
Louis Comfort Tiffany greatly influenced the aesthetics of the 20th century. A Tiffany lamp's brilliance, however, is not dependent on your training as an art historian. Classic homes are enhanced by Tiffany lighting. Elegant art glass is always in style, even in the most modern motif.
How A Tiffany Lamp Is Made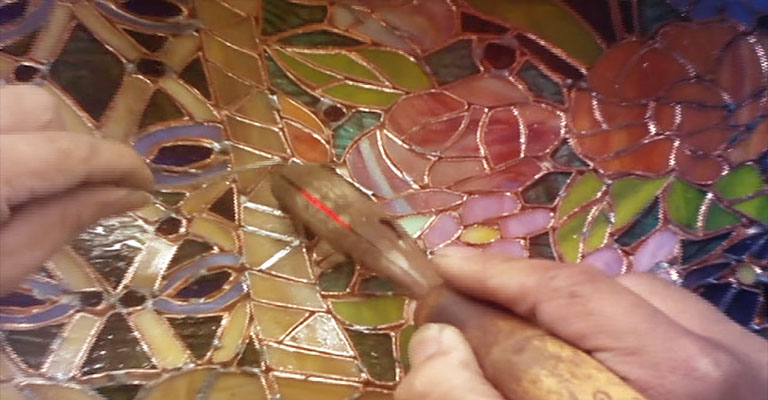 A Tiffany table lamp or Tiffany floor lamp is created by fusing hundreds of pieces of colored glass. Copper-foil is the modern method for achieving this result. Some believe that Tiffany invented this process, but others believe John La Farge of American glass was responsible.
An initial mockup is made on paper or cardboard with a decorative design. The mockup is then used to cut the glass sheets.
A copper tape is then used to wrap the ground glass pieces. Soldering these pieces together creates the finished design.
The soldered joints hold the pieces of Tiffany art glass firmly in place. The holes are so tightly packed that they do not resonate with sound as windows or drinking glasses would when tapped.
When they are struck, they produce a dull, muffled sound, which many interpret as plastic or some other material other than glass.
The brilliance of colors is a sure sign of a Tiffany-style glass shade. It is possible to notice slight imperfections and irregularities in some glass due to its texture. Additionally, the art glass shade is more durable and heavier than a plastic shade.
Modern Tiffany Style Lighting Ideas
You probably want to explore lighting options after learning that Tiffany-style lamps aren't outdated. Therefore, here's what you need to know:
Chandeliers
A chandelier, as you probably know, is a decorative light fixture that hangs from the ceiling. As ambient lighting, they can be used in bedrooms, living rooms, and kitchens. A Tiffany chandelier can create a warm atmosphere in your home by creating a warm ambiance.
Pendant Lights
Pendant lights are ceiling lights that hang from the ceiling using chains or cords (like chandeliers). It is easy to choose Tiffany-style pendant lamps for your home if you are looking for old-fashion lighting.
Table Lamps
Reading and decorative purposes can both be served by table lamps. There are Tiffany-style table lamps that have more unique designs and a warm ambiance that you might not find in traditional table lamps.
Almost all Tiffany table lamps have beautiful finishes and are handcrafted. Decorative light fixtures are intended to create a sense of tradition in your home or business. In other words, Tiffany-style table lamps are an excellent choice if you're looking for Antique table lamps.
Bankers Lamps
Green lampshades are common on bankers' lamps. An elegant Tiffany-style lamp is a unique choice for a unique design. There are different colors available, and they are handcrafted. You can expect warm lighting effects since the lampshades are stained glass.
Outdoor Lighting Fixtures
Even as you decorate for the outdoors, you can incorporate Tiffany lights. There are a variety of Tiffany-style wall lights and hanging lights that you can use outside.
Patios, garages, balconies, foyers, and other outdoor spaces ideally suit these light fixtures. View our recommendations for the best Tiffany-style outdoor lighting.
Final Words
The popularity of Tiffany-style lamps is not declining but instead increasing. Traditionalists, however, tend to prefer these lights.
Depending on the style you choose, the lamps can also be used for modern home decorations. Tiffany-style lamps make a beautiful addition to a home if you want to add antique designs to it.