One of the oldest tricks in the book to prevent burglars from breaking in is to leave the porch light on while you are away from home.
Does it work?
Not always, apparently!
The professional thieves see right through this illusion when the lights are kept on all day long (who wouldn't, honestly?) and plan their next move accordingly.
Is there no way to let your guards down, then?
Well, there is! You just have to smarten up your house with the best light fixtures for Philips hue bulbs and have all the lamps coming on/off at your command!
Apart from scheduling the lights to turn on or off lights on their own, these lights have tons of other benefits as well.
Be it Alexa, Apple Homekit, IFFT, Razer, Google Home or even your smart watch, these bulbs work with them all! It also allows you to pick your favorite mood from its pre-selected "scenes" or create a new one as per your wish.
Let's have a look!
Best Light Fixtures For Philips Hue Review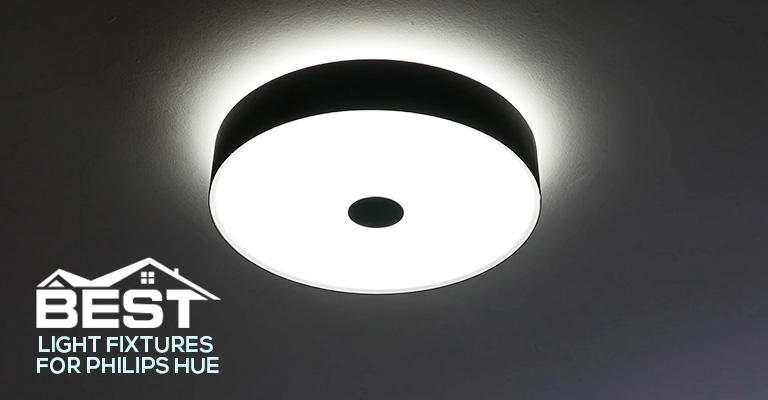 1. Philips Hue Econic Outdoor White & Color Wall & Ceiling Light Fixture
Want your house to turn on its welcoming mood as soon as you pull your car in the driveway?
Installing the Philips Hue Econic Outdoor Light Fixture might be the way to do it!
Compatible work with voice assistant devices, this lamp allows you to program it to turn light on your home before you even make it to the front door. With 1150 lumens of output, it's perfect for open spaces like porch, front yard, deck or any other dark places around your home.
Thinking about whether it's strong enough to combat the harsh environment of the outdoors?
Thanks to the Econic line from Philips, the entire series is built with a robust outdoor design that's fully weather-proof and lasts for a long time. In addition, it gives your porch an aesthetically pleasing look with its contemporary design and makes it an ideal place for evening activities.
You have the opportunity to choose from its 16 million different colors and 50,000 shades of white once you install this smart lamp! You can mount it on the ceiling or attach it to the wall as per your convenience.
Highlighted Features
It has a beautiful design that goes with all kinds of outdoor settings.
The lamp is weather-proof and lasts for a long time.
It gives you 16 million colors and shades of white to choose from.
With 1150 lumens, it brightens up the entire space.
The whole thing can be installed in a few minutes.
2. Philips Hue Lucca White Outdoor Lantern
One way of keeping your electricity bill in check is to use natural daylight as much as possible.
So, if you want your front yard to be illuminated all the time, it's best to turn on the yard light in the evening and turn off when the sun peeps in at dawn!
Of course, you can do this manually, but why bother when you have Philips Hue Lucca White Outdoor Lantern to do it for you?
With the helping of its smart features enabled, you can easily schedule the lamp to turn on and off whenever you want! Oh, and don't forget, you can also control its settings using voice commands on Alexa, Apple HomeKit and Google Assistant as well.
Whether it's a sunny day or a stormy night outside, this Lantern will be on its guard all the time. Built with high-quality material, the device is weatherproof and suitable for dry as well as wet locations.
Luckily, this lantern doesn't need a replacement too often and can last up to 2 years without a hitch. With over 25,000 working hours in its name, the lamp is ideal for both residential and commercial uses.
Highlighted Features
It's suitable for wet locations.
You can set a schedule for this device to switch on at certain times.
The material is weatherproof and doesn't get damaged easily.
You can use voice assistant and smart features to control its settings.
The package includes a a19 smart bulb with the fixture.
3. Philips Hue White Ambiance Dimmable LED Smart Retrofit Recessed Downlight
Wouldn't it be nice if the weather got a whiff of your mood and changed itself accordingly to fit your frame of mind?
While we can't change the weather outside, the atmosphere inside your home is a whole different story!
With Philips Hue White Ambiance Dimmable LED, now you can change the cool lighting of your room to a warmer, softer glow whenever you want! The 4-inch recessed lamp creates the perfect ambiance for reading, concentrating, relaxing etc. and accommodate your every need.
The LED bulb offers you to choose your favorite color from 50 thousand shades of white! You can easily switch off the yard light from the comfort of your bedroom using your smartphone, tablet or other devices. Amazing, isn't it?
Apart from switching to the colors of your choice, this lamp can also be dimmed. So, anytime you want to just sit back, relax and take a quick nap on the couch, just ask Alexa to dim it for you and enjoy the bliss!
You can install this device in your kitchen, bathroom, living room and even outside as it's suitable for both wet and dry locations.
Highlighted Features
It has 50 different shades of white color for you to choose from.
The lamp is suitable for both dry and wet locations.
You can change the atmosphere with your voice command.
With 700 lumens, it can easily brighten up a small space.
The package contains a manual to explain the whole installation process.
4. Philips Hue White Ambiance Adore Smart Flush mount Light
If you want something ultra-thin, yet stylish, then flush mount lamp is your best option!
The Philips Hue White Ambiance Adore Smart Flushmount Light is a cool light fixture that adds a touch of glam to your home while providing greater ceiling space as well.
With a powerful 2400 lumens of output, this lamp enhances the décor by illuminating a wide space. The fixture is low profile and blends quite well with the ceiling giving it a decorative look at the same time.
Feeling too lazy to get up from the bed and dim the lights a little bit?
Now you don't have to anymore!
This smart LED is compatible with Alexa, Apple HomeKit and Google Assistant. Therefore, it can dim the lights, turn the off/on automatically without any assistance.
It also comes with a wireless dimmer switch for your convenience. However, if you want to get the full benefits of using this product with all the voice command facilities, then you will need to purchase a Hue Hub, which is sold separately.
Highlighted Features
It helps smarten up your home with automated system.
The bulb comes with 2400 lumens of brightness.
It has a wireless dimmer switch you can use whenever you need to relax.
The adore mount fixture is damp rated and safe to use in bathroom.
5. Philips Hue White Ambiance Being Smart Pendant Light
When it comes to giving your house a personalized look, simple flush mounted ceiling fixture just doesn't cut it!
Pendant lights or drop lights work best in this situation.
These lights are capable of turning any formal/casual look to a "Wow" one in an instant. Take a look at the Philips Hue White Ambiance Being Smart Pendant Light for example!
Smaller than a chandelier, yet bigger than the flush fixtures, this drop lamp is perfect for any spaces. With the included suspensions in the package, you can easily hang this fixture at your desired height.
Even the most elegant designs will fail to impress you if it doesn't provide sufficient light, right?
With 2400 lumens of powerful output, this Pendant Light is more than capable of brightening up a medium to large room quite easily! What's more, it offers you 50 thousand shades of white that ranges from 2200K to 6500K, so that you can pick the one that suits your style the most!
This lamp is also compatible with the latest technologies such as, voice commands, Alexa, Apple HomeKit, Google Assistant etc.
Highlighted Features
It brightens up any space with a powerful 2400 lumens of output.
It offers you a wide range of 50 thousand white shades to choose from.
The lamp is compatible with all the smart technologies.
The pendant structure can easily be hung at any desired height.
Frequently Asked Questions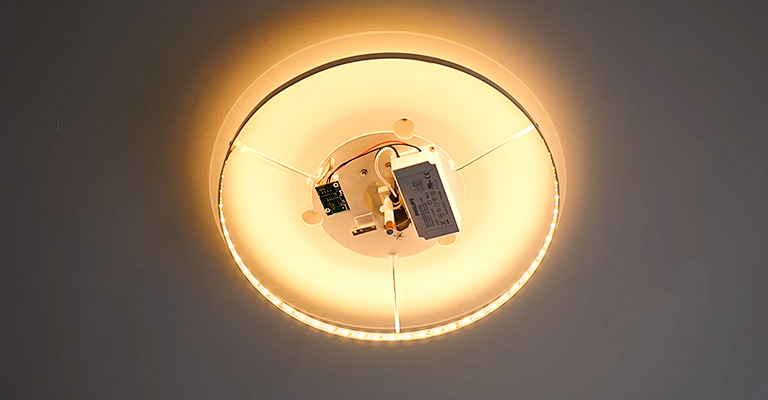 Q: How Long Does Philip Hue Bulb Last?
Answer: It depends on what model you have purchased. On an average, a typical Philip hue bulb lasts around 15,000 hours, which roughly converts to 6-7 years if you use 6 hours on a daily basis.
Q: Does Philip Bulbs Produce Too Much Heat?
Answer: Normally, they don't. These bulbs generate even less heat than incandescent ones. However, if you put them in an enclosed fixture, it might start to get overheated at some point.
Q: What Do I Need To Connect These Bulbs To Alexa?
Answer: To connect with Alexa, you will need a Hue Hub device. Then you need to install the latest Hue app on your smartphone. Also, your Alexa should be connected to the WI-FI network all the time.
Q: What Do I Need To Connect My Apple HomeKit With Hue Lights?
Answer: First, you must get the Hue Bridge for setting things up. Then you will need an IOS device that has at least the 9.3 or higher version. Finally, you need to install the Apple HomeKit app in your phone to get things started!
Q: Is It Possible To Make The Philips Bulb Work Without The Hub?
Answer: Yes, it's very much possible! You just need the Hue dimmer switch to control it. However, a Hub is required to enjoy all the smart features that come with this light.
Conclusion
Instead of a plain-old boring light socket, installing a smart bulb is a much better idea as they open up some major possibilities.
From lightening up a cool party to dimming the lamps so that you can sleep better, these bulbs are actually a game changer in our day to day life! The ability to control these bulbs even when you aren't physically there at your home is a real liver-saver in certain situations.
So, what are you waiting for?
Switch up the colors to match your mood, play with the wireless controls and fall asleep under a soothing light by installing the best fixtures for Philips hue bulbs!