A beautiful living room requires excellent lighting. Decorative lamps are helpful for both indoor and outdoor use.
Light can change the mood of a room in just one glance, and they can be stunning in themselves. It is essential to think carefully before buying a floor lamp.
The lighting in a room is one of the most critical components when it comes to decorating. It is important to remember that lighting can transform a space completely.
Rich Brilliant Willing's director Theo Richardson makes a point of emphasizing the significance of light. Lights can also affect the way you feel, in addition to brightening dark corners.
The light we have at home enlivens family moments and daily routines such as getting ready in the morning. When we are in the right frame of mind, we are more productive and motivated.
After all that, it is still your choice as to which type of light to use. Hopefully, the tips in this article will assist you in determining which style of lighting is right for you.
Table Lamps Vs. Floor Lamps – Which One Is Better?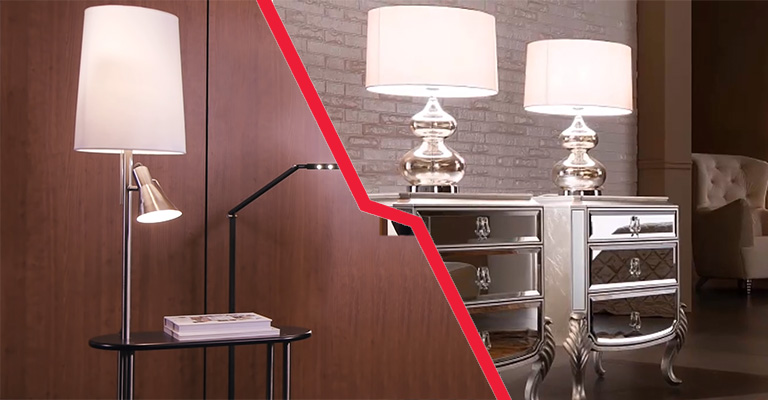 The wide variety of lamps available, their portability, and their practical benefits make lights a trendy choice for bedrooms. There are numerous kinds of lamps used in living rooms, including floor lamps, reading lamps, table lamps, and accent lamps.
As you may spend a great deal of time in the living room and want to be able to see clearly, living room lamps often focus on a brighter light. Living rooms and family rooms have long been popular places to place table lamps. 
The addition of floor lamps to a living room can also provide a strong source of illumination. Since you need to choose one, I'll demonstrate how the various options will work in your home.
Floor Lamps
Particularly in communal living areas such as living rooms, floor lamps are popular lighting choices. Decoring your home with floor lamps is a wonderful way to bring elegance. Here are a few tips to get you started:
Tip 1:
Hallways and corners benefit from floor lamps for creating an atmosphere and illuminating large areas. 
Floor lamps are usually on display 365 days a year, so if you like to make a statement with your decor and fear that they will clash or look dull. 
Isn't it nice to use them as decor? A variety of styles, colors, materials, and shapes are available in floor lamps.
Tip 2:
Choosing a tall lamp with a slim, sleek base is the best option if you're worried about space. Combining a drum shade with a chandelier will truly help to create the illusion of height (and space) in any room it is placed in.
Ideal For:
In communal living areas for providing main ambient lighting, adding height and lighting smaller spaces and hallways.
Table Lamps
You can create a warm, welcoming atmosphere in your home by using table lamps (and it's simple). You can start by following these top tips for table lamps:
Tip 1:
Make sure your lamps are sized according to how you will be using them. Large, bulky bedside lamps are not appropriate for bedrooms. A small lamp will take up all of the space on your bedside table unless you have an extra-large one.
Tip 2:
Are you concerned about the placement of your table lamp? Perhaps the problem is with the lampshade rather than the base. The best combination for bases is to pair them with shades of the same shape or design. 
The best way to match square bases with square or rectangular shades is often to use square or rectangular shaped bases.
Ideal For:
A light layering throughout your home ensures accent lighting, illumination of dark corners, and reading light.
Are You Interested In A Certain Type Of Light For Your Living Room?
The best floor lamp will depend on which of the two uses is a priority, so you need to decide which is preferable before selecting one.
A lamp next to a couch or armchair will provide adequate reading light if the top of the shade is around 60 inches high when viewed from the floor – the bottom of the shade will usually be at eye level.
In addition to choosing the right color, choosing the right shade is also crucial. Semi-transparent shades provide softer ambient lighting. 
Go for an opaque shade if you want to highlight a feature on a wall or ceiling. They are more appropriate for decorative accent lighting.
Do You Need To Make Any Changes To Your Living Room If You Want To Add A Floor Lamp?
The bases of floor lamps are available in a range of materials, including brass, wood, and marble, and your lampshades can be in any pattern or color, so you can match the lamp's style and period to the living room's décor.
It is also possible to use floor lamps in your living room to enhance its character and look. Why not set up a reading nook with a standing lamp, an armchair, and a side table?
You can also use floor lamps as a great way to create positive design features in 'negative spaces.' The 'nothing' parts of the room can be lit, adding depth and character to the room. 
An empty bay window can be lit, or the gap between your sofa and wall can be illuminated. Choosing semi-translucent shades will produce a diffused, soft light that will be warming.
In addition, take care not to obstruct the line of sight between seats when deciding the location of the floor lamp. 
It is fine to have a splendid lamp, but you do not want guests bending down to chat with each other while it is on display.
How To Match The Lamp Style To Your Room Theme?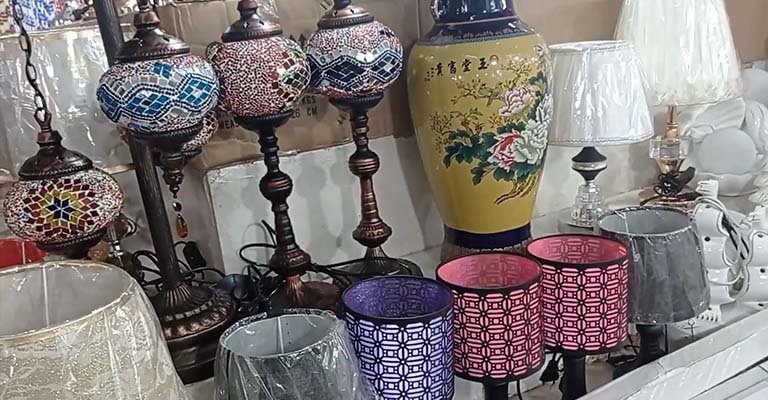 Vintage lamps to ultra-modern lamps are available in several styles. It would help if you matched the lamp style with your home decor and the theme of your room.
The term "modern" normally refers to lamps with prominent shapes, colors, and an absence of small details. Minimal materials and geometric shapes accentuate modern styling.
Generally speaking, lamps with elaborate, ornate details, scrolls, fancy curves, as well as older materials like bronze, brass, and wood tend to resemble classic, vintage, antique, or traditional style lighting.
If you would like, the lamps can be placed in the background with minimal style or placed more prominently to add interest to the room. 
You can add color to a lamp by choosing a colorful shade, or you can focus on white, neutral, or transparent materials and focus on the lamp's purpose.
If you want to use lamps for your interior design, pick up a few colors from the color scheme of your room.
Final Words
Why not consider mixing up your lighting a little for the best results in your home? You can have fun with the placement of your lamps and add layers and ambiance to your space. A nicely lit, calm home that is both beautiful and relaxing is the reward you'll get for your efforts.
In interior design lesson 101, it is stated that it is better to layer light with multiple lamps in a living room rather than rely on one overhead light source. It is possible to use various combinations of lamps of different sizes for different moods and situations just by having several lamps of different sizes.
In summary, if you are planning to buy a floor lamp in addition to tables lamps, desk lights, and wall lights, you can have lots of fun creating a lighting 'family'. Even if a room's shades and styles don't match, mismatched accents can be very appealing.