You cannot use an over-the-range microwave oven on a counter or shelf. In addition to that, they are not UL-approved for this purpose. If you want to do so, you should get a countertop oven instead. 
It is important to remember an Over-the-Range Microwave does not have a flat underside. This would prevent the surface from being stable. Also, if the vent fan or surface lights are accidentally turned on, there can be a heating problem.
You may be tempted to place an over-the-range microwave on the counter if that is all you have. The underside, however, is the biggest reason why this is a bad idea. We'll explore the reasons for the microwave's incompatibility with countertops by looking at how it relates to heat and the base.
You can't convert over-the-range microwaves for use on a countertop because the venting is built into the range hood. So, buying a countertop microwave is the best choice.
Some houses have over-the-range microwaves built into the kitchen, depending on the year that the house was built. Modern homes tend to have them since they save a lot of counter space.
Due to their underside not being flat, over-the-range microwaves cannot be used as countertop microwaves. Now that you know the reason, it's time to find some alternatives. 
Do Over the Range Microwaves Have to be Vented Outside?
You can enjoy the experience of having a professional install your new Over The Range (OTR) Microwave. Depending on the company you have hired to install your OTR Microwave, you may not be getting the care you deserve.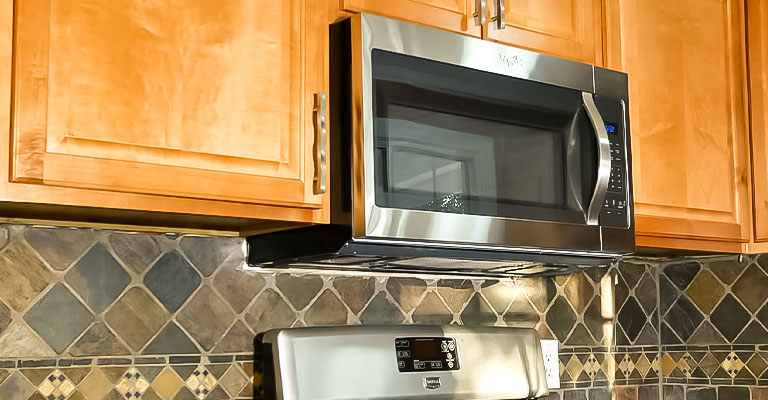 In many cases, installers do not discuss your options prior to installation, including how to handle venting your new Over The Range Microwave (OTR).
Are you even aware that your technician can vent the Over The Range Microwave outside? However, is it necessary to vent it outside?
A venting system is not required on Over Range Microwaves (OTR). You can choose to have the fan recirculate air or to vent it outdoors with all OTR microwave ovens.
Here's your chance to figure out which microwave over the range solution works best for you. In this article, I'll discuss the options you have for venting your Over-The-Range microwave, along with some pros and cons of each. Let's get started!
You Can Replace Your OTR Microwave With A Wall Hood
Installing a wall hood instead of a microwave has several advantages. For starters, you will have a higher cooking area. Having to reach under the OTR to stir the pot or turn a burger can make you feel cramped.
The rising steam and oils from the OTR microwave can also condense on the bottom and then drip into food as you are cooking. An additional wall hood increases the cooking workspace height immediately. Even a six or eight-inch increase in your cooking space can make a huge difference.
The second difference is that wall hoods have a higher CFM (Cubic Feet Per Minute) rating. Because it can move more air quickly, it is capable of moving more air.
It is not possible to have a very big fan when using an OTR microwave. As a consequence, it is not very effective at moving air. Microwaves with Off-the-Rack (OTR) technology typically have 200 to 300 CFMs.
Microwave Oven With An Outside Vent From OTR
In addition to venting smoke and odors from the room, the system also prevents them from entering the house. Turning the fan on "low" before you begin cooking can be beneficial. 
By creating an updraft in the ductwork, odors are naturally expelled as they occur rather than waiting until you are under a time crunch to get rid of smoke and odors.
It is almost always possible to exhaust OTR microwaves outdoors in one way or another. One con is that it may be out of your budget. For example, installing a wall Cap And Running Ductwork To The Outdoors Can Cost From $500 To $1,500.
Recirculating Exhaust Vent On OTR Microwave
OTR microwaves have their benefits, such as the ability to free up counter space otherwise used by microwaves. Smoke and steam from the cooking surface will be blown away by the recirculating exhaust fan. 
It has the potential to never leave your house or kitchen, for that matter, due to the smoke and odors. Smoke and odors from the range are forced into your living space by the recirculating exhaust fan.
Over-the-Range Microwaves Advantages
Over-the-range microwaves have the advantage of built-in vents, which is one of the main advantages. The exhaust vent can be used to remove things such as smoke, moisture, and odors. The range hood also doubles as a range hood for your stovetop.
Cleans Easily
Microwaves built over the range are often equipped with a fingerprint-resistant finish. They are easier to clean this way. Splatters and spills can be easily cleaned From Their Interiors Since They Are Designed With Non-Stick Materials.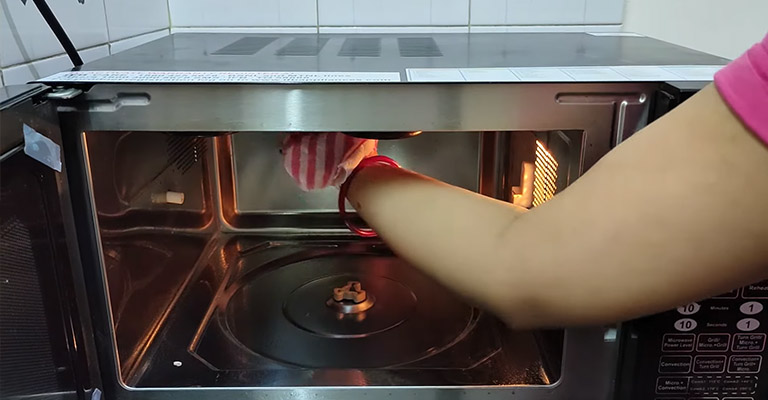 Design With A Clean Look
Another advantage of using an over-the-range microwave is that it makes a kitchen look luxurious. It's stylish, modern, and your home may even appreciate it because of it.
Cooking Flow Improved
It is known that microwaves over the range cook food more efficiently. Additionally, you can use both the microwave and range at once, making cooking your meals faster. You'll also save time by not going between appliances since the microwave is right above the stove.
Cleared Countertops
Over-the-range microwaves remove an appliance from the countertop. With more counter space, you'll have more room to prepare meals or store flour and sugar. Blenders, can openers, coffee pots, and toasters can also be stored in the extra space.
Why Should You Not Use An Over-The-Range Microwave On A Countertop?
In each conventional Over-the-range microwave, a venting system can produce undesirable heating if there is no immediate clearance, especially if the vent fan or surface light is accidentally turned on.
You would not be able to use the underside of over-the-range microwaves as a stable surface since the bottom of the appliance is not flat. 
Therefore, the appliance will not sit flush against the countertop, making its use challenging for you. In addition, if your children tend to use the microwave often, you may encounter difficulty when placing the pans inside and taking them out.
Final Words
Over-the-range microwaves are a type of microwave that is used in kitchens. These microwaves can be placed over the top of a stove or next to a sink. They provide more space on a countertop and more functionality.
One example of how an over-the-range microwave helps is when you have to make two batches of food simultaneously. 
They help you heat up one batch while heating up the other batch with ease without having to move food back and forth between appliances for both warmings up and cooking. If you don't have enough room on your countertop, consider getting an over-the-range microwave instead of ovens or cooktops. 
You can also read – Differences in Corian vs Formica Solid Surfacing Countertops.