Tile cutting is a skill that requires precision and speed. The wet tile saw allows for quick cuts, which means less time spent on the project. It also saves the tile installer from accidents caused by dull blades or fingers slipping off the blade.
Tile saws are noisy, so they should be used in a location with a lot of ventilation. They create a lot of dust which can cause health issues if inhaled. When using tile saws, it is important to wear goggles and ear protection since the blades create a lot of sparks.
Cutting tiles is something that takes experience and skill. However, you can still use your miter saw for cutting tiled surfaces, make sure to use a diamond or carbide blade attachment. 
Keep in mind that miter saws are not designed specifically for cutting tiles, but they can still be used to cut them. However, the tile must have a relatively flat bottom and the blade must be set at an angle to make the cuts.
What Is A Miter Saw Normally Used For?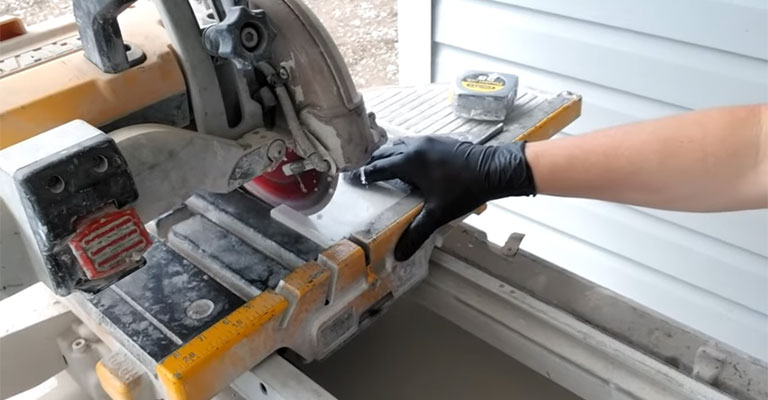 The most common uses for a miter saw are cutting or beveling boards in a straight or angled position, creating compound miters, cross-cutting boards in a 45-degree position, making square cuts with the blade in place, and cutting small pieces to length.
Since it comes with its own stand that holds the blade at an angle during use, it can be used as an angled saw when cutting into corners or angles. It also comes with its own storage stand that makes it easier to store the saw when not in use.
A wet tile saw is required for cutting tile properly. You can however use a miter saw with a diamond or carbide blade attachment if you are on a budget and can't afford to buy or rent this tool.
You should look for turbo rims or segmented rim blades (with gaps) that release heat into the atmosphere. Miter saws are really only meant to be used as a last resort or to cut a few tiles for a small project.
What Is The Best Way To Cut Tiles With A Miter Saw?
While miter saws are traditionally used for woodworking, they can also be used for cutting tiles. Otherwise, you risk damaging your saw and damaging the tile, as well as hurting yourself! Make sure you have the right blade attachment.
When making straight cuts, angle cuts, and square cuts (other than circular cuts), you should follow these steps:
1. Square Cuts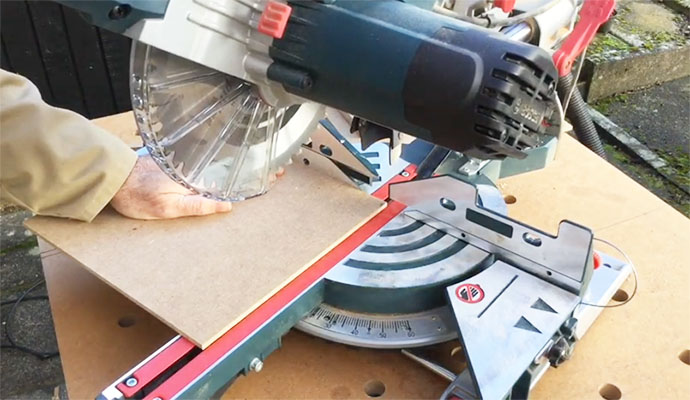 Making cut-outs on the tile is a simple matter of using the drop feature of the blade. Then, place it face down on the tray after marking the back of the tile.
Pull the blade down into the tile along the cut line as you hold the tile firmly in place. You may need to rotate the tile in order to cut all sides of the square.
Tap your knuckle lightly on the cut-out area until it falls out. A tape measure and pencil are also necessary for making cut-out areas in the tile in addition to the miter saw and diamond/carbide blade attachment.
2. Angle Cuts
The tile should be cut at an angle using the miter feature of the saw. As you loosen the adjustment lever, the blade will slant.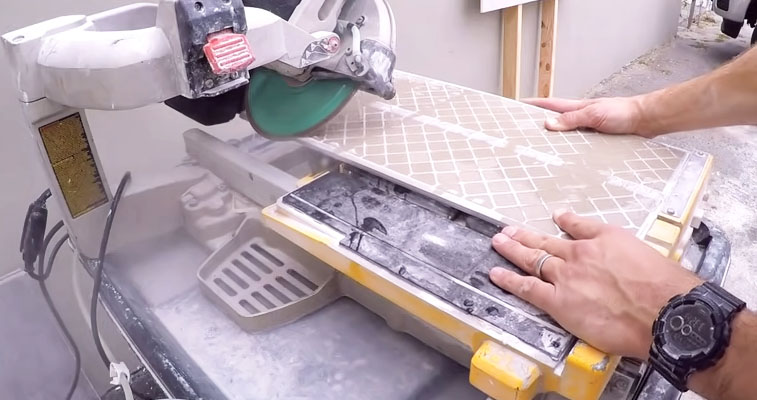 As a guide, you can use the dial on the saw or the pencil markings on the tile to determine the appropriate blade angle percentage.
Angle cuts on tiles should be made by slanting the blade left or right. To make edge miters, tilt the blade up or down to the left.
3. Straight Cuts
Make a mark on the face of the tile where you need to cut it with a tape measure and pencil. Hold the tile firmly in place as you place it on the miter saw tray. Once the blade is in the tile, gently pull it down with the trigger of the saw.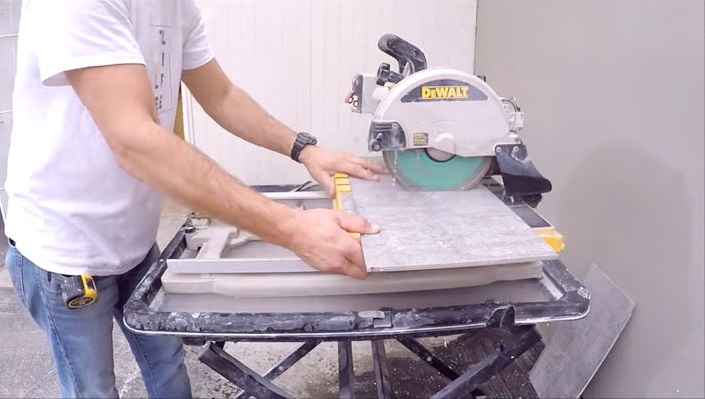 Safety Tips
If your fingers are likely to be near the blade, do not try to cut with a dry saw; instead, use a wet saw. Diamond blades for tile saws will not cut your fingers, but diamond blades for miter saws will!
It is important to keep your fingers clear of the tile blade when you hold it in place. Work gloves, eye goggles, earplugs, and a dust mask are also necessary safety equipment. Make sure the saw is in good working condition by inspecting it carefully.
Water is the secret to perfectly cutting tile! It's possible to hook up most miter saws to a garden hose, which is something worth considering. Water lubricates the blade, making cuts smoother and reducing saw wear and tear.
While a miter saw is an acceptable alternative to wet tile saws, it should only be used for small tile jobs or as a last resort. Tiles are extremely messy to cut, especially if they are dry.
Which Saw Should I Use To Cut Tile?
Wet saws are the most effective tool for cutting tile. By constantly spraying water from the reservoir over the blade, a constant cooling effect is achieved, as well as airborne dust and debris being minimized.
Straight cuts can be made with high quality and high volume on a tile with this tool. Diagonal cuts can also be safely made through ceramic and porcelain tiles. A glass tile cutting saw such as this is a definite "must-have".
Can I Use a Multi-Tool To Cut Tile?
A multi-tool (or oscillating tool) can be helpful for cutting holes in tiles. The machine can also be used for making intricate, curved cuts, trimming, and shaping the edges of the tile, as well as filing them.
Despite its ability to replace a tile nipper, this tool is not capable of taking its place as a wet tile saw. Rather than acting as a primary tool, it should be used as an accompaniment (rather than as a primary tool) to your tile cutting practice.
Is It Possible To Cut Tiles With A Jigsaw?
Jigsaws (or saber saws) are capable of cutting tile if they have an abrasive carbide or diamond-tipped blade with smooth edges. Not only will this ensure that tiles can be cut safely, but also that they can be cut cleanly. 
The lightweight and easy-to-handle nature of a jigsaw make it ideal for anyone, no matter how strong or skilled they are. The machine can accurately and efficiently cut ceramic tile on an angled or curved surface.
What Is The Best Way To Cut Tile Without A Saw?
It is possible to cut tile without a saw, but other tools, like an angle grinder, are needed for the job to be done manually.
The first step is to measure and mark the tile. Once you have measured and marked the tile, secure it to the workbench. Using the grinder, score the tile by pulling slowly and carefully along the cut line. Repeat if necessary until you have been able to cut through the tile completely.
How to Cut Ceramic Tile With a Miter Saw?
By using a tape measure, measure the area you need to cut on the tile face. Cuts other than circular cuts can be made with a straight edge, an angle, square hole cutouts, or even square U-shaped cuts.
The tile needs to be placed onto the miter saw's tray. Cut a straight line by holding your tile squarely against the blade using the fence (the back) of the tray. Use your hand to hold the tile solidly in place. Pull the tile downward gently with the blade as you squeeze the saw trigger. This step should be repeated for any straight cut.
Cutting Tip
If a corner is mitered or an outside corner needs to be wrapped, angle cuts are required. Utilize angled cuts when wrapping a 90-degree corner with two pieces. 
Or when matching pieces on a 90-degree picture frame with a 45-degree angle across the face. A miter saw has many adjustment sections, easily identifiable by bolts or knobs, as well as a blade guide. 
Depending on your needs, you can set the angle at 45 degrees for side cuts and plunge cuts, 22 degrees or 74 degrees, or any angle you like. Adjustable knobs are located in a variety of places on miter saws, but they should be clearly visible.
Final Words
A miter saw is an accessible tool that can be used in many ways. It can cut wood, metal, plastic, and stone. While the miter saw might seem like an intimidating tool if you're just getting started with it, it is worth the time and effort to get one. The versatility that this tool offers will save you time and energy in the long run. 
Also read – Why Are My Tiles Not Sticking?