The Sherwin Williams Cashmere has the upper hand when it comes to ease of use and quality of finish. However, the Emerald beats the Cashmere in terms of coverage and limiting the visibility of imperfections.
In the case of a regular wall with a plain color that is not in a high traffic area, Cashmere is the best-suited paint for you. Emerald, on the other hand, is great for rooms with dark colors. It is better used in a room with low ventilation or more moisture.
Sherwin Williams Cashmere vs Emerald
The comparison of the Cashmere and the Emerald can be better understood if we look at a few factors separately.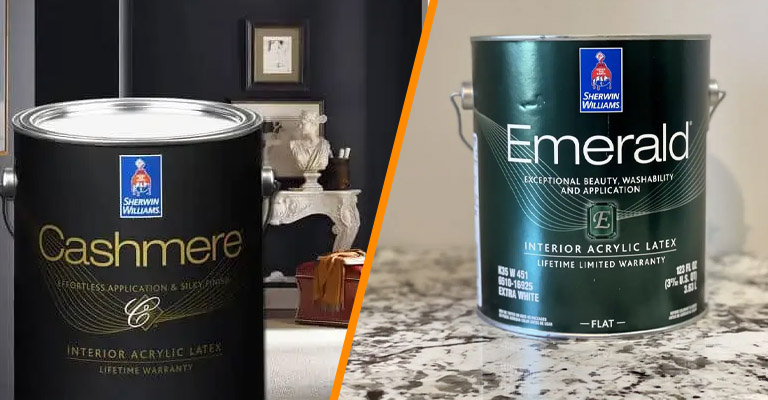 Quality of Finish
The Sherwin Williams Cashmere has a smooth finish. Its finish is something that can withstand any kind of mark or dirt. Moreover, the Cashmere is a designer finish paint. It means that its sheens are made to be smooth and even. The manufacturers accomplished it by slowing the dry time slightly and adding a more flowing feel to the paint.
Emerald, on the other hand, has a nice finish. However, it is not as nice as cashmere. That being said, the quality is still better than the rest of the product line. In short, it secures 2nd place in finishing.
Not to mention, the Emerald is a highly durable and very thick paint built for maximum coverage. It can take on high levels of abuse. 
Super Paint
The other version, the Super paint, is as thick as emerald but not quite as durable. However, the Super paint velvet sheen looks incredibly smooth and hides many imperfections.
Coverage Area Per Gallon
The Cashmere is one of those paints that looks good from any angle. The coverage is pretty good of cashmere. With a coverage of 350-400 square feet/gallon, the Cashmere is perfect for people with limited experience.
However, the Emerald beats Cashmere when it comes to coverage. Depending on the color, you could most possibly one coat whatever you are painting over. 
Although, for consistent color and finish, it is better to use the standard two coats. With the Emerald paint, you will see that the coverage is excellent and it easily wipes off some of the stains after it is dry. 
Ease of Use
The Sherwin Williams Cashmere is one of the easiest paint to apply. It can be applied to the wall smoothly and pretty easily without overexerting yourself. The looks and feels it will generate will not be anything less than smooth and buttery.
The Emerald paint is easy to use as well. However, it is not as easy to use as Cashmere. Emerald may prove to be a bit harder to apply. Even so, you must not overwork it. Just trust it and it will lay down just how you would like it to.
Visibility of Imperfections
In case of visibility of imperfections, the Emerald has the upper hand. The most intriguing fact about the Emerald is that it comes in Flat, Matte, Satin, and Semi. Moreover, the first three sheens will all be lower than the Cashmere's Low Lustre. This implies that they'll hide imperfections better. 
Not to mention, the Emerald is also washable in all sheens, including the Flat and Matte. Typically, they are not washable in other product lines and will hide imperfections better.
The Cashmere looks amazing on the wall. Although, you are better off not using it in a high traffic area or where you need wipe-ability.
A Couple of Bonus
The Emerald also has mildew prohibiting agent in it. This will prevent mildew in areas where moisture is present. Not to mention, it is also 0 VOC, which is good for the environment, your health. This also elevates the overall odor of the paint. A high-quality Polyester roller cover is recommended for this product.
Is Sherwin Williams Emerald low VOC
The paints with zero VOC are generally focused on interior painting applications. Although the contractors stress on both interior and exterior when it comes to painting with zero VOC. This is where Sherwin Williams comes with their innovative zero VOC paint Emerald for both exterior and interior.
As the market for eco-friendly interior paint grows, Sherwin Williams has set a standard bar for others to follow. The idea behind this was how we could contribute to a clean earth, not just clean air within our homes. The competition for exterior environmentally responsible paint continues to grow which helps us control the prices and help make such paint applications more available.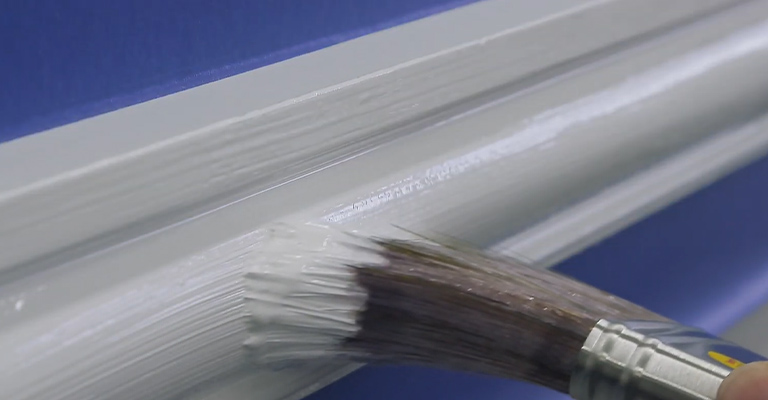 Frequently Asked Questions
Is Sherwin Williams Cashmere paint worth it?
The Cashmere paint is undoubtedly worth it. It is very durable and got good coverage. Moreover, it can be washed and scrubbed without needing to burnish. Cashmere does a better job than most of its competitors.
What is Sherwin Williams Cashmere paint used for?
The Cashmere paint by Sherwin Williams is perfectly apt for repainting the rooms in your home. Whether it is your bedroom or dining room, the Cashmere paint will produce top-notch results. This is one of the easiest paints to apply to walls which leaves very little mess and splatters.
Conclusion
Both Emerald and Cashmere are top-quality products from the renowned brand Sherwin Williams. They are great and can be used on a daily basis. Nevertheless, the type of application will determine exactly which paint you need. Although, it is highly unlikely that you will regret using any of them.