There a lot of options to choose from when you are thinking of shed sidings. Most of us look for an economical way to get out. we got you covered with vinyl & wood solutions to choose from.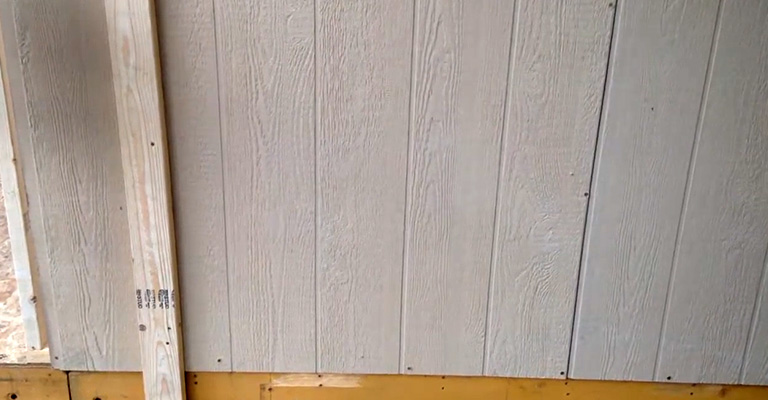 Cheap Shed Siding Options and Ideas
If you're looking for ways to improve the look and feel of your home without blowing your budget, there are cheap shed siding options that can help. There are many different ways to update your exterior in a cost-effective way that will make a real impact on how people perceive the property.
1. Vinyl Shed Siding
Vinyl siding is  PVC or Poly Vinyl Chloride. It has a lot of external textures & color variety. If you are hoping for a customized look & then this is a great choice. 
Vinyl can withstand moisture & rain damage. It is weather-resistant. You won't need to think about any rotting, blistering, or cracking. The standout feature for this shed is the low maintenance cost. 
You won't need to worry about any termites. As this is a synthetic product, bugs tend to stay away from it. The occasional rinse with the hose is enough for the shed to look spotless. 
It is easier to install & offers a great look to your shed. If you are looking for little to no maintenance, vinyl would be a great option for you.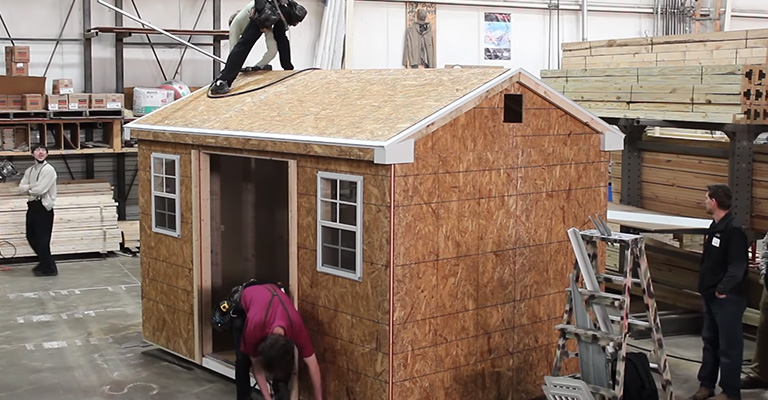 2. OSB Shed Siding
OSB stands for Oriented Strand Board. OSB is a manufactured wood that is small wood chips glued together in layers. This was a very popular choice in the 1960s. 
OSB shadings are available in 4 by 8-foot panels with a standard thickness of 7/16 inches. You need to apply a coat of protective stain to maintain the integrity of the elements. 
OSB is not as durable as other shadings. If the shed is always exposed to water or rain then this won't be a wise option. Because OSB is subject to water damage, expansion & rot. 
Choosing the OSB means you get what you pay for. It's not the best of options. But it certain;y is the most cost-effective one. With proper maintenance & supervision, it will protect the shed for a long time.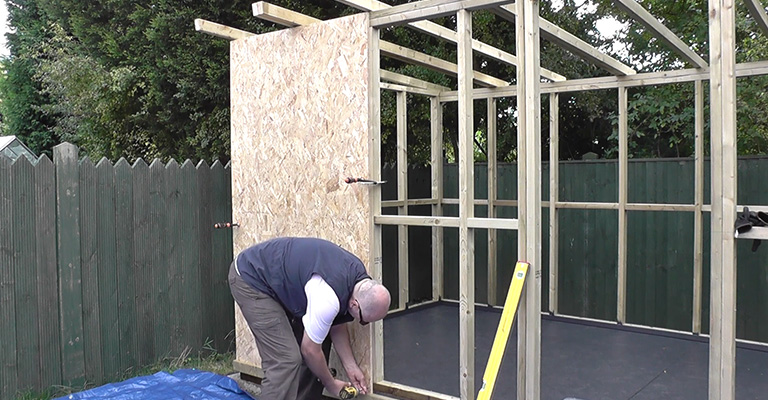 3. T1-T11 Shed Siding
T1-T11 siding is a wood-based siding idea. It was popular throughout the '70s, 80s & 90s. Other materials such as steel or aluminum give an artificial look. But the T1-T11 siding gives a more natural look to your shed. 
There are two major grades to the T1-T11 siding. One is the OSB siding which we have discussed already. But the main part of the T1-T11 siding is the Plywood. 
Plywood T1-T11 siding has much more tolerance for moist conditions. It adds structural strengths to the shed. They do not come reprimed. So you have to paint or do the finishing every 3-5 years to prevent rotting. 
Plywood is environmentally friendly. It gives a natural look to your shed. It will protect your shed for a long time from all sorts of weather & external causes. It is a viable option for shed siding.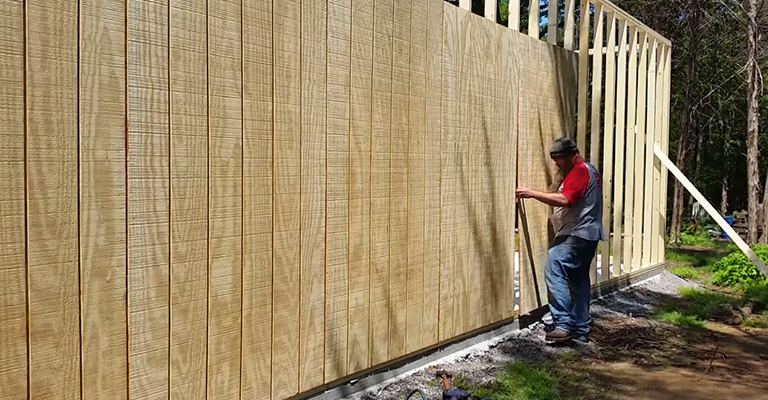 4. OSB vs T1-T11
T1-T11 is a wood-based siding product that has been around since the 60s. There are two main grades to the T1-T11. One is the OSB & the other is the Plywood T1-T11. Let's get a closer comparison between these two.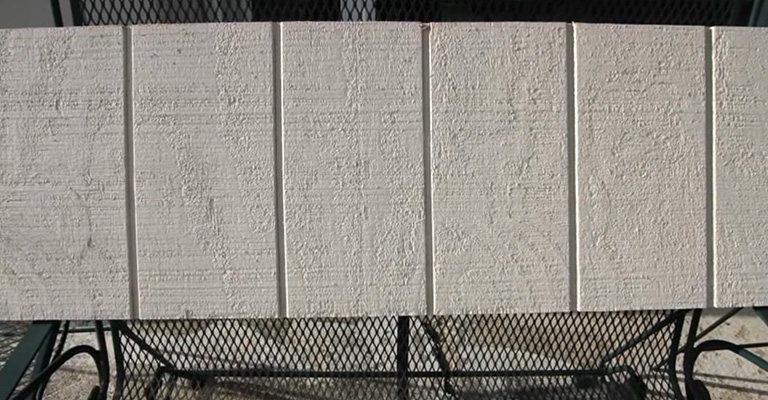 How Do You Choose Siding for a Shed?
Shed siding is a cost-effective way to spruce up your backyard, especially if you're looking to match your house's exterior and interior. However, siding can be expensive, so there are a few things you should do to ensure you're getting the best deal for your money.
Durability
In terms of strength & durability, the plywood T1-T11 is far superior. It has greater durability & expanded options than the OSB. Both are wood-based sidings. But the plywood T1-T11 gives better strength to the shed. 
Weather Resistance 
The most significant problem for the OSB is that it is vulnerable to water damage. This causes expansion, rotting & wear. If your shed is open to the rain a lot, then say good buy to your shed. 
But, the plywood T1-T11 has better resistivity to rain & moisture. It holds up better than its OSB counterpart. With an external coating, you can rest assured.
Looks
Both OSB & T1-T11 Plywood has a rough external surface. They both give a natural look to your shed due to the wood surface. But the T1-T11 plywood looks more pleasing than its cousin. 
But this won't matter. Because you need to use an external coating on both of them.
Maintenance 
You need to up to date with your wood sidings if you want them to last long. You have to apply the coating every 3 to 5 years. Painting is a good option because it will prevent water damage to an extent. 
Other than that, you have to look out for joints & edges. See if they there are well intact. 
Expense
Seeing the features, you can assume that you get what you pay for with the OSB. It is a cheap option for shed siding. But if you want to improve your chances with moisture protection, then pay a little more. Go for the T1-T11 plywood option.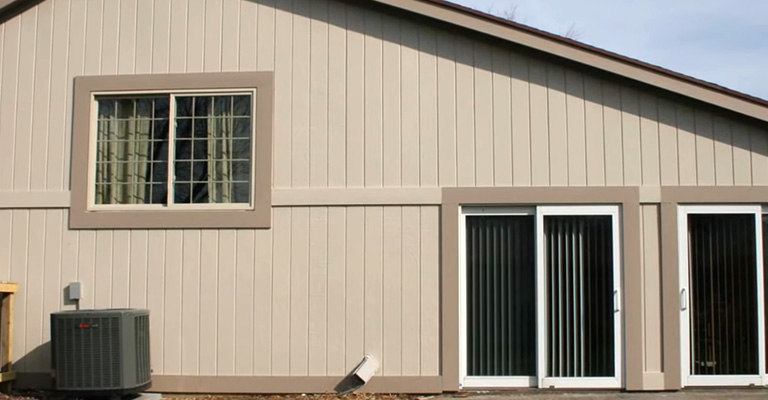 FAQ
Q: How long does OSB last in exposed weather?
Ans: OSB is not designed for exposure to the weather. They are not sensitive to a small amount of water. Yet, they slowly absorb water which can lead to swelling under 1 year if they are not coat protected. 
Q: Does Vinyl need any maintenance?
Ans: If you are looking for a maintenance-free shed siding, the Vinyl is the one to go for. They have little to no maintenance. It would last a long time. Clean it with a hose once in a while. 
Conclusion 
There a lot of options in the market to choose from. Get your priorities set on what you are focusing on. If you have a steep budget, then the wood option is better for you. But if you are looking for a permanent solution the vinyl is best.
Also Read- Twp Stain Reviews