Truly, you do not HAVE to use rinse aid in a Bosch dishwasher. With its PureDry™ technology and stunning closed drying system Bosch may not require much further aid. 
Yet you can bypass and/or use alternatives such as tablets, vinegar, and various synthetic products to eliminate spots and films around the dishes which are very unpleasant.
Do You Have to Use Rinse Aid in a Bosch Dishwasher? Pros Cons and How to Bypass 
Rinse aids or rinse agents are commonly used in dishwashers. But they aren't always suited for the dishwashers.
Pros of Using Rinse Aid in a Bosch Dishwasher
Putting dirty dishes inside a dishwasher and still getting them back sparklingly clean is what we all desire. But not always would you get that. Let's see how much can rinse aid provide in such circumstances.
No Water Spots 
If your water supply line provides hard water and you use it to clean your dishes, you will get poor cleaning results from your Bosch dishwasher, such as filming or spotting. 
To test if your home has hard water, you can check if there is white residue around your faucets or drains, if soaps or shampoos don't foam easily or if you see rings around the bathtub. If one or more of them are true for you, then the reservoir definitely contains hard water.
So, what can you possibly do to get rid of these water spots? There are several ways to get rid of the spots, using Rinse Aid is one of them. If you use any rinse aid in your Botch dishwasher, the dishes will be spotless even with hard water.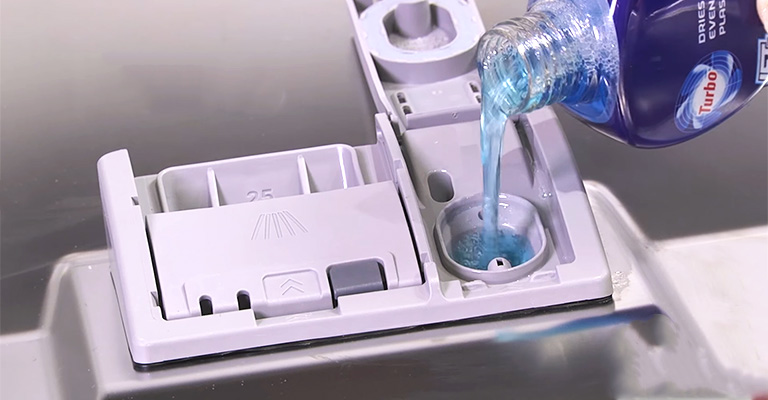 Brighter Dishes 
As a surfactant, rinse aid reduces the surface tension of the liquid it is dissolved in. Accordingly, when you use the rinse agent in your dishwasher to work with water, it makes the water 'wetter'. It means that water can spread out more than before and clean every part of your dishes successfully.
When you will take out the crockeries, you will see they are brighter than before and old dishes will look like new ones.
Dishes Dry Faster 
When placed in the dishwasher, the rinse aid stays dormant until the dishwasher gets to the rinse cycle. And during the rinse cycle, the dishwasher will rinse soap or detergent off the dishes with hot water and then apply rinse aid thoroughly. 
This rinse agent solution allows the dishes to dry faster. If you want to skip the heat cycle to save energy or if you see the dishes are still wet when the heat cycle finishes, then you definitely need the help of a rinse aid.
Cons of Using Rinse Aid in a Bosch Dishwasher
Health Hazard 
Many of the ingredients of the rinse aid solution are toxic to the environment and can cause adverse health effects for people with prolonged exposure to them. Eyes, skin and respiratory irritation, allergic reaction, vomiting, and diarrhea are the few health problems that rinse aid components can cause.
Moreover, these are the negative effects of the disclosed elements of the rinse aid. Usually, the detergent companies don't publish their full list of ingredients. As a result, there can be more elements with hazardous effects or even carcinogenic components, so it is riskier, especially for sensitive people.
These chemicals can stick with the dishes and can easily enter your body and harm you. Also, after washing the ingredients will be very difficult to filter out in the water treatment process, and it will end up harming aquatic life, trees, or other animals.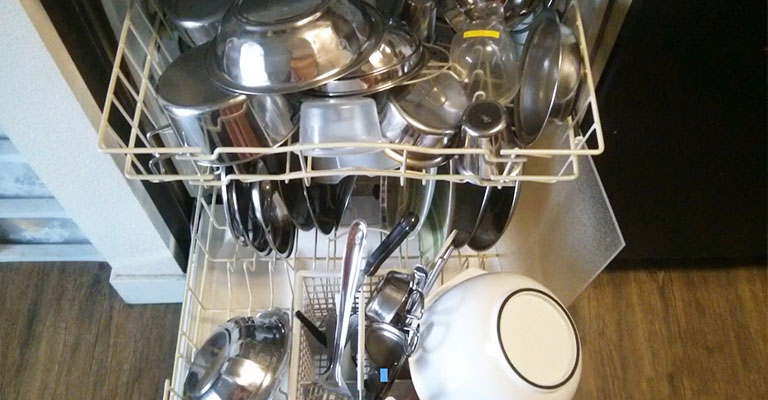 Extra Cost
It's not like a bottle of rinse aid is too expensive. You can use a bottle of rinse agent several times to clean the dirty dishes. However, it is still not free and that's why some people avoid using rinse aid to cut the extra cost. 
How to Bypass Using Rinse Aid in a Bosch Dishwasher
Although every company declares that their rinse aid is safe to use, ingesting or being exposed to the ingredient chemicals are very dangerous. You don't want your family to ingest these toxic chemicals while eating from the dishes, do you? 
There are 3 more methods by which you can bypass using rinse aid but still got very similar results after washing the dishes. 
Use Soft Water 
Hard water contains minerals that make oil, fats adhere to the dishes. It also leaves water spots, cloudiness, and filming on the dishes that remain even after a good clean and heat cycle. On the other hand, soft water doesn't contain the same minerals.
When used in the dishwasher, soft water makes the glasses and silverware spotless and the dishes dry faster than they would be if you used hard water instead. In case you are thinking of using a water softener in hard water and washing the dishes, it is not a very good idea as a toxic element like chlorine will stay on your tableware.  
You can also use water softener and set the right hardness to get good quality water if you need.
Use Vinegar 
Vinegar is a mild acid and it can help in reducing the formation of liquid spots on the dishes. But it won't help to dry the dishes more quickly. Also, not every dishwasher supports acidic solutions. So, make sure first that your Bosch dishwasher supports it.
Try Eco-friendly Version
Not every rinse aid is super toxic. Some companies provide more environment-friendly rinse agents. Although these eco-friendly versions harm the environment less, they are not fully safe either.
What are All-in-one tablets for the dishwashers
All-in-one tablets are pods that contain both the detergent and rinse aid. You need to place these tablets in the 'detergent' compartment in the dishwasher and wait for the cleaning process. The dishes will come out spotless, bright, and dry.
FAQs 
How often do you need to refill the rinse aid?
If you run your dishwasher pretty often, then we recommend refilling the rinse aid once a month. Although you can always check how much rinse aid solution is left from the window and refill accordingly.
What numbers should my rinse aid be on?
The factory setting for rinse aid is 2 or 3. But in case you are experiencing drying complications, adjust the settings to the highest and there will be no more wet dishes at the end of the heat cycle.
Ending Statement
Do you have to use rinse aid in a Bosch dishwasher? Now you know that it is not something mandatory. The cons outweigh the pros of this product, that's why you better choose an alternative way that is both eco-friendly and harmless for your health.