There can be a few reasons why your laminate floor flexes when walked on. One reason may be that the floor was not installed properly. When the floor is not installed properly, it can cause the boards to buckle and the floor to flex. Another reason may be that the floor is old and needs to be replaced.
Why My Laminate Floor Flexes When Walked On | Reasons and fixes
Laminate flooring is a popular flooring choice because it is affordable and easy to install. However, some people have reported that their laminate flooring flexes when walking on. Henceforth, we will explore the possible reasons why this might happen and offer some solutions.
Uneven Sub-floor
Laminate flooring requires a level and even sub-floor to be installed properly. Because laminate is often thin, it can be installed over an uneven sub-floor. Any defects in the sub-floor can bleed through to the laminate flooring, resulting in soft patches.
In areas where the laminate is hanging flat and the sub-floor underneath is uneven, soft spots or spongy areas of the laminate might occur. It's dipped or has a low point, allowing air to escape between them. When stepped on, this might cause the laminate to flex or dip.
Solution 
Below are the quick steps:
To protect the laminate's surface, mark the soft regions using masking or painter's tape.
Use the 3/32′′ drill bit to drill a small hole in a floor seam.
Attach the air inflator needle to the expanding foam spray can's tubing nozzle.
Insert the air inflator needle carefully into the small hole and inject the expanding foam.
Remove any extra foam and duct tape the small hole until the foam sets.
Remove the duct tape and cover the small hole with wood putty in a similar hue.
Repeat this procedure on the laminate's other soft spots.
This is the quickest approach, but it isn't always the greatest because you'll have to drill a hole in your laminate, and too much-expanding foam can create bulging. Test the expanding foam first to see how it works and determine how much to apply and when to stop.
Improper Underlayment Installation
If you use the wrong type or install it poorly, an underlayment might cause a soft spot or spongy region on your laminate. Only laminate flooring underlayment can be used. Other varieties, such as those used for carpets, may be too soft or thick for laminates, making them seem spongy. 
Solution 
If you know the underlayment used was the wrong type or was applied wrongly when the laminate was installed. The only remedy is to reinstall the entire laminate flooring.
Carefully remove the lamination.
Replace the underlayment with a suitable type.
Use the right installation procedure.
Install the laminate over the underlayment once more.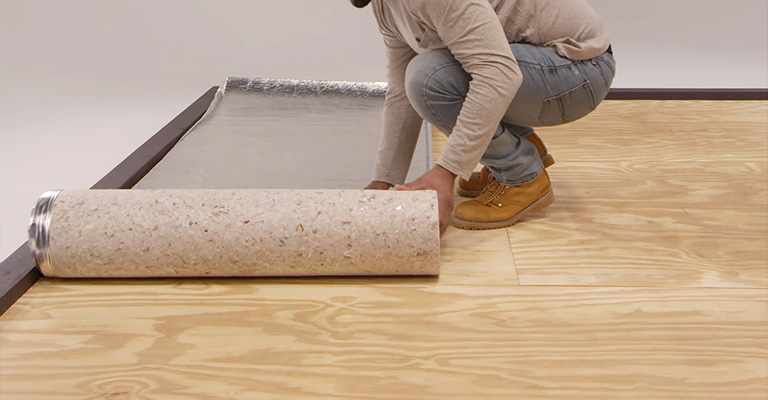 Lack of Expansion Gap
If you walk on a section of your laminate floor that is lifting or appears to have an air bubble underneath, the bulge will migrate to another area of the floor. The lack of an expansion gap during installation is most probably the issue.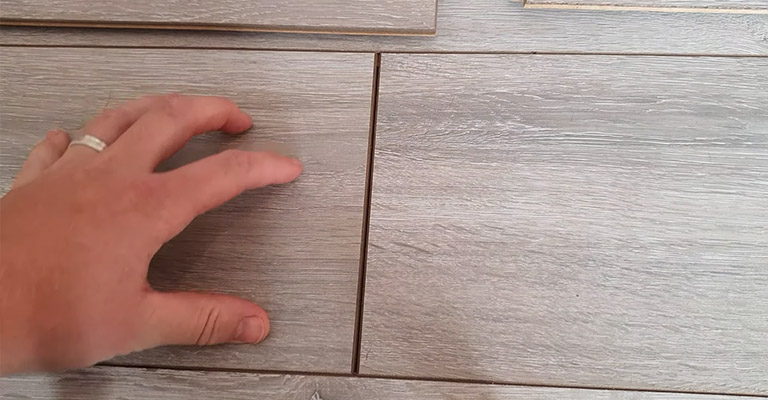 Where the laminate edge touches the wall, an expansion gap is usually supplied. It's also available where the laminate edge meets the flooring's edge. To keep things looking neat and tidy, the gap is usually filled with a transition strip. The expansion gap allows the laminate to move and shrink and expand naturally.
Solution 
Follow the peaking and walk to the nearest wall to fix it.
Remove the molding with care to show the corner where the laminate floor meets the wall.
Then cut out the laminate that is pushed against the wall.
Allow a 1/4-inch (6-mm) gap between the laminate's edge and the wall.
Check to see if the bulging is repaired before reinstalling the molding.
Make sure the nail does not go through the laminate.
You may need to place weights over the peaking until it settles.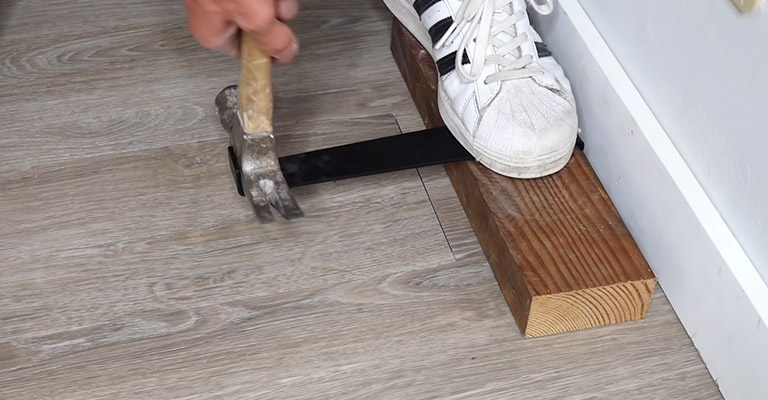 Water Damage
Water damage might result in a floppy, spongy laminate. Water damage to laminate flooring can be caused by a variety of factors, including wiping the floor with a very wet mop, flooding from burst plumbing pipes, and an insufficient moisture barrier built underneath.
Solution 
A broken laminate plank cannot be repaired; the only choice is to replace it entirely. It swells and becomes soft when wet and it can no longer be used as a floor. To prevent water damage from occurring again, you should repair the source of the water damage before reinstalling a new laminate. This could mean fixing a busted pipe or installing a new moisture barrier.
Termite Damage
Termite damage can make laminate flooring spongy and squishy. Termites may have penetrated the floor if it has been installed for a long time and has suddenly become soft in some locations. If your floor has termites, you'll see wood dust accumulating around the soft areas, as well as some laminate disintegration.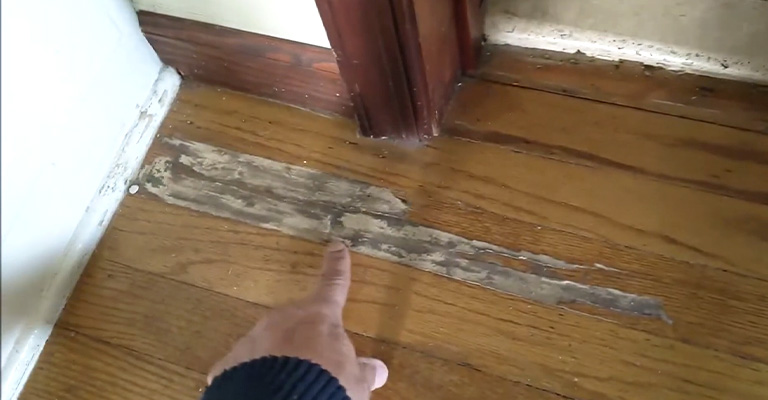 Solution 
If the laminate boards have been damaged by termites, they are absolutely worthless and must be replaced. Before replacing and installing new laminate boards, you must address the source of the issue, which is termites. Check to see if termites have infiltrated your floor joists and structural wood members. Make sure they haven't been tampered with; otherwise, you'll have to replace them as well.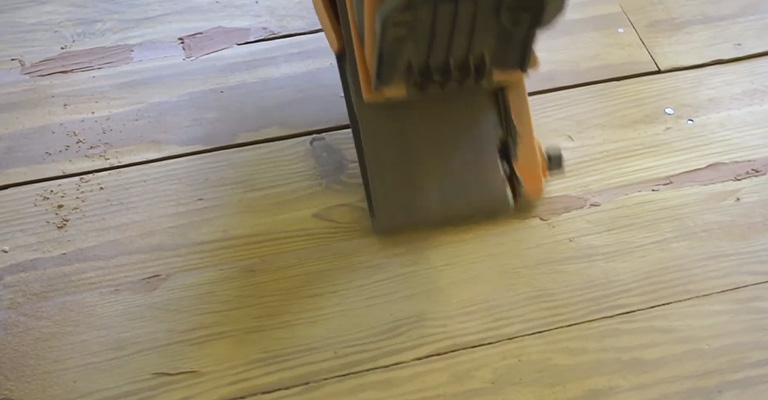 FAQ
Is it normal for the laminate floor to flex?
Ans: Your laminate floor will flex up and down to accommodate the uneven sub-floor, resulting in a damaged locking mechanism. However, don't expect underlayment and 10mm thick laminate to solve all of your problems if your sub-floor is in bad shape.
Why is my laminate floor bowing?
Ans: Moisture damage is almost always the cause of buckling wood flooring. Water stirs laminate flooring in a variety of ways. Buckling or warping occurs when there is too much moisture in the air. Water on the floor surface that isn't needed might also cause warping or buckling.
How do you fix horizontal gaps in laminate flooring?
Ans: Because glue sticks better to clean surfaces, wipe the gaps between the laminate boards. Dust off the debris that has accumulated over time. Scoop the wood glue through the tight gaps for a precise application. You can use a toothpick, cotton swab, or a disposable syringe as an improvised tool.
How long does it take a floating floor to settle?
Ans: Installing your new laminate floor as soon as the containers arrive at your home is not a good idea. Any new laminate floor product, including Swiss Krono, must be allowed to acclimatize or conditions for at least 48 hours in the room where it will be installed.
Last words
Like all type of floors, laminate floors has its own advantage and disadvantage. Bouncy laminate can be ugly as well as a sign of other issues, such as humidity, so be sure to look into it. If you can't figure out why your laminate floor flexes when walked on, contact a flooring professional to see if they can help.