Many people don't realize that when we say we need to level a floor, we mean that it's not flat and needs to be leveled. This is often done by installing a subfloor and then attaching the hardwood over the top of it. 
When the floor is installed, you can recognize with your eyes if it is level or not. Hardwood floors are beautiful and aesthetically pleasing, but they do need a flat subfloor surface in order to prevent them from buckling. 
A flat floor is necessary for the installation of any flooring material, such as carpet or hardwood. The floor in your house may vary by a fraction of an inch, while still remaining level. This article will teach you how to make a flat subfloor. 
Installing Hardwood On Uneven Floors – Thing To Know 
Flooring is an essential part of any home and installing hardwood floors in a new home may be a difficult process. Installing the flooring yourself can be a time-consuming and labor-intensive process, but there are options for making the installation easier. 
Hardwood is a beautiful flooring option that can be installed in any room. However, before you install this beautiful flooring, make sure to smooth out your floor first.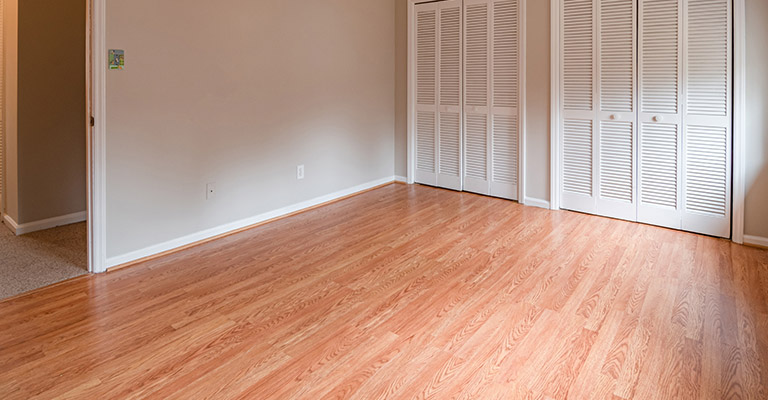 A smoothed-out floor is necessary before installing hardwood on uneven flooring. Underlays and resurfacing are among the techniques that can be used to even out a floor for hardwood installation. 
Sanding and polishing are necessary for the installation of hardwood on any concrete floor. They are used to ensure that all surfaces are smooth, level, and ready to accept flooring material. However, most hardwood floors, specially engineered hardwoods can be installed in the same way if the floor simply tilts.
Home Flooring System Basics
When you're looking to buy flooring for your home, it's important to know the basics. Different types of flooring require different care and maintenance, so be sure you understand what's required before making a purchase.
1. Your floor isn't just the tile, carpet, wood, or laminate that you walk on.
Your floor is a unified system of elements that work together to provide a solid, safe, and attractive floor for everything in the house. This includes your tiles, carpets, hardwood flooring materials like linoleum and vinyl's as well as any other type of material installed in your home such as padding or insulation.
2. Flooring materials are essential for safety
A good floor will protect both you and those around you from falls accidents .
Different types of flooring have different levels of slip resistance which means they'll grip surfaces better when someone slips and falls while walking on them.
In addition to preventing injuries , this also helps keep noise and traffic down inside your home since people tend to move more quietly when they know there's less risk of slipping on the surface below them.
3. Flooring needs proper care in order to last long
Just like any other piece of furniture in your home – including appliances –your floor requires regular cleaning , maintenance , and protection from wear & tear .
If left untreated , damaged floors can lead to serious problems such as moisture damage (which causes mildew), structural failure due to water infiltration (leading tot he need for expensive repairs ), or even mold growth .
4. You're not alone: many homeowners have issues with their floors.
How To Level An Uneven Subfloor?
Subfloors need to be raised in places where they are high and lowered in places where they are low. The methods to accomplish each are different.
Ensure That The Level Is Correct
Make sure there are no obstacles on the floor. Make sure you vacuum the floor thoroughly. Then, use a screwdriver to set screws slightly below the surface of the subfloor with nails driven into the subfloor with a hammer.
A long straight board or carpenter's level should be passed across the floor in all directions. You need to get down on your knees and check underneath the board or level for daylight.
The subfloor should be marked for high and low spots. Gaps of more than 1/8 inch to 3/16 inch need to be corrected.
High Spots Should Be Removed
Keep dust from spreading throughout the house by covering the openings to the other rooms with plastic sheeting held in place with painter's tape. Be sure to tape the vents of the heating system as well. Allow adequate ventilation by opening windows. Use a dust mask if necessary.
Sanding
Sand the surface with medium-grit sandpaper using a hand sander. A hardwood flooring edger can make the job easier and faster if you're working on a large area. It also minimizes dust in the house by including a dust collector. 
If the subfloor has high spots, sand them down. Using the sander, smooth out any rough edges between the joints of plywood subfloors. Use a wet-dry vacuum to remove the dust.
Raise Low Spots
A trowel should be used to stir premixed cementitious leveling compounds. It should be applied to all low spots of the concrete with a trowel. Feather the edges so the concrete blends seamlessly with the surrounding subfloor.
Use medium-grit sandpaper to smooth out any rough edges of the leveling compound after it has dried overnight. Remove any dust with a vacuum.
How To Install Wood Floors On Uneven Surfaces?
The problem with installing any type of flooring without first making the floor level is that the sections will crack and break. You must first use a leveling compound when installing wood floors on uneven surfaces. It is a simple procedure to use the leveling compound. The low points on the floor must be located using a 4-foot level, and these areas should be filled with the compound. Installation of the wood flooring can begin after the leveling compound has cured.
Step 1
Locate all the low areas on your floor with a 4-foot carpenter's level. Use a marking crayon to indicate the places.
Step 2
You'll need a bucket to mix the leveling compound according to the instructions for the brand you're using. Apply the compound to the low areas using a wide putty knife, filling the area, and then scrape off any remaining excess. 
You will need to repeat this process until the floor is level across the low spots. Wait 24 hours for the compound to completely dry before proceeding.
Step 3
Make sure that the floor is level again after the compound dries by placing a carpenter's level on it. Use the sandpaper to remove any high spots. You may need to add compound to any remaining low spots if you find any. Allow the compound to dry completely.
Step 4
As you begin to cover an area, place the flooring underlayment on one corner of the room. As you lay your floor planks, start at the same corner, and follow the instructions for the type of flooring you are installing.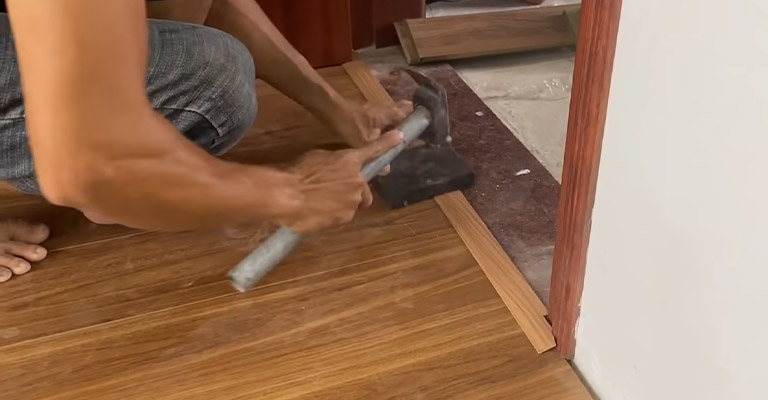 Flattening Wood Subfloors
Subfloors are the foundation for wood floors. Anything that happens below will certainly influence what's above. Another way of putting it is that a subfloor that is improperly prepared or inadequate will have an adverse effect on the wood floor.
Before installing any type of wood floor, one of the many factors to be taken into consideration is the subfloor's flatness. The difference between a flat subfloor and a level subfloor can be easily discerned.
The floor can be flat, but it isn't level if all the points are on the same plane. Despite subfloors that are not level, such as ramps, wood floors can still be installed over them if they remain within tolerances for floor flatness.
A wood floor should be nailed down on a flat subfloor to within four or five millimeters every 10 feet or six millimeters every six feet. Before installing flooring, it is the installer's responsibility to determine and address substrate flatness. The installer accepts the subfloor when installing a wood floor over it.
Flooring Options To Avoid For Uneven Floors
The installation of certain types of flooring is not recommended on uneven floors. If the floor cannot be leveled out, ceramic and porcelain tiles often crack. Stone, which is harder to work with, is even more vulnerable.
Additionally, homeowners are advised to look into the reason for the uneven floor surface. A floor that becomes increasingly uneven over time may indicate foundation problems.
Flexible Flooring Options
It is a good idea to choose a type of flooring that is naturally flexible when installing flooring on uneven floors. One of the most attractive options is carpet: it's cheap, easy to install, and easy to maintain.
For flooring with only a slight unevenness, you can also use strong materials like vinyl planks. Solid flooring has the advantage of making the floor appear more even than it really is.
A laminate sheet or tile may be a better choice for flooring that is very uneven. Although this type of flooring is flexible, it may reveal imperfections in the finish.
Pour-on options, such as epoxy, are generally the most durable and attractive way to fix an uneven floor. The modern epoxy can be designed to mimic a wide variety of appearances, including hardwoods and galaxy-inspired patterns.
If it is installed properly, epoxy will actually even out the floor instead of just finishing it. The flooring can still be damaged even if it is flexible if it is too uneven.
A floor surface with a gradual bend will be relatively easy to install over, but a floor surface with sharp corners will be damaged over time. Floors that are thicker actually have a higher chance of breaking and becoming stressed.
Therefore, you might need to plan ahead and assume that your floor needs to be replaced fairly frequently.
Final Words
Choose a cementitious leveling compound that can be nailed through if you are nailing the hardwood floor in place. If you don't want to wait for the leveling compound to dry, staple builders felt or shingles to the floor to fill small low spots.
A concrete floor grinder is better than a sander for removing high spots on a concrete subfloor.
You can also read about the advantages and disadvantages of laminate flooring.