Trying to diagnose why your garbage disposal hums but spins freely can be a hectic troubleshooting process. Especially if you have little knowledge of what to look out for. 
You could choose to replace the system or call a professional tech for close to $300. While in truth it was fixed just at the touch of a button or simply turning a wrench. 
We know how you feel but you don't have to throw out that disposal just yet. Neither do you have to call a Tech when you can easily fix it yourself? 
Garbage disposals are extremely durable and can operate for years without breakdowns. Yours can still serve you and we are happy to show you how. 
Without further ado let us explore why garbage disposal hums even when the blades are spinning freely and the simple fixes you can implement.
What Causes a Garbage Disposal To Just Hum?
Garbage disposal Overheating
Firstly, if your garbage disposal impeller is spinning freely yet you can hear spinning sounds there is cause to celebrate. It means the fault is not fatal as the 'humming' sound signifies power. Your disposal unit is still receiving power so the fixes will not involve any costly repairs.
Secondly, if the blades are spinning freely, it means the Most likely cause is overheating that causes humming and/or a tripped circuit breaker. 
Garbage Disposal Overuse
If you have been overusing your garbage disposal it may result in humming and the overheating may also cause the circuit to trip causing inadequate power distributed to the disposal unit.
Wear and Tear
Another cause when the blades are spinning freely could be extensive wear and tear, from an old disposal unit. And from a foreign object that was thrown down into the garbage disposal. 
Generally, humming sounds are the results of a number of issues which includes;
Jammed or stuck items in the unit
Inadequate power supply to motor
Motor bearings movement has ceased
A stuck Impeller: Impeller is stuck and causing the motor to overheat.
Clogged disposal unit
Tripped Ground Float 
How To Identifying Main Causes of Garbage Disposal Humming
To identify the cause of Garbage disposal humming when blades are spinning freely, you need to diagnose your garbage unit to identify what the specific cause(s) are. Follow these steps;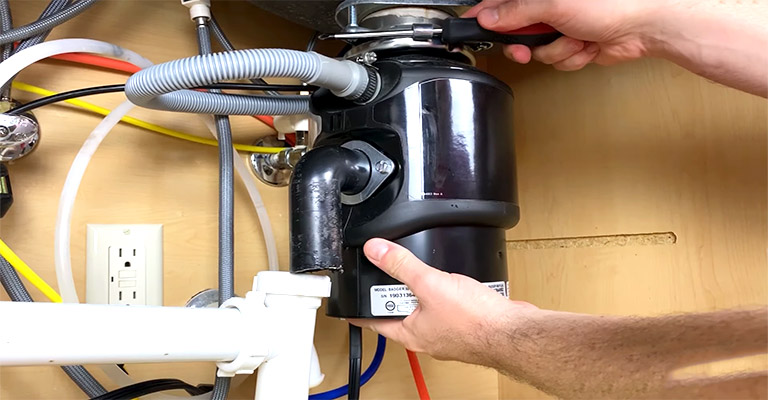 Before starting to diagnose Turn off your garbage disposal and cut power to the unit. Never put your hand inside the garbage disposal unit when it is turned on or plugged into an outlet.
1. Check for overheating: Put on a glove and check from beneath the sink if your system is overheating (Abnormally hot). 
2. Check for a tripped circuit breaker: It is possible that due to an electrical fault or power cut the circuit was tripped. locate the mains where power is supplied to the kitchen and check if it was tripped.
3. Check the reset button: The reset button is located at the base of the garbage disposal. It is built to automatically pop up when it senses a restriction in the movement of the blades from an inadequate power supply.
4. Check for wear and tear: Grab a flashlight, look through the sink and check for sustained wear and tear that could cause a vibration when the blades are spinning freely, which causes the humming sounds. 
5. Check for foreign objects in your garbage disposal: To do this you need to get below the sink and use a 1/4 hex Allen wrench or the wrench accompanying your garbage disposal to open the disposal from the base plate.
If you go through the diagnosing steps carefully you would have identified why your garbage disposal hums but spins freely. It could be a number of faults occurring at the same time or just one cause. Now it's time to fix your garbage disposal.
How do you fix a Humming Garbage Disposal?
The following are detailed steps to follow to address any of the causes you have identified above. Remember to turn off your garbage disposal and cut power to the unit when caring out repairs.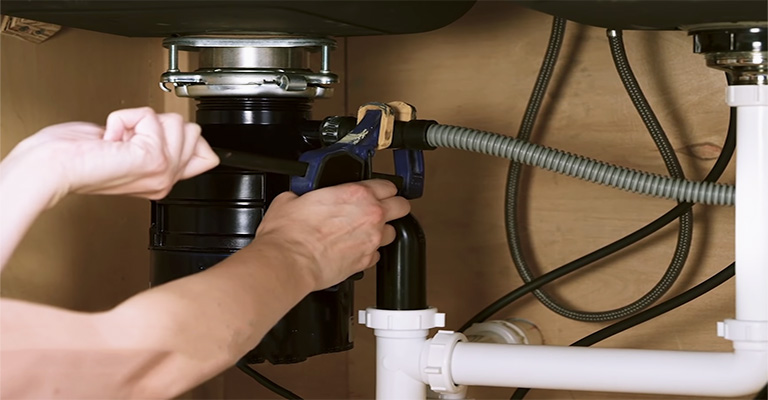 How To Fix Garbage Disposal Overheating When Blades Spin Freely?
Garbage disposals are prone to overheating if overused for long periods or if the motor is overloaded. when this occurs, the disposal will hum even if the blades are spinning freely. Here is how to fix it
After cutting power to the disposal check the reset button, if it's popping out this is a sure sign of overheating. Press the reset button once 
Then wait 15-20 minutes to check if it worked. If it did the reset button should stay pressed in and the humming should stop.
If you feel you are overusing the Disposal. turn the disposal off and let it rest. then run cold through the sink for some minutes for it to cool down. Reset the disposal, follow the steps above then turn it on to see if stops humming.
How To Fix Garbage Disposal Tripped Circuit Breaker
A tripped circuit breaker or GF can result in insufficient power at your disposal. 
If you have confirmed that to be the problem. You should locate the circuit breaker for the kitchen and move the breaker back to one spot.
If the GF was tripped, resetting the Garbage disposal should solve the problem also.
How to Reset Garbage Disposal
If your Disposal unit is not overheating, and you have confirmed that the circuit breaker has not been tripped. then the next step should be resetting the Garbage disposal. 
Perhaps the button has popped up as a result of the restriction to the motor (this causes the humming sound).
Press the button inside once to reset the garbage disposal and wait for 15- 20 minutes to test the system again and check for a humming sound.
How To Remove Foreign Object from Garbage Disposal?
Cut off power to your disposal and open the base of your disposal using a 1/4 hex Allen wrench or the wrench accompanying your unit. 
Once you do this it will be easy to see if there are any foreign items in your Garbage disposal that may be causing the humming. 
Remove the foreign item, it could be jewelry, pieces/parts of dishware, or plastic debris. Once you get it out. Close the disposal unit and run the faucet to clear out any remaining debris
Plug your system back in, to test for any humming sounds. It should be gone if you removed all foreign items.
How To Address Garbage Disposal Wear and Tear?
If you look through your garbage disposal there is noticeable wear and tear. there is little you can do on your own to fix this. 
Except you know how to repair and replace parts at your disposal. If this is the case our advice is to call a professional to assist you. 
You have learned what the possible causes of garbage disposal humming are and what to do when garbage disposal hums but spins freely. Now you are well equipped to troubleshoot your disposal system and fix it following our instructions. 
Go ahead and do just that because you should have a positive outcome. You don't have to call a professional when you don't need to and it's not necessary to replace your garbage disposal when you could fix it just at the touch of a button. 
Also Read – How Do You Fix A Slow Draining Kitchen Sink With A Garbage Disposal?