A fireplace is an excellent way to keep the room warm. But the conventional fireplace is a bit of a hassle to operate. They are not very energy efficient. So, converting your fireplace from gas to electric is a good investment.
Why Convert to Electric?
You need to buy logs to keep the gas fireplace going then later you have to clean it too. An electric fireplace doesn't have any of these hassles. An electric fireplace doesn't need logs and a chimney. So, you don't need to clean after using it.
Cost-Effective and Efficient
In order to keep the room warm, you have to keep the hot air inside. But conventional fireplace uses a chimney to get rid of the smoke which also carries the air outside as hot air tends to rise upward.
The electric fireplace uses some quiet fans to distribute the hot air all around the room. Since it doesn't use any chimney, the room gets warm faster. It also has a cheaper running cost as the usage of electricity is not that high.
Safer Option
The electric fireplace doesn't use any live fire to heat. So it is safer than having a live fire inside your house. Also, you do not have to worry about gas leakage with an electric fireplace.
Looks and Types
An electric fireplace even looks better than a traditional one. You can get a bulb or led heater. The bulb heater has a front that mimics a real fireplace. It looks good inside your house.
On the other hand, led heaters are a little more expensive than the bulb ones. But it is more effective than bulb ones which mean it requires less electricity. It does not mimic a fireplace. Instead, it gives a new modern look with the light inside your house.
Converting to Electric Fireplace
In order to go to electric from gas, you have to first get rid of the gas fireplace. This basically means closing the chimney and plugging the gas line.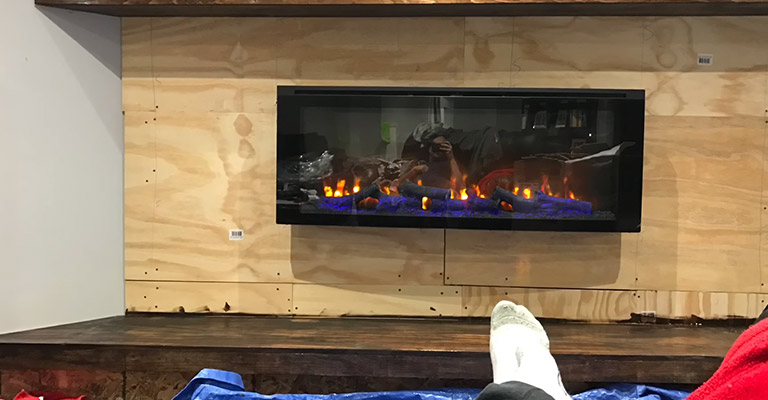 Plugging Gas line
Natural gas is highly combustible and can be very dangerous if not handled carefully. So, if you do not have the experience or confidence then you should call for a professional for the job.
To do it, first, turn off the gas valve to avoid any accident. Now, remove the trim of the fireplace to get access to the gas line. Then disconnect the gas line from the fireplace.
Now, pull out the gas fireplace slowly from the wall. Use a safety cape to seal off the gas line to avoid any gas leakage. You can apply pipe sealing around the cape to ensure that no leakage happens. After that, turn the gas valve on and check if there is any gas leakage.
Installing Electric
Installing an electric fireplace is very easy. You have to make sure that you get the right size for you. If the size doesn't match then you can't set it up. 
It doesn't need anything special to install. You have to take it out of the box and place it inside the fireplace. Before placing it, clean the area and make sure the gas line is properly sealed.
Then power it up with an electric line. If you don't have an electric port near the fireplace then it is better to call an electrician and make a port near the fireplace for it.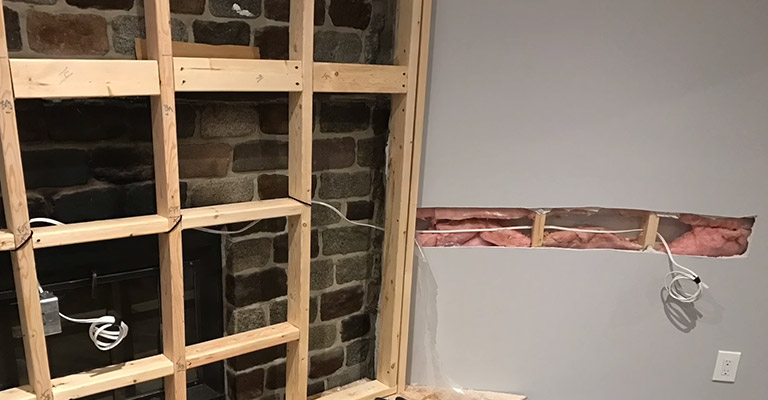 Caution 
You can use extended cords to power your electric fireplace but it has some problems. An electric fireplace needs more electricity than general household devices. So, the extended cords can get burnt and can even cause a house fire.
One type of extended cord that can be used is the three-prong one. Three prong cords have a built-in ground wire which can handle a surge of voltage if anything like that happens.
But then again, if the three-prong cord has any damage inside the extended wire, it can lead to accidents pretty easily. So, having a dedicated power slot is always better than an extended cord.
FAQ
Q: Should I buy bulb heating or led heating fireplace?
Ans: If you have the budget then led is always better for the long run as it requires even less electricity than bulb ones.
Q: Can I use an extended cord for my electric fireplace?
Ans: You can use a 3-prong extension cord if you must as they have an additional ground wire to handle power surges. But having a dedicated power port is recommended. 
Q: Why can't I use a 2-prong extension cord?
Ans: Mainly because 2-prong cords are designed to handle the lightweight device. Fireplace needs more electricity than lightweight devices.
Conclusion
The electric fireplace has been replacing the traditional gas fireplace for quite some time. It is easy to install and use as well as cheaper to use. So, converting the fireplace from gas to electric will always be worth the investment.
Also Read- Can I Put a Dado Blade on a Circular Saw?