Yes, you can. But not on all of the DEWALT table saws. DEWALT DWE7402DI, DEWALT DWE7491RS are those which can accept dado blades. But table saws like DEWALT DW745 can't take a dado blade. 
Preview
Best Overall
Also Great
Runner Up
Title
DEWALT 10-Inch Table Saw, 32-1/2-Inch Rip Capacity (DWE7491RS)
DEWALT DW744XRS 10-inch Job Site Table Saw with Rolling Stand
DEWALT Dado Blade Set, 8-Inch, 24-Tooth (DW7670)
Best Overall
Preview
Title
DEWALT 10-Inch Table Saw, 32-1/2-Inch Rip Capacity (DWE7491RS)
Also Great
Preview
Title
DEWALT DW744XRS 10-inch Job Site Table Saw with Rolling Stand
Runner Up
Preview
Title
DEWALT Dado Blade Set, 8-Inch, 24-Tooth (DW7670)
Can I Use a Dado Blade on a DEWALT Table Saw?
Watch the user manual first and know whether it allows a dado blade or not. The models named DEWALT DWE7402DI, DWE7491RS allows a stack of dado blades or dado sets. So, these table saws can make the fastest dado cuts.
On the other hand, table saws like DEWALT DW745 don't accept a single or a stack of dado blade sets. The main reason is, it can't ensure enough space for a single dado or a stack of dados. They bear nearly dado blades of 10-inch. In some cases, the shaft of the saw is not too long to accommodate a dado blade. 
However, we see many of the DEWALT table saws that accept a full set of dado blades, but they take a single piece of the dado. Mainly, they don't have enough thread, they can't safely thread the nut onto the arbor.
Which DEWALT Table Saws Accept Dado Blades?
We got four DEWALT table saws that bear the access of using a dado on them. Just have a look.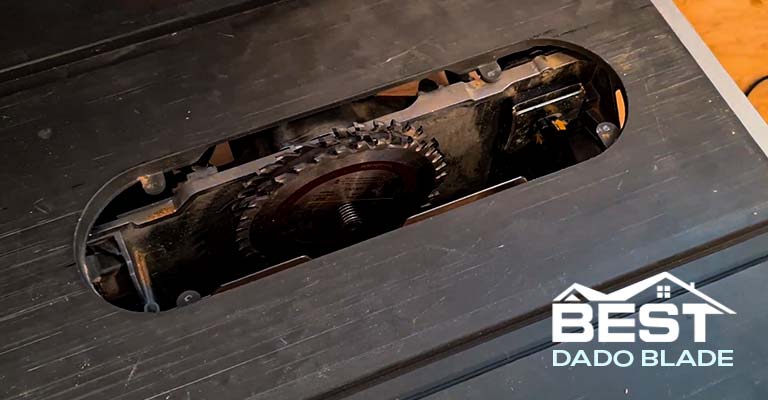 1. DEWALT DWE7491X Table Saw
DEWALT DWE7491X accepts dado blades and can cut large shelving as well as for trim materials. It also makes super-fast, smooth, and accurate narrow cuts. You will find a 2.5-inch dust collection port here to remove dirt or debris.
What We Like
Has a two-position flip-over rip fence. And that gives material support.
It includes a miter gauge, pushes stick, 10-inch 24 tooth carbide blade, and a folding stand.
Cons
Its scissor stand is not so good like the DEWALT stand comes with wheels.
The saw blade may come as misaligned.
2. DEWALT DWE7491RS Table Saw
The rolling stand of DEWALT DWE7491RS ensures the fastest setup, breakdown, and amazing stability. Its telescoping fence system for the fastest and perfect fence adjustment. You can place dado blades here (can take in an 8-inch dado blade, the maximum width of 13/16 of an inch), makes 32 ½-inch cuts using 15.0 A high torque motor.
What We Like
Available at a lower price than many of the DEWALT saws.
High-powerful electrically powered saw. It has no load speed of nearly 4800 rpm.
Cons
The fence is not so good as DWE7491X.
The deck of this table saw is not so flat.
3. DEWALT DW744XRS Table Saw
DEWALT DW744XRS is that kind of table saw which Can cut hardwoods and pressure-treated woods. It is a saw with a 15-amp high-torque motor, powerful enough for woodworking. Besides, this gives a satisfaction guarantee for 30 days and a limited warranty of 3 years.
What We Like
Gives a tool-free adjustment by its site-pro modular guarding function.
The telescoping fence ensures 24-1/2-inch rip capacity.
 Cons
A little bit heavy weighs about 106 pounds.
The saw case is not of good quality, maybe flimsy.
Can DEWALT DWE7480 Use Dado Blades?
No, its drive system is not built to take a heavy dado set on it. The other portable table saws of DEWALT support dado-type blades because they have their back nuts and flange separated. So, at the back flange's place, keep the front washer, then set the dado. But for the DEWALT DWE7480, the nut and flange are combined, not separated. 
For this, no way to use 13/16" dados. But according to the manufacturers, 3/8" dados can go easily with this DEWALT DWE7480.
Can I Use an 8 Dado Blade on a 10 Table Saw?
The answer is "Yes". If both the arbor hole diameter on the dado set and the arbor diameter on the table saw match together and the arbor is suitable for the dado, you can easily put an 8-inch dado on a 10-inch saw. 
So, there Should not be any problem using a dado blade of 8 inches on a table saw of 10-inch. Many of the woodworkers use dadoes this way. And it is very common.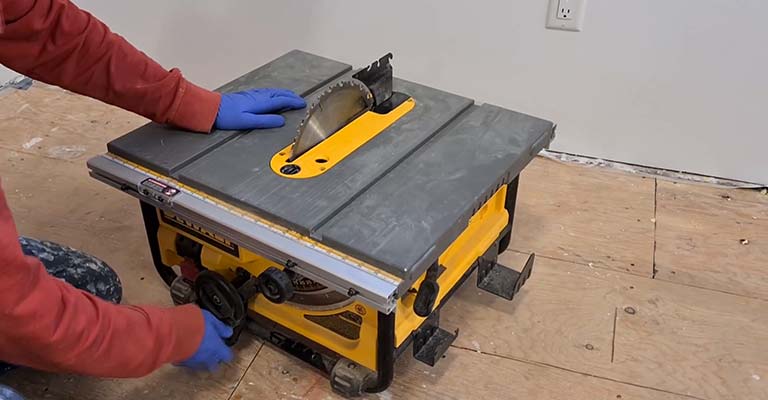 Benefits of Using an 8-Inch Dado on a 10-Inch Table Saw
Low Force Needed
If you keep the dado blade smaller than the table saw, this blade with a smaller diameter will help the saw to give more force on its teeth than any of the blades with a larger diameter.
Can Cut Most of the Dadoes
No one uses dado blades to cut deeper than nearly .5 to 1 inch. A dado blade of 8-inch surely cuts that margin and will be enough for cutting most of the dadoes.
Lightweight
Because of having a dado blade with 8-inch diameter, the blade will be lightweight. And so, less effort will be needed to cut a wide and deep dado. 
Cheaper
Less steel is needed to build an 8-inch dado rather than a 10-inch dado. But their dado cuts are almost the same in size. So, we can tell that a dado blade of 8-inch diameter will be a cheaper choice for you.
4. DEWALT Dado Blade Set, 8-Inch, 24-Tooth (DW7670)
DEWALT DW7670 dado blade is made of stainless steel and has laser-cut plates.  So, it can give an accurate cut. It bears overall 24 teeth made of micro-grain carbide which are incredible for delivering clean cut with the lowest amount of splintering. 
Besides, the extra 4-tooth chippers are ready here to make flat and smooth bottom cuts. You will find stainless steel shims for width adjustment. DEWALT DW7670 also provides a heavy storage case to save the blades from chipped teeth and damage. It can be an ideal choice for cabinet makers as well as woodworking professionals.
What We Like
Gives a money-back guarantee of 30 days.
Gives a maximum speed of 7000 rpm!
Best for rabbet cuts, tenons, and half-lap joints on woods, softwoods, or melamine.
Cons
No user manual is included with this blade set.
Good only for the soft materials.
How to Install a Dado Blade on a DEWALT Table Saw
Now I am going to show how to set a dado blade on a DEWALT table saw. Setting up a dado stack on a table saw may be tricky. But follow these instructions step by step. These will help you to make this process easier.
Check Out the Dadoes
There are two dado blades in the set. All the teeth of a dado are used to cut on one side. Make sure that the right-sided plate is sitting on the right side of the stack. And the left one is on the left side of the stack.
Check the Chippers & Shimmers Also
If you need wider cuts, use the chippers. A chipper has four teeth. But there are chippers with two teeth also. Chipper's teeth are wider than its body. Suppose, a chipper of 1/8-inch body contains teeth nearly 5/32-inch wide. This mechanism is to eliminate all materials from the bottom of the cut. 
Now come to the shimmers. They sit between the chippers and blade plates.
Check the Height of the Stack
Put the right plate on a table, then stack your chippers, then put the last plate. Don't forget to set the shims between the chipper and top plate. Now you have to check its height. Take a little wood piece, and find how depth the stack can cut.
Place the Stack on Arbor
If the stack can cut the depth you need, then place them on the arbor in the same sequence. The shims of the stack must be thinner than the machine threads. Otherwise, your shims may be damaged.
Tighten the Stack
After putting it all in place, make sure that the all-chipper teeth stay in between the plate teeth gaps and shims are tight in their places. Then install the arbor washer, tighten the nut. Tighten it as you do with the normal blades. 
Other Steps
Set the depth of the cut. Then run a test cut. Try to make an extra small gap for applying the glue.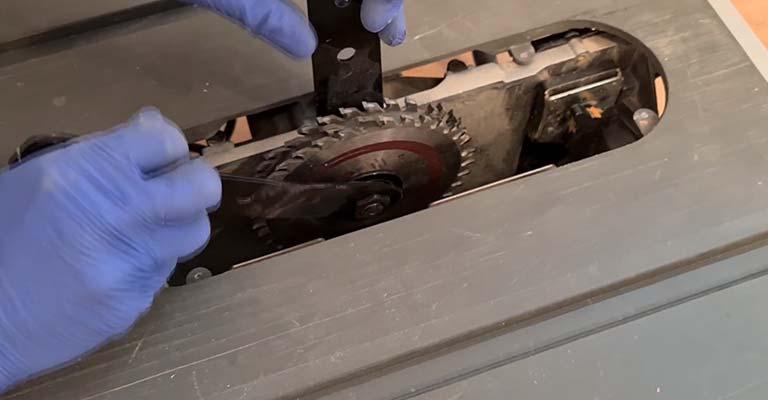 FAQ
Q: Why are dado stacks illegal?
Ans: To use dado blades on a table saw, you have to remove the blade guard and riving knife. But these are considered as the safety features of a table saw. Besides, a dado blade can cause potential hazards. So, it is not considered safe in many countries along with the European Union.
Q: What is a wobble dado set?
Ans: In a wobble dado, there is a single piece of the blade that is mounted on a hub. This hub can vary the angle between the blade and arbor shaft. The angle varies with the dado cut width. It is more expensive than normal dado blades.
Conclusion
Must read this article to know which DEWALT tables suit dado blades. In addition, gain all the process of installing dado blades, advantages you can get on an 8-inch dado blade as well as best DEWALT saws that allow dadoes. 
Also Read- Can I Put a Dado Blade on a Circular Saw?