DWE7490X,  DWE7491RS, and DWE7485 are the latest updates to the arsenal of DeWalt according to the market's demand. Over the years Dewalt has made its name by providing quality tools to its customers. Unsurprisingly, people are curious to know 'what is the newest Dewalt Table Saw' in the current market!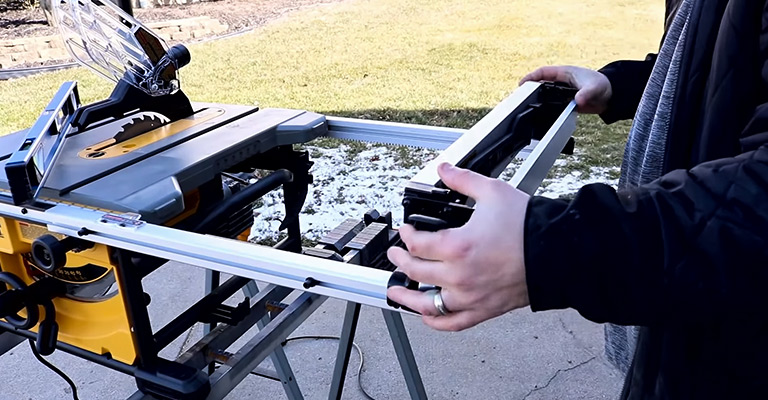 We are going to talk about three different models. They all are capable enough to deliver quality service. First, you check what blade size and the working surface you need. Then look for the best package. However, DWE7491RS is currently offering a variety of choices of accessories at a comparative price. 
Few Newest Dewalt Table Saws in Town
Dewalt table saws more or less have the same rugged construction and quality. But all of them have some extra features to facilitate customers' needs. Let's check them out! 
1. DEWALT Table Saw for Jobsite, Compact, 8-1/4-Inch (DWE7485)
Powerful sawing at any location!  
This unit got a powerful 15A universal motor. That motor can rotate at 5800 rpm. It provides enough power to the blade to smoothly cut through lumbers. An interesting feature is the soft starting. Unlike many other table saws, this unit starts gently. The blade starts to rotate almost without any sudden jump. Surely, smoother than the older DWE745. 
Another thing that is noticed is the blade adjustments. You can smoothly adjust the depth of the blade. Besides, you can adjust the bevel to about 47 degrees. The saw has a safety hatch on the ON switch to prevent any accidental turn-on. But the 'Stop' button has beefy padding to enable quick stop. 
However, some users have complaints regarding the miter gauge. They have noticed that it wobbles and doesn't sit properly into its groove. Besides, you cannot get a complete cleaning only by using the vacuum duct. 
Pros 
Easy portability and on-site set-up 
Smoother operation, less vibration 
Fine, easy adjustment for the blade
Rugged construction ensures durability
Cons   
Wobbly miter gauge 
Vacuum ducts are not enough for a complete cleaning
Buy on Amazon
2. DEWALT 10-Inch Table saw, 32-1/2-Inch Rip Capacity (DWE7491RS)
Rugged solution for job sites! 
If you want a bigger working area without sacrificing portability, DWE7485 is there for you. This unit is designed to ensure seamless portability for providing the required power and precision just at the job site.   
This Jobsite saw is also powered by a 15A motor. A 24-tooth blade is equipped to smoothly cut through the lumber. You get enough room (at the right 32-1/2 inch and 22-inch at the left) of the blade to control the workpiece properly. A miter gauge helps to control the lumber. Moreover, you can tilt the blade to perform a difficult cut. 
This unit features most of the safety features like other Dewalt table saw in the lineup. Besides, it has a functioning vacuum outlet for easy cleaning. The power switch can be locked with a separate locking mechanism to safeguard the machine from unexpected usages. 
The parallel adjustment of the blade can be a hassle for some users. Some have complained about the miter gauge not being accurate enough. They have noticed that the miter gauge doesn't fit comfortably into its groove. 
Pros 
Compact design allows easy portability 
Powerful motor meets a sharp blade to deliver perfect cuts
Modular systems allow a quick fit 
Rolling stand facilitates portability and stability  
Cons 
Miter gauge cannot deliver precision cutting 
Buy on Amazon
3. DEWALT 10-Inch Portable Table Saw with Scissor Stand (DWE7490X)
Ensures easy portability and quick set-ups…
DWE7490X is a portable unit with a proper scissor stand. This unit is one of the budget-friendly options in the Dewalt lineup. Yet, this unit ensures the Dewalt build quality and all of the features for perfect finishing. 
If you own a small to medium business or need to regularly transport your table saw in the Jobsite, this one is effective for you. Even you are a hobbyist and want a table saw that is sturdy enough, yet doesn't require much space to store, you can count on it. 
A 15A universal motor that can produce high torque. This ensures a proper cut through regular treated lumber and even hardwood. 24-1/2 inch rip capacity is enough for onsite jobs. You can adjust the angle of cutting by tilting the blade with the dedicated mechanism. 
However, some of the users have complained about the fence lock. The rod that helps the lock to jam against the rails, may not endure the pressure over time. 
Pros 
Powerful 15A universal motor 
2.5-inch dust port for easy cleaning 
Tool-free adjustment of the guarding system 
Portable. Easy to set-up unit with proper railing and locking system 
Cons 
The fence lock system may become wobbly 
Buy on Amazon
FAQ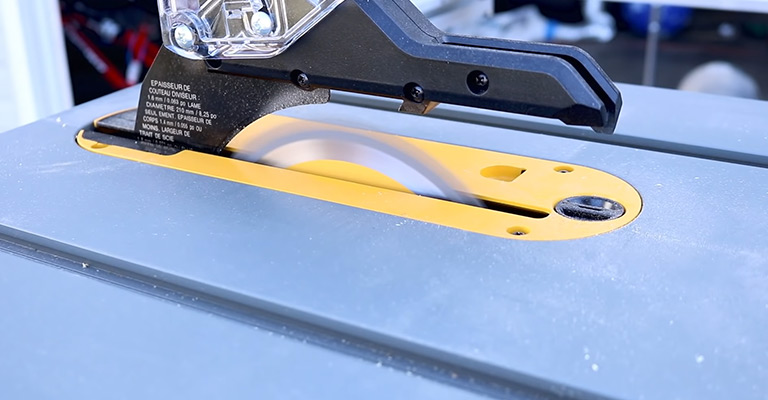 Q: How to fix the Wobbly miter gauge?
Ans: In some Dewalt table saws the miter gauge does not properly sit into its grove. Consequently, the setup becomes wobbly. But it has a relatively easy fix. You can attach a tape underneath the miter gauge. This will help the gauge to function properly.   
Q: How to clean the working surface of the table saw? 
Ans: Attaching a vacuum cleaner through the designed duct in the table saw can help to clean the working surface. But for better results, you have to clean the area by hand. 
Conclusion 
Hopefully, now you know 'what is the newest Dewalt table saw'. All these three saws have robust build quality and powerful motors. But they feature different blades and accessories. Consequently, you can undoubtedly get the 'Dewalt pleasure' from this trio! 
You can also read- Can You Use a Dado Blade on a DEWALT Table Saw?