Depending on the type of your house, the renovation cost varies. For example, renovating a farmhouse will cost significantly higher than an apartment. Also, the expense depends on the scope of the project and the size of the property. Last but not least, the quality of materials will also influence the total cost. 
However, if you're looking for a definite amount, the average cost to gut and remodel a house can be anywhere between $100,000 – $200,000. Although these numbers can vary quite a bit, you should get the idea from them.
What Does It Mean to Gut a House 
Many get confused between gut renovation and remodeling. Yet, there is a clear difference between gutting a house and remodeling. In simple words, gutting a house means bringing the entire interior down to the studs, while remodeling means redoing certain parts of a home only. 
In addition, when you are gutting your home, the structural skeleton of the dwelling remains in the same position. But you have complete freedom to re-work the interior. By gutting your home, you may change the floors, walls, and plumbing. Besides, you are free to re-think the cabinets, fixtures, and appliances also. Moreover, a gut means exterior work as well.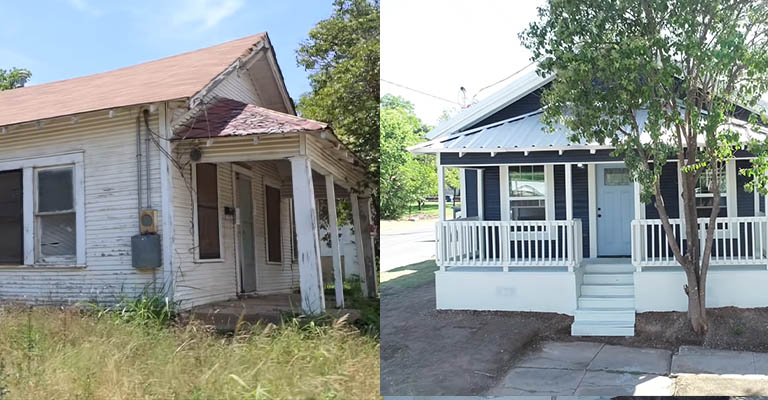 On the contrary, while remodeling your home, you have to leave the vast majority of the layout of your home in place. In such cases, you may redo some of the aesthetic and functional aspects of your property. But it is required to leave the core structural elements as it is.
Some Factors that Influence the Gut Renovation project 
Below are the factors that you have to keep in mind while calculating the overall cost.
Age 
The age of a house influences the costs. For instance, old buildings have more issues than comparatively newer buildings with the need for renovation. Besides, they have more hidden expenses like lead paint, asbestos, and rotting wood.  
Size 
In most cases, the cost per square foot goes up as the size of the house increases. Plus, if you're planning to change the structural skeleton, the expenditures will increase proportionately. 
Materials 
The quality of the materials dramatically enhances the budget cost. Yet, when you're using qualitative material, you can expect it to last for a long time.  
How Much Does It Cost to Completely Gut and Renovate a House
There is no straightforward answer to how much money it needs to gut and renovate your house completely. Several issues can affect your house renovation costs. For example, the age of your property, the material you use for gutting, and the size and layout of your house determine how much money you need to renovate your home.  
Moreover, apartments and farmhouses need a different genre of the gut, hence the money difference. However, I will try to give you some idea of what to expect.  
Plumbing 
According to a recent construction cost survey by the National Association of Home Builders (NAHB), the average cost of installing new plumbing in a home is around $14,745. Yet, this number is only 5% of the total cost of new home construction. However, as you need not redo plumbing again to gut a house, you can save a few thousand on it.  
Electrical  
According to the NAHB survey, a new electricity connection for a new home accounts for $13,798 that is 4.7% of the total cost of building a new home. However, you can save money while gutting by leaving the existing electrical work in place wherever possible.
Kitchen 
It is a little harder to get such specific figures while you get into the nitty-gritty details of undertaking your renovation project. Yet, the National Association of Realtors (NARI) suggests the average cost of a kitchen renovation is $68,000. Moreover, by upgrading new appliances and redesigning the floor plan, you can get a fascinating kitchen. 
Additionally, you can make your kitchen more operative by fabricating cabinets and granite countertops. Yet, you can spend less than this estimation by reducing the upgrading process. You can even cut the extra cost by using ready-made cabinets from local stores.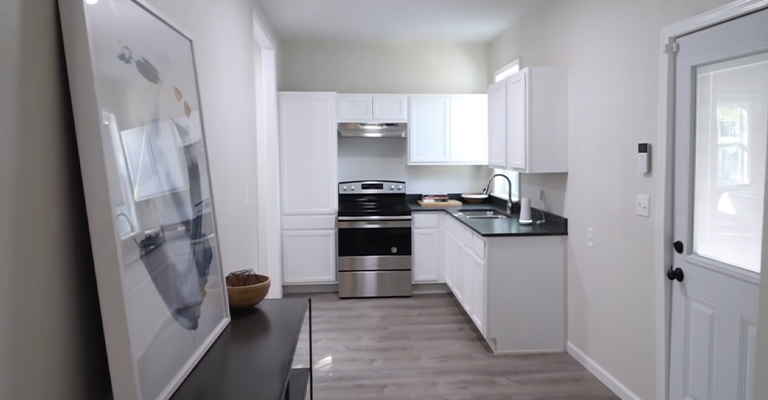 Bathrooms 
Generally, Bathroom renovation means upgrading the toilet appliances, new bathroom fixtures, flooring, and so on. Besides, lighting, wall tiling, and cabinetry also fall in the renovation process. 
A standard bathroom costs up to $2500 to $15000. Moreover, the figure gets larger while you are renovating a master bath. It costs almost $10,000 to $30,000. 
Yet, things tend to get even more expensive when you add a bathtub to your bathroom. Therefore, the expenditures of renovation are $120 to $275 per square foot. But if you want to construct an entirely new bathroom while remodeling, it costs almost $60,000.  
Living Room 
Living room renovation means updating the flooring, painting, and plantation shutters. Besides, installing crown moldings is one of the parts of living room remodeling. Moreover, it is required to embed a fireplace in your living while you are in cold weather. But it significantly increases the renovation cost.  
The average cost of gutting a living room is $4,000 to $10,000. But you can reduce it to $2,500 to $5,000 by renovating the floor and design work only.  
Bedroom 
If you are not interested in reconfiguring the layout of the bedrooms, you only need new flooring and interior paint. In this case, the project will cost the lowest of the whole renovation project. 
But if you are willing to get an aristocratic look, the cost will be higher. For example, a standard bedroom costs $1500 to $5,000 for only renewing the floor, trim, and installing molding. But an entire bedroom renovation costs $4,000 to $12,000. And with this money, you can focus on tiny details of your room and get an aesthetic look.  
Basement 
When you are renovating the basement, it requires insulating the walls and adding a new floor. Also, its main focus is waterproofing the space. In this case, this project costs up to $47,000. 
However, if you are willing to convert the basement into a bedroom, it may have several additional safety issues and liveability requirements. And these extra requirements increase the overall cost.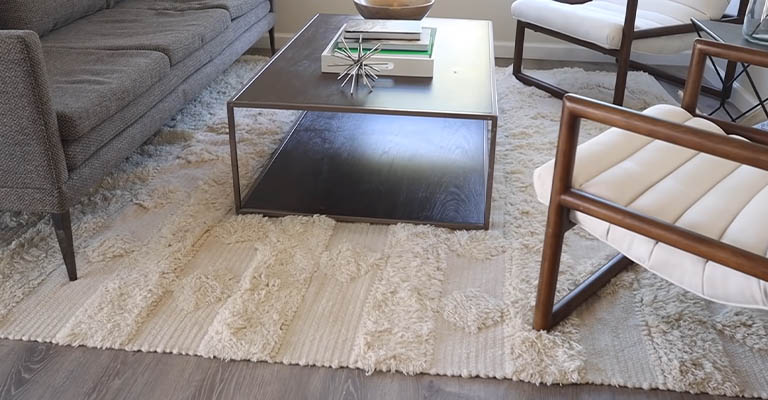 Roof Gutting Cost 
Depending on the roof size, pitch, and the type of the using material, the average cost of the roof replacement is $4,700 to 10,500. Generally, an asphalt shingle roof needs to get replaced every 20 years. However, upgrading the surface to metal lasts for 40 to 70 years. But that will cost a little too much.  
Frequently Asked Questions 
Why would you gut a house? 
As gutting a house removes toxic material, it is significant to renovate a house after certain years. Moreover, this process provides you with a much healthier life. Besides, it provides you with a blank canvas to reimagine the home. And as gutting removes all the old materials down to the studs, you may get a modern and aesthetic interior.
Is it cheaper to build or gut a house? 
Generally, a complete gut renovation is usually cheaper than building a house. Destructing the interior to the studs and renovating costs $100000 to $200000, while building a house from the ground up costs $155,000 to $400,000 or more.  
Conclusion  
When your home is too old and crappy to live in, you can make it modern by doing some renovation. Though the cost of gutting a house depends on various factors, you can reduce the expenditures by lessening the unnecessary renovation.