While air fryers are easy to use and sturdy, they can cause problems if they're left running for too long. Unlike a conventional oven, an air fryer is not designed to provide error codes to tell us why it is not working.
Did your power xl air fryer stop work? Don't worry, we can help. You're probably wondering why your power xl air fryer stopped working. 
The thing is, it might not have actually stopped working, but we just need to help you troubleshoot the problem a little bit.
Here are four things you should check.
Make sure the cord is plugged into a working wall outlet and the power button is on
Check the cord for any damages or exposed wires
Check to see if the fryer is on and if the digital timer is counting down
If everything checks out so far, with everything else, you may need to contact support. 
You might have a problem with the wire or socket if your power xl air fryer isn't working, but there may be other causes, as well (such as a misplaced basket).
We will discuss some simple steps that you can take to fix your air fryer in this article. We will also discuss some possible reasons why it might not be working.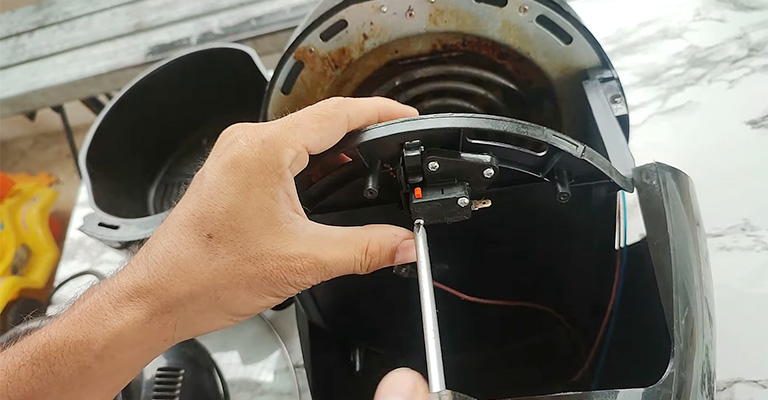 My Power XL Air Fryer Stopped Working – What To Do?
The most unfortunate thing happened: your Power XL started going off as you were air frying, baking, roasting, or broiling! Unfortunately, it happens, and any trusted brand of air fryer can suffer the same fate. 
You can fix this issue yourself, as there are several possible reasons for it. I'll discuss those issues in this article and see what can be done to resolve them. Keep reading to find out what can be done. 
What Do You Need To Do To Turn On A Power XL Air Fryer?
Do you have a problem with how to turn on your new Power XL air fryer? There is nothing complicated about it. You'll find the power button on the display of your air fryer, but before using it, make sure the drip tray is properly positioned.
To begin, plug in the air fryer. Prepare your ingredients in the basket, place them on the tray, and slide the drawer in.
Once you position the tray, your Power XL control panel will turn on. By pressing the power button on your unit, you can set the default time and temperature (370 degrees Fahrenheit and 15 minutes for cooking). You can begin cooking by pressing the power button again.
There are 10 preset cooking modes available (pizza, French fries, fish, chicken, reheat, roast, and more). Temperature control, time control, and dehydration are other features you can utilize when using your Power XL air fryer.
How Come My Power XL Air Fryer Not Work?
If your Power XL air fryer is not working, it needs to be fixed right away. You can't fix the problem if you don't check it and fix it as soon as it occurs.
Although this problem can usually be fixed easily, there are instances when contacting the manufacturer is necessary. But first, look for possible causes for the malfunction.
Gone For Good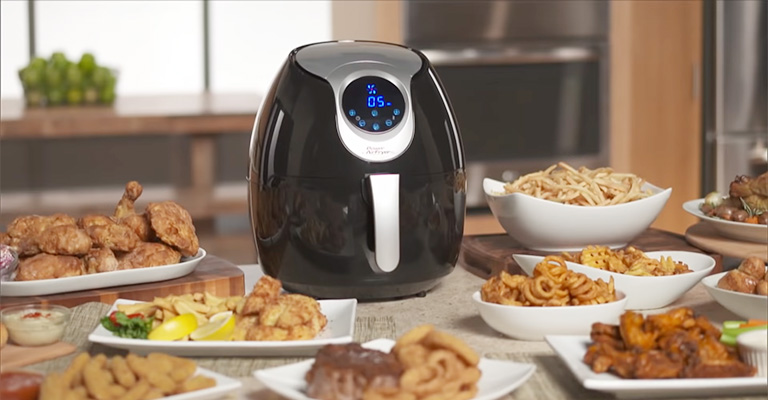 Almost all appliances and electronic gadgets are outdated. When they stall, no repair will revive them and make them work again. It's likely that your Power XL air fryer has become outdated if it's been around for years. 
Plan on getting another gadget so you can continue eating air-fried foods. That being said, if it is a new unit, keep reading on. 
Plug In The Power Cable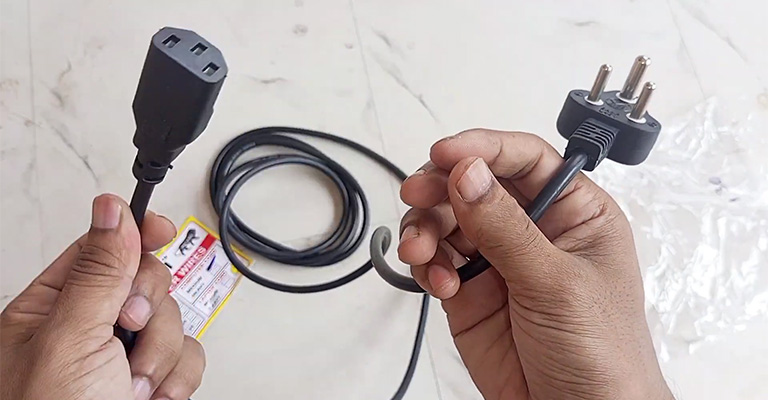 Sometimes we forget the basics. There might not be anything wrong with your air fryer. Perhaps you forgot to connect the electrical cord first. If you take your air fryer to the shop only to find you forgot to connect the power cable, how frustrating would that be?
Your Power air fryer's cord connection is the first thing you should check. If you are not sure whether your air fryer is connected to the socket, check the power cable.   Having confirmed that you have the right cable connection, and still, it won't turn on, you need to take action to ensure it isn't a faulty power cable.
Ensure That The Fuse Is Not Faulty
In case you don't have a spare cable to test it as mentioned above, you might find it helpful to try this. The air fryer is not the only appliance that won't work if you have a blown fuse.
There is no need to return your air fryer to the manufacturer just because the fuse has blown. That would be embarrassing! Watch some YouTube videos for instructions on how to test fuses if you are not sure how.
Checking a blown fuse with another functional appliance is the easiest way. Unless the fuse powers up the appliance, you have either a blown fuse or a blown circuit breaker.
Bad Cables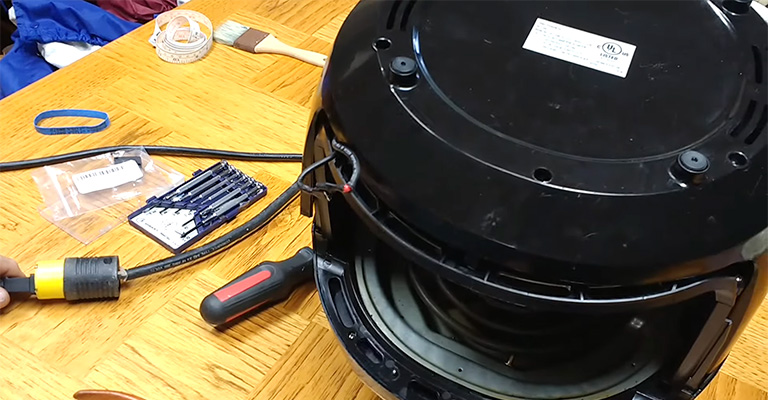 Twisted cables can be noticed quickly. Replace the worn-out power cord and straighten the twisted cable. If you see wires poking out of the line, don't use the air fryer. Electrocution is deadly! 
If you are unsure about your cables going bad, you can replace the power cable. An air fryer power cable is much easier to get from the manufacturer than an entirely new air fryer!
Electrical cables are found in most kitchen appliances. Most people have them in their collections. You can test them out by using another appliance's power cable.
It is not a good idea to do this for an extended period of time. In the case of faulty power cables, you should either purchase one from the manufacturer or get a new cable from the manufacturer.
Check Out The Basket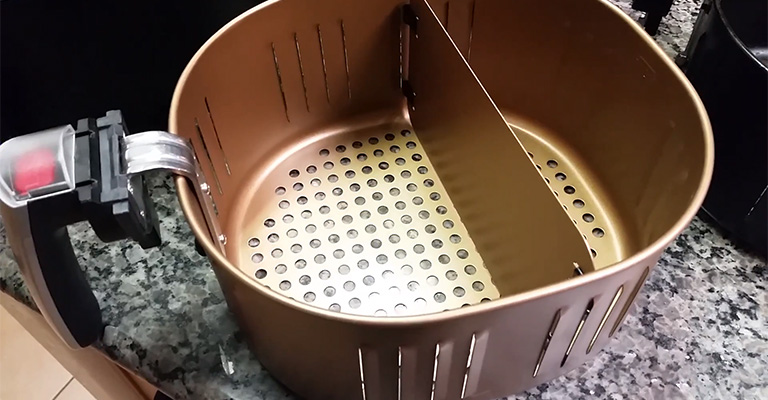 In order to ensure safety, if the basket does not fit properly, the air fryer will not turn on. It is possible for the basket to be misplaced or not placed properly, preventing the air fryer's door from closing properly as well.
Your air fryer won't start if the door is not closed properly. Almost all air fryers from top brands are required to comply with this safety measure. So, here's what you should do…
Make sure the basket is placed properly. Shut the hatchet. You can now power up the air fryer.
An Overloaded Air Fryer Basket
If your basket is overflowing with ingredients, the appliance will shut off automatically. It won't work if you put a full turkey in your Power XL. You can portion out and put in the recommended quantity to make your air fryer work again.
Faulty Switch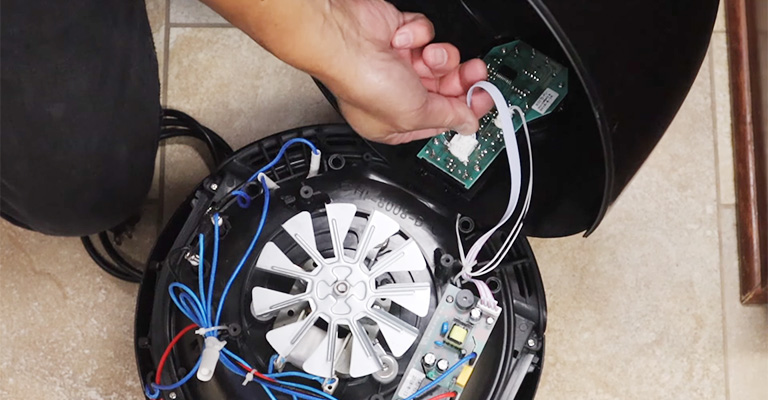 Air fryer fans that don't work are often caused by improperly functioning switch buttons or interlocked buttons. The problem involves a broken switch that prevents the air fryer from performing most functions.
When you return your tray to the drawer, this feature locks in place. The fan cannot rotate when this occurs. An interlocking problem can be caused by a faulty electrical connection, according to air fryer technicians. 
Is There A Reset Button On The Power XL Air Fryer?
Similarly, to other air fryers, your Power XL air fryer has a reset button. For this range of air fryers, the button can be found on the side. This feature is intended to prevent over-frying, so it is a safety feature.
Your air fryer will shut off automatically if your food is overcooked until you return it to a lower temperature by pressing the reset button again. This will prevent your food from overcooking.
Safety Switch For Power XL Air Fryers
When you push the tray back into place, your air fryer's safety switch will activate. You will find the button beneath the tray area of your power XL air fryer.
This tray controls the temperature of the air fryer. When you remove the frying basket, its switch automatically shuts off your air fryer. Functional safety switches ensure that your air fryer can be used without any problems.
Troubleshooting Steps For Power XL Air Fryer Fan Not Working 
Your appliance's fan may not be working properly. The fan in your appliance may malfunction, resulting in soggy food. But why might the fan malfunction?
Perhaps The Switch Is Inactive
You can rotate the fan by turning your switch and adding extra effort. You can use a credit card or a butter knife to open an air fryer.
They are meant to release a stuck switch. Close the drawer and turn off the device. You can bypass the interlock button by sliding your card under the gap. This will allow your air fryer to function again.
Trying Out Some Common Troubleshooting 
When it comes to air fryer problems, diagnosis is key. In addition to eliminating guesswork, it prevents further damage. Investigate the problem in the air fryer's drawer. Remove the drawer and slide it again after plugging it in and turning it on. Make sure the fan works. 
Testing the mechanical elements of your Power XL air fryer fan is also an important part of diagnosing the issue. Your device's problems may be electrical in nature.
It is important to remember that this is a complex process that can leave you shocked. Detailed diagnostics and professional repairs are available from the Power XL manufacturer. Make sure to contact them first. 
Faulted Fan Components
The fan will stall if there are faulty components. To avoid damage, these components should be checked regularly. An appliance technician can check your appliance for you, and if necessary, replace the parts.
What Causes My Power XL Air Fryer To Keep Turning Off?
Air fryers can be damaged beyond repair if they are turned on and off repeatedly. You cannot ignore your air fryer turning on and off. The interruption disrupts your cooking process and wastes your time. Think of this as a mechanical problem.
If you are experiencing frequent power outages in your house, consider calling a technician first. Appliances behave the same way when the power goes on and off. Wait for your home's power to return before turning off your air fryer.
Faulted components are another reason for your Power XL air fryer to keep turning off.  This annoying issue can be caused by faulty controls, a faulty drawer door, cables, or the heating element.
Final Words
Even if you have tried all the above basic troubleshooting techniques, you may still end up with a damaged air fryer.  In order to relay power throughout the air fryer, there are complex wires running through it.
It is possible for those wires to receive damage or for the air fryer to have damaged internal components because of several reasons. The problem should be fixed by a trained electrician.
Pay attention to what follows…
Check whether your air fryer is covered by a warranty before attempting any repairs. If it's still covered by the warranty, contact the manufacturer. If you attempt to repair an air fryer yourself, you may void the warranty. There will be no replacement. You might even be denied free repairs!
For a free repair or a new replacement, contact the seller or dealer as soon as possible. Now you know why your Power air fryer XL won't turn on and how you can fix it yourself. 
Be sure to check the warranty period first before you attempt any of the troubleshooting tips outlined above. Don't overlook this step!