As stormwater enters and leaves private land, it is the landowner's responsibility to manage it. Typically, they must abide by the common law principle that they should not cause a nuisance to upstream and downstream neighbors.
The more likely it is that the water will flow from your neighbor's yard into yours if you live close to theirs. Getting into a dispute with your neighbors over property damage can be frustrating, as this may lead to unnecessary tension.
Your property can be damaged by water in several ways. Regardless of where the water is coming from, you must stay vigilant to ensure it does not damage your property. Preventing water from entering your property in the first place is a good way to prevent such a situation.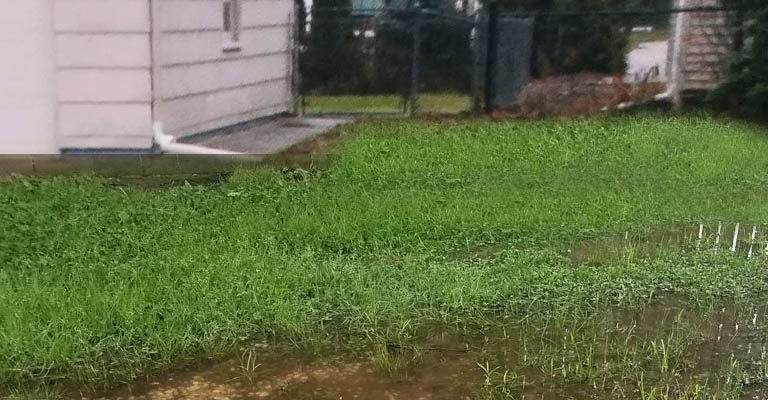 When stormwater seems to be triggering a dispute between neighbors, what should be done?
It is recommended to first discuss issues between neighbors directly.  To design a stormwater management system that is suitable for the particular circumstances involved, a stormwater engineer may be necessary in more complex cases.
How is stormwater managed on private property?
Stormwater management generally falls onto the landowner, both when it enters and when it exits. They must adhere to common law, which states that they cannot obstruct their neighbors, whether upstream or downstream.
Flows of stormwater may get out of hand if they are not managed properly when they concentrate on what naturally occurs. Other nuisances can result from peak flow changes, water quality changes, and so on.
Even so, it's easier said than done to block water coming from the neighbor's house. You'll need to think creatively about diverting the water away from your home.
How To Stop Water Runoff From Neighbors Yard?
The following are a few ways you can protect your home from water damage caused by runoff from your neighbor's lawn.
1. Make use of the French Catch Basin
Building French catch basins (also called French drains) is another great method of keeping water from your neighbors' houses from damaging yours. French catch basins in a nutshell are linear structures usually made from gravel and piping that drain water from a steep slope downward.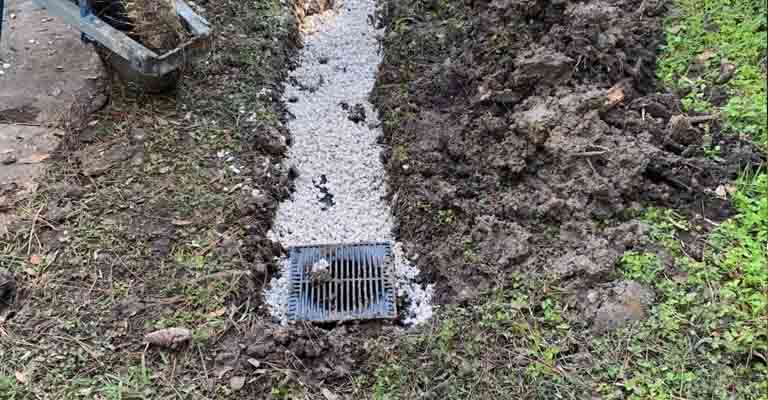 Water damage from neighbors' yards and severe rainstorms can both be prevented by such a system. In order to ensure a successful French drain installation, follow these tips:
It is important to plan out the area where the French drain will be installed thoroughly. If you plan to place gravel inside, you may need to start by breaking it up.
It's important to consider where you'll dump the dirt you've removed. You can consider starting a small garden if the soil is good.
It can be hard work digging by hand. Assemble a small team if possible, to speed up the process.
Installing a French basin isn't too difficult if you have the right tools and a little extra assistance.
To identify if there are pipes beneath your property, speak with your utility service provider before you begin digging. 
A burst pipe could allow more water to flood your yard, which would be a bad situation.
2. Run The Water Into An Isolated Dry Well
The installation of a dry well on your property is an excellent way to prevent runoff from your neighbor's property from entering your property. By creating a dry well, you can collect water underground.
It is difficult to create one, however, and requires a lot of hard work. In spite of this, it is by far the most effective solution available. This system will collect water from the soil and drain it into a tank.
Most home and garden stores offer dry wells for sale, but you should look for one that is both durable and easy to install. You should periodically check your tank to see if there are any sediments or debris clogging it after installing the well.
It is difficult for the tank to drain water effectively if it is clogged with debris. When there is too much sediment in a dry well, it may need to be repaired or replaced, so remove the sediment as soon as possible.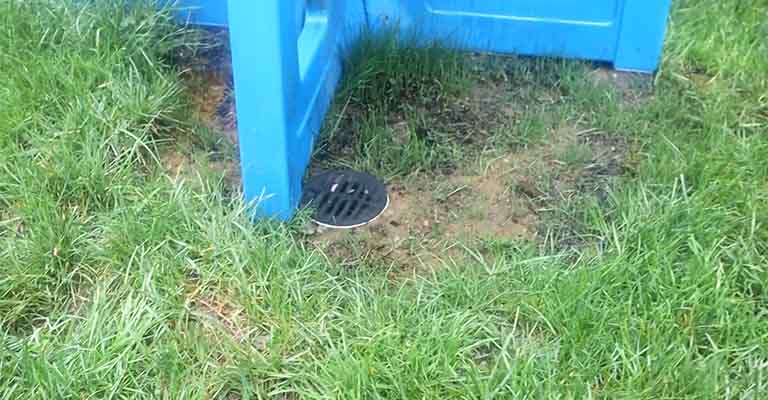 3. Construct A Berm
A berm is a large bank of soil consisting of large mounds. The feature is more commonly used for landscaping but can also serve as an effective means of keeping stormwater out of your home.
The aesthetic value of your landscape can be enhanced by planting grass on berms. Berms are used to prevent water from getting to parts of one's house. Uou want to preserve the location of the water's runoff must be measured before your berm is constructed.
If you want your berm to work properly, you'll want to determine where water will flow after it runs off. If you want to match the rest of your landscape, you can also consider what kind of plants you will grow on it.
You can plant a wide variety of vegetation to add flair to your property if you want to cover your berms with grass since it's easier to maintain. Several factors should be considered when building berms:
Adding soil if necessary is a good idea.
Prior to building your berm, think about how the water will flow. 
Despite your best efforts to keep it from reaching certain parts of your property, it could still cause damage to other parts.
Berms are often made circular by some people. Diverting water, however, usually requires a C-shaped construction.
It can take just one bad rainstorm to destroy your berm, so compact your soil carefully.
You should choose plants that thrive in drier environments when adding plants to your garden.
What Causes Water Runoff From Neighbors Yard?
A house with too much water is a disaster waiting to happen. Water left sitting on the soil can cause all kinds of problems even though the soil soaks up a great deal of moisture. Before you can effectively handle the water runoff from neighbors' yards, you must first understand some common factors.
Severe Weather Conditions
There's a good chance that your lawn will get drenched in massive rainfall. Put the above factors into perspective, you can expect even more water to seep in from the neighboring house.
A great way to protect your home from water damage is to have the right structures in place to divert excess flow.
Your Neighbor Makes A Change To Their Landscaping
It is possible to flood your yard if your neighbor makes any major landscaping changes. If the water was diverted from your house by their previous yard design, but that structure has now been removed, you can let the water in freely.
If you want to keep water from entering your yard, you can install a preventive measure to keep your neighbors from changing their lawn.
Residing At The Bottom Of A Slope
You can expect that water will eventually make its way to your home if your residence is situated at the bottom of a slope. A flood at your neighbor's home could damage your yard if some of the water gets into your yard.
As long as you apply one of the above methods you will be able to keep water in your house and out of any important areas.
Neighbor Disputes Over Water Damage
It is generally true that a neighbor isn't accountable for damages caused by the natural characteristics of the land. The fact that rain drains off your next-door neighbor's property into your backyard every year doesn't make it her fault if a particular amount of water is dumped there.
The neighbor may not be liable for any damages you suffer as a result of the neighbor's unreasonably or careless use of water on his property that causes water damage to your property. However, you can ask the court to order his actions to cease.
Final Words
The challenges presented by water runoff are undoubtedly frustrating. As well as being a tedious project to remove, it can also cause considerable damage to a very valuable investment.
Additionally, you can prevent your home from getting ruined by water in many ways. Perhaps you should seek professional assistance if you're experiencing constant flooding in your yard.