You might prefer the Samsung model if you want easy troubleshooting and a chemical-free tub cleaning procedure. On the other hand, the Maytag model may be a good choice for you if you require more wash power and amenities like steam and prolonged spins to keep your clothing fresh.
There are several great models of both brands to be compared. However, basic details about Samsung WF45T6000AW and Maytag MHW5630HW are discussed here.
Maytag Vs Samsung Washer
Since the early 2000s, front-load washers have grown quite prominent. These machines appeal to many customers because of their big wash capacity and minimal water consumption. The entry-level front load washers start at roughly $700 to $900 and come with complex control panels and fantastic wash choices.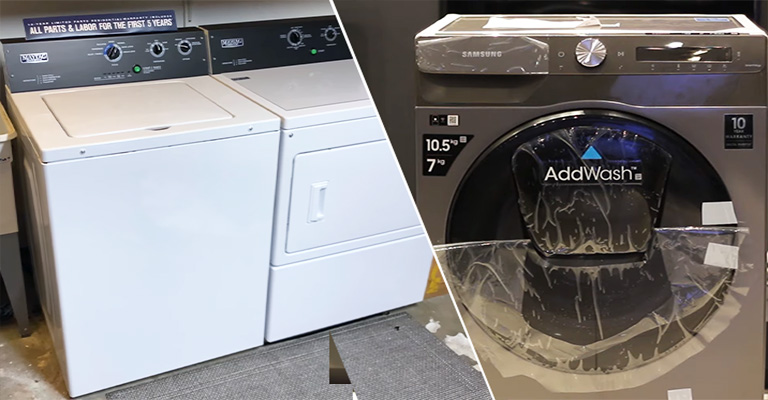 You have alternatives if you're looking for new washing machines and want to buy front load but don't want to spend a fortune. Both Samsung and Maytag, reputable manufacturers, offer low-cost front-load washers.
Samsung WF45T6000AW
The foot washtub of the Samsung WF45T6000AW 4.5 cubic enables you to wash heavy loads. Your clothing is softly and thoroughly cleaned by the tumbling movement. A pedestal is available to go with this model. 
Additionally, using a Samsung Riser lifts it to an ADA-compliant height for simpler loading and unloading. There is also audio help for many control choices, as well as braille next to essential control panel buttons.
Vibration Reduction
The Vibration Reduction Technology from Samsung lowers noise and vibration, allowing you to place this washer upstairs or in your preferred place without disturbance.
 Instead of waiting for customer assistance, you may utilize the Smart Care app to quickly troubleshoot any difficulties or faults. Another fantastic trait for decreasing noise is the direct-drive motor.
Washing Facilities
The stainless-steel Swirl+ drum collects more water when rinsing. As a result, it will never corrode or tangle your delicate clothing. Every 40 washes, the washer will prompt you to use the Self Clean+ cycle.
This washer has Samsung's Self Clean+ cycle, which keeps the washing tub clean by eliminating dirt and germs with strong water jets and fast spin rates. Therefore, no additional washer cleaning chemicals are necessary.
Characteristics
1. There are 6 options available: Spin Only, Smart Care, Child Lock, Pre-Soak, Delay End, and Alarm Off.
2. You get facilities of 5 Soil Levels, 5 Temperatures, and 5 Spin Speeds.
3. Normal, Heavy Duty, Whites, Bedding, Activewear, Quick Wash, Delicates, Perm Press, Rinse + Spin, Self Clean+ are among the 10 cycles available.
4. 1,200 RPM is the maximum spin speed.
5.  There is a direct drive motor present. As the motor drives the load directly, they don't need any mechanical transmission parts like couplings. Belts, gearboxes, and pulley systems are not required when using a direct drive motor.
Maytag MHW5630HW
A stainless-steel wash drum, a direct-drive engine, and an integrated water heater improve stain-fighting capability in this 4.5 cubic foot washer.
Washing Facilities
Maytag MHW5630HW has a fantastic feature of the 12-Hour Fresh Spin function. This feature enables the machine to tumble clothing after the wash cycle has finished. Thus, it helps to avoid smells that give you time to move the load to the dryer. 
Moreover, you can apply the Extra Powerwash option to Maytag's PowerWash system which promises to be the greatest cleaning in the business to tackle stains more successfully with hot and cold water. The PowerWash cycle and Steam for Stains are two more popular options.
Characteristics
1. Steam Clean, Delay Wash, Extra Rinse, Extra Power, Control Lock, and 12 Hour Fresh Spin are the six options available.
2. Four different soils, four different spin speeds, and four different temperatures are available.
3. The 10 cycles offered by this model are Normal, Heavy Duty, Whites, Bulky Items, Towels, Delicates, Quick Wash, Wrinkle Control, Drain & Spin, Clean Washer with Affresh.
4. 1,160 RPM is the maximum spin speed.
5. Direct drive motor is also present.
6. A steam option is also included for removing stains.
Comparison
| | |
| --- | --- |
| Samsung WF45T6000AW | Maytag MHW5630HW |
| 1. The tub cleaning cycle does not need washing machine cleaner tablets. | 1. Washing machine cleaner tablets are necessary for the tub cleaning cycle. |
| 2. Includes a Pre-Soak option. | 2. Includes steam option, the Extra Power/Boost option, and the Fan Fresh option. |
| 3. Samsung has a standard front-load washer design. | 3. With a square tinted viewing glass, Maytag uses a unique viewpoint. |
| 4. The washtub comes with a three-year warranty from Samsung. | 4. Maytag provides the washtub for ten years, while the remainder of the appliance has a one-year part and labor guarantee. |
FAQ
1. What is the average life of a Maytag washer?
The average life expectancy of a new washing machine is 11 years. If the appliance is more than eight years old and is a high-end model, Consumer Reports advises against replacing it.
2. What brand of washing machine is the most reliable?
Some of the most reliable washing machines are GE Appliances UltraFresh Front Load Washer with OdorBlock, LG WashTower with Center Control, Whirlpool Top Load Washer with 2 in 1 Removable Agitator, Maytag Top-Load Extra Large Capacity Agitator Washer, Samsung Smart Dial Front Load Washer with Opti-Wash.
3. Does Samsung make a good top load washer?
Samsung makes some of the greatest top-load washing machines and dryers available. Top load, high-efficiency Samsung washers come with a plethora of specialized cycles and distinctive possibilities, as well as flexible settings that reflect the company's legacy of high-tech products.
4. Is Maytag a good brand washing machine?
Maytag is regarded for being a cost-effective and dependable brand. In the top-load washer category, Maytag is one of the few manufacturers that focuses on both classic agitator top-load washers and high-efficiency impeller washer technology. You can use the best smelling laundry detergent and fabric softeners for washing clothes to get a good fragrance.
Conclusion
All in all, Maytag's dispenser, built-in fan, and overnight cycle are superior. The features are comparable, but Maytag's reliability is now the highest in the industry, with roughly 6.7 percent service in the first year compared to 11.45 percent for the Samsung model. As a result, the Maytag unit is the superior option.