Most people opt to install carpet on their stairs for two major reasons, one because it adds a nice touch to the home, and the other one is to prevent accidents since stairs can be slippery. Whilst adding carpet to your stair is a brilliant idea, you will have to deal with dirt, debris, spills, stains, and dirty footprints.
Now the question is, 'how to protect carpeted stairs from dirt?'. There are several ways, among them vacuum cleaning is the most popular choice. You can also use a stiff broom, hand scrub, dry shampoo, or get help from a professional. Let's dig into this article to know the details of protecting carpeted stairs. 
How to Protect Carpeted Stairs from Dirt 
From this section, you will get to know 5 different ways you can get rid of dirt from the stairs.
Vacuum Cleaner 
Vacuum cleaners are extremely helpful, you can use them to clean your carpeted stairs along with any other type of surface to remove all kinds of dirt, and small gravel fragments. However, your vacuum cleaner won't be able to do its job properly if it isn't the right size for the work. 
Standard vacuum cleaners are too large and heavy, and they aren't designed to clean carpeted stairs. That's why you get a small and light vacuum cleaner that is easy to handle. Most of the lightweight models come with different attachments. Attachments are quite handy, so buy a model that includes those freebies.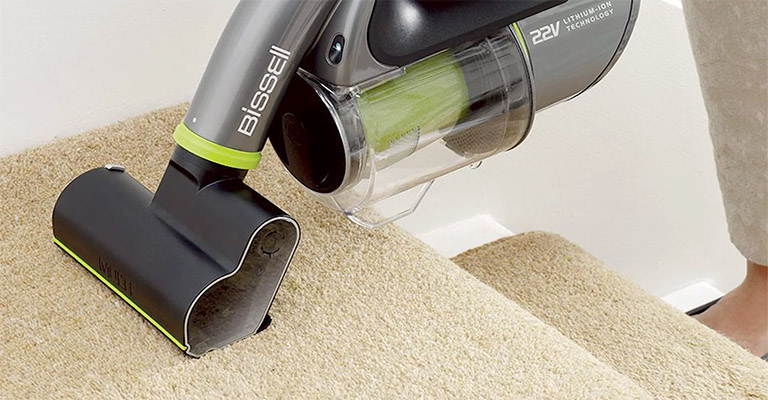 We are sure you are wondering, "what's the best vacuum attachment for cleaning carpeted stairs?" The answer is always the brush roller attachment. This attachment can remove debris from the deepest part of the stair carpets which can help the carpet last way longer.
The best time to clean your carpeted stairs is to clean when you are housekeeping or cleaning other carpets. Doing so will not only save your time but also your carpeted stairs will be protected from dirt regularly. 
Pieces of advice, when you are vacuuming, start at the top of the carpeted stairs and finish at the bottom. This way you will be able to remove most of the dirt, thanks to gravity. When you test this out, you will understand it more clearly. Also, never vacuum the carpeted stairs when it is wet.
Stiff Broom 
Using a stiff broom is a rather old method to clean any surface. But, regardless of what you think, before vacuum cleaners, this was the only cleaning tool humans had. If you don't have any vacuum cleaner, specifically a small one that can clean the carpeted stair, a stiff broom is an excellent substitute.
A stiff broom is far lighter than any vacuum cleaner, so anyone can use it without any sweat. Using it will make your carpet seem lovely and clean. However, the stiff broom is not as good as a vacuum cleaner at the end of the day because it isn't suitable for deep cleaning.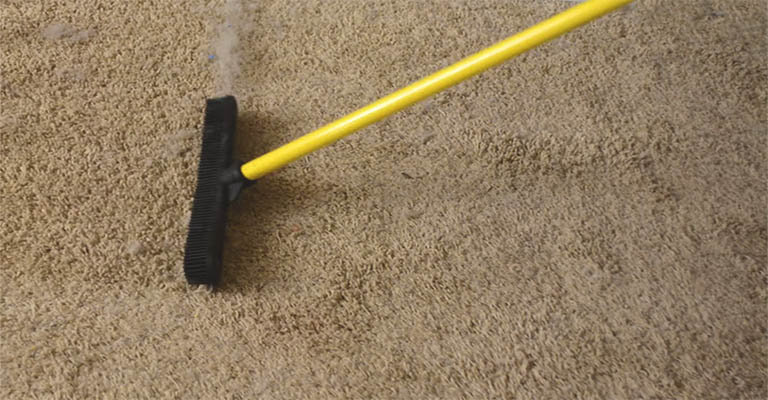 To use a stiff broom to lift dirt from your carpeted stairs, always begin at the top and work your way down just as we said previously. You will have to clean the stairs regularly to get rid of dirt if you are using a stiff broom. To give the carpet a nice touch, you can try vacuuming after sweeping the stair carpet.
Hand Scrub 
Scrubbing carpeted stairs by hand may appear to be arduous labor, however, it is the most effective approach to remove spots or stains. Get a carpet cleaner and mix it with water until you see light foams. After that, begin scrubbing the carpet with a scrub brush and you will see the carpet steps are good as new after a time.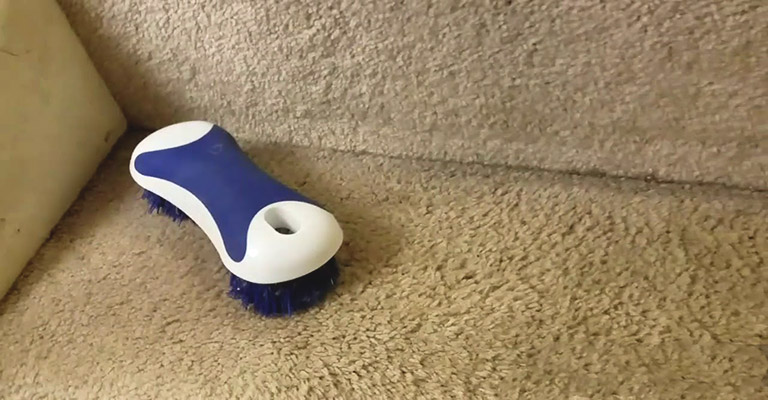 If there is any stain on the stair carpet, you will need a stain remover since normal shampoo or carpet cleaners can't get rid of the tough stains. There are a plethora of stains removers available on the market, make sure to buy a good one.
Steam Clean 
Steam cleaning your carpeted stairs is the finest thing you can do for them. You won't be able to tell if the carpet is a brand new or old one once it has been steam cleaned. But the drawback of steam cleaning is it is not inexpensive.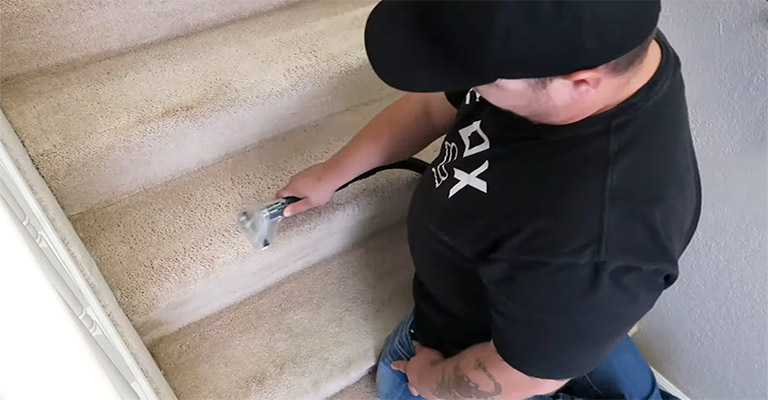 You may rent a steam cleaner from your local grocery store or home improvement store from time to time, but doing so on daily basis is not so practical. Maybe you can think about purchasing a steam cleaner for yourself since it will prove after a while to be worth paying the high price.
Dry Shampoo 
You can also use dry shampoos as they can lift away dirt and grime by pulling the particles up to the surface of the fibers. For the best result, after dry shampooing, you can use a small handheld vacuum to get rid of residual dirt. Although using dry shampoo on the carpet won't completely remove any type of stains.
Call a Pro
If you don't have much time or may be sick and tired, you can consider hiring a carpet cleaning professional to clean your carpeted stairs. 
FAQs 
How can I protect carpeted stairs from damage when remodeling the house?
There are many ways to temporarily protect the carpeted stairs. If the stair is in a low-traffic area, you can use a resistant drop cloth. But if it doesn't work, the area is a high-traffic one, use a stair protector film that has adhesive at the back.
How many times in a year should I clean my carpeted stair?
If you use any normal tool to clean the carpet, such as a stiff broom, you need to clean the carpeted stairs regularly. You can do vacuum cleaning once every few weeks. However, you should deep clean your carpeted stair at least once every 3 months.
Can I put stair trades on carpeted stairs?
Yes, you can add stair trades on carpeted stairs. They are completely safe to use and they also prevent carpet damage as well as accidents. 
How can I choose the right carpet for my stairs?
To get the right carpet, you must take into account several factors, such as style, pattern, and color. Also, the carpet material has to be of a certain thickness, not so thin or thick either. It has to be hard, resistant to dirt, and also resistant to wear and tear. Buy the strongest and best quality carpet to avoid replacement for many years.
Final Verdict
Sometimes you might find random wet spots on your carpet. There are more answers to how to protect carpeted stairs from dirt that we didn't mention in this article, such as using a plastic protector. You shouldn't use this item since it is a serious health hazardous product. To extend stair carpets life, protect them against sunlight, dust, and dirt, and replace the carpet when necessary.