A water softener is a device that eliminates the need for a traditional water treatment plant and lets you use your tap water for drinking and cooking, even if it has high iron content. This product is best used in homes with well water, and it is also a good option for those who live in areas with hard water.
Morton water softeners are known for their efficiency and low maintenance. Their water softeners are a good option for those who need to make their water softer and easier to use. 
Setting the hardness of your water can often be a difficult task. There are multiple factors that contribute to the hardness of your water like the type of filter, amount of calcium and lime deposits, and overall use. There is also the difficulty in knowing the right hardness level for your needs.
This can be a daunting task but there is an easy way out! You will need to set up a dial indicator and compare it to some key points on your water softener. By doing so, you should be able to get it just right for your needs.
Setting up a dial indicator can seem tricky but there are plenty of resources available on the internet that covers how to set one up and what you need in order for it to work properly.
This article will show how to set your water softener's hardness. It will also give you a list of things you should consider when setting your water softener's hardness.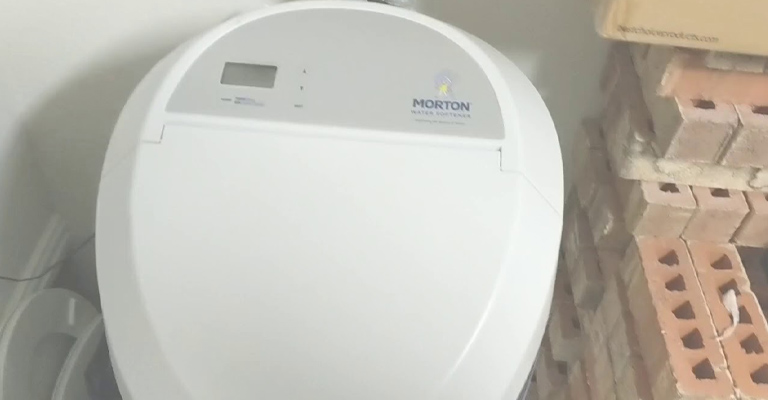 Morton Water Softener Hardness Setting 
When the arrow pointing to HARDNESS appears on the MODE/SET button, press it. You will see 25 flashing in the display.
Set your water hardness number by pressing the UP or DOWN button.
Press MODE/SET to accept your hardness measurement (in grains per gallon).
Note: If your water contains iron, adjust the hardness number to compensate. Consider a scenario where your water contains 20 gpg of hardness and 2 ppm of iron. For every 1 ppm of iron, add 5 to the hardness number. Therefore, your hardness number would be 30.
What Hardness Should Water Softener Be Set?
There is no universal answer to what hardness should a water softener be set at, but here are the general settings.
A water softener has a hardness setting that should be adjusted according to the user's preferences. There are two factors that need to be considered when choosing a setting: the level of soap in the water and the location where you live.
The use of a water softener makes it possible for people with hard water to have softer water at their homes while maintaining its sanitary quality.
Water softeners can be set to different hardness levels, depending on your water source. This setting is referred to as the "softener type" and varies by region.
When it comes to water softener settings for different hardness, the following are recommended:
For high-quality corrosion control at a longer life, use 10 or more (coarse)
For better performance in smaller homes without running out of salt, use 5 or less (medium)
For low-cost corrosion control in areas with hard water, use 1 or 2 (fine)
Hardness should be set to 5-12 depending on your water source. If you want to know more about how different levels of hardness affect performance, contact a professional for help or do some research online.
What Does Water Hardness Mean?
Water hardness is a measure of how much calcium or magnesium is present in your water. A water's hardness is determined by the minerals it contains. As a result, it will stick to your skin or roll off the surface of your skin. The harder the material is, the more likely it is to stick to your skin.
Your dishes and appliances will run smoothly, your clothes will dry more easily, and your clothes will be softer. When the water is softer, it will also roll off you and your clothing. You will have a longer appliance life if your water is softer since your appliances won't accumulate mineral deposits.
What Are Acceptable Levels Of Water Hardness?
For cities and water treatment plants, acceptable water hardness levels are the key to having systems last as long as possible along with what's best for consumers and what's acceptable to consumers. If you live in a city and the water treatment plant has set the level to be 100-300 PPM, that is an acceptable range for water hardness.
When Is Water Softener Needed?
When your water hardness exceeds 300 PPM or 15 grains per gallon, you need a water softener. Your house water may change, or your health may change at this point.
Various symptoms can be observed such as a drop in water pressure, a change in taste, a change in color, mineral deposits accumulating faster than they used to, or a bursting pipe.
A hard water supply can have a negative impact on your health. Dry skin and hair loss are two common effects of hard water. Additionally, the mineral build-up in your clothes may cause your clothes to always feel itchy when they are washed. 
Despite these not always being major concerns, keeping your skin in good condition is important to protect you against diseases.
What Does the Hardness Number for Water Softeners Mean?
Based on the number of people in your household and the amount of water you use in your home, you will get a water hardness number for your water softener. In this case, we can say that a family of 2 will have a different hardness number for how often the water softener needs to soften their water than a family of 6.
What Is The Ideal Water Hardness?
Water hardness of 0 to 3 grains per gallon means that your water is at the right hardness level, so no softener is necessary. You will need a higher hardness level if you have metal pipes that can rust out (copper rusts out more slowly), otherwise you may have a leak in the pipe on some level.
Metal pipes would benefit from something between 80 and 180 PPM, but PVC would benefit from something between 20 and 80 PPM.
You will want to use water hardness in the range of 120-200 PPM (more is better and will not hurt) for your lawn and garden so that they can get as many nutrients as possible to grow and thrive.
Those with dry skin and hair loss are better off with water that has a lower water hardness and a softer water hardness of 20-60 PPM. 
Final Words
When buying a water softener, you need to know the hardness of your water. This is because the hardness affects how well your unit works. Hard water is a common problem in homes, and it can be difficult to filter. To solve this issue, you should buy a water softener and use it with your regular tap water. 
Also read – Kinetico Vs Culligan Water Softener.