A sealer is a material used to prevent the entry of air or water into an area. An impregnator is a material used to avoid the passage of something from one area to another.
The application of sealing agents and impregnators in construction and industrial applications has been well-established for many years.
Sealers are typically applied by brushing, rolling, spraying, or troweling them onto the surface. They can also be applied by dipping them into place, such as foam insulation. 
Impregnation involves forcing materials into the surface at high pressure, so they become part of it. This can be done either by spraying or dipping processes, but it typically requires some form of pressurized fluid.
There is a great difference between sealer and impregnator. The sealer is usually used to protect the surface of an object from damage or deterioration. On the other hand, the impregnator has the opposite purpose – it helps to make something waterproof or protect it from other elements.
Difference Between Sealer And Impregnator
Typically, impregnating sealers contain resins that penetrate stone surfaces through water or solvents. While solvent-based impregnators penetrate stone at a deeper level, they can leave a residue odor that can be noticeable in kitchens and other living spaces.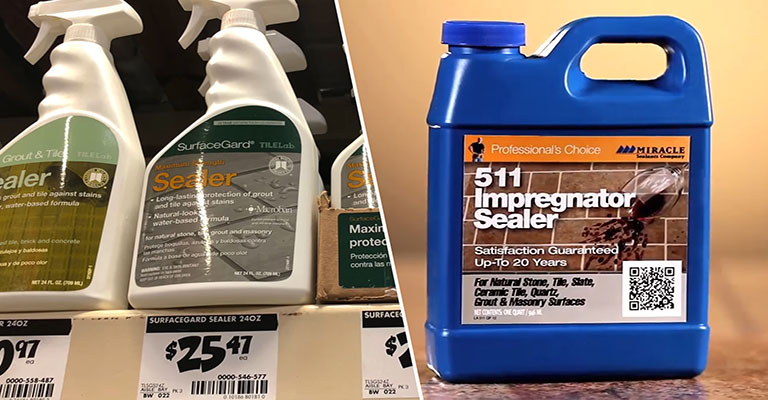 In contrast, sealers provide surface protection and resist surface staining, but they also increase the luster and darken the color, and they will need to be reapplied frequently. Impregnator will keep acid from penetrating the stone but not from coating the surface.
How Does Sealing Or Impregnating Stone Work?
Stone industry professionals often confuse sealing with impregnating. However, a natural stone impregnator's primary task is to prevent stains from penetrating the inside. Impregnator keeps acid from penetrating the stone, but it won't keep it off the top surface.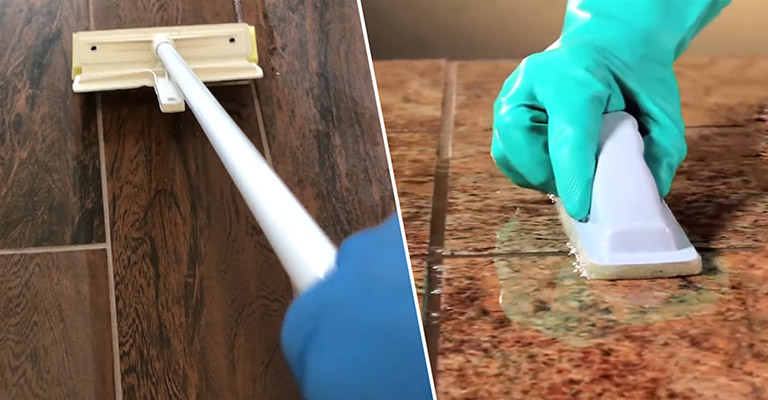 On the other hand, sealers provide a better level of protection by preventing stains. However, it does create a shine and darker tone of color, and it will require frequent reapplication and stripping.
When Should Impregnating/Penetrating Sealers Be Used?
Stone sealants that penetrate deep below the stone's surface are called impregnators. Either solid particles are deposited inside the stone's pores, or the mineral particles are coated beneath the surface. 
By preventing dirt, oil, and water from penetrating the stone, penetrating sealers prevent damage. The texture or appearance of the stone will not be affected by an impregnator sealer when properly applied. 
A sealer, which is a surface coat, will not bond with polished surfaces and will be easily abraded without an impregnator.
How Does Impregnating Sealer Work?
There are many types of impregnators, including silicone, silane, siloxane, fluoropolymer, which are mixed together with a carrier such as water or a solvent. As a liquid, the resin and silicone are carried by the carrier into the stone.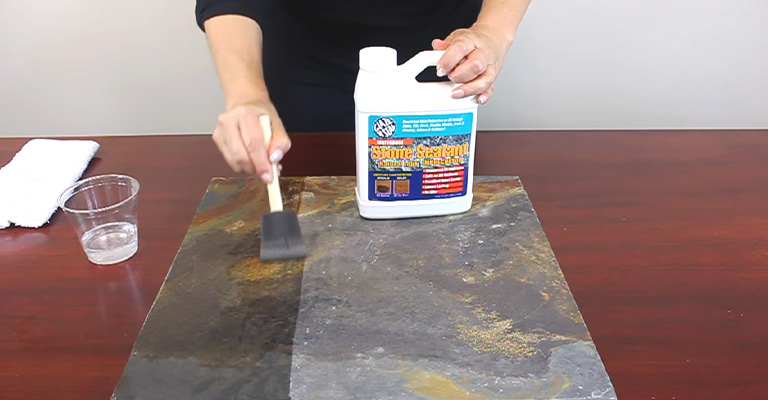 Silicone resin is left in the stone after the carrier evaporates. Eventually, the silicone and resin will cure into solids, forming a membrane inside the stone pores that will repel fluids. 
The entire process takes between five and ten minutes. Due to natural stone's moisture content, complete curing usually takes 12 to 24 hours.
Is It Possible To Prevent Oil Penetration Using An Impregnator Sealer?
Water and oil will not penetrate most sealers like wet look natural stone sealer however hot cooking oil can melt the resin in the stone, making it more difficult to prevent it from penetrating into the stone.
Can An Impregnator Sealer Provide Stain Proofing?
That's not possible. It is possible to make penetrating sealants that are either water- or oil-resistant, but not water- or oil-proof. The liquid will eventually penetrate and stain the stone if left on the stone for long periods of time. 
The penetration of a sealer will give you time to clean up the spill before it stains. They are also not intended to prevent acid etching caused by foods like lemon, vinegar, and tomato. 
No matter how sealed or unsealed marble, travertine, or limestone is, any acid will etch the surfaces.
If An Impregnating Sealer Needs To Be Reapplied, How Often Should It Be Done?
Sealers that are impregnated will not last forever. As the sealer ages, it loses its ability to bond to the stone and eventually evaporates away. The stone sealer is comparable to the car wax on an automobile, which eventually evaporates off of the paint. 
As sealants age, they lose their ability to protect, as high traffic and incorrect cleaning procedures can wear them away. Not all sealants last the same amount of time. The sealer will not last longer than a year in areas with high traffic like showers, kitchens, or dining rooms.
What Are The Reasons For Protecting Natural Stone?
Protecting natural stone installations with a sealer is essential for preserving their longevity. Stones, by their very nature, are porous. Stone will stain and degrade over time as long as there is an absorption factor. 
Water from the tap can cause damage to natural stones from salts, minerals, chlorine, and other elements. Moreover, spills from oil, food, and beverages can penetrate the stone completely and discolor it.
Does Applying An Impregnator Sealer Suffice To Maintain The Stone?
Sadly, no. Protecting the stone with impregnators penetrating sealers is a preventive measure that provides additional protection. However, after sealing it with stone care products, the homeowner is still responsible for maintaining natural stone. 
The penetrating sealer will last longer and perform better when the stone is properly cared for. Furthermore, periodic maintenance by a professional that includes cleaning, polishing, sealing, and repairing is highly recommended. Using sealers makes maintenance easier and is only one step in the process.
What Are The Signs That An Impregnating Sealer Has Been Applied Sufficiently?
When applied properly, you cannot tell if a penetrating sealer has been applied just by looking at it. If you apply moisture to the surface, you can measure the sealer's strength by checking whether the color underneath darkens within five minutes. It is important to apply a fresh coat if the stone darkens due to moisture penetration. 
Remember that moisture does not necessarily mean that the impregnator/sealer hasn't worked if it doesn't bead on the surface. Beading usually occurs when sealers are applied for the first time. Beading action decreases as the sealer ages.
When The Sealer Is Applied To A High-Traffic Area, Why Does It Wear Quickly?
The impregnator wears out as the stone wears down when a floor is heavily trafficked since foot traffic opens the pores. Since impregnators penetrate only about 1/6 inch (1.6mm) or less, they do not penetrate deep into the surface. 
Some stones are more porous than others, so the sealer will penetrate better in those stones while leaving some out. 
Final Words
Sealers and impregnators are two different types of products that can be used in order to help seal the grout or stones. Sealers are applied by spraying them onto the surface of the grout, while impregnators are applied by pouring them into the joints of the grout. The sealer is generally used as an impregnator, while the impregnator is usually used as a sealer.