Wall panels are perfect for getting the look of a tiled shower without the upkeep. These panels blend seamlessly with your current tile, providing an easy way to update your bathtub by adding texture and depth, while still keeping that classic look.
The process of installing bathtub wall panels over tile is surprisingly easy. It's a cost-effective way to turn your tiled bathroom into a luxurious spa-like retreat without the high cost. I am a DIYer, and I need to know if it is possible to put bathtub wall panels over tile?
So, the question is whether you can place bathtub wall panels over existing tile. The answer is yes. The best way to install these panels is on top of the tile as long as the tiles are either non-porous or waterproof. 
You will also want to leave a little space around the edges of your tub so that water doesn't get wedged in and cause mold.
However, if your tiles are porous, this won't work, and you'll need to remove them and replace them with a different style of flooring before installing the paneling. This is because if you put these panels over tile, they may slip, and the water will leak out.
If you're looking to add a new look to your bathroom, but don't want to redo your entire floor, you can follow our easy installation guide. In just a few hours, you can have beautiful wall panels installed over your existing tile. This process is affordable and easy and will work for any tub surface.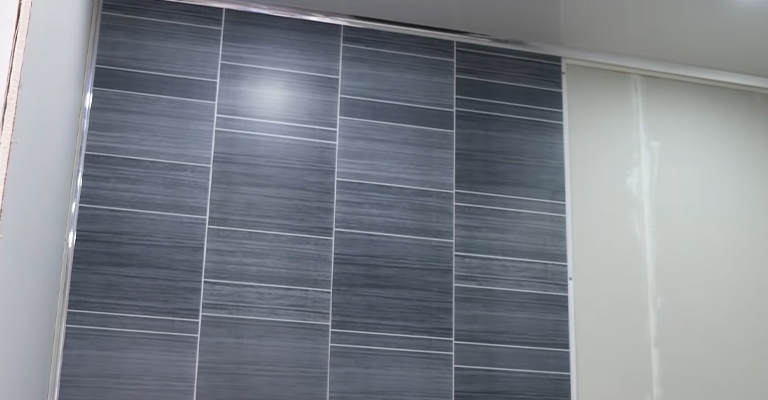 Can You Put Shower Wall Panels Over Tiles?
Yes, you can install wall panels over your existing tiles. It's as simple as slotting the tiles in place and you're done!
Bathroom wall panel covering can be a great way to really get creative with your shower. The panels are available in a wide range of colors, patterns, and materials so you can get exactly what you want.
They can be applied over tile or other types of surfaces, and they are easy to clean which means they won't deteriorate over time. It is not just about the current trends and changing décor.
If you install a bathroom wall panel covering, it will last for years and will allow you to experiment with different styles and patterns while maintaining a color scheme.
You don't need to worry about repainting your walls every few years and you don't need wall painting tools and equipment because the panels are easy to clean. 
Another advantage of this type of design is that you can change its look by adding accessories like mirrors, storage shelves, or towel bars. It makes your shower feel like home without too much effort!
Another great advantage of wall panels is that they require little maintenance. It can be a hassle to clean the bathroom shower tiles because scrubbing and elbow grease is required. 
A shower panel, on the other hand, has a smooth (gridded-free) surface that you can easily clean with the help of a cleaner and a sponge. Thus, mold accumulation on grout does not have to be scrubbed away by getting on your hands and knees. Most of the time, all you need to keep them clean is an all-purpose cleaner and a sponge.
Panel wall systems offer homeowners the advantage of not needing to replace grout that has become worn or cracked. If a shower wall panel is sealed properly, it will be 100% waterproof when cut perfectly to fit the shower area. Using wall panels will keep you from having to worry about water leaks caused by cracked or worn grout.
Shower panels are easy and quick to install, and they usually take less time than tiles to install. With tiles, you have to place and cut each piece one at a time. Depending on the size of the bathroom, the installation of tiles can take from one to three days. Installing wall panels usually takes just a few hours.
The initial cost of wall panels is typically higher. When comparing the cost of the wall panels over their lifespan, you will find they are very cost-effective. Compared with wall tiles, wall panels have fewer chances of cracking or chipping, which means less maintenance.
Installing Bathroom Wall Panels Over Tiles
In addition to refreshing your bathroom, wall panels have several advantages over wall tiles. It's rather straightforward to install the wall panels.
Before you install bathroom wall panels, make sure you measure the tile area carefully. An excellent wall panel installation can be distinguished from one that develops problems down the road.
Step 1: Ensure The Tile Surface Is Clean
With an all-purpose cleaner, clean the tile wall with a microfiber cloth or sponge. So that the wall panel's adhesive will bond properly to the tiles, the wall tile must be cleaned of all dirt and debris.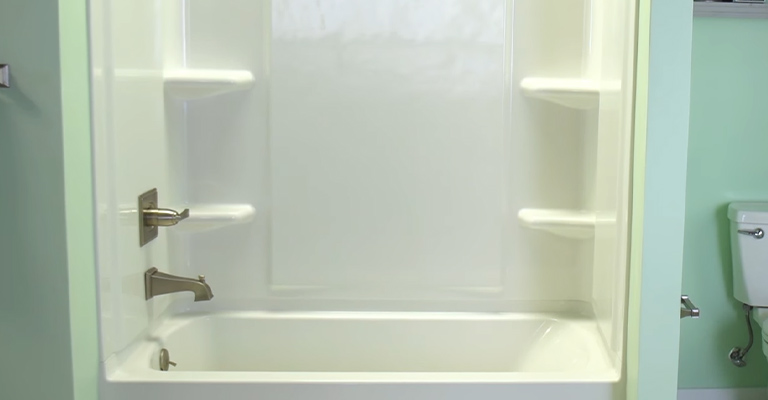 2. Determine Where The Paneling Will Be Placed
Find the top edge of the wall panel where it will be covered by tiles using a level. Before you do this, you should determine whether the wall panel has enough room to fit properly across the entire wall. It is not necessary to perform this step if the wall panel is attached to the ceiling.
3. Identify The Wall Tile Placement For The Paneling
Mark the top edge of the panel on the tile with the dry erase marker while holding your wall panel to the wall. A third person may be able to assist you with this, as a third person can hold the panel for you and help you be more precise. You should remove the panel now.
4. Attach The Wall Tiles With Adhesive
Apply adhesive to the wall tile all the way up to the line you marked when you marked the placement of your panel. The panels will cover the tiles' entire surface area, so you'll need to cover that with adhesive as well.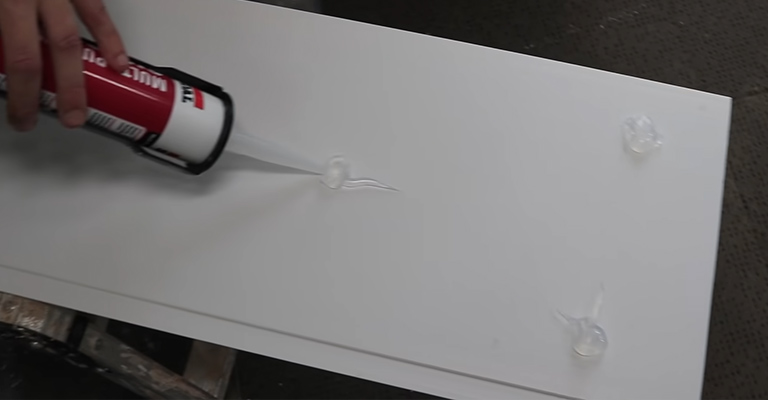 Installing the adhesive on the tile wall can be done with a trowel or a caulking gun. To ensure a durable bond, zig-zag patterns are recommended across the tiles. Ensure that the adhesive is applied around the edge of the wall tile area as well. 
In order to keep water from getting behind the panels, you need to ensure there are no openings. Your bathroom and home might suffer damage due to leaks or other types of water damage.
5. Position The Paneling Over The Tiles
Placing the paneling over the tile after applying the adhesive is the next step. Ensure a solid bond between the wall panel and the wall by applying firm pressure to the entire surface. Start at the top and slide your hands down the length of the panel.
Before mounting the wall panel with hardware as opposed to adhesive, locate the studs behind the wall tile. Whenever drilling pilot holes through the tile, you should use a carbide-tipped drill bit (check the installation instructions for the proper spacing).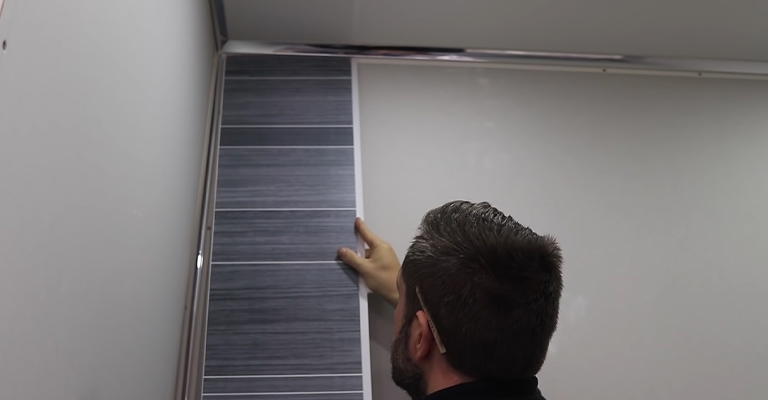 Types Of Shower Wall Panels
There are many materials that can be used for shower wall panels. These are a few of the options.
Glass
Glass panels can also be a great option if you're willing to maintain them a bit more. Moreover, they are available in a wide range of designs and colors, making them look extremely stylish. Installing these panels isn't easy, so it's generally recommended that they be done by professionals.
Acrylic
Acrylic is a popular material for wall panels because it is affordable and durable. It's also very lightweight and low maintenance, as well as fairly resistant to cracking and chipping, which makes it a popular choice among homeowners. Moreover, it is available in a variety of colors, styles, and patterns.
Fiberglass
Fiberglass wall panels are probably the most affordable option available. One of its main disadvantages is that over time it is more likely to develop scratches and scuff marks than other wallcoverings.
Wall Panels Vs. Tiles | Which One Is Better?
Wall panels are usually the easiest to maintain since they require little more than wiping them down every few days. Bathroom tiles may be a more cost-effective choice since they are relatively inexpensive in the beginning. 
Depending on the size of your bathroom, you may have to pay more for installation costs. In order to choose the best option for your project, you should determine your project's budget and weigh the long-term benefits of each.
Are Shower Wall Panels Cheaper Than Tiles?
Wall panels are generally more expensive when compared with tiles based on square footage. The cost of a decent wall panel can range anywhere from $100 to $300. It is possible to purchase bathroom tile for $0.08 to $1.00 per tile, meaning you can tile an area of 10 square feet for less than $100. 
While wall panels can initially be more expensive than wall tiles, they will generally require less maintenance, which means they will pay for themselves over time.
Final Words
Choosing to install bathtub wall panels over tile does not change the function of the room too much, but it does make it more aesthetically pleasing. Installing wall panels over tile can give a room a new look and feel at a relatively low cost.
Also, if you do not like your current flooring or want to change your flooring color or material, then this is an easy way to do that as well.