Roofs are built to withstand even the most extreme weather conditions. While tough roofs are designed to withstand rough conditions, even the toughest roofs will eventually degrade from sunlight, rain, hail, or snow.
Small leaks and penetrations will likely allow moisture to enter, which might cause expensive damage. Sometimes it may be necessary to replace the roof due to the damage. The roof is the biggest part of the building that is exposed to rain and snow.
In the event of rain, roof waterproofing protects the building. By using the right material for roof insulation, rain and snow will be kept out of the building, therefore maintaining its performance and longevity. To ensure this, you will need the best waterproofing for roofs.
With roof sealants, you can prevent small gaps from occurring on your roof, making repairing and protecting it easier and more affordable. Some can help seal small leaks, while others can create an almost impregnable barrier to water and sunlight across all of your roof.
In addition to preventing leaks, these roofing materials act as a protective barrier between a building and rain and snow. A system like this will protect the building from leaks, mold, and fungi while maintaining its performance.
Keep reading to learn how to choose some of the best waterproofing for roofs if you need to repair your roof or you want to extend its life. Many different methods are available for waterproofing your roof.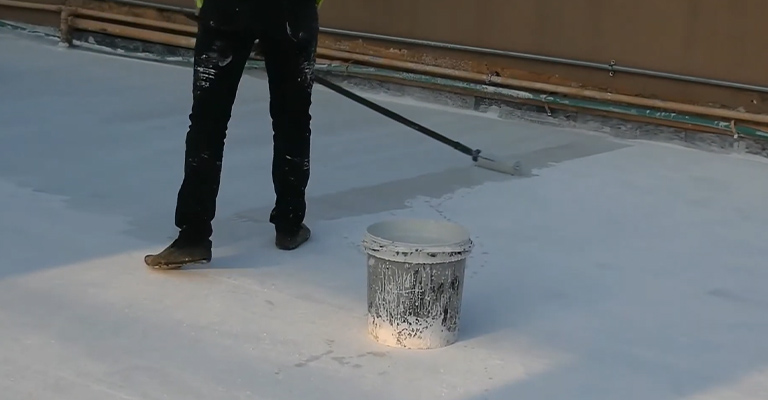 What Are The Best Waterproofing Materials For Roofs?
In terms of water infiltration, a roof is one of the most vulnerable parts of a building. Roofs are waterproof by design but aren't enough to prevent leakage. A roof suffers heavy wear and tear and is expected to last at least four or five decades.
Supplementary waterproofing material is required. A protective coating is applied either over the roof or is installed underneath, as part of the roof structure. According to your roof type and the climate in your area, your contractor will recommend the best waterproofing products.
It is equally important for building owners or property managers of commercial buildings to consider not only the expertise and reliability of the roofing contractor but also the material system chosen for waterproofing a flat roof.
How Is Roof Waterproofing Done?
When it rains and snows, there is a very strong possibility that a building whose roof water insulation is not thoroughly done will leak water. The building gets damaged by water entering through the roof through holes and dents.
It's important to hire experts to insulate your roof properly. A waterproof coating should be applied to concrete, it should be beveled at the edges, and the concrete surface should be made waterproof with appropriate roof-friendly materials.
The process should be finished with a suitable paint or coating material as the top layer to protect against water puddles, and drainage systems should be installed to prevent ponding.
How We Chose The Best Roof Sealants
Easy-to-apply and long-lasting roof sealants offer a long-term solution to roof maintenance issues. Based on exactly what shoppers are looking for, our suggestions offer a broad range of options.
In addition to flat roofs and sloped roofs, we also researched the best roofing products on the market for concrete, wood, metal, and slate roof surfaces. It is possible to find products that are suitable for customers' roofs and will provide the best protection.
The top picks we gathered for this list are made from a variety of roof sealants, offering rubber, acrylic, polyurethane, and sealant materials. 
Additionally, many of our products are highly waterproof and reflect heat in the summer so that homes can remain cool during the hot months. Additionally, all of our recommendations are easy to implement and will stand the test of time.
Best Roof Sealants
The following products will make your roof waterproof if you are looking for a versatile and effective roof sealant.
1. Gorilla 101895 Waterproof Patch & Seal Tape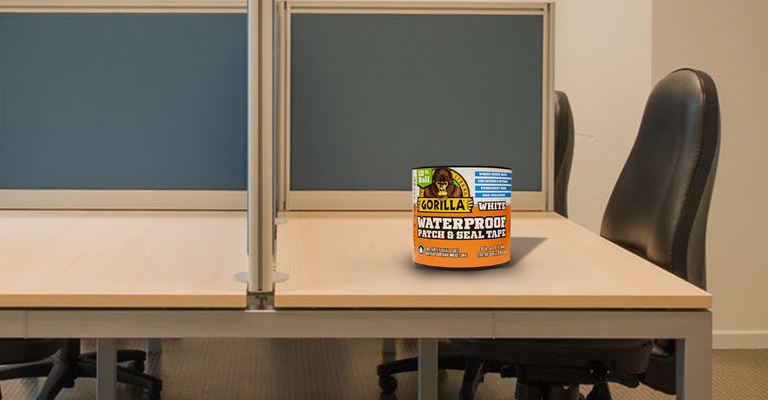 Buy on Amazon
The 10-foot roll of Gorilla seal tape might be just what you need if you only need to repair a small section of the roof and do not want to buy an entire container of liquid sealant.
In addition to metal, rubber, plastic, and acrylic, it creates a lasting bond for patching leaks on a variety of roofing materials.
This treatment is most effective when used in dry, warm weather, though it can also be used in humid, cold, and wet conditions.
You can apply it underwater. Asphalt shingles cannot be patched with this sealing tape, nor can home with a water-repellent roof that has been treated with a liquid sealant.
In addition, it forms such a compelling bond that trying to remove it after it's been applied might end up damaging the underlying roofing material.
However, Gorilla's seal tape is an affordable option with such a wide range of applications for patching small sections of roof damage.
2. Liquid Rubber Peel and Stick Seam Tape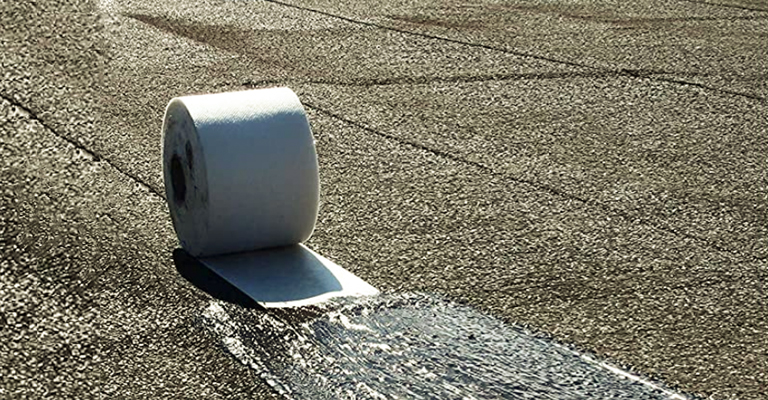 Buy on Amazon
Roof joints (seams) and tears can be sealed using liquid rubber seam tape. Residential and commercial buildings, mobile homes, and RVs, as well as commercial and industrial buildings, can all benefit from it.
Liquid Rubber's sealing tape can seal leaks on many types of roofing materials effectively to avoid costly damage down the road.
Seal tape is available in 2-inch-wide strips with an adhesive backing. These stick to metal, rubber, and roof shingles. As opposed to other sealant types, it does not require additional tools or cleanup, like other types.
Its main disadvantage is that the tape can only be used if you know where the leak is in the first place. To seal visually undetectable leaks, you may need a whole roof treatment.
Furthermore, it is not UV stable, so a liquid sealant will be needed on top to prevent UV degradation.
3. Loctite PL S30 Black Roof and Flashing Sealant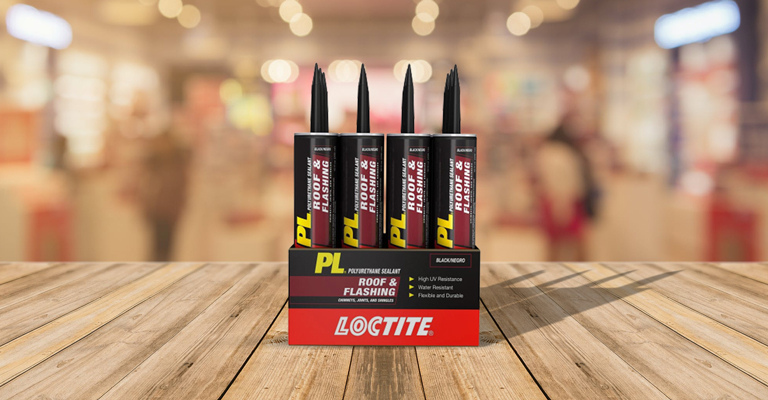 Buy on Amazon
Your roof's flashing performs a crucial role in protecting it from moisture. However, when your flashing has been damaged over the years, your roof is left vulnerable.
You must repair the damaged flashing on your roof just like any other crack or leak if you wish to restore the moisture-resistant integrity of your roof.
There is no doubt that many roof sealants are not able to fill gaps created by damaged metal flashing. For this purpose, Loctite offers a roof flashing sealant.
The caulk can be used to seal the small gaps caused by damaged flashing. Polyurethane sealants, on the other hand, restore the flashing's moisture-proofing capabilities. 
Additionally, it works as an adhesive, so it will be beneficial in closing the gap between the flashing and your roof, allowing you to restore its weather-resistant properties. Despite its limited versatility, this product serves its purpose of repairing metal roof flashing.
Best Waterproofing Paints For Roof
The consequences of leaking roofs can be devastating. If you have water leaking inside your house, it can damage the ceiling and other essential areas of your home.
To make sure your roof is stable and secure, it's usually wise to select the simplest solution.
So, paint roof coatings are great solutions for repairing your roof after water leaks. Besides sealing crevices, these paints are also waterproof and have sealing capabilities.
As a result, even after the leaking surfaces are sealed, the hydrophilic surface is also formed.
1. Liquid Rubber Waterproof Sealant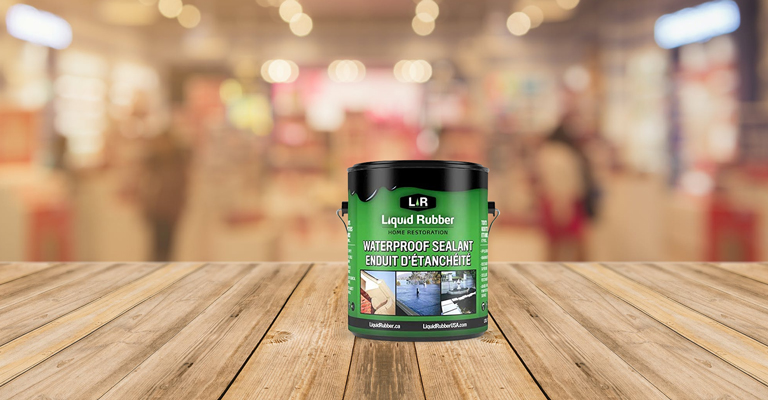 Buy on Amazon
Liquid Rubber began in 2000 because they believed that everyone should have the choice to do their projects using high-quality, eco-friendly products. The coating creates a waterproof membrane that is nature friendly.
This prevents moisture from escaping by creating a watertight seal. There are countless uses for the watertight seal. This is essentially the same as painting except you use a lot of heavy coats to build up your waterproof membrane.
As soon as the liquid rubber waterproof sealant is cured, it becomes very flexible. You no longer need to worry about minor movement ruining all your hard work due to over 1000% elongation. In essence, this nature-friendly product has an unlimited number of possible uses.
2. Rubberseal Liquid Rubber Waterproofing and Protective Coating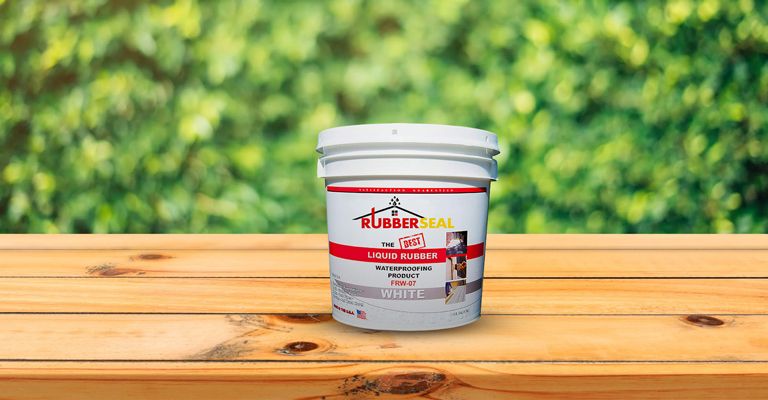 Buy on Amazon
Roofing staff can use this coating to seal and restore entire roofs or renovate large areas of damage with this high-performance material that restores to form a long-lasting, flexible membrane.
A membrane that has been formulated over many years to flex while your roof moves, protecting your roof from cracks and splits over time.
The protection offered by UV-stable iron oxide paints when exposed to harmful UV radiation provides a 10-year weatherproofing performance under severe conditions.
The superior formula performs best when applied straight to surfaces that are dry since the 5-year formula forms a water-permeable membrane that restores the substrate and waterproofs it while releasing any water that has been captured.
Cost Vs Long Term Performances
The importance of the proper waterproofing solution for roofing is often neglected by property managers and building owners.
In addition to the costs associated with maintenance, repairs, and recoating, it is also crucial to consider the costs associated with the roof membrane after the warranty expires. Materials with low-cost applications usually have skyrocketing costs.
Waterproofing solutions of inferior quality tend to appear low priced initially but then balloon exponentially in the long run.
As an alternative, a well-chosen high-quality waterproofing solution may require a higher price at the time of application but will enjoy low maintenance costs and fewer repairs with time.
Moreover, a liquid applied roofing system allows re-coating to remain cost-effective at each renewal of the warranty.
Which Materials Are Used For Roof Waterproofing?
To keep roofs dry and protect them from snow and rain, you should use the right insulation materials. To establish the right roofing insulation system, another important question is which waterproofing membrane should you use.
Typically, asphalt and bitumen-based liquid waterproofing materials are mentioned when discussing roofing materials. I can also think of membranes, paints, chamfer tapes, and mastic as supplementary materials.
In addition to these materials, roofing tiles and tile plating are also used to insulate roofs. The most commonly used roof insulation coating is waterproofing membranes. As well as waterproofing covers, they can also be liquid membranes based on bitumen.
Roof Membrane Systems
Among the ways to waterproof a concrete roof, waterproofing membranes are regarded as the most crucial, as they are the key to preventing water from entering the building.
The roof membrane systems market offers a variety of products, so understanding how they differ will help you choose the right system for your construction needs.
Best Waterproofing Solution For Roof
There are many waterproofing materials on the market, but bitumen-based materials are most commonly used in the construction industry. Besides being easy to use, this material comes with a price/performance advantage, which makes it the most preferred roof insulation.
In addition to their liquid and roller forms, bitumen-based waterproofing membranes are among the most widely used roof waterproofing materials.
Waterproofing membranes made from bitumen are commonly used in rolls. They adhere well to surfaces and protect buildings from water damage. In terms of thickness and model, different thicknesses and models are available depending on the application.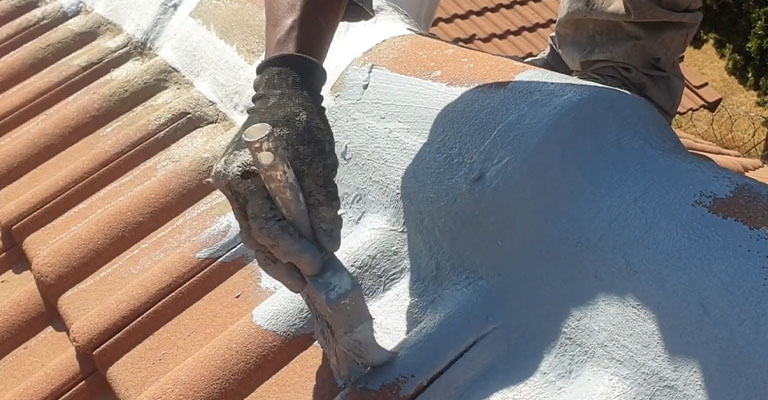 You can create an aesthetic appearance by using mineral stones on the upper surfaces. Waterproofing membranes based on liquid bitumen are generally applied as a primer and then provide waterproofing on the surface of the surface.
Bitumen, by its nature, works well as a waterproofing material. It is easily applied and inexpensive. In addition to bitumen-based liquid membranes, roll membranes made of bitumen are also preferred materials for roof insulation due to their low price and high performance.
Using bitumen-based waterproofing membranes is essential for completing the waterproofing of the roof.
Additionally, corner leaks can be repaired with chamfer tapes. Furthermore, drainage systems should be installed to ensure that water does not accumulate in corners.
To make concrete waterproof, various cement-based waterproofing materials are used to protect the top layer.
Rubberized Asphalt
One of the waterproofing products commonly used on commercial buildings is this. It is a highly durable, flexible material that offers superb weather protection and has low water vapor permeability.
After application, it dries within three to four hours. Rubberized asphalt costs, on average, $50 for a 4.75-gallon bucket.
Pre-Formed Sheet Membranes
There are two types of preformed membranes available in the market that are great for waterproofing your roof. To form a watertight membrane, these membranes are supplied as waterproof sheets that need to be welded together.
Pre-formed sheet membranes made of polyvinyl chloride (PVC) are available in the market.
As well as being UV-resistant, the high-performance fabrics are designed to withstand excessive rainfall, high winds, and other weather-related stresses.
In some cases, products are also modified to be fire retardant, so they can also help your building during times of emergencies by providing a good fire rating.
Frequently Asked Questions
1. What is the cost of waterproofing a flat roof?
Choosing a liquid applied roof system will determine the cost of waterproofing a flat roof. A property owner or manager who estimates the cost of waterproofing a roof must consider the fact that both the material cost and the labor cost will be dependent on the selection they make.
Based on the specified consumption, the type of coating, and implicitly the amount of material required, including primer and reinforcement fabric.
The final cost of material depends on the cost of accessories or extra material needed to treat details. Typical in-field material costs per square foot for elastomeric and silicone coatings range between $1 and $3.
2. How do you prevent leaks on a flat roof?
Whatever the type of liquid-applied roof system, the contractor must ensure a good substrate surface, treat all details accurately, and install the liquid waterproofing membrane correctly to ensure a leak-free roof for a long time. You also can use Flex Seal on roofs that provide better moisture control.
Whenever leaks occur on roofs, they usually occur where details have been neglected. The details of a building, be they penetrations, such as vent pipes, drains, skylights, or HVAC units mounted in roofs, parapet walls, and termination edge flashings, are the most likely places where water can leak eventually causing a home to leak.
Final Words
The consequences of leaking roofs can be devastating. If you have water leaking inside your house, it can damage the ceiling and other essential areas of your home. To make sure your roof is stable and secure, it's usually wise to select the simplest solution.
As a result, applying a paint roof coating is the best way to deal with leaks on your roof. These paints or coatings are not only capable of sealing crevices, but they are also waterproof.
Therefore, even after sealing surfaces that leak, they also create a hydrophilic surface. Again, it's better to seek professional help when it comes to deciding on what is the best waterproofing for roofs.