Your deck has surely seen better days. However, as the weather warms up and you spend more time outside, do you think your deck needs renovation? The life expectancy of a cedar deck is 40 years, but if it is not well-maintained, it can be as little as 15 years.
The wood in your house can rot and warp over time. If some of your boards look splintered or bent, you may want to consider tearing them down. You might think it's a big deal to tear down your wooden deck.
Taking a systematic approach to the job and making a plan can enable even a beginner to complete the project on Saturday. In addition, the process will move more quickly if you get a few friends to assist.
You'll need the best deck board removal tool you can find if you want to utilize the most efficient method possible. In the following review, we'll examine the best deck wreckers available, so you can drop those old boards with ease.
Top 5 Best Deck Board Removal Tools
All types of pry bars and deck wreckers are part of our selection. The old deck boards will not stand a chance no matter what you choose.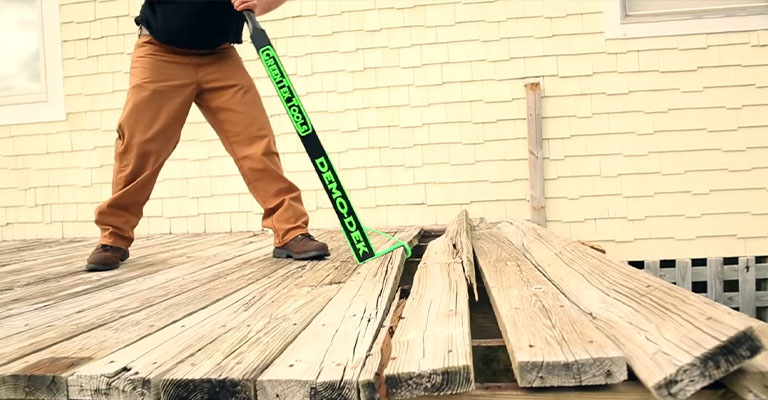 Each of these will serve your needs, but you should determine which features are the most useful. Think about whether you need a special tool for wrecking decks or a tool you can use in a variety of demolition projects.
1. Demo-Dek Deck Removal Tool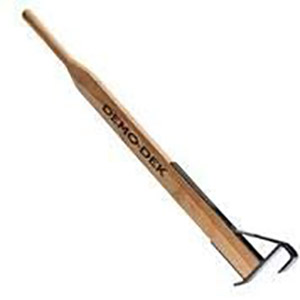 Buy on Amazon
The Demo-Dek tool from GreenTek Tools is the easiest and fastest deck removal available on the market. Using this tool, you can remove a deck that is nailed or screwed. The construction is sturdy and provides good leverage. 
A tool like this is required if you are replacing your deck. On a 300 square foot deck, it will take you less than an hour to remove all the deck boards.
It is best to stand on the next row of boards to be removed rather than over the removed boards' open joists. This technique is great for breaking loose deck boards while not breaking your back. It is an excellent way to accomplish the task. 
It will break boards, and that is my only complaint. Otherwise, this product performs exactly as advertised. This decking removal tool uses a hook to grasp the edge of the deck board and then leverage it up by pressing down on the handle.
When the tool is used, the board will be lifted off the joists while the screws are left in. With an impact driver, you can remove the screws, or you can use a reciprocating saw to cut them off, or you can use a vise grip to remove them. You cannot reuse the boards after removing the screws.
2. Estwing Gooseneck Wrecking Bar PRO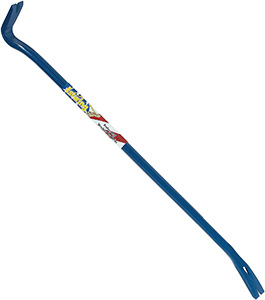 Buy on Amazon
When separating boards and pulling nails, this wrecking bar is capable of producing maximum torque. In addition, it provides the maximum leverage for removing even the most difficult nails. It's better to have more length when you're prying up deck boards.
It is possible to lift over 200 pounds without bending or flexing. The pry bar is 36″ long, much longer than your standard pry bar. Other than its length, the bar retains the typical shape of a wrecking bar.
Additionally, there are hooked ends and nearly straight ends.
You can attack those decking boards from several different angles with this tool. Compared to a standard pry bar, it provides you with much more leverage and allows you to use it in a more upright position. The Gooseneck isn't as long as a wrecking bar, but long enough to keep you standing.
There is a flat end on both ends and a point on the other, making it easier to cut a gap between the joists and the boards. Moreover, the tapered end includes a nail remover integrated into the forked end, allowing both ends to be used for nail removal. Using Gooseneck Wrecking Bar PRO, you get a deck wrecker length wrecking bar for a pry bar price.
3. Angel Guard Deck Demon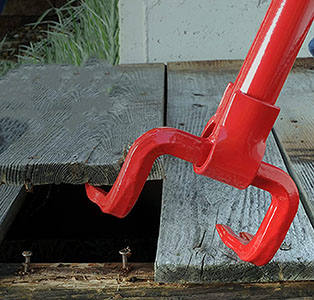 Buy on Amazon
The solid steel construction makes this demolition tool commercial grade. For many renovation projects to come, this product will provide long-lasting quality for deconstruction.
This deck wrecker has two tines like other deck wreckers. This tool's clawed ends and curved tines resemble those of a pry bar.
Durability and versatility are two characteristics that make Angel Guard's Deck Demon a powerful wrecking tool. Although the Deck Demon doesn't have a lot of bells and whistles, what it does have is very impressive.
Aside from that, it is durable. A steel-reinforced cuff around the handle and tine joints indicates this isn't going to break anytime soon, thanks to its all-steel construction.
There are more applications for it, such as removing the old roofing, and it is more affordable than other methods.
Depending on the type of board, you can attack it in a variety of ways. As with traditional deck wreckers, use one of the tines to drive into the gaps and the other for leverage, or straddle the joists and pull boards free.
4. Pallet Buster Deck Wrecker Tool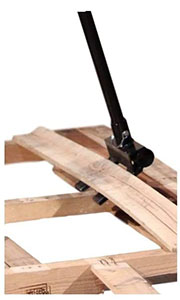 Buy on Amazon
Why are you wasting your time chopping down pallets with a hammer and crowbar by hand? Get a pallet breaker to do the heavy lifting. This is the ideal tool for destroying wood boards. In addition, it is also great for removing deck boards. It's extremely useful for DIY pallet projects.
With its take on the deck wrecker tool, the Pallet Buster goes with the strategy of thicker steel being better. The Pallet Buster has many of the same components as other deck wreckers. A pair of prongs straddles the joists, so they can be used for this purpose quite easily. 
The tines of Pallet Buster are rectangular rather than tapered like those of other deck wreckers. These features make it more durable. These meaty hooks give you a sense that you are pulling at something substantial. 
At the same time, however, they make the Pallet Buster more limited in its versatility. Between the decking and joists, these boxy tines are difficult to handle. As a result, you are limited to using them between the joists.
5. Crescent 44″ Indexing Deck Removal Bull Bar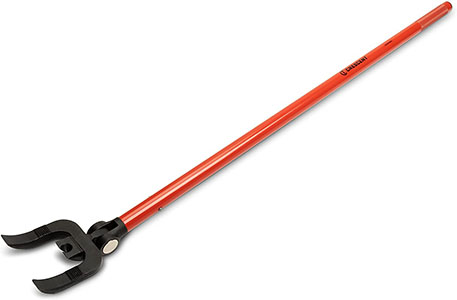 Buy on Amazon
The design seems quite standard at first glance. There are two tines on the Bull Bar that fit between the joists and under the deck boards. Long bars provide plenty of leverage when pulling up deck boards. Additionally, there are some features not found on other wreckers.
There is not much difference between this and a standard deck wrecker. This device differs from the rest in that the handle can be adjusted by turning the pivot joint. This makes it more versatile and powerful.
Durable materials are used for the Bull Bar as well. Steel is used both for the handle and the head. As with other deck wreckers, you will have to keep in mind that the Bull Bar is expensive for a tool you will only use to remove deck boards.
Increase the angle of the bar in order to give more leverage and create an L-shaped angle. Angle the joists so that a neighboring joist will serve as a fulcrum. You can alter the direction of the force on the board by creating an acute angle when pulling the handle in the opposite direction.
6. Duckbill Deck Wrecker
Buy on Amazon
Deck removal can be a pain in the neck if you don't have the right tool for the job. That is why we created Duckbill Deck Wrecker- an all-around demolition tool that will make quick work of dismantling any deck or pallet board.
It uses leverage to pry boards easily from floor joists, making it easy and fast to get them off your property without having to go through all the hassle of nails and screws.
Plus, it slides under boards so you don't have to lift them up or strain yourself trying to hold onto them while they're being pulled off – usually in one piece.
The head rotates allowing you access close to structures, making this an incredibly versatile option when it comes to deck removal – perfect for those tight spaces or awkward angles. And because it's made out of heavy duty steel construction, Duckbill Deck Wrecker is built for years of use and abuse – perfect for taking down stubborn decks and pallets.
Whether you're removing a single board or a whole deck full of lumber, there's no better demolition tool than Duckbill Deck Wrecker on the market today.
Pros
patented design
easy to use
versatile
head rotates
7. Gutster 60″ Round Handle Demolition Bar – Ultimate Flooring/Hardwood Demolition Tool
Buy on Amazon
Demolition is a time-consuming task, but with the help of Gutster 60″, it can be made much easier and faster. The tool has been designed to save you 50%-70% of the time needed for demo projects.
It features spear points, forks that straddle objects, and a nail puller at the back – making it incredibly versatile. In addition to its demolition capabilities, this tool can also be used as a pry bar or demo bar when removing flooring, cabinets, drywall etc.
With its lightweight design and built from high strength steel material, this will last long even under tough conditions. As mentioned earlier – this tool can also be used to remove subflooring/joists if need be by positioning yourself across the studs in your home or office (straddling them).
This increases leverage dramatically and makes removal go much more smoothly than usual. Another great feature about Gutster is that it is able to stand up to heavy use meaning contractors or homeowners won't have any trouble using it on their regular demos.
Its durable construction means no fears of accidents happening while working with it either.( Note: Always wear protective gear such as eye protection ).
Lastly – one reason many people prefer gutters over replacement windows? Well now there's an answer for you too – get these amazing demolitions tools now.
Pros
Faster than demo tools
More versatile
Durable
8. HONEY BADGER HB40 Demolition Fork – 40 inch Wrecking Pry Bar
Buy on Amazon
The Honey Badger HB40 Demolition Fork is a great multipurpose tool for both professional contractors and DIYers. It saves you time and labor on demolition, wrecking, flooring and siding removal projects.
The fork has been made from 100% steel fabrications which makes it durable and sturdy.
Plus, its patented design offers an extra layer of security when using the fork on various surfaces. It is also smaller in size compared to its big brother – the Honey Badger HB56 Demolition Fork .
That means that it can be used for a wider range of tasks without having to worry about carrying too much equipment around with you.
Additionally, the fork comes with a lifetime warranty against defects in materials or workmanship . So if there are any issues at all, don't hesitate to get in touch with the manufacturer for assistance.
Finally, like other Honey Badger tools , this one is also backed by an amazing customer service team that is available 24/7 should you need them.
Pros
Made in the USA
100% Steel Fabrication
Patent Pending
Huge labor savings on demolition, wrecking, flooring and siding removal projects
Great for both professional contractors and DIYers
9. Dasco Pro 645-0 Demo Hawg Wrecking Bar
Buy on Amazon
The Dasco Pro 645-0 Demo Hawg Wrecking Bar is perfect for removing tough building materials without having to damage or tear them apart. It features a giant fork that easily rips through drywall, wood slots, shingles and siding.
The Z claw quickly penetrates these materials with ease and leaves behind minimal damage.
Plus, the forged steel construction ensures long-lasting use. Additionally, the bar comes with a powder coat finish that prevents rust and corrosion from happening over time.
This makes it ideal for harsh environments such as construction sites and industrial areas where other equipment may not be able to withstand weather conditions well
Pros
Forged from high-grade domestic steel
Powder coat finish prevents rust and corrosion
Z claw quickly penetrates drywall, wood slots, shingles and siding
Giant heavy-duty fork
10. BISupply Pallet Buster Tool in Yellow with 41in Long Handle – Deck Wrecker Pallet Tool Pry Bar
Buy on Amazon
This deck pry bar tool is perfect for removing pallets from your workshop or garage. The head is designed to not break or split the wood and can be used for a variety of tasks such as disassembling a pallet, Deck board removal, and more.
It features an extra-long handle that makes it easy to transfer leverage; this will help you easily remove boards from tightly-spaced planks on a pallet.
It also has leveling heads with a rocker design so that you can effectively reach between the planks on the pallet without breaking them apart.
Lastly, it comes in at a manageable size, perfect for standard sized pallets and measures 41 inches long (104 cm).
Pros
Pallet breaker
Rid your garage, workshop, or warehouse of broken or unsightly pallets
Perfect size
Grippy design
Built to last
Things To Consider When Buying Deck Removal Tools
You may have to push, pull, and jam a deck wrecker into tight places. You will be putting it through rough treatment, and it should handle the abuse. Invest in a tool that is made from quality materials. If you want your deck wrecker to stand the test of time, forged steel and good handles are essential.
Types Of Deck Board Removal Tools
Deck Wrecker 
A deck wrecker is specifically designed for removing deck boards. The tool features two imposing metal tines affixed to a long pole and is meant primarily for tearing up deck boards, unlike other tools on this list.
Pry Bar
The pry bar and the wrecking bar are similar. The ends are tapered to form hooks, while the rounded ends are straight. Pry bars do not have rounded ends like wrecking bars. Despite their inability to be grabbed firmly, the ends can be easily hammered into the gap between the deck and joists.
In addition to their short length, most pry bars require that you get down on your knees to use them. In addition, demolition forks and deck wreckers do not offer the same leverage.
Demolition Fork
Forks are composed of four iron tines attached to a long handle, giving them their fork shape. Their far apart tines make them suitable for fitting around joists and underneath deck boards, similar to deck wreckers.
Demolition forks function similarly to deck wreckers, providing plenty of leverage and allowing you to pull up stubborn boards while standing. In spite of their high price, demolition forks can be used for various applications throughout the demolition process, including removing tiles.
Wrecking Bar
Worming bars are also known as crowbars, as they are shaped in the shape of a J that slides between boards to pry them apart. The deck boards can be engaged using both the hooked side and the flat side.
Using wrecking bars will require you to get on your knees as they are shorter than deck wreckers. In addition, a shorter length means the board removal will require more physical exertion. There are a number of places in which wrecking bars can be used for a variety of demolition-related purposes.
Why Use Deck Wreckers?
Deck Wreckers, which are different from some of the other tools on this list because they are designed to tear down decking boards only, have just one function: tearing up the decking. The most efficient way to complete this job is using deck wreckers, which are generally specialized tools.
Two metal tines are attached to the head of the tool, which is typically forged steel. A wooden or steel handle connects the tines to the head of the tool. The gap between the tines may sometimes be filled with a nail pulled.
Deck wreckers generally follow the same design, but their specific characteristics such as the shape of their tines, the material used for the handle, and the handle length may differ.
Deck wreckers can remove screwed and nailed boards because their design maximizes leverage and torque. You can remove many boards with deck wreckers, so they are easier on your body as well.
There is a downside to deck wreckers, in that they are rather expensive. Compared to other deck removal tools, they are often several times more expensive.
What Is The Size Of Your Job?
The cost of a tool designed specifically for deck board removal may not be worth it if you are only replacing a few damaged deck boards. In addition to these less expensive options, there are many others that can be used for many different demolition projects.
A deck wrecker might make more sense if you're going to be doing more than one deck renovation project or have a large number of deck boards to remove. You'll save yourself time and your back with a deck wrecker.
Those who are unable to physically remove boards using other methods can also choose this method. When all you have is a crowbar and hammer, prying loose deck boards can be a challenge. Wrecking decks requires less strength and does not put as much stress on your body. Consequently, the additional cost may be justified.
How To Properly Use A Deck Wrecker?
Using a wrecker, boards are engaged at the joists. In order to remove a board, slide the metal tines under the board straddling the joist. To disengage the tines, pull back on the handle when the board is fully engaged.
As this will generate the most torque, pull near the top of the handle for maximum power. Pulling upward should cause the board to pull away from the fasteners. To loosen the fasteners enough to pull the entire board free, you might need to alternate between joists if the board is longer.
When using a deck wrecker, you need to follow some safety guidelines. A deck wrecker utilizes tools made of cast iron or steel that require a great deal of force.
Furthermore, you'll have to deal with sharp fasteners that may be rusty and corroded as well as old, potentially splintered wood. To ensure your safety, you need to take the necessary precautions before beginning.
The use of heavy gloves is essential to avoid cuts due to rusty nails and wood splinters. You will be better able to grip deck wrecking tools, which will help prevent slips that could result in injury, and you will be able to dispose of the discarded wood with gloves on.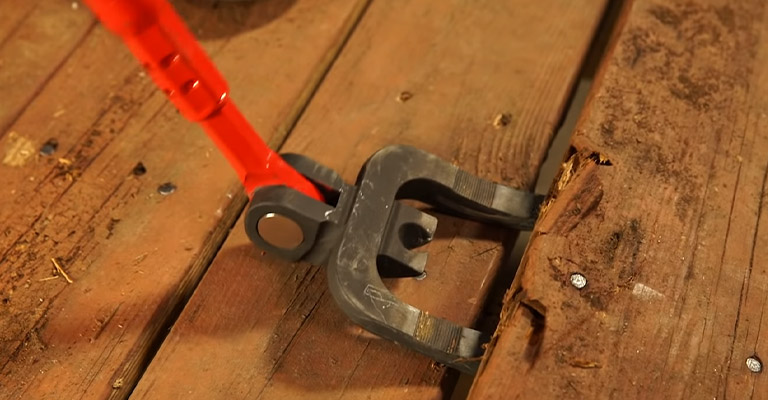 Signs Your Deck Needs Tearing Down
Make sure your replacement plan is ready before you start deconstructing your deck since removing it will leave an enormous void between your doorway and the ground below. The following are the top signs your deck needs to be removed or replaced based on the expertise of professional contractors:
You may want to try the trampoline test. Get up and jump into the middle of the deck. How does the surface feel? 
You should inspect the frame underneath if you notice the bounce is due to cracked or rotted boards. Dark brown or green soft spots can indicate the presence of rot on deck boards.
You can loosen your bolts and nails over time due to natural causes, such as drying out from the sunlight. Your deck boards will eventually splinter, causing your nails and screws to pop up.
Safety Tips
Before you start tearing down your deck, you should do the following:
Get rid of all the clutter on your deck.
Make sure you have a place for your patio furniture, grill, etc.
Your local Goodwill is a great place to donate unwanted items.
If you have a dumpster rental for deck debris, put any broken items on the curb or in it.
Finally, gather any necessary permits and prepare a budget.
Frequently Asked Questions
1. Can I destroy my deck without a permit?
A permit is unlikely to be required for deck removal, but it's a good idea to check with the building department. You should obtain a permit if you plan to build a new deck in the future.  
In order to ensure your deck will perform as needed for a long time, you need a permit from your local office which allows your building plans and materials list to be reviewed according to the local conditions.
2. What's the cost of removing my deck?
Deck removal costs usually range between $5 and $15 per square foot, depending on the size. It is possible that your deck will cost more at the higher end of that range if it contains heavier components, such as metal railings.
3. What is the best type of deck removal tool?
Deck removal tools are the best tool to make your deck and porch clean, safe, and more attractive. Once you remove the deck, you can enjoy your deck and porch again. If you want to remove a deck, you need the right tools. For instance, you can use a jackhammer and a shovel. It is best to hire a professional to get the job done.
4. What is the best time to remove a deck?
It is best to remove a deck during the spring or summer. The summertime is the best time to remove a deck, as the weather is warmer and the soil is moist. You can also use the wintertime to remove a deck, but you will have to dig up the soil or remove it from under the deck.
5. How should I store my deck removal tools?
You can keep your tools in a safe place. The best place to store your tools is in a garage or shed.
Final Words
It can be difficult to remove old deck boards. Wrecking machines can make the job a lot easier. Deck wreckers may not be within your budget, but there are plenty of other options that will do the job just as well. The best deck removal tool will help you to remove deck boards without any damage.
Make sure you take all the necessary precautions before going ahead with the task. Make sure you read instructions carefully and complete the task on your own if you have any questions.
Hopefully, the products described in this article will help you choose the right tool to renovate or repair your deck. Make sure you wear safety glasses and gloves when using any tool in order to prevent injury.