A carriage bolt can indeed carry more weight than a lag bolt. But that doesn't mean we can say that a carriage bolt is better than a lag bolt. With a flat screwing structure, carriage bolts are more robust but require hassles of pre-drilling. Lag bolts are quite the opposite and have quite complimentary pros and cons.
Difference between a Carriage Bolt and a Lag Bolt
Although they are often used for a similar or interchangeable meaning, they are very different in their shape and use. Here we will talk about how they are different from each other and learn the proper use of both.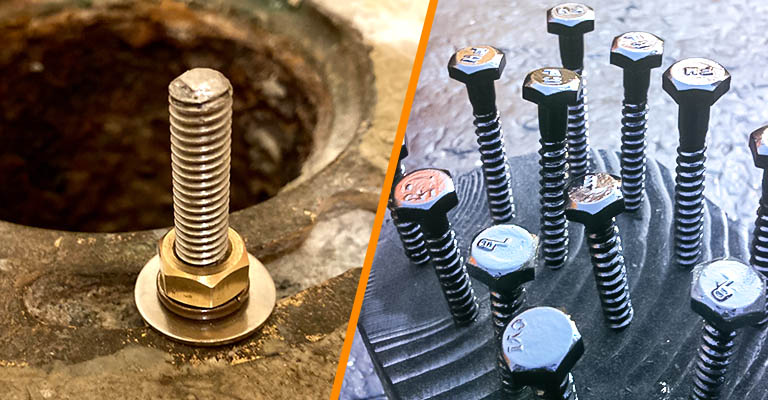 Carriage Bolt
A carriage bolt is a cylindrical bolt with a dome-shaped head. The front of the bolt is flat so it cannot be used to pierce things. So, you need to drill a hole then put the carriage bolt through it.
Since you are drilling a hole for it to pass through it will not be able to stay inside the hole. You also need a nut or washer to hold the bolt tightly in place. But once it is in place, it works as a strong joint.
But by sacrificing the piercing it gains a lot more strength to hold things. Once you install a carriage bolt it can hold thousands of tones of weight with ease. This is exactly why carriage bolt is the first choice when making anything that needs to hold a lot of weight.
Lag Bolt
The lag bolt is often called a lag screw. As for structure, it has a hexagonal head with a round neck. The end of the lag bolt is pointy. It can be drilled directly into any wood because of this. So this doesn't need any drilling, washer, or nuts to hold it in place.
Even though it is convenient to use it is not as strong as a carriage bolt. So it is used in construction that doesn't need to hold too much weight. But that doesn't mean it is weak by any means. It can still hold up to hundreds of pounds of weight with some proper placement.
Both the Carriage and Lag Bolts have Their Usage
When comes to working with bolts both the lag bolt and the carriage bolt have their own use cases. The lag bolt is commonly used in normal construction like running cable in new construction while the carriage bolt is mainly used in heavy-duty construction.
Lag Bolt Use Case
The lag bolt is used for building a shed such as a garage or any other outbuilding. They are also used in making docks since they can be screwed directly to the studs. Other than that, the lag bolt is often used in making furniture, children's wooden playground equipment, large timber constructions, and the construction of beams and doorways.
Carriage Bolt Use Case
On the other hand, carriage bolts are a great choice in supporting wood-wood or wood-metal joints. They are also used in some docks and heavy beams. As the name suggests it is always used in building carriage and sometimes in ready-made furniture and fence and outdoor decks.
The carriage bolt is also used when it comes to metal structures. Most of the heavy metal machines use carriage bolt if it is not welded together.
Sometimes Either Type of Bolt Works
From the usage, we can see that some of the usages overlap with one another. For many cases, you can use either one of them. Such as, in docks and furniture you can use the lag bolt for easy application or you can use a carriage bolt for more strength. But no matter what you use, it will work either way.
Choosing the Right Type of Bolt for Your Work
A few things you need to consider when choosing the right bolt for your work. The first thing is the application. Means, is it going to be a lightweight thing or load bearing thing? Then you can choose the bolt according to that.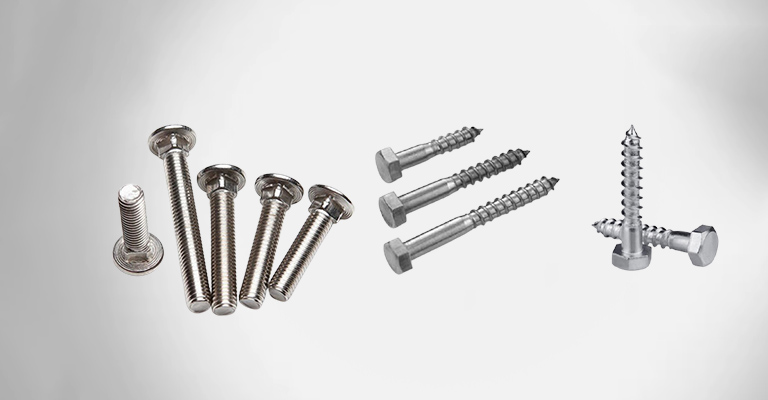 A Rule of Thumb
You can also think of the two bolts like this: the carriage bolt is better for making stronger joints and for heavy-load projects. But the lag bolt is going to make the fastening even stronger. It is less strong than carriage but easier to use.
While choosing a bolt make sure to get the right side of the bolt as they differ in size. Depending on the size their load-bearing capacity also varies. So get the right size of bolt for your project.
Material of the Bolt
Another thing is the material of the bolt. Like many hardware, bolts are also graded. They can vary from grade 2 to grade 8. Usually around grade 5 can be used for everything as long as it is not an extremely heavyweight project. So make sure to get the right grade bolt.
FAQ
Are carriage bolts strong?
Ans: Yes, carriage bolts are made to withstand bigger weight and force. A grade 5 carbon steel carriage bolt has 150 thousand psi of tensile strength.
Are carriage bolts stronger than lag bolts?
Ans: In terms of weight-bearing capacity, carriage bolts are strong than lag bolts. But both have their unique use cases.
How much weight a lag bolt can hold?
Ans: A 3/8 inch lag bolt can hold almost 200 pounds of weight per inch.
Do lag bolts need a washer?
Ans: No, the lag bolt has a pointy tip. So you can drill it directly to the joint and it will hold the joint. Thus there is no need to use a washer.
Conclusion
After all the discussion, we can see that it is not possible to say one is better than the other. If we are comparing the strength of these bolts then the carriage bolt is going to be better than lag bolts. But in terms of use case, both have their own use. Thus we simply can't say one is better than the other.