Deck resurfacing products are known to be similar to highly thick paint, but Rust-Oleum is much thicker than them. Irrespective of differences of  Behr Deckover vs Rust-Oleum restore, they are created in such a way to mask the wood and fill large cracks. You will have peeling chunks all-around your deck even if you choose one of these products.
Behr Deckover vs Rust-Oleum Restore | Pros and Cons
You can find a few companies selling deck resurfacing products on the market. Among them, Behr and Rust-Oleum are two that come up quite often for better or worse.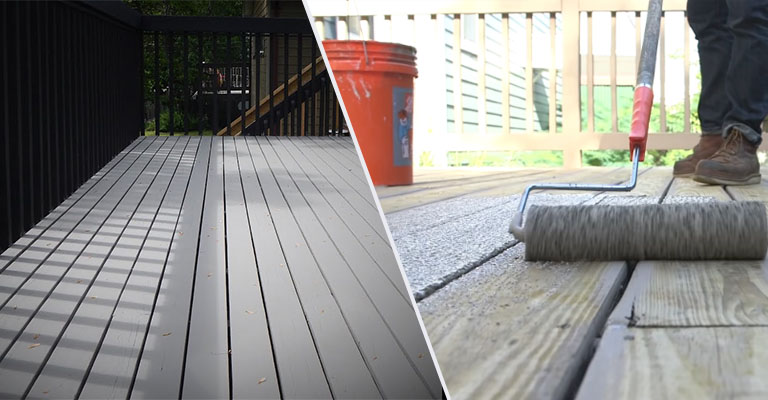 Both of their flaws and even lawsuits against them. But here we will discuss if they are really worth your money. Then we will see if you have to choose among the two which one would be better suited for your work. 
UV Rating
Behr deck over products have an excellent UV rating. Even after several years, there is no sign of UV fading away. However, this is typical for most solid paint because of the high volume of pigments. On the other hand, Rust-Oleum does not have a high UV rating. Thus, we find signs of fading away. 
Color Options
Another noticeable point of using the Behr deck over stain product is the wide range of colors to choose from. Being more like thick solid paint, this company can offer customers many color choices. Rust-Oleum company now does not provide color variety, but they soon will release some new colors. 
Peeling Statements 
It is a well-known fact that peeling remains a permanent issue with any film-forming product. Indeed, anything subjected to the elements will not hold up for more than a couple of years or a worse couple of months.
The manufacturers claim everything they are best at, but they are prone to peeling. Among all other products for coating, the Rust-Oleum version peels the worst. The report says that it started peeling within a few months. As for the Behr, the timeline stays the same. 
Weather Resistence 
Rest Oleum offers superior weather resistance and ultimate water repellency, protecting the surface from nasty weather conditions. Unfortunately, Behr deck over face difficulty against harsh weather. So we find the paint peeling up from the deck like sheets.
There are other claims for Rust Oleum, like they have low VOC and also low odor water-based formula that provides maximum water repellency. So, clearly, we can say that this round wins Rust Oleum. 
Customer Reviews 
One type of customer put Rust Oleum on their deck, and less than six months, it started peeling up in huge chunks. Either these are peeling up in large sheets or crumbles when you step on them. The floors are always getting dust because of this mess. 
Another example is using Behr deck over; some customers face a significant problem. Like in sections of the deck where it neither peels nor crumbles. So, ultimately they had to remove all parts while destroying the deck.
The only option left for them is to pull up the fir decking. They either replace it, which is very expensive, or turn the decking over. 
Lawsuits
Deck resurfacing's goal is to mask the wood cracks properly. But at some point, they start cracking here and there one winter or one summer. These two companies, Rust Oleum and Dehr Deck, overall have one thing in common: a high failure rate. 
Unfortunately, they both hold lawsuits against them. Rust-Oleum is still holding out to unsuspecting consumers, which is why you always find them on the shelves. On the other hand, Behr Deck is still trying to gain the trust of its customers. 
How we have judged
For testing, we chose the Behr deck over. And for this, we used it on the wood deck, which is very exposed to harsh elements.
Prep
For this project, we cleaned the Deck with cleaner and sanded need to do here and there some badly rough spots. We did not use any pressure wash because we heard from the customers that the force of the water could lock moisture in the wood. 
And thus, this coating later caused new problems. Some may raise questions on the applications but use it as instructed, but still, it causes problems. Any peeling that we saw resulted in the Deck is a result of the Deck Over and is not because of prep or application.
Overall Discussion 
We strictly tested both of the products to find our solution. Even though they both show incredible qualities, the customers revealed their dissatisfaction. We discovered that Rest Oleum is better against harsh weather. It hides or fills deep cracks in the discussion. But their coverage is terrible, and the coating color did not match the paint on the chart.
The other product offers color options but came second in the resisting, filling, and coating categories. Also, they are having difficulties coming out of lawsuits, but they are trying to keep with others on their own. 
FAQ
What is the correct way to get rid of Behr Deck Over?
Answer: The only good side this has is that it is very easy to remove. You could literally just pick it up and peel it off like it is nothing. But, you will need to use is a scraping tool.
Which companies' stain is better Olympic or Behr?
Answer: According to the reports, Olympic Maximum Solid Stain in One is rated in their top solid wood stains category. 
What is the longest-lasting fence stain?
Answer: I would say, Oil-based stains that have a solid opacity last the longest among other fence stains.
Is it possible to paint over deck restore?
Answer: yes, that is very possible. Simply paint it with a thick, acrylic deck restoration coating, which will create a smooth surface.
Conclusion 
Rust-Oleum has too many cons, but both products receive complaints all the time. They indeed do their jobs for the time but do not give us a permanent solution. Manufacturers claim they are long-lasting coating but each has its cons and pros.