If you are wondering about a perfect design for your house, Therma Tru comes with more options and better quality. However, Masonite has its fan base for standard measurement.
Users often get confused between Therma Tru and Masonite Fiberglass Doors as both of them offer great quality. This guide will help you choose the right one.
Therma Tru vs. Masonite Fiberglass Doors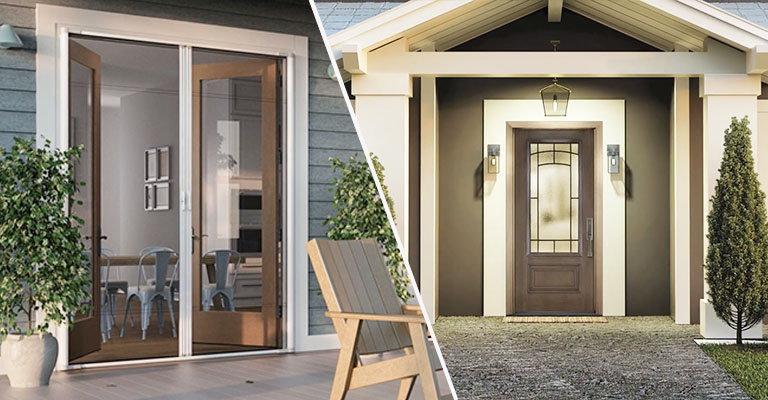 Jamb Depth
Jamb depth is the measurement of the wall thickness, where the door unit is set. It can come in different sizes. A standard jamb depth for your interior is 45/8 – inches where an extra of 1/8 inches is present for the accommodation of the door.
Therma Tru comes in two sizes of jamb depth, one is 4 9/16-inches, and the other is 6 9/16-inches. This brand is often admired for these options.  
Whereas, Masonite comes in only one measurement and that is 4 9/16-inches. 
Bottom line: Therma Tru wins this point for offering more options.
Glass Size
Other than full glasses, Therma Tru also provides glasses of other measurements, like- ¾ and ¾ six lite glass. Nowadays, with the evolution of interior design, these options come in too much handy. 
Masonite offers a single measurement and that is 3/4 glass. 
Bottom line: Again Therma Tru wins with choosing options. With Therma Tru, you don't have to compromise with the design while having the preferable size.
Door Size
Therma Tru offers different widths whereas, Masonite comes in a single but standard width. Therma Tru offers widths of 32×80 and 36×80 measurement. Masonite comes in 36×80 width. 
Bottom line: Both offer the standard door size but Therma Tru offers an option, so Therma Tru wins this point. 
Door Type
Other than a single door, if you are searching for single doors having sidelights, double doors, or any other options, you better go for Therma Tru.
Whereas, Masonite only offers a single door.
Bottom: In case you are looking for varieties, look for Therma Tru.
Lockset Bore
Therma Tru comes along with a brickmould, which is the case of your door's exterior and, a lockset bore. All of these come in a package.
Masonite does have a lockset bore, but it doesn't come in the package and is sold separately. 
Bottom line: You won't have to buy lockset bore separately if you go for Therma Tru.
Weather With-standing features
Therma Tru has weatherstripping for preventing air leakage and balancing the interior temperature. It also has an aluminum sill. The ball bearings Therma Tru provides, help protect the hinge pivot as extra support.
Masonite as well as the crucial weatherstripping along with aluminum sill for air prevention.
Bottom line: Both of the brands have crucial features that affect the door's durability, whereas, Therma Tru comes with an additional feature.
Tempered Glass
While constructing the triple-pane glass of Therma Tru, two of the pane were tempered glasses. Those panes go through heat processing for ultimate strengthening. 
Tempered glass is preferable to annealed glass for its strength and enhanced safety.
Masonite as well has insulated tempered glass offering years of consistent.
Bottom line: Both of the brands have weather withstanding durable tempered glasses. 
Door Handling
Both of the brands have left-hand and right-hand in the swing.
Warranty
In terms of warranty, both brands provide a lifetime guarantee. However, Therma Tru covers a 10-years finishing guarantee. That means, the doors will maintain their finish and will be repaired by the manufacturer if needed. 
Bottom line: Therma Tru offers a better backup.
However, fiberglass has some disadvantages that you need to consider doesn't matter which brand you prefer.
Disadvantages of Fiberglass
Cracks
Cracks on fiberglass are inevitable and are the most irritating ones. It's mostly caused by the rigid material available on your product. During winter, you might witness a blotchy appearance on your door's crack. 
As a result, your house could lose its temperature balance due to air leakage. In worst cases, your door could fall off due to low quality.
Devaluation
Unlike wood, fiberglass easily loses its color due to extreme exposure to light and weather resulting in a gloomy appearance. So, regular maintenance is a must. 
Moreover, you have to face any issue regarding the installation of the door where you have to avoid the direction of extreme sunlight. 
Fiberglasses come with 5 to 10 years of warranty, but lack of maintenance can cause early fading of the color and some inner damage as well. 
To many users, it sounds like a waste of money. However, many brands out there offer a lifetime guarantee and years of repairing warranty which sounds great.
Sturdiness
Even though the fiberglass out there has enormous strength to withstand the weather effects, there aren't much strong as woods or steel.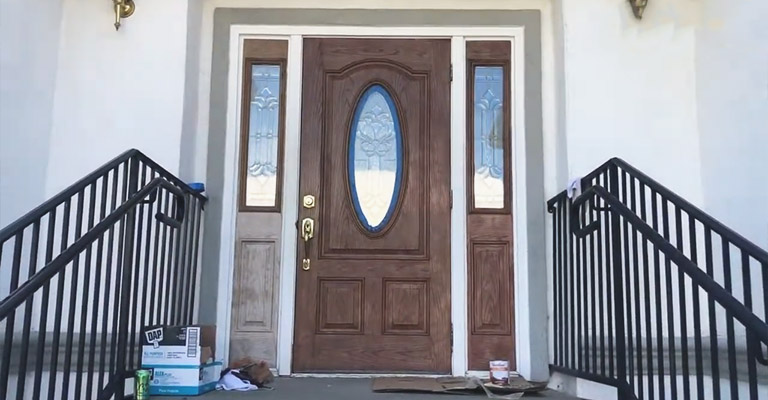 FAQ
What are some similarities between Therma Tru and Masonite?
When it comes to cost efficiency, both of the brands offer you the same energy star option. The option helps you save energy costs. The energy that is used for weatherstripping. Wondering about weather-stripping; it's installed into your door to resist air leakage.
Is Masonite worth buying?
Although Masonite doesn't give much variety, it does come in aesthetic design, great weather withstanding features, and cost-saving features. If you are looking for standard measurements, Masonite is the one. However, once your door is weathered or cracked, it's time for a replacement. 
How long does fiberglass last?
Fiberglass can last for 15 to 20 years without any staining or painting if it's placed in a protected location. The coating itself is enough durable which is hard to breach. Fiberglass is lighter than other wood materials like wood or steel, but they are extremely sturdy. 
Do fiberglass exterior doors warp in the sun?
Fiberglass does warps under extreme sunlight and there are some chances of lessening the damage. Avoiding the installation of the doors that are facing directly towards the western or southern is a good measure. The deeper the fitting between the weatherstripping of the frame and the door, the lesser the chance of warping.
Conclusion 
The use of fiberglass is now a trend, and it does give your house a different vibe. Both Therma Tru and Masonite gives quality product. However, which is your winner in the battle of Therma Tru vs. Masonite Fiberglass Doors, depends on your interior.