Moisture, wax, grease, soap, talcum powder, and dust all contribute to making the shower floor slippery. Also, a smooth shower floor becomes slippery easily than a shower floor with good traction. 
Every year millions of Americans get injured by falling on the slippery shower floor or bathtub. So, you can understand that ignoring a slippery shower floor is very dangerous. 
In this article, we will show how to make the shower floor not slippery. Most of the solutions are cheap and so affordable. Besides we will also show some permanent solutions that are expensive. You will choose according to your need and affordability. 
7 Effective Ways to Fix Slippery Shower Floor
1. Install Anti-Slip, Non-Abrasive Tape
Anti-slip adhesive treads are commonly used on the stairs to prevent slipping but you can use them on the shower floor too for the same purpose. Many companies are producing anti-slip adhesive treads for shower floors and wet surfaces such as pools, hot tubs, boat decks, etc.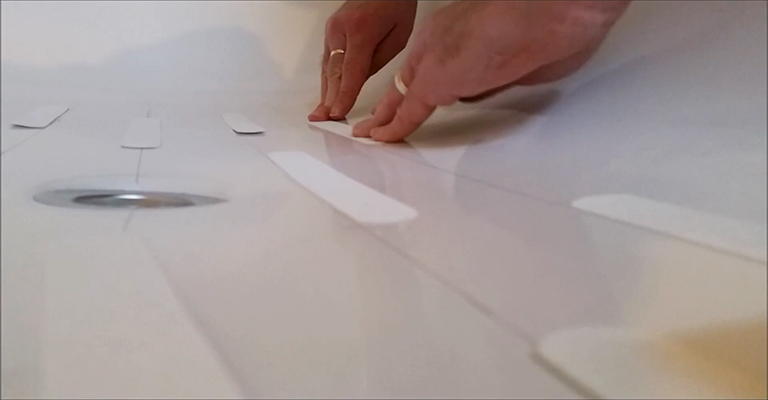 These tapes are available in different textures. They are easy to install and you don't need to remove them to clean the floor. But before installing the tape make the shower floor dry and roll out the strip carefully to smooth so that there remain no air bubbles or bumps. 
But these tapes are not long-lasting, their stickiness reduces because of continuous contact with water. So, you have to install fresh strips after a short time. Because of this many people don't consider it a cost-effective solution. 
2. Purchase Anti-Slip Shower Mat
Purchasing an anti-slip shower mat is another economical and easy option to solve the problem of a slippery shower floor. There are suction cups on the bottom of the mats to prevent slippage. But you have to clean the moisture and soap scum stuck between the mat and floor regularly otherwise it may cause you to slip on the shower floor.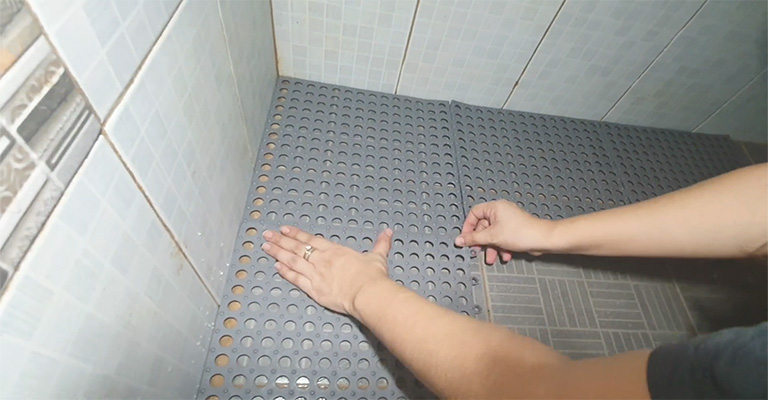 Anti-slip shower mats are available in many shapes, sizes, and designs. They are generally made from plastic, vinyl, PVC, or rubber. 
If you find cleaning the mat frequently a tiresome job then it is not a good option for you because if you don't clean it properly and frequently then it will cause you to slip on the floor and also mold and mildew will grow beneath the mat which is not good for your health at all. 
3. Install Bamboo Shower Floor
To get a spa-like feel at home you can bring a bamboo floor mat. They are easy to clean and super-easy to install. Also, if you are a person who is conscious about the environment then the bamboo shower floor mat is the perfect choice for you.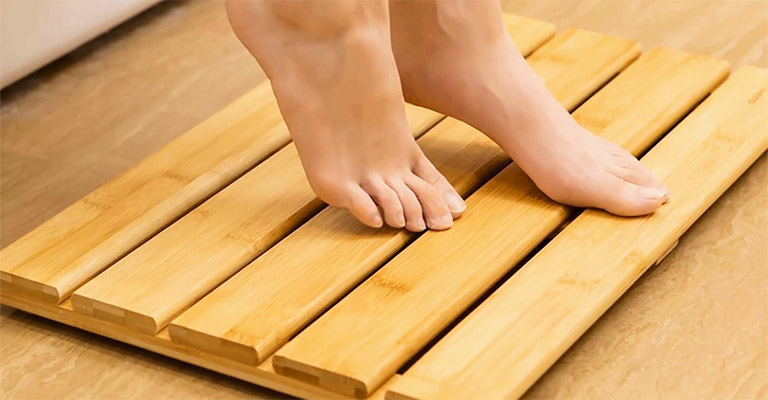 The slatted design of the bamboo mat allows for water and airflow. It dries quickly and you can keep it folded up inside storage when not in use. 
4. Non-slip Bath and Shower Coating
If you don't want to deal with cleaning and drying the shower mat or adhesive tape peeling up over time then you can try non-slip bath and shower coating. They are so easy to install that anyone can do it.
Firstly, clean the shower floor thoroughly and make it dry. Then apply the coating, tapping off the area you stand the most. You can use a roller to spread the coating evenly across the surface.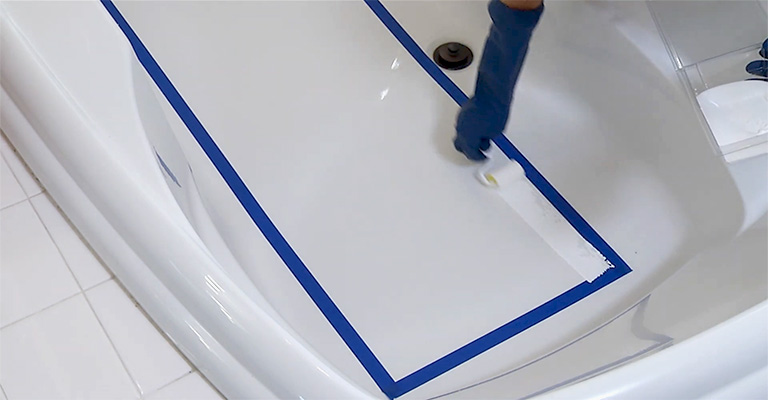 Please don't wet the floor immediately after applying the coating. It needs several hours to dry – for most of the brands it needs at least 5 hours. It becomes clear when it is dried and so doesn't affect the appearance of your bathroom at all. 
You shouldn't use harsh chemicals for cleaning after applying the coating. Also, you should avoid scrubbing with intense, abrasive sponges after applying the coating.
5. Non-Slip Treatment for Tiles and Stones
Sometimes the liquid-based coating is not enough for porous tiles and stone floors. You need special non-slip treatment for such floors. Once you apply non-slip treatment you don't need to clean them frequently like the shower mat as they are a more permanent solution. 
6. Install New Bathtub or Shower
If the shower or bathtub became too slippery to fix then you can invest in a new bathtub or shower with more traction. Though renovation is expensive it is permanent. It requires more money at once and other options require less money but you have to spend periodically and eventually, you will end up spending more. 
7. Replace Slippery Tiles with Non-Slip Ones
You can replace slippery tiles with matte glazed tiles. They are safer and also look aesthetic. Installing new tiles is very expensive and it is a permanent solution to the slippery floor problem. 
Final Word
Besides implanting one of the effective ways of making the shower floor not slippery you can follow some effective strategies to reduce the probability of falling on the floor. 
For example-  you can keep shampoos, soaps, towels, and other bath accessories near the bathtub or the shower place so that you can easily access them. Also, you can install a grab bar or handle into the shower wall; it is very useful especially for senior people.