Do you keep staring at the ceiling while sitting in the living room?
Probably not.
And here dies the story of a beautiful ceiling chandelier that you installed just to impress your friends!
A wall sconce, on the other hand, is a whole different story.
You can't miss their artistic appearance in the entryway when you put two contemporary sconces on either side of your front door.  
Or the stylish bathroom sconce placed beside the vanity mirror that produces just the right amount of glow when you get ready for work in the morning!
Even the messy living room you have looks better when the best wall sconces redirect everyone's attention to an artwork on the wall instead!
Rather than spotlights that produce concentrated light downwards, a wall sconce is a better option to consider if you like a cozy, warm and inviting atmosphere. Sconces in the bedroom, for instance, casts an attractive glow and create the mood for intimacy when you need it the most!
Among the countless variations of wall sconces, it's hard to choose just one. Nevertheless, we are adamant to find the perfect one just for you!    
Best Wall Sconces Reviews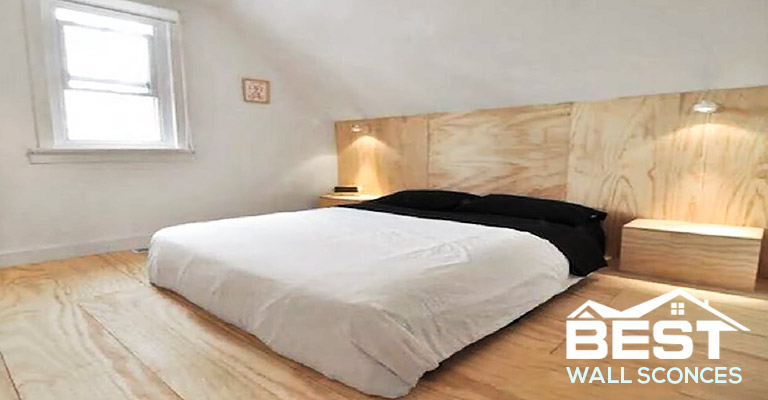 1. Modern Wall Sconce 12W, Set of 2 LED Wall Lamp Cool White
If you are looking for a stylish lamp that offers a soothing take on the classic style, then the Modern Wall Sconce from ChangM is definitely a good bang for your buck!
Made of acrylic and pure aluminum, this lamp features a rectangular glass shade with a single band wrapping tightly around the middle. It doesn't stick too far from the wall and offers a very soothing, warm and comfortable light around your room.
ChangM sconces aren't only a pretty thing to look at either!
They are extremely efficient and environment-friendly too!
Compared to traditional fixtures, the 12-watt ChangM LED bulbs have a low consumption rate and helps you save electricity bill at the end of the month.  The lamps are designed in a way to emit the perfect amount of glow that doesn't flash or dazzle and protect your eyes from harmful effects.
As the LEDs are built with high-quality materials, they don't require much maintenance and usually last up to a solid 3000 hours without an issue. The package comes with 2 sets of sconces, gloves, instruction manual and mounting accessories for your convenience.
Where It's Most Suited?
The lamps offer 6000K cool white light that's ideal for task areas. For that reason, we consider this as the best bathroom wall sconce among other collections in our list. We also recommend using these beauties in the staircase and study room for enjoying its preeminent result!
Highlighted Features
The 12-watt lamp saves energy consumption and is eco-friendly.
Made of acrylic and pure aluminum, it offers a soothing appearance.
It comes with all the necessary mounting accessories needed.
The 6000K cool white light is suitable for task areas.
It has a long life of 3000 hours.
2. Globe Electric Harrow 1-Light Wall Sconce
Want to keep the tradition alive and stay in touch with what's trending these days at the same time?
That's a hard battle to win, to be honest!
Keeping that in mind, Globe Electric has brought the Harrow 1-Light Wall sconce, which is the perfect example of mid-century modern design!
The matte-black shapely glass shade has a golden accent that has a solid finish for a fashionable look. The timeless, stunning shape of the pivoting head is bound to turn some heads once installed!
Think you might get bored with the same old look of your wall fixture?
Well, the Globe Electric seems to think in the same way!
Since the glass shade of this lamp is clear, every time you change the bulb inside, you get a new look free of cost!
And the bulb requirement is pretty standard as well. You can use any medium base 60-watt E26 bulb for this sconce. If you are a fan of antique designs, install a vintage bulb and enjoy the look!
Where It's Most Suited?
The lamp fixture is dimmable.
And that gives you a whole lot of different scenarios to play with!
You can install this shade in your bedroom and dim the lights when you are in the mood for taking a quick nap. The lamp will also look good in living space, hallway, dining room or other areas that could use a soft, romantic atmosphere when needed.
Highlighted Features
It has a mid-century modern design that looks effortlessly vintage.
It's compatible with dimmable facilities.
The pivoting head helps illuminate places where it's needed the most.
The clear glass shade shows off the design of the bulb quite easily.
3. TJ.MOREE Rustic Wall Sconce – Mason Jar Wall Sconce
Ready to do your go-to happy dance?
Cause you will be swooned by our next collection for sure!
So, the T.J.MOREE Rustic Wall Sconce is a little bit different than your regular lamps. And the reason is the whole light setup is done neatly inside a cute little mason jar!
If you have a knack for collecting beautiful wall décor, then you can count this product without a second thought. The premium-quality wood board that holds the jar has the word "Home Sweet Home" written across it. Talk about the perfect way to greet your guests, right?
The mason jar features a rustic farmhouse style that evokes a soothing sense around the space. With a retro pull chain that's hanging beside the fixture, you can easily switch the bulb on/off inside.
Once you receive the package, you will find 2 mason jars, 2 wood backings and 2 sets of LED strip lights in it. Although the strip wires seem to obscure the mason jar completely, the manufacturer also includes 2 faux hydrangea flowers to hide them well.
Where It's Most Suited?
The mason jar sconce is one of a kind.
And we recommend using it in a way that serves both functional and decorative purposes at the same time!
For instance, you can place the jar in front of your entryway to make a good first impression. Also, it's an ideal piece that can be used in festive ceremonies like weddings, get-together, bridal shower and other occasions.
Highlighted Features
It features a country-style charm that goes well with all modern décor.
The retro-styled pull chain method allows you to use it easily.
The reclaimed wood board has a nice welcoming message written in it.
You can just stick the switch box on the board and use it instantly.
4. Vintage Wall Sconce Licperron Antique 240 Degree Adjustable Industrial Wall Light      
Made a mistake of installing the light socket in the wrong position?
Now you can fix it up!
The Vintage Wall Sconce from Licperron features a 240-Degree adjustable head that sheds light in places where you need it the most! With an industrial design that lends a fashion-forward feel to your surroundings, this sconce looks like it was built to impress!
The lamp features a 2-tone baking paint finish (Black and Gold) that gives it a solid, smart look. With its cone-shaped head so flexible and small in size, it frees up space for displaying other accents of your room.
If you are not a person who is good with electronics, don't worry. Licperron bulb doesn't need you to be!
The lamp fixture has a bottom-open design through which you can change/replace the bulb when needed. The shade is designed to handle all sorts of bulbs including LED, Halogen and Incandescent.
Where it's Most Suited?
The Licperron wall fixtures are the perfect modern bedroom sconces that add a retro touch to your room.
The adjustable shade makes it ideal for reading rooms, dining space and hallway as well. You can also use this fixture for offices and commercial spaces.
Highlighted Features
The 2-tone painting finish features an industrial style.
It comes with a 270-Degree adjustable head that meets your lighting need.
The high-quality build material gives this shade a long lifespan.
It combines modern and retro style in one package.
The bottom-open design lets you change/replace its bulb quite easily.
5. Hykolity Outdoor Wall Sconce, Brushed Nickel 12W LED Wall Mount Light Fixture
Looking for the best outdoor wall sconce available that's wet-rated for safety?
Meet Hykolity Outdoor Wall Sconce that's perfect for indoor as well as outdoor purposes at the same time!
The half-round lamp features a practical design with frosted cover and decorative band on both the top and bottom sides. The frosted cover helps spread the 4000K natural white light in an even manner across the room and makes the light bearable for sensitive eyes.
The color consistency of this particular model is bound to impress even the picky buyers. With no IR or UV radiation, this product is also eco-friendly and doesn't pose any risk to human health as well.
Thinking about creating a bit of character to your outdoor space?
You can easily do so with its dimming facilities!
Hykolity Sconces are 5-100% dimmable and allow you to add that soft, warm glow that makes your yard looks like a piece straight out of dreamy land!
The 12-watt bulb works as good as a 75-watt incandescent bulb minus the operating cost.
Where It's Most Suited?
With 870 lumens of brightness, the Hykolity Wall Sconce is an ideal choice for yard, porch, foyer, corridor, patio and outdoor spaces.
You can use it indoor as well. However, as it's rated for wet locations, we think it's best to take full advantage of its features!
Highlighted Features
It has an easy 4-step installation process.
The bulb comes with a 10-100% dimming range.
It offers you a flicker-free smooth operation.
It's rated for wet locations.
6. HLYOON Mason Jar Sconce Wall Décor
What happens when tech meets beauty?
Your life becomes more convenient in a gorgeous way!
The HLYOON Mason Jar Sconce Wall Décor is basically a cute little glass jar that looks innocent, yet surprises in terms of performance!
Built with natural elements, the jar features a creative design that looks elegant as well as shows off your creative side at the same time. The black wrought iron hook that holds the wooden boards and the mason jar attached to it is sturdy enough to last for a long time.
The jar lamp comes with Remote Control settings that allow you to use its modes while lying comfortably in your bed.
With 8 LED light modes and timer settings that range from 2 to 8 hours with 2-hours interval (2-4-6-8) makes it perfect for your everyday use. The remote control works within a 15-meter range and gives you a problem-free service for a lifetime.
Once you get the package you will receive 2 sets of mason jars, 2 string fairy lights, 2 reclaimed wooden boards and 2 remote controls to adjust the settings. Oh! You will also get 2 sets of lovely lavender flowers (faux, so that they last forever!) as a gift.
Where It's Most Suited?
Before saying where you should place these lamps, let us just say that it's an EXCELLENT gift item!
You can also purchase one for yourself and use it in areas that could use a little more love to brighten up! From entryway to kitchen to hallway to garden décor, this one fits in all places.
Highlighted Features
It's made with lots of natural elements.
The lamp comes with a wireless remote-control system.
The LED bulbs have 8 modes of options.
It's battery-powered.
7. DANXU Edison Brass Wall Sconces
Want something that bends gracefully from the surface and can be swung from side to side when needed?
Let's get you introduced to DANXU Edison Brass Wall Sconces that are built for illuminating your way while you are going through a late-night novel! Crafted from metal construction, the lamp is covered with a brass finish that stands out even in daytime.
The backplate of the fixture measures 5.1-inch in height, 5.1-inch width and 0.98-inch in depth. It comes with a 70-inch long silver cord that allows you to plug it in wherever you want. However, you can have it hardwired to the surface if desired.
Want the lamp to shine a little bit of light to your bedside reading table too?
Well, you got it!
While the backplate of this fixture is stationary, you can easily move its adjustable arm from side to side to shine light where you need it! The lamp comes with a cute little orange button on the bottom of its structure that's used to switch the light on or off quite easily.
Where It's Most Suited?
This is hands-down the best wall sconces for bedroom in our list.
However, you can use it in other areas like reading room, dining space, small studio, staircase, nursery, balcony etc. It's ETL listed to use it in a dry location, so just keep that in mind while installing it at your home.
Highlighted Features
It has a brushed brass finish that looks elegant.
You can use LED and other E26 bulbs for this product.
It comes with adjustable swing arms.
It offers on/off switch right on its canopy.
You can hardwire it on the surface or install it as a plug-in.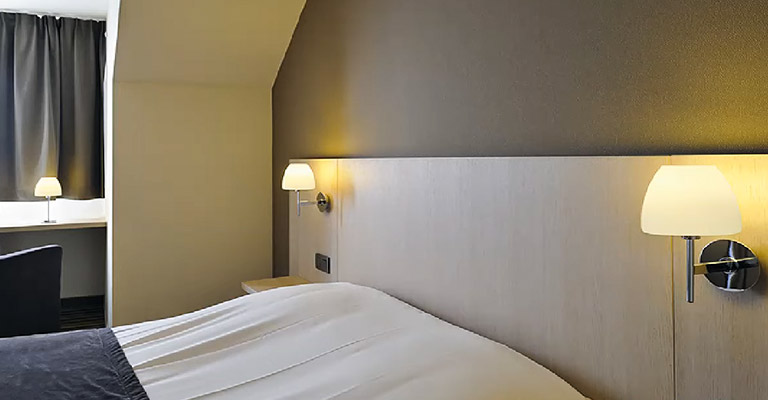 Frequently Asked Questions
Q: How Big Should A Sconce Be In Size?
Ans: It depends on your setting. For outdoor spaces, we recommend installing lamps that measure 1/4th height of the door. For indoor, you should choose fixtures that are close to 9-10 inches in length.
Q: What Is The Ideal Height To Place A Sconce?
Ans: Typically, these lamps are installed close to 65-inch above the floor. However, for sitting spaces like the dining room or living area, you can install them in a slightly lower position to match your eye level.
Q: Where Do You Hang Lights On A Stairwell?
Ans: For staircases, choose a height that's at least 7-feet above the floor (unless you like bumping your heads on it!). If there's not much space available, choose a flush fixture that doesn't stick too far from the surface.
Q: Can I Install Multiple Sconces In The Hallway?
Ans: You certainly can!
In fact, it's the finest option if you have a large hallway. However, while installing multiple sconces, make sure there is at least 8 to 10-inch gap between each fixture.
Q: How Can I Protect My Outdoor Sconce From Rainstorm?
Ans:  Select the right kind of electric bulb that's rated for wet locations. Also, you should try finding a flip-up cover that protects the outdoor outlet from water and uses proper mounting techniques while installation for the best result.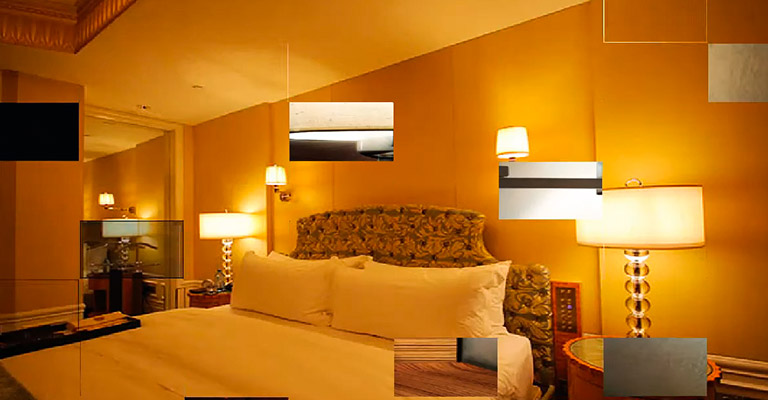 Conclusion
If you want your home to look stylish without taking up spaces in the ceiling or floor, then wall sconces are the way to go!
From being your late-night reading buddy to creating mood lighting when you want to relax, sing or just bathe in bubbles, the best wall sconces serve all purposes.
So, should you use these gorgeous fixtures in pairs or as a stand-alone décor?
That's for you to decide!
Until next time, stay curious like this always!