Grout is the material that is used to fill in the joints between tiles and make a seamless surface. The glossy appearance of grout is caused by a thin layer of water that sits at the top of each tile. 
When you use a scrubbing sponge or a cloth to clean it, you will remove this layer of water from the grout and make it look dull again. You can use an abrasive cleaner to remove any remaining dirt from your grout after cleaning it with soap and water. 
If you want to keep your grout shiny for an extended period of time, you should seal it with polyurethane once or twice per year. A shiny, glossy grout is the best way to make your tile's appearance look more appealing and professional.
Making Grout Glossy & Shiny
There are many ways to make grout shiny and glossy. One of the most popular ways is to paint it. Painting grout can make it glossy and shiny. This is a simple process that can be done in a few minutes. 
However, it is important to follow the right steps and use the right tools to achieve a glossy finish. But not everyone wants to paint the grout. If you want to avoid painting, then follow other methods mentioned in this article. 
Using Grout Sealer
To ensure your flooring lasts for many years, it is important to seal your tile and grout. Tile and grout can be sealed in many different ways. A one-step gloss sealer is one of the simplest ways to seal slate, Saltillo, limestone, travertine, or concrete tile floors.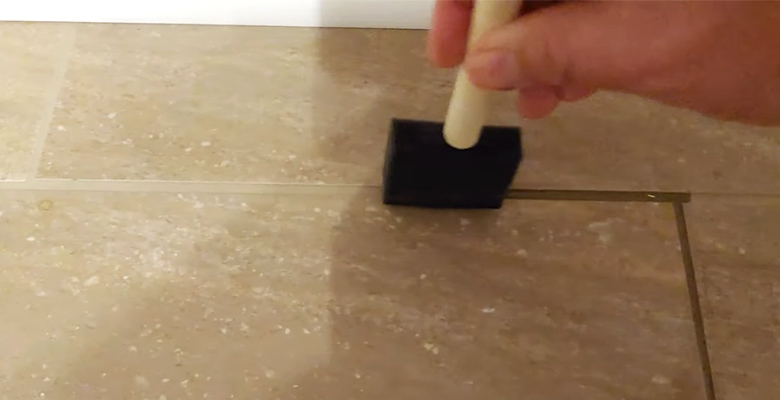 Gloss sealers and finishes seal and gloss grout and tile while giving them a wet, glossy appearance. Over time, tiles can become dull and lifeless. Not only will a one-step gloss sealer and finisher solve this issue, but it will also seal the floor to prevent it from getting damaged.
How To Make Grout Appear Wet?
Grout can look wet if you apply oil to it. That's right! Applying oil to grout will make it look wet. Before you begin, make sure you have the right tools. No special equipment is needed for this task. Vegetable oil or mineral oil will do. Apply mineral oil or Vaseline to your hands and fingers to begin.
Then rub your fingers over the grout. The oil will permeate the grout if you apply it continuously. To properly distribute oil, rub uniformly while rubbing. The grout will appear wet as a result. However, there's a catch.
Eventually, the grout will darken if you continue to use oil. However, it won't turn completely black. It can still be lightened, though. Applying the oil by hand might not be the best option. You can use a brush instead. If you are using a brush, dip it into the oil first. Brush the grout afterward.
Baking Soda Paste
If your tile or grout appears dirty or discolored, baking soda can remove tough stains. You can use it as a natural floor polish to revitalize your floors.
Make a paste from baking soda and warm water by mixing equal amounts of each. Grout and tiles can be cleaned by dipping a toothbrush into baking soda and scrubbing them. 
Rinse the tiles with warm water after the baking soda has sat for 10 minutes. Clean any apparent stains on the floor with the same method.
Is It Necessary To Seal Ceramic Tiles?
It is not necessary to seal ceramic and porcelain tiles. However, some tiles need to be sprayed lightly with a penetrating sealer to fill the micropores on their surface. Grout joints, however, are usually porous and typically constructed of cement-based materials.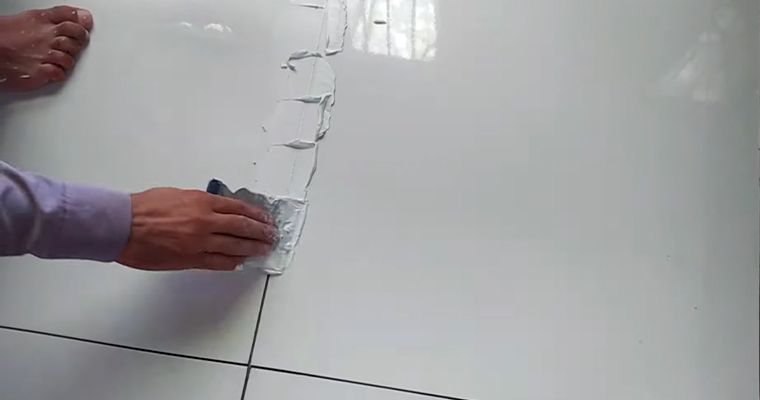 Can You Seal The Grout To Make It Look Shiny?
Among the different types of topical sealers that can be applied to ceramic tiles, only a water-based sealer can make them shine. It is not typical to use topical sealers on nonporous ceramic tiles, but they are still sometimes used to give ceramic tiles a sheen or shine.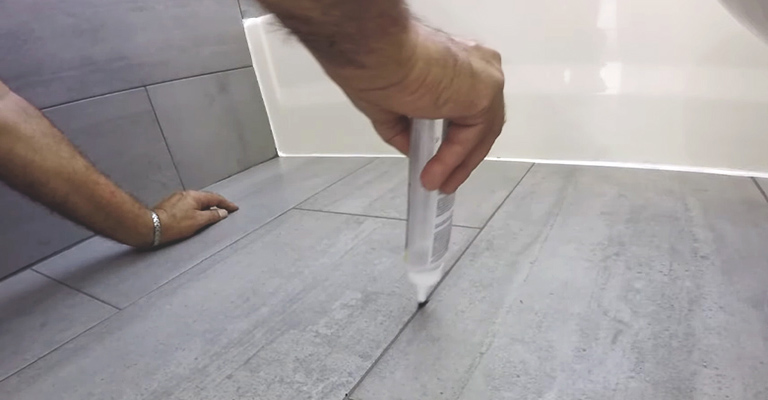 Is Vinegar Effective In Removing Grout Haze?
Grout haze can be removed using a vinegar solution. Start by collecting vinegar in a bucket or large container. Pour 1 part vinegar and 4 parts water into the bucket or container. If necessary, you can increase its strength. You can do so by adding additional vinegar. Then, apply the solution to your grout.
Where Does The Cloudy Grout Come From?
In most cases, white grout is caused by efflorescence. A porous material's surface is coated with salt or minerals due to the flow of minerals. White deposits appear as a result. Grout containing polymers could also be responsible. Too much water could damage the polymers. The polymers would then be unable to bond.
What Is The Purpose Of A High Gloss Finish Sealer?
This glossy layer forms a long-lasting, UV-resistant, vapor-permeable barrier that is VOC-compliant and vapor permeable. Useful for sealing grout joints and as a pre-grout sealer.
What Happens To Grout Color After It Is Sealed?
The grout between the tiles is what holds them together. Many people are bothered by the color change of grout. It is very common for people to use colored grout to ensure that it matches their tiles.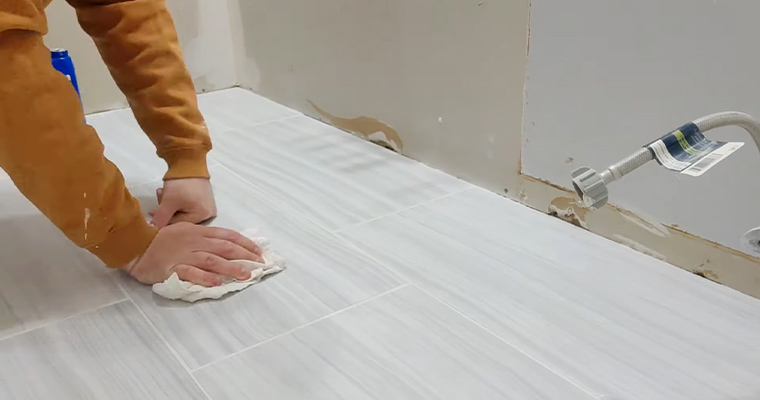 Tiles should have matching grout colors to avoid having a mismatched look. Many people are confused about getting the perfect-colored grout sealing because of this. However, does sealing change the color of the grout?
In short, the color remains the same after sealing. It will, however, darken a little. Don't worry; the change isn't major. It's just one tone higher, so you don't have to worry. Also, you can caulk over grout, according to your needs.
Final Words
Hire a professional to seal your grout rather than doing it yourself. With the help of an expert team, you will be able to address any of your concerns regarding the shiny and glossy appearance of your grout.