Weatherstripping is a sealant used to prevent moisture from entering the door. It is a thin strip of rubber or plastic that is used to seal the gap between two surfaces. It can be used on doors, windows, and other openings.
It is commonly used on exterior doors to help keep the weather out. That being said, it can be used on interior doors as well. There are many ways to weatherize your doors. For example, you can use weather stripping on interior doors or exterior doors. 
It has been a long-time practice of homeowners to weatherstrip their doors. However, you should consult an expert before you decide what type of door you need weatherizing for.
Why Do You Need To Weatherstrip a Door?
Weatherstripping is a type of insulation that is used on doors to reduce drafts. If you live in a cold climate, you know how important weatherstripping is. There are many benefits of weather stripping – it prevents drafts, it preserves energy efficiency, it reduces noise, and it can even lower your home's temperature.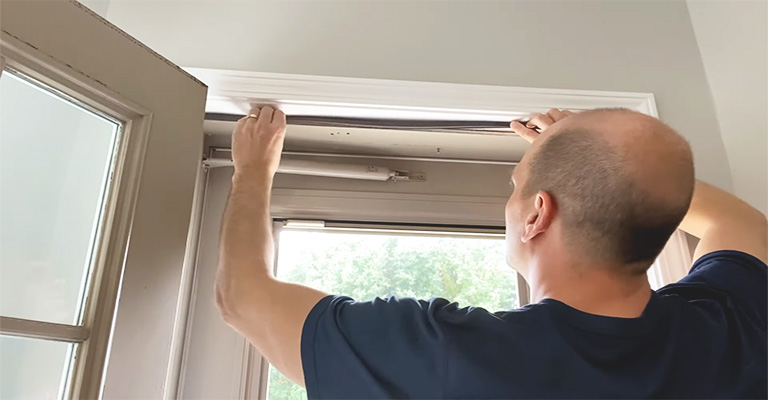 Door weatherstripping is a great idea for any home with doors or windows facing north or south because it will reduce heat loss through the windows during the winter months and help keep condensation away in the summer months.
The benefits of door weatherstripping are many. It can help to keep your house warmer, stop the noise from outside from coming into the house, and reduce condensation on windows and doors.
The purpose of weatherstripping is to keep the cold air outside and the warm air inside. This prevents your heating system from having to work as hard and saves you money on heating costs. In short, you should put weatherstripping on interior doors to keep the heat in and drafts out.
Step By Step Guide On Weatherstripping a Door the Right Way
If you're looking to save money on your home energy costs, you might want to consider adding weatherstripping to the windows of your home. Weatherstripping a door is not a complicated task, but it can be tricky if you don't know how to do it. This article will teach you how to weatherstrip your doors the right way. 
1. Preparation 
Clean the area around the door frame with soap and water. Ensure there is no dust or debris in the area before installing a new weatherstrip. Use masking tape to measure where the rubber will be placed at each corner of your door frame. This will help you make sure that it fits.
You should measure your doorway after you have cleaned it. Be sure to measure all the surfaces of the door, especially the sides, the top, and the bottom, as you'll need door seal strips on each of those locations.
2. Tightening The Door's Hinges
If the door hinges are not tight, you shouldn't proceed with cutting the weatherstripping. Instead, raise the door by turning the knob. The screws on the top hinge should be tightened if there is a bit of play in the door.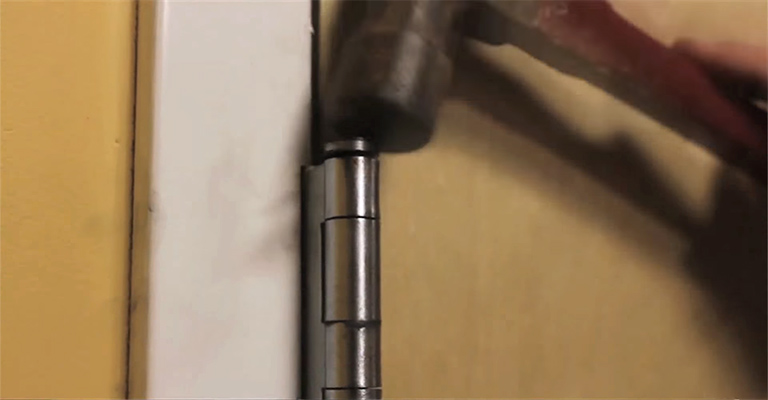 Additionally, make sure the screws in the bottom hinge are securely fastened. By doing this, the door will be snugly fitted and properly hung, which will allow the newly installed weatherstripping to fit the gaps evenly and fulfill its purpose.
3. Measuring The Jamb
Answer the following two questions. Firstly, how big is the space between the door and the jamb? Then, double-check your measurements along the top and the side. There may be differences in the measurements.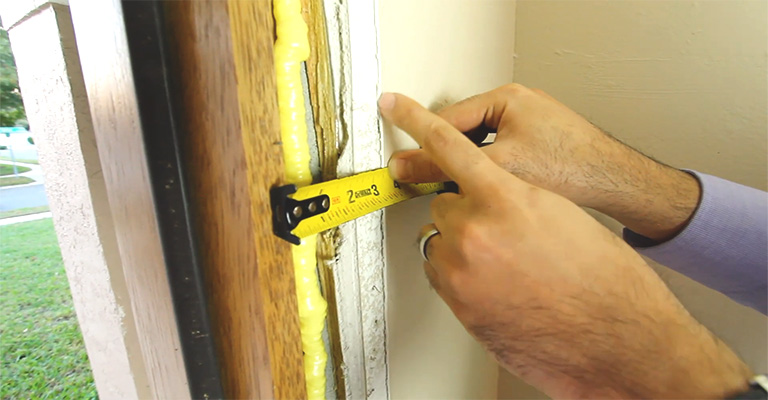 In addition, what is the jamb's width? You can find out how thick the weatherstripping you buy by answering the first question, but you can find out how wide by answering the second question. You might want to buy about 10 percent more weatherstripping than you need, just in case.
4. Select The Appropriate Weatherstripping
There is a wide variety of weatherstripping available. Each one has its advantages and disadvantages. Due to its low cost and ease of cutting and installing, felt weatherstripping is often used on doors, but its durability makes it rarely used.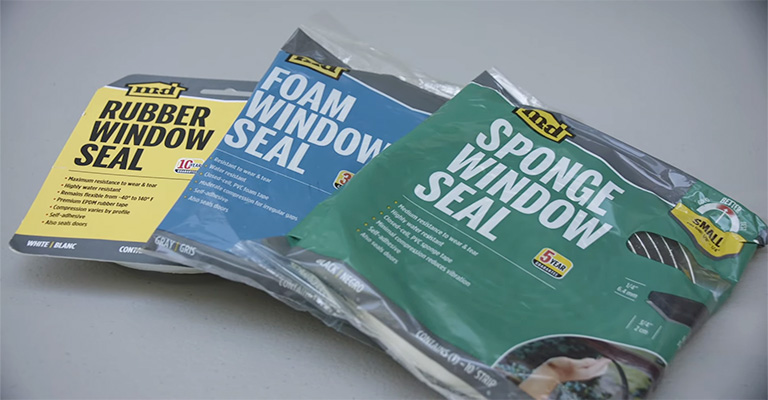 A slightly more expensive alternative is foam weatherstripping, that's easy to install. Rubber is the most expensive option and also the most durable, even though foam wears better than felt. Rubber is effective as an insulator, but it requires some installation expertise. Also, when compared with other options, it often requires nailing in place.
5. Check For Accuracy
Weatherstripping should be cut into segments and checked for accuracy. Then, cut two pieces of top weatherstripping and one piece each of sides weatherstripping.
If necessary, adjust the cut. Before applying the weatherstripping permanently, ensure that you have cut each piece correctly by holding it up to the doorframe.
It's fine if they're a bit too long; after you install the stripping, you can trim the extra. However, it is important to check your measurements and cut another piece if any of your strips are too short.
6. Installation 
Install the weatherstripping by tacking, snapping, or adhering it to the door. The adhesive back of the product should be removed and the product placed around the perimeter of the jamb, not the door itself.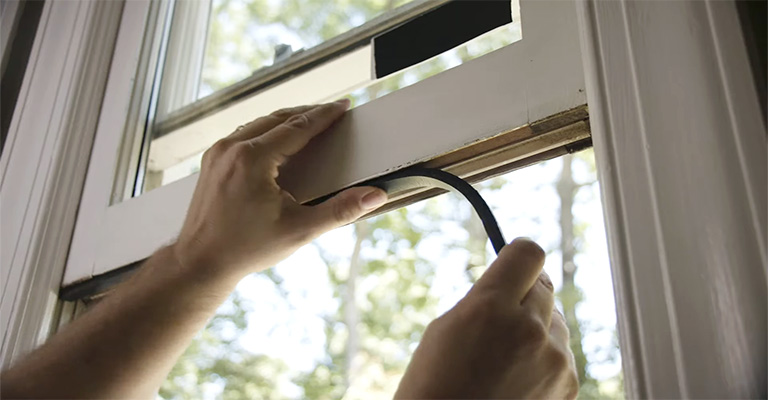 It may be necessary to reinforce weatherstripping with heavy-duty staples or small tacking nails, even if it has adhesive. This will ensure that the weatherstripping remains secure.
Also, for windows, you can install heat control window film to reduce the incoming heat in your room.
7. Put A Door Sweep In Place
Finish the job by installing a sweep along the bottom of the door. Door sweeps generally consist of a metal band jutting out of which a strip of rubber is attached. When the door is opened, rubber flexes so that it does not become an obstruction, and when it is closed, it creates a tight air seal.
Standard-size door sweeps are available, but if you can't find one that fits the width of your door, you can use a hacksaw to reduce its size. Use the screws provided to attach the sweep to the door. 
It is best to predrill holes for these screws using an electric drill/driver since they tend to be small and not self-tappers. Make sure that the sweep is positioned close to the threshold. The door weatherstripping process shouldn't take more than an hour from start to finish. 
With just a little effort, you can stay warm and comfortable throughout the winter without having to spend a fortune. Although it seems like a simple project, weatherstripping is one of the best ways to stop drafts.
Final Thoughts
Weatherstripping is one of those home improvement projects that often offers significant benefits at an affordable price point. 
If installed correctly, weatherstripping can result in a 20 percent reduction in heating and cooling costs. Additionally, it keeps insects and rains out. And guess what else? The installation of weatherstripping takes less than an hour.