Vents are a necessary part of the home's ventilation system. They help to remove moisture, heat, and air from the house. The vents on the side of your house are a part of the heating and cooling system. 
They help to release heat and cold air into the house. Those vents are called side vents. These vents are typically found on the side of a house and help to release trapped air or fumes from the space. They are often used for ventilation and heating. Vents on the side of my house are also called exhaust vents.
Why Do You Need Vents On The Side Of Your House?
When it comes to a home, ventilation is a key factor to consider. You need to make sure that your house has the right amount of air circulation in order for the air to be fresh and healthy.
Vents on the side of your house can help with this by letting fresh air in and stale air out. This will ensure that you have an optimal humidity level, which helps keep mold away from your home.
Soffit Vent
Soffit vents are usually included in your roof structure. You can see these vents when you walk under the overhang on your roof, also known as the soffit.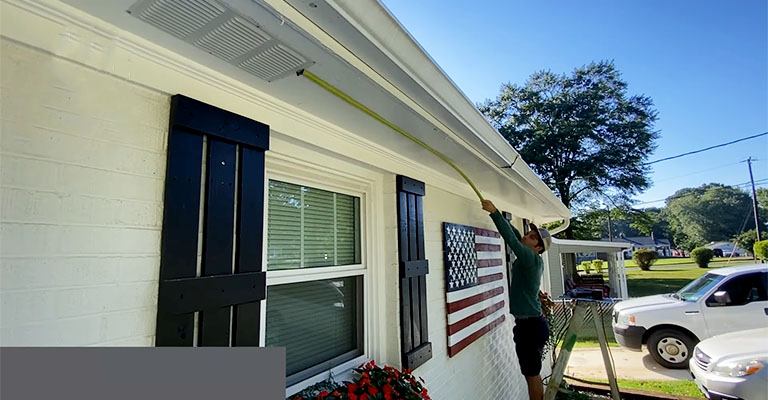 In order to draw cooler air into the attic, they are placed lower than the exhaust vents. One or more exhaust vents are usually included in roof designs to work in conjunction with soffit vents.
Gable Vent
You'll typically find gable vents on a gable roof. It is very common to find gable roof designs in regions with temperate climates to cold climates. If you see a house with a long ridge that stretches across the roof, you're looking at a gable roof.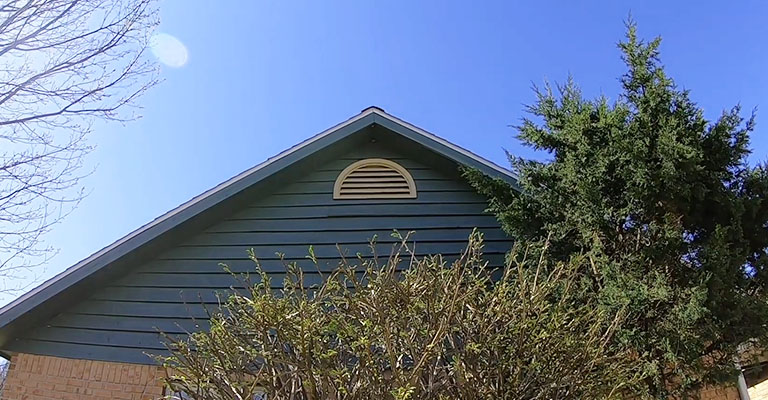 Traditionally, gable vents are located on the house's sidewalls, beneath the roof's eaves. Sometimes called louvered vents, these can be seen as large triangles or circles near the roof of your house. 
You usually find them in pairs, although there may be more than that, depending on how many gables are on your roof.
Over Fascia Vents
Directly above a gutter is an over-fascia intake vent. In this case, the vent would be covered with shingles.
A fascia vent, or over-fascia vent, is a new type of roofing intake that's used primarily on roofs without adequate eaves for soffit vents. A fascia vent is located directly underneath the starter row of shingles at the top of the fascia board and gutter.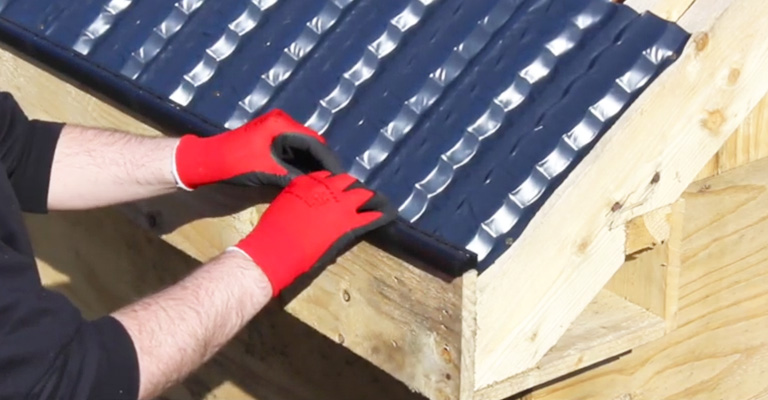 By contrast, a roof vent relies on air rising to provide air intake, while a fascia vent allows air intake right where the wind strikes the roof.
Due to their small surface area, over-fascia vents may not be as effective as they appear. However, even though they usually cover the entire bottom of the roof, they are only about 12 inches high. 
In comparison to soffit ventilation, this represents a drastic reduction in airflow. For homes with roofs that are more complex and can't be ventilated with soffit vents alone, over fascia vents are recommended.
Drip Edge Vents
Both drip edge and fascia vents are very similar in terms of their design and effectiveness, so the pros and cons apply to both. The drip edge and fascia vents are designed for air intake to hit the roof head-on, then draw air up the inside wall of the roof to the top-most exhaust vent.
There are several differences between drip edge vents and fascia vents, including where they are installed. The drip edge is a piece of roofing material that runs directly underneath the first row of shingles and is designed to drain rainwater into the gutters. Most drip edges are made of metal.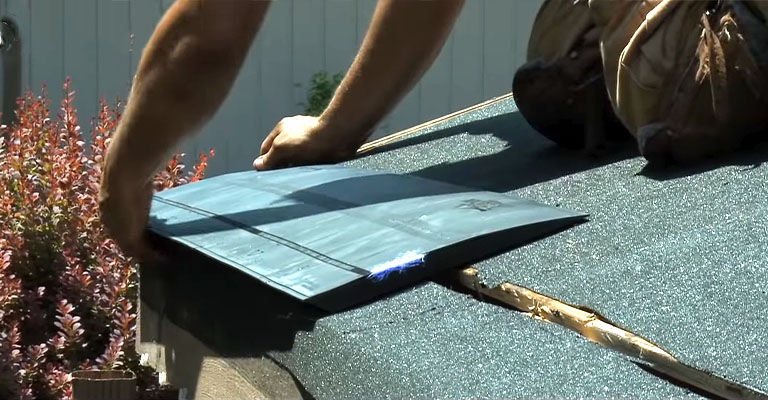 Drip edge vents are incorporated into classic roofing materials, using small holes drilled into the drip edge or attached to the drip edge. Installing a new system can be remarkably complicated and should be left to a professional.
Similar to fascia vents, drip edge vents are ideal for roofs that cannot utilize enough soffit vents for their air intake, although they fall short of soffit vents.
Cupola Vents
You might own a cupola vent if you have a tower-like structure on your roof. Unlike other types of roof vents, cupola vents are rarely installed due to their high cost, complexity, and the fact that they were not designed to solve everyone's primary issue.
The origins of cupola vents can be traced to barns. Originally, they helped dry hay and other crops in barn lofts by allowing a lot of air to enter the space.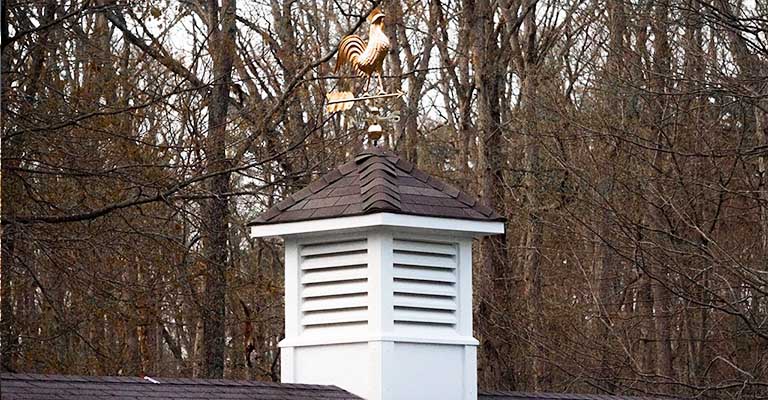 As originally designed, cupola vents served both as an exhaust and intake system. The main purpose of a cupola vent in modern roofing and design is to allow light into an area underneath it.
There are a variety of styles and shapes of cupola vents. Wooden louvers have been placed around the openings to protect against the elements, while others have been left wide open to allow maximum light and air entry.
It is common for Italian-influenced houses to have multiple-purpose cupola vents built into the roofline. The first reason is that they're a form of ventilation. Also, they enhance the appearance of the house's architectural design. 
You can transform a boring roof line into something special with a beautiful cupola vent. Cupola vent styles with more elaborate shapes even have windows that allow a person or two to enter. They're the perfect place to spy on your neighbors.
Cupola vents are an unnecessary expense for most homeowners due to the higher costs of building out a new cupola vent than larger box vents. A cupola vent doesn't make much sense unless you're primarily concerned about curb appeal.
On the other hand, the cupola vent may suit those who need extra roof ventilation but don't mind spending more to enhance the appearance of their home. Alternatively, some box vents may suffice.
Ridge Vents
The most common vents installed in homes are ridge vents. There's a good chance that your roof quote will include this type of vent if you're getting one from a contractor in Massachusetts. 
However, it is important to ask your roofing contractor which type of exhaust vent is going to be used and why it is the right fit for your project if no ridge vent is listed.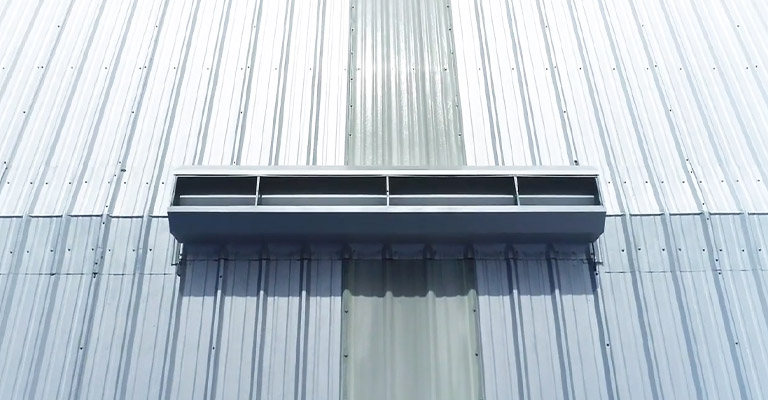 Ridge vents run across the entire roofline and are located at the peak of your roof. Located at the crest of the roof, ridge vents allow the hottest air from the attic to escape. Additionally, since they run the entire length of the roofline, they have the surface area required to expel a large amount of hot air.
Off Ridge Vents
The only reason the name of an off-ridge vent sounds similar to the name of a ridge vent is that both are located close to the crest of your roof. So, the "off ridge vents" actually have more in common with box vents than ridge vents.
We do not recommend off ridge vents when compared to other, more effective exhaust roof vents because they are not very popular. Due to their size and placement on the roof, off-ridge vents are not as effective as full-ridge vents.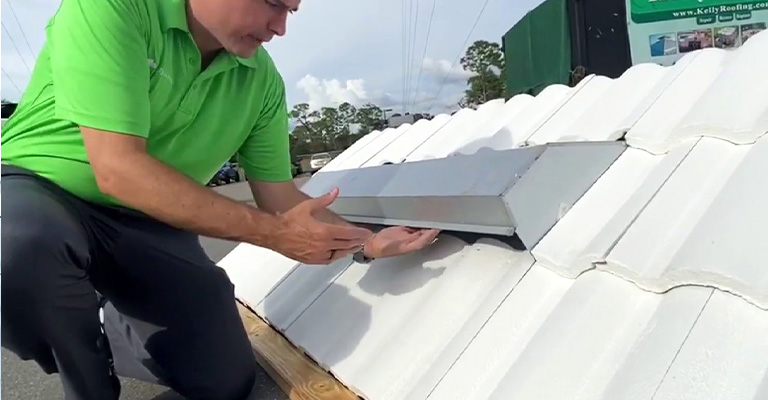 In addition, their size and location restrict their ability to vent the hottest air, such as ridge vents, because they cannot expel a large amount of hot air. A four-foot-long vent is the most popular off ridge vent on the market. 
Installation of the vents, which are usually made of galvanized steel, involves cutting a hole approximately one foot below the ridgeline, the size of the vent itself. When the actual ridgeline of the roof is small, off ridge vents provide better ventilation.
However, a ridge vent cannot run across a long, continuous ridgeline on complex roofs or homes with no continuous ridgeline. Off-ridge vents can be added to these types of roofs to provide additional ventilation in areas that don't receive enough. You also can redirect the air vent under your bed for good heating and cooling results.
Final Words
Vents are usually installed on the side of the house to ensure that they don't obstruct any windows or doors. They are also easy to install and can be done with just a few screws and nails. Hopefully, you can now figure out what those vents are on the side of your house.