Wood fences are a popular choice for homeowners and professionals because they are easy to install and maintain. They are also very durable and can last for many years. Many different fasteners can be used for a wood fence. 
They include nails, screws, and staples. The best fastener to use depends on the type of wood and the size of the board. Each type of fastener has its own advantages and disadvantages. 
The best option for your wood fence depends on what type of wood you're using, the style of fencing you want to build, and your budget. Nails are the most widely used option for building a wood fence because they work well with all types of woods, including pressure-treated lumber. 
They also work well with both horizontal and vertical pickets or rails. However, nails are not as strong as screws or bolts in terms of holding power. Nails are typically used for pickets and rails. While screws are used between pickets or rails, staples can be used between boards or on top of them to secure them together. 
Choosing The Right Nail Size For Fence
When installing pickets or rails, there are a few things that you should consider before choosing the right nails.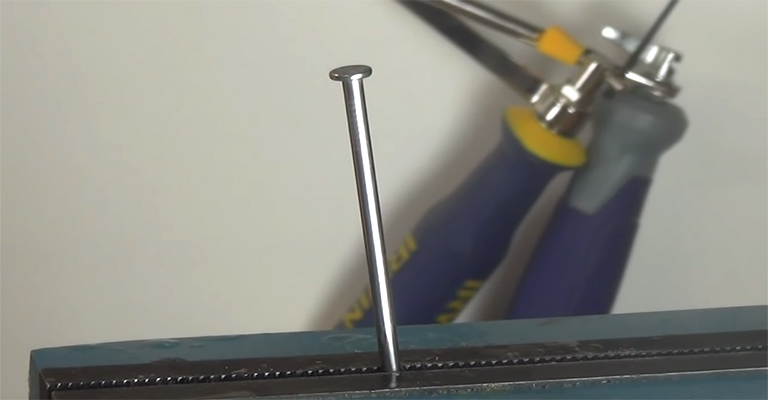 Test The Nail First
Larger gauge nails will be more secure in wood. Overdoing it will damage the wood. The 6 or 8-diameter nails are suitable for most types of wood as the size is suitable without the danger of damaging the wood.
Whenever there are any doubts, it is advisable to make a few practice boards of the same size as the picket or paling and judge the results.
You should use screws instead of nails if you wish the boards to remain in place and avoid moving around. A nail gun can also be used quite effectively to secure the boards in place.
For Fence Pickets And Palings, What Size Nail Gun Do You Need?
To hold the pickets together without splitting, the nail gun needs to be capable of delivering nails of the right size.
You will need nails with a length of 2 inches if you intend to attach 5/8-inch pickets (which is the typical size) to 2*4 inch rails. If you plan to use widely available 3-1/8″ long nails, be aware that they may protrude from the rails.
Given that most wooden fence pickets are similar in size, 6d to 8d, 1 1 2″ to 2-inch ring shank nails are the best size. If you want your nail gun to be useful for securing fence pickets, it must hold a nail that size.
Using ring-shank nails will yield the best results. The nails have rings or concentric ridges that run the length of the shaft. Those rings will grip the wood properly and keep it secure for a long time.
However, they are very hard to remove, so you will have to do some work to get the nail out if you need to replace the paling or if something goes wrong with the nail.
Depending on the thickness and type of wood being used for fence pickets and palings, the size of the nail will vary. The first question is, what is the difference between pickets and palings?
Fence Pickets vs. Palings
People often use these terms interchangeably. Palings consist of boards that we attach to the cross rails or stringer, and pickets are poles measuring 1 12 inches in diameter with a round or pointed top. Nowadays, when someone refers to fence pickets, they usually mean the flat boards.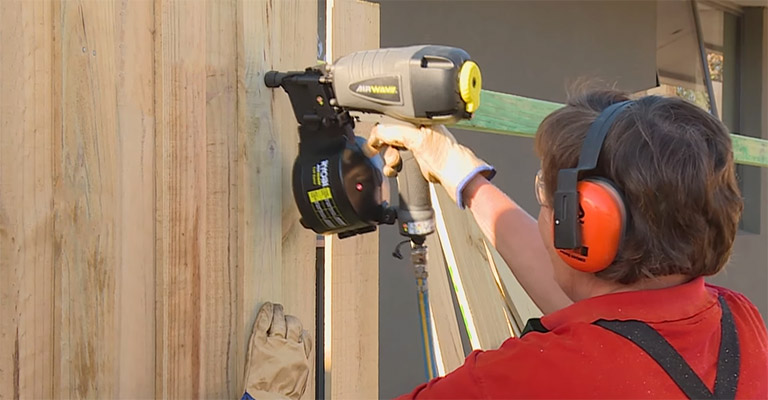 Which Fasteners Are Best For A Wood Fence?
Wood fence fasteners are crucial for a wood fence to perform well and remain visually appealing. You can choose from several types of fasteners. But which one should you choose? 
You can make an informed fastener decision for your fence and application by reading this post. Fasteners can be broken into three categories: fastener material, nails or screws, and fasteners' lengths.
Fastener Length
Your fence's success depends upon the length of the screws or nails you choose. We recommend using 18d to 20d nails or 3-1/2 in. screws to attach pre-assembled panels and backer rails to 4 in. long screws. 
We recommend using 8d to 10d nails, 1-1/2-inch ring shank nails, or 1-1/4 inch to 1-3/4-inch-long screws to attach the individual pickets to the backer rails.
Is It Better To Use Nails Or Screws?
This is a question of personal preference when it comes to nails versus screws. The two have their own pros and cons. However, faster nail installation can result in lower installation costs (since you or your builder have to do less work).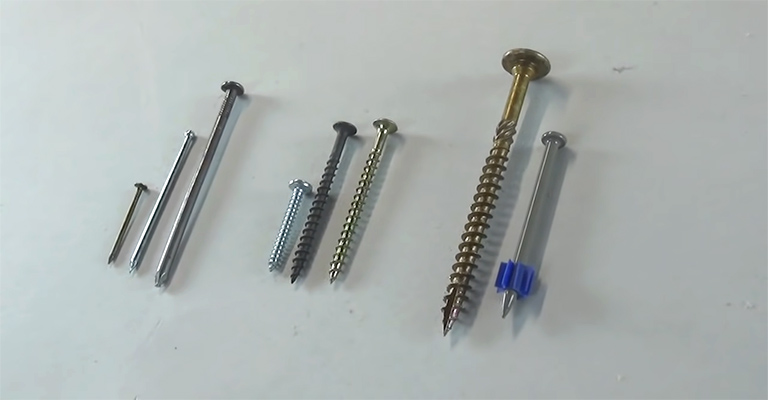 Nails, on the other hand, tend to loosen over time more than screws. In contrast, screws provide better security than nails. Moreover, if a damaged picket needs to be replaced, they make rework much easier. 
There are times when nails and screws are used in wood fence construction – some builders attach the pickets to the backer rails with nails, then attach the backer rails/panels to the posts with screws.
Material
Depending on the type of wood you use for your fence, you will need different fasteners. It has been proven that some fastener materials and wood species don't get along well, compromising a fence's appearance and structural integrity. 
Check the fastener manufacturer's recommendations for compatibility with the wood you're working with.
1. Cedar
For cedar fences, fasteners should be stainless steel, double hot-dipped galvanized, or polymer-coated. Zinc-plated steel should not be used – it reacts with the acids in the cedar and causes corrosion streaks. 
2. Pressure-Treated Pine
The preservatives that are used in pressure-treated wood will adversely react with certain types of fasteners, leading to corroding. Thus, it is imperative to choose compatible fasteners for pressure-treated wood. 
Using galvanized stainless steel, polymer-coated, silicon bronze, or copper fasteners is recommended for Outdoor Essentials® pressure-treated wood fencing. Choose the fastener that is appropriate for your application based on its durability and price. 
Different companies use different preservatives when pressure-treating wood, so their preservatives vary. Read the end tags, which are typically stapled to the ends of wood products, to learn which preservatives are used in your pressure-treated wood fence. It is important to follow the fastener manufacturer's recommendations for the fence fasteners you are using.
3. Non-Pressure-Treated Pine
Fasteners made from zinc-plated steel or other materials are acceptable for use with non-pressure-treated wood fences. Since the wood has not been pressure-treated, you don't have to worry about the fastener material reacting poorly with the wood.
4. Fence Rails
It is just as important to use nails that are used to attach fence rails as those that attach pickets. This is because panels can come loose from posts and split when the nail is the wrong size. 
Nails of 16-d (3 1/2-inch) diameter work best for fence rails. Ring-shank nails are characterized by concentric ridges (rings) that go all the way down the nail shank. This allows the embedded nail to grasp the wood so firmly that it is hard to remove.
The type of wood you're working with determines the nail material you should use. For example, cedar and redwood fences are best held together with aluminum or stainless-steel nails. Stainless steel or hot-dip galvanized nails should be used when working with pressure-treated wood.
Frequently Asked Questions
1. Which fence is the simplest to install?
There is nothing easier than installing vinyl fencing without digging. You can then spend more time with your family, friends, or whatever else you like instead of working on house projects.
2. What is a threepenny nail?
Definition of the threepenny nail. It is a nail measuring 11/8 inches in length. It is historically customary to sell nails by a number followed by the letter d and by length (less confusing). For example, a nail of 3d length can be 11/8 of an inch long; a nail of 4d length can be 114 of an inch long. Their thickness typically ranges from 0.04 to 0.06 inches.
3. Is it possible to use brad nails on plywood?
Once you know what to look for, using a Brad or Framing nailer on plywood is pretty straightforward. On most plywood boards, a 15- or 16-gauge nailer can be used reliably even if you are not sure what thickness plywood you will be using.
4. What is the size of a 10d nail?
A 10d nail was defined in the building code for years as 0.148 inches in diameter and 3 inches in length, and this definition appeared only in one place. Therefore, the minimum penetration of the nails for each of the nail specifications is given in the shear panel table found in Figure 1, International Building Code (IBC).
5. How long is a 12d nail?
Some common nail sizes are a 4d nail measuring 1.5 inches, a 6d nail measuring 2 inches, an 8d nail measuring 2.5 inches, a 12d nail measuring 3.25 inches, and a 16d nail measuring 3.5 inches.
6. What is the nail size of a 16-gauge nail gun?
16-gauge nail guns are versatile. For example, nailers that shoot 16-gauge nails have a thinner head and shoot out thinner nails than those that shoot 15 gauge nails. 
Depending on the brand, these shoot nails are between 3/4″ and 2 1/2″ long. Their holding power is good, making them good for most situations.
7. How do I build a fence? Should I use screws or nails?
A screw is more effective at holding wood together than a nail, binding two pieces of wood tightly together. As well as keeping their place for longer, screws last longer than nails. You should choose to secure a fence with screws if you have to choose between the two.
8. Is it possible to use 16-gauge nails for fence pickets?
In my opinion, you should use galvanized nails with a minimum gauge of 16 gauge. If the pickets and rails are big enough, I recommend a framer gun with 2 1/2 inch to 2 1/2-inch 4D galvanized ring shank nails. The nails won't bend over time, I guarantee it.
9. How do 8d nails work?
The "d" represents a penny, so 8d represents an 8-penny nail, 16d a 16-penny nail, and so on. In Roman times, a coin called the denarius was called the "d," which was also the name of an English penny.
10. Are deck screws suitable for fences?
Since they do not cause corrosion to the screws or stain the wood, deck screws are the best choice for pressure-treated wood. Even though both nails and screws can be used to construct a wooden fence, the choice depends on the product.
11. Is it possible to use a staple gun on a fence?
Staples are a fast and easy way to secure lightweight wire mesh, so you can easily install your wire fencing. You can also buy a brad nail and staple gun combo that is a more versatile tool that can be used for various projects. Staple guns are usually lighter and easier to handle than nail guns. A nail gun is also good for fencing.
12. What is the proper way to nail a picket fence?
A nail should be nailed into the top rail to hold the picket to the rail. Before adding more nails, place a torpedo level alongside it to level the picket. A second picket should be tightly positioned against the first. Then, finish nailing the picket by placing one nail at the top.
13. Is it okay to use brad nails for fencing?
In spite of their suitability for cabinetry and interior trim, brad nailers do not effectively hold fence boards because their fasteners are too narrow and short.
14. How deep should a nail penetrate?
Using a 3/4-inch nail is a rule of thumb. It should penetrate the item you are nailing (not through) the most.
Nailing mistakes most commonly occur when you use a nail that penetrates the surface of the item too deeply. As a result, the thing splits, or cracks immediately, resulting in a fragile joint that will soon fail.
Final Words
When you are putting up a picket fence, you need to make sure that the nails are the right size and shape for the type of pickets you are using. The same goes for rails. The type of nails you use for your pickets and rails depends on what you are building. 
For example, if you are building a fence, then the nails you will use should be long enough to reach the ground and have a sharp point. There is no one-size-fits-all solution when it comes to nails for pickets and rails. You have to choose the right size and shape based on what type of fence or rail you are using.