When you're shopping for a new range, you'll find that there are many brands to choose from. If you are looking for a new range that matches your kitchen design, you have a lot of choices. 
Viking, Thermador, and Wolf are three highly respected brands in the kitchen appliance industry. So how do you know which one is right for your home?
Each of these brands has its own unique features and looks to offer. However, they all offer nice features and great looks that will make your kitchen stand out from the rest. When choosing between these highly respected brands, it's important to consider the features of each. 
This guide compares these three brands to help you decide which one is best for your home. To help make this decision easier for consumers, we've provided a comparison of these three top-rated brands.
Wolf Vs. Viking Vs. Thermador: Comparison
Wolf, Viking, and Thermador offer ranges that work well in the kitchen. In addition, they all offer professional-grade appliances with a high quality of reliability which is perfect for every home.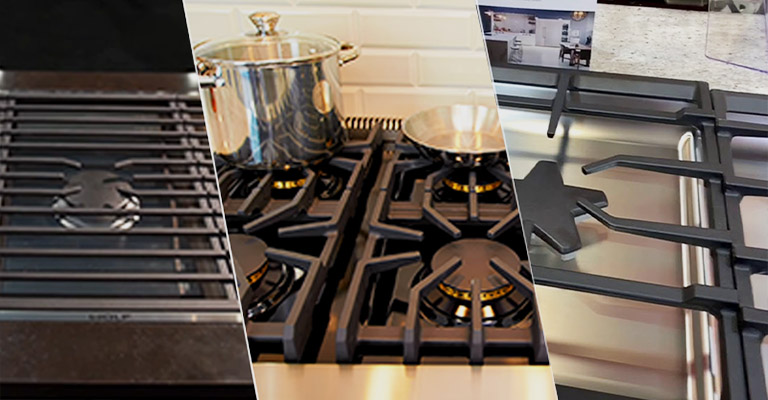 Wolf: Wolf offers a sleek and modern style with various colors to choose from. They also offer advanced cooking technology that is designed to help you cook food faster and more efficiently.
Viking: Viking offers a wide range of cooking options ranging from gas stoves to induction cooktops. It is also one of the most trusted brands on the market, with over 100 years of experience in the industry.
Thermador: Thermador offers an extensive range of products, including ovens, cooktops, refrigerators, dishwashers, ovens, and more! They are also one of the most trusted brands on the market.
Each brand has its own unique selling points and advantages that make it a better choice for particular cooking or baking needs. You might be wondering which brand is the best for you. 
You might also be wondering what the key features of each brand are and which one suits your needs. To help you decide, we have compiled a list of key features for each range.
Price
The smallest Wolf 30″ range costs around $8000, whereas the largest Wolf 60″ range costs around $21000. Wolf may be the most expensive of these three brands; however, it offers the most heavy-duty construction. The price is definitely worth it. 
There are several types of Thermador ranges, with prices ranging from $5,000 to just over $20,000. The cheapest range comes from Viking. A Viking cooktop can be purchased for as little as $4,000 up to $20,000.
Warranty
On Wolf's high-end ranges, you get a slightly better warranty. With Wolf ranges, you get a full two-year warranty and a limited five-year warranty. Ranges from Viking and Thermador come with limited warranties of two years.
Standard Features
There are some common features found on Wolf and Thermador ranges that help you with your cooking every day. These include slow-closing oven doors. Telescoping racks can be found in the ovens of Thermador ranges, and some models are WiFi-enabled.
Configurations Of Ovens And Burners
Thermador, Wolf, and Viking ranges include one or two ovens. Wolf has models with four, six, and eight burners. You can choose from Viking models with 5, 6, or 8 burners. From Thermador, you can choose from 4, 5, or 6 burners. 
Furthermore, Thermador ranges have a uniquely designed star-shaped burner that offers more jets for cooking on the stovetop.
Cooking Options
There are several different cooking options you can choose from with your gourmet kitchen, including dual-fuel, gas, and convection. You can choose between Wolf, Viking, Thermador gas, and dual-fuel appliances.
You can choose between the Wolf and Viking ranges if you prefer induction. Thermador features something unique. Among the many features offered by Thermador is a steam oven and warming drawer, which you won't find in Wolf or Viking. 
Dimensions
Your high-end oven's size will not only affect the amount you can cook but also how your kitchen will appear. These appliances are available in 30″, 36″, 48″, and 60″ widths from Wolf, Viking, and Thermador.
From these three brands, Viking has the biggest stovetop. Viking offers stovetops with 66″ widths. Only Thermador offers 36″, 48″, and 60″ models in standard and commercial depths.
Brand Expertise
Three brands have made their mark among home and professional cooks: Wolf, Viking, and Thermador. But how did these brands get their start?
Thermador revolutionized home cooking as early as 1916. It was the first company in the United States to introduce wall ovens, steam cooking, and convection ovens. The Thermador ranges come in four different widths and two different depths.
In addition to winning more than 50 awards, Viking kitchen products are known for their innovative design, excellent performance, and ease of use. Their free-standing ranges are available in Tuscany, 7 Series, 5 Series, and 3 Series, all located in Greenwood, Mississippi.
Founded in the 1930s, Sub-Zero is a company that designs refrigeration products and launched Wolf cooking appliances in 2000.
With Wolf, homeowners now have a choice of 50 different types of ranges, ovens, cooktops, and range tops from professional-grade manufacturers. Wolf appliances can be found in the finest restaurants in almost every country.
Wolf Vs. Viking Vs. Thermador Cooktop: Highlighted Features
There are many similarities between Thermador, Wolf, and Viking stovetop ranges, but each brand also has features that make it distinct from the others. We'll look at what makes each brand different.
The Best Features Of Thermador Ranges
Among Thermador's ranges, you'll find 30″, 36″, 48″, and 60″ widths, all with standard and commercial depths apart from the 30″. 
With these ranges, you can choose between dual fuel and gas operation, and you can also choose a unit with steam ovens or warming drawers.
You can pick one, two, or three ovens, along with four, five, or six burners. Each range has a special coating that makes cleaning easy. The Thermador range has a limited two-year warranty and a price range of $5,000 to $20,000.
Induction cooktop with Wi-Fi capabilities, star-shaped burners, and telescoping oven racks are some of the features we love about the Thermador.
Telescopic Oven Racks
Without sloshy juices, you can remove your bird from the oven or tip your turkey with Thermador's telescopic oven racks. The rack extends thanks to the ball-bearing rack gliding smoothly.
Wifi-Enabled Induction Cooktop
Thermador also offers wireless-enabled induction cooktops, in addition to gas and electric models. It is considered to be a safer cooking method than either gas or electricity. Furthermore, it is an efficient and precise way to cook.
Star-Shaped Burner
In addition to adding flair to the design, Thermador's star-shaped burner also produces incredible heat. Its flame pattern also gives the appliance a practical function. As a result of its star shape, the burner provides 56 percent more heat, resulting in evenly cooked food.
The Best Features Of Viking Ranges
A Viking range comes in 20″, 24″, 30″, 36″, 48″, 60″, and 66″ widths, and offers the best choice of fuel technologies – induction, gas, and dual-fuel. You can choose between one or two ovens and five, six, or eight burners with the ranges. 
The Viking range features a grill, griddles, and infrared broilers as optional features. Each range comes with a 2-year limited warranty. A basic Viking range is available for $4,000 with a similar 2-year limited warranty.
Electric Cooking
Some cooks do not enjoy cooking with gas. These individuals prefer cooking with flameless electric appliances. Viking sells flameless electric appliances.
Small Kitchen Options
Viking understands that not every home chef can afford to outfit their kitchen as per their dreams. Hence, customers of this brand can choose a slim 24-inch range that fits even small kitchen spaces.
Adding Some Color
Viking offers a wide range of colors for the stovetop so that you can add your own signature style to your kitchen. Among the many options, Lemonade, Apple Red, Iridescent Blue, and Mint Julep are just a few. It's no question that a Viking stove will make a statement.
The Best Features Of Wolf Ranges
Wolf has the most range styles, but there are only four widths and one depth. Gas, induction, and dual fuel ranges are all available. In addition, these appliances come with two to four ovens, four to eight burners, an infrared charbroiler, a French top, and an infrared griddle as options.
Self-cleaning options are available on Wolf ranges. They also offer complete warranties. Slow-closing doors are also available on Wolf ranges. Here are some of the features we like best about Wolf ranges.
French Top
A French top is exclusive to the Wolf brand. A flat plate is placed on top of an open flame. But it would help if you didn't place anything hot directly on the top of this plate. It is intended for cooks who wish to use more than one pot simultaneously and who need more space on their stove.
Cast Iron Frame
It is a well-known fact that Wolf is a workhorse brand. However, it will be easy for you to see how solid this piece of equipment is if you move one yourself. Wolf ranges have a cast-iron frame, making them durable enough to withstand years of heavy use.
Iconic Red Knobs
Within the world of cooking, the red knobs of Wolf brands are a status symbol. With this splash of color, you are announcing to the world that your kitchen has an appliance from a luxury brand.
Common Problems Of These Cooktops 
Even top-notch brands, such as Wolf, Viking, and Thermador, can sometimes experience problems. Here are some of the most commonly encountered problems with these ranges.
Poor Control Of Temperature
Ranges made by these brands have been known to fail to maintain proper temperature. If you are experiencing issues with temperature control, make sure you schedule an appointment with a professional. It may be necessary to replace the circuit that controls oven temperature.
Ovens Slow To Heat
Slow heating is a rare problem with cooktops from these brands and could be caused by a manufacturer's defect. You should schedule a service appointment with a Thermador technician if your range is slow to warm up.
Igniter Won't Spark
First, it may be necessary to first clean your igniter tip if it is not sparking. You should have a certified technician replace the igniter if the spark still does not appear after cleaning.
The Electric Igniter Clicks, And The Flame Does Not Light
There is a problem with the gas jets when your electric igniter clicks like an electric heater clicks, but the flame will not light. Remove any build-up from the gas jets by cleaning them. Contact a certified technician to have the jets changed if the problem persists.
Electrified Igniter Clicks After Flame Is Lighted
You should have your igniter checked if your electric igniter keeps clicking after the light has been produced. If your module needs to be replaced, contact a certified technician for your brand of cooktops.
Final Words
Wolf vs. Viking vs. Thermador cooktop are all three brands that offer a great product with a variety of features and great looks. They are all three popular brands in the market and have been around for quite some time. 
They all offer great looks and nice features that make it easy for you to pick the perfect one for your kitchen. You can't go wrong with any of these three brands when it comes to purchasing your cooktop.