Channeling out the air passage and maintaining the proper flow, it is inevitable to choose the apt fit for interiors and exteriors. Air cooling, ventilation, HVAC unit's outputs- all these kinds of gas materials need an unbiased pathway. The rigid duct is more preferable in terms of covering all kinds of queries, except it creates a noise effect. 
In comparative experiments for being quieter, the flex duct wins the floor. Flex ducts do have some constraints and that is where rigid ducts show flexibility. The overall discussion is in the following sections.
Flex duct vs Rigid duct
Both of the types work seemingly fine in passing the airflow. They return, regulate, supply and exhaust air. The key difference is in the configuration and the outer feature that creates variance in the preference.
All about flex ducts
Flex ducts usually come 25 feet long and the full consists of a spiral-like out layer. The spiral portion is covered with a nylon coat. Here, the duct is in a squeezed form in the beginning.
Installation
Installation of a flex duct requires some extra focus on maximizing the tension up to a threshold. Consequently, it ensures a proper pathway for the air to circulate through. If the spiral zone is not in a widely tensioned manner, the air passing through can get blocked and can lead to the high power necessary for doing the work.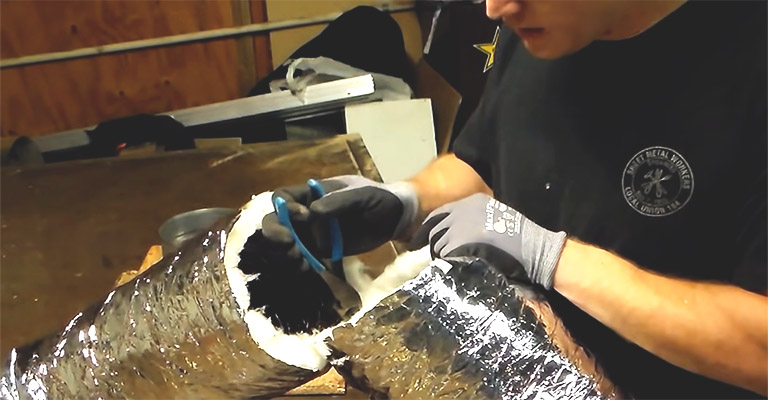 The specialty of flex ducts
Flex ducts are flexible as they can be put through any structure. These need seams very occasionally, as the spiral portions can be bent pretty easily. The ducts produce less noise while channeling the airflow.
Drawbacks of Flex ducts
As you can see, flex ducts are not visually a great choice for interiors. Moreover, there can be a risk of leakage due to improper installation, unchecked nylon holes, and many more. This unconventional can lead to hazardous consequences.
Even if it is not likely to set flex ducts in exposed areas, in crawl spaces they can fit nicely. But this is to be very careful while installing in the crawl space that these ducts don't get any defects from the installers.
All on rigid ducts
Rigid ducts come in a low length of 5 feet usually, (but can be more as well). The specification includes a sheet metal duct that is fine in radius and clear channel. 
Installation
There is a fact that 2 screws create a hinge and 3 of them make a joint. In the case of installing rigid ducts, you'll require more joints to create the route. So, installation cost rises comparatively.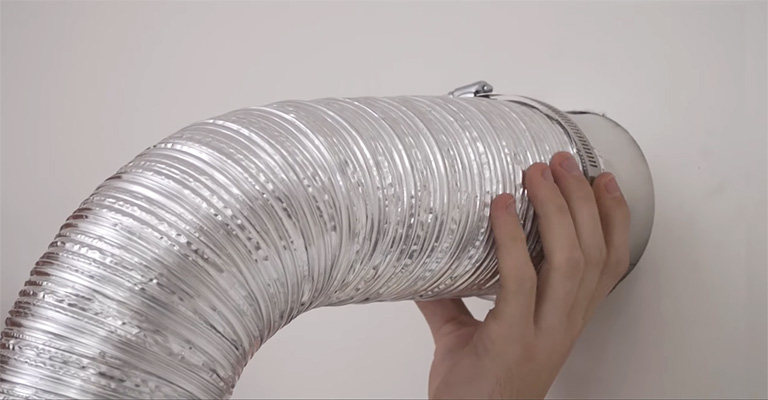 The specialty of rigid ducts
If you have a design of exposure of the ventilations, or garage, you can easily install a rigid duct. They come with a fine radius path that passes airflow without any obstacles. In case there are corners amid the route, yet it will not affect the flow.
Drawbacks of rigid ducts
Generally, rigid ducts don't have any major unconventional measure, but the metal sheet construction itself creates a noise effect. Other than that, it takes up a little more space than flex ducts.
Is flex duct quieter than rigid
The process of supplying air or revolving of air through the spiral or metal sheet holes creates sound. But comparatively, the sound from the metal sheets is much more. In this specific case, you can say the spiral duct is a fine choice.
Flex or Rigid – which one is better
According to Uniform Mechanical Code (UMC), among the changes recommended for 2018, it was said that factory-made air ducts cannot be more than 5 feet (1524 mm). As per this strict regulation, the only preferable duct left is rigid.
However, the flex ducts do have some constraints like, if not installed with good tension and wide, then the spiral construction can block the airflow. Moreover, it cannot be installed in a saggy way for it increases the quantity and hampers the process.
Rigid ducts are solid and there is no distress of having leakage and undesirable looks. It is also certified by the factory rules and regulations, we can say it is better because it can take up any kind of gas form better than nylon coated flex ducts.
All it can be said, if your preference is based on noise pollution then, you better go for the flex ducts, then again it is not an appropriate fit for the interior rather it works great in crawl spaces.
FAQ
Does flex duct reduce airflow?
Flex ducts can reduce airflow, in the bent corners where often air flows get a barrier or the bent is not evenly managed.
Can I combine flex duct and rigid duct?
Yes, you can combine both the ducts and this can solve a lot of problems. But this hybrid convention can often lead to confusion to figure out the specific location of problems.
Does Air Sealing Attic Make A Difference?
Air sealing the attic is a common practice for homeowners, but there is actually no evidence of whether or not it actually makes any difference in your energy consumption.
Conclusion
Flex duct has positive remarks alongside the rigid duct, but the preference still differs in a lot of aspects. Either way, the flex ducts are already on the floor to aid and to many, it's a first preference for being quieter.