Your home needs a floor that is visually appealing and durable to make it comfortable, stylish, and elegant. If you want the luxury appearance of wood in your new home, vinyl is a great and affordable option.
Flooring like this dates back to the 1930s. Many American homes now have them as a flooring option due to their elegant design and low cost.
Their appearance and feel are similar to hardwood floors. It is an excellent alternative to ceramic tiles and hardwood floors. In addition, the flooring is economically affordable. When your budget is tight, but you want hardwood floors, vinyl will be an excellent substitute.
The two main types are described below.
Engineered Vinyl Plank Flooring (EVP)
Luxury Vinyl Plank Flooring (LVP)
LVPs and EVPs are two types of vinyl. Engineered Vinyl Plank or EVP is composed of polymer composite wood or stone. LVP or Luxury Vinyl Planks are made from polymer vinyl chloride or plastic.
Is EVP Flooring Better Than LVP
EVP flooring is made with a superior core material than LVP, which makes it the best flooring around. The durability and quality of an EVP plank is unmatched by other types of flooring.
There are many benefits to choosing EVP over other types of floors, such as sustainability and easy care maintenance. If you're looking for a long-lasting and high-quality surface, choose EVP.
What Is LVP Flooring?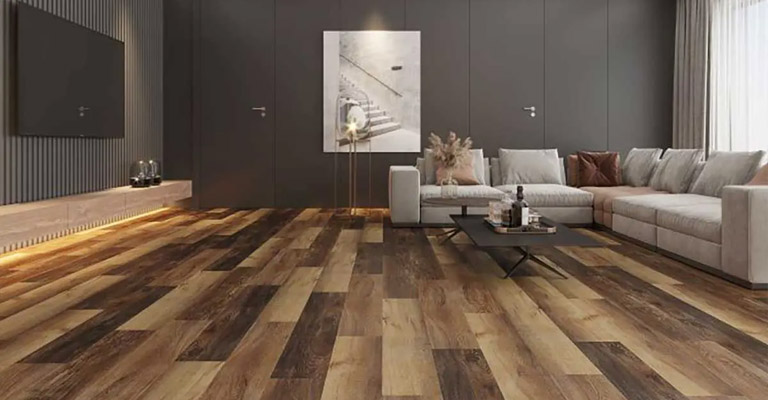 Luxurious vinyl planks are referred to as LVPs. This type of floor is not only functional but also aesthetically pleasing.  Decorative designs that mimic natural hardwood are embedded in richly compressed vinyl layers. LVP offers a traditional, luxurious look without breaking the bank.
It can be used as an alternative to hardwood flooring since it is waterproof. A four-layer construction makes it similar to EVP.  There is also an upper layer, a decorative layer, a core layer, and a base film.
EVP and LVP look similar. If you observe LVP's simple design, you'll be confused, but that shouldn't be the case since the two have vastly different performance characteristics.
What Is EVP Flooring?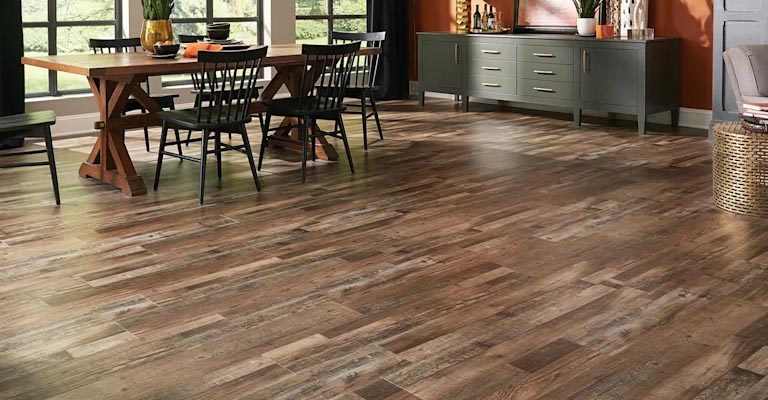 EVP stands for Engineered Vinyl Plank, a building and construction term. It is a type of luxury vinyl flooring (LVP) that is commonly used on many floors. Because of its stability, durability, and ease of installation, it has become a favorite material among many contractors and homeowners.
EVP is a hybrid material that combines laminated planks and vinyl planks, but their materials are more rigid than traditional vinyl. You need to understand how it works to fully appreciate it. The floor is made up of four layers.
Separating your core from your floor is the purpose of the base film. It is not included with some EVPs. The installation procedure varies depending on the type of EVP. Pricing for EVP is not affected by the base film. In most cases, the bottom of the plank has a thin layer of rubber attached to it.
Among engineered vinyl planks, the core film or layer is the most important component. Among these, there is a wood composite and stone composite layer. 
This first one uses filtered sawdust which reduces sound and offers warmth, but the second use limestone for a firmer floor. A solid core film is guaranteed to help seal any sub-flooring imperfections due to its thickness and rigidity.
Decorative/Design Coating
This decorative coat can be seen beneath the wear layer on the top. Various decorations can be seen according to flooring configurations. Normally this layer is made from vinyl and resembles wood or stone. 
It has distinctive appearances that provide a realistic appearance to its floor material.  Some manufacturers offer you the best natural and appealing looks possible thanks to 3D images.
EVPs are coated with plastic; a transparent protective layer called a wear coat.  A heavy-duty wear layer is characteristic of EVP, unlike LVP. Veneer is the term we also use to refer to that protective layer.
Your floors will be protected from damage when you use this mat regularly. A veneer coat's depth determines how much an EVP will cost, but it is found that all EVPs are covered.
EVP Vs. LVP | Which One Is Better?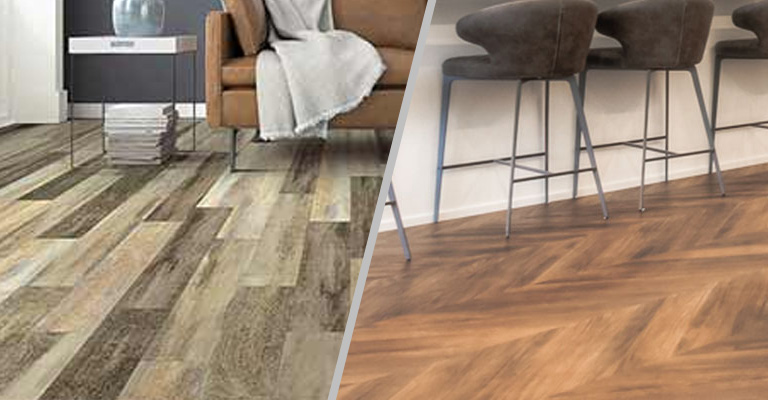 The floor of your home must be durable and visually appealing to make it comfortable, stylish, and elegant. You can achieve these goals with vinyl floors. LVP and EVP flooring are examples. These types of floors are different from one another.
Weight
SPC or WPC is the material used in EVP flooring, whereas LVP is a polymer vinyl chloride material. The materials are both heavy, thus the heavyweight. 
The vinyl chloride plastic is lightweight and plastic. Installed over lightweight LVP, EVP stays steady on the floor due to the heavier core material. Therefore, EVP works better for floors.
Home Reselling
EVPs are high-quality and reliable products, as we have noted. Generally, homes with Engineered Vinyl plank flooring will sell for a higher price than those with Luxury Vinyl flooring. 
There are many reasons for choosing EVP flooring: cost, durability, and the fact that EVP material is highly resistant and not affected by climate change. EVP flooring has a higher quality rating than LVP among prospective homebuyers seeking quality.
Price
In most cases, quality is the fundamental determinant when it comes to price, even though manufacturers price their products differently. LVP has problems with quality. EVP takes the lead on all materials, including the base, core, and wear layer. Prices for EVP are higher than for LVP. The cheapest options are LVP floors.
Heat Insulation
A core layer's ability to insulate heat depends on its material. The material used for LVP is polymer vinyl, while EVP consists of high-density boards and other materials. It is not economical to use polymer vinyl as an insulator. 
HDF and MDF provide an adequate degree of insulation. This is why you'll notice the difference when you walk on an LVP floor or an EVP floor. The EVP insulation performs better in cold weather compared to the LVP.
Water Resistance
Both EVP and LVP are resistant to water. Water cannot penetrate the core of vinyl thanks to its waterproof properties. The wear layer of the EVP floor prevents any fluids from leaking through, which makes it superior to both floors. A lower degree of waterproofing is provided by LVP compared to EVP.
Durability
Floors made of EVP are very durable. The EVPs are made from the core material. Physically, you probably won't notice a difference between the two, but the vinyl planks have a different base. Multilayered structures with a transparent wear layer, decorative layer, and optional structural base layer.
EVP flooring is made up of a vinyl core and a rigid core. LPV flooring is missing. EVP flooring offers both SPC and WPC flooring solutions as noted earlier. Both of these materials have high durability.
Maintenance And Repair
It is necessary to treat EVP floors and LVP floors differently when it comes to maintaining them. Here is an overview of EVP flooring. This flooring is waterproof. It will not be damaged by prolonged exposure to water. 
In addition to the ability to withstand traffic impacts, EVPs are also suitable for public spaces such as offices and shopping areas. EVP floors are impact-resistant as well.
In contrast to EVP, LVP has a water-repellent surface but lacks EVP's durability. Floors are also affected by high temperatures and water. It features an easy maintenance and repair process but is not as easy to maintain as EVPs, which can be compared to LVPs.
Aesthetics And Appearance
It is hard to understand the pair's aesthetics and appearance. LVP and EVP look the same. Their appearance is similar to that of hardwood flooring. It feels the same underfoot, but not just because of the material. Furthermore, the EVP is the topcoat type whereas the LVP is the bottom coat type.
Which Is Better: EVP Or LVP?
How long your flooring material will stay intact and how comfortable you feel will be determined by your flooring material choice. EVP and LVP both have a classic, elegant feel. They both have a great texture and visual appearance, but they differ in quality.
A core layer formed by EVP combines high-quality materials including SPC and WPC to provide impact resistance. The material has the properties of insulation, soundproofing, and stability. Wear layers are made of plastic coatings that are scratch and water-resistant.
LVP is constructed from polymer vinyl chloride materials that are too thin to provide durability and resistance to wear. It cannot resist sound because it is not a heat insulator or an acoustic material. It cannot withstand water for too long.
At a glance, EVP is a better flooring product, though it is expensive and does not match uneven floors well. EVP flooring is a good choice if you are looking for elegance, style, and durability.
Final Words
Having read through our guide, you now know what the differences are. With EVP floors, you can enjoy a look that resembles hardwood floors for decades.
EVP floors are usually the most expensive, but they are easy to maintain. Perhaps you should consider LVP if you list budget as your top priority. Be wise and choose a dependable and durable flooring option.
Also Read-