Using thinset on tile in a Redi niche can be done in a number of different ways. Thinset, which is a mortar that you mix with water, can be used instead. Premixed thinset is another option that is a little easier to work with. Epoxy thinset is another choice; it's a strong glue that can be used on both walls and floors.
Redi Tubs has a niche made for thin-set mortar. This makes installation easier and provides a more secure grasp. Some people, however, may discover that this product is not always accessible or in the correct hue. Other options exist in this situation.
Tile Thinset
Thinset is inorganic and made up of materials mined from the earth. It is available in two forms: wet, pre-mixed, and dry, powdery. Thinset is also available in two versions: unmodified and modified. 
Portland cement, sand, and water retention additives make up unmodified thinset. Modified thinset comprises the same ingredients as regular thinset, plus liquid latex polymers for added strength and working time.
Pros of Thinset on Tile Redi Niche
Thinset is a more durable substance than mastic, so it's a better choice for horizontal applications like floors that get a lot of use.
Thinset made from dry ingredients is inexpensive and convenient to use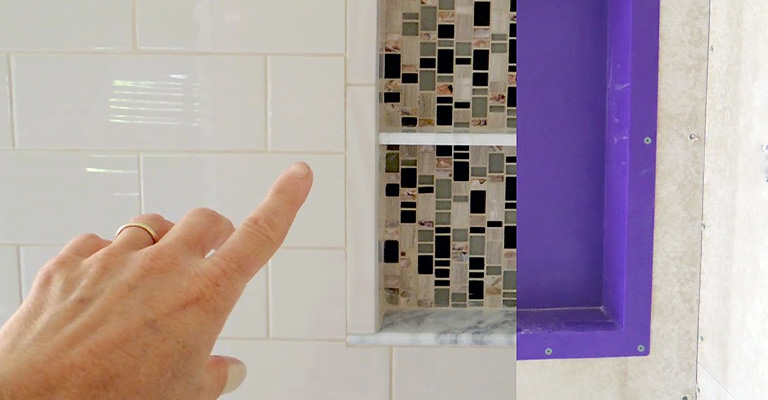 Cons  of Thinset on Tile Redi Niche
Excess thinset must be discarded because it can't be kept.
Thinset dries slowly, and vertically applied tile may droop during this time.
During demolition, removing the thinset requires a lot of labor.
A layer of cement board or equivalent is typically utilized as a backing when employing thinset on surfaces other than concrete. In comparison to wood or drywall, the bonding is much superior. Because of the extra step necessary, this could be called a "negative."
Tile Mastic
Mastic is a broad term that refers to tile glues that are easy to apply. Mastic was formerly an organic plant-based resin derived from the Pistacia lentiscus shrub, and its name is derived from the word masticate, which refers to its sticky, gummy quality. 
Today, the term mastic is rarely used, and finding tile adhesives that fall under the mastic umbrella at your local home center is challenging. One of the few exceptions is Henry 314 Ready Set Premixed Mastic Adhesive, which actually contains the word mastic.
Pros of Tile Mastic
Because it adheres well, tile sagging on vertical surfaces is reduced while curing.
It is possible to preserve unused mastic.
Tile mastic makes it comparatively easy to remove the tile when it's time to dismantle it.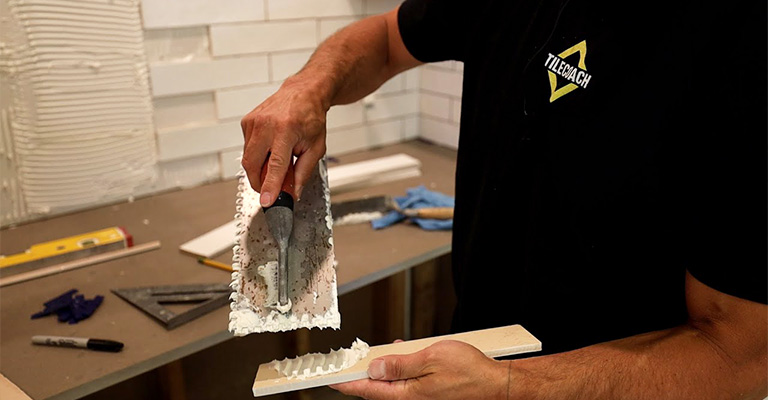 Cons of Tile Mastic
Because of Mastic's quick-grab feature, fixing misaligned tiles is tough.
In high-moisture situations, mastic cannot be utilized.
Mastic has a strong odor.
Epoxy grout
Between the tiles, epoxy grout forms a sturdy barrier. Epoxy resins and filler material are the main components of this grout, which chemically react to form the grout substance.
Pros of Epoxy grout
Epoxy grout is a chemically resistant, extremely strong, and long-lasting material that can last a lifetime.
Mold and mildew cannot grow on it because it is non-porous. This makes epoxy grout ideal for spaces like bathrooms and kitchens that are susceptible to water damage.
Epoxy grout is stain-resistant, low-maintenance, and easy to clean. The nicest feature about this grout is that it cleans up simply with a moist cloth or a wet sponge.
Another advantage is that epoxy grout comes in a variety of colors. Choose a color that matches the tile color to produce a neat and seamless look.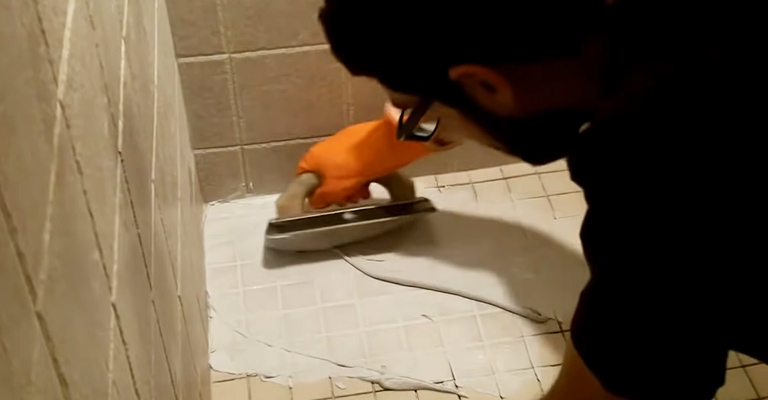 Cons of Epoxy grout
Epoxy grout is a little more difficult to work with since two or three components must be combined in the proper quantities before application. It's best to hire an experienced contractor for the project.
Epoxy grout takes longer to set than traditional cement grout.
The material and installation costs are also expensive.
Another disadvantage of epoxy grout is that it may become yellow over time if exposed to sunshine.
The look of epoxy grout is slightly plastic.
Areas of application
Non-porous tiles, such as porcelain or ceramic, are best for this material since the grout does not absorb into the tile. This grout should not be used on stone or porous tiles because it may penetrate the tile and cause harm. 
Epoxy grout is best for indoor tiles and should not be used outside due to the possibility of the grout discoloring due to prolonged exposure to sunshine and UV radiation.
Organic Mastic
Organic glue, also known as mastic, is the oldest tile adhesive still available today. Mastic is typically used for ceramic tiles, but there are compounds for both wall and floor applications. 
Mastic is pre-mixed and requires some talent and timing to work with. Ceramic tiles require mastic, which must be put rapidly to avoid the adhesive capabilities of the mastic being lost due to early drying.
Uses of Mastic
Ceramic and porcelain tiles can be installed on walls and floors using mastic. The correct sort of mastic for the job should be chosen with care. New mastics that can hold tiles up to 16 inches in size to walls and ceilings are now available. Spread the mastic fast and twist the tiles into place to work with it. 
Determining the Product
Mastic is the superior choice when installing a small area of ceramic floor or wall tiles. The glue is pre-mixed, requires no water, and will keep the tiles in place without the use of any additives or beating.
FAQ
Can you use thinset on drywall?
Ans: Thinset works best when applied to a porous surface that doesn't require any preparation, such as fresh drywall or backer board, but it may also be used on painted walls or tiles that are level and in good shape if the shiny finish is removed. Use the thinset mortar recommended by the tile maker.
What is the best adhesive for tile on tile?
Ans: A regular thinset mortar or epoxy tile mortar is the ideal adhesive for porcelain tiles. Epoxy tile mortar is a little more difficult to work with than pre-mixed glue, but it's worth it if your space is constantly damp.
What is tile adhesive made of?
Ans: Tile mastic is a sticky glue that comes in tubs that have already been blended. It's basically acrylic glue that's based on water. It can make your tile sticky if not sticking. It's suitable for dry environments, unlike thinset, because it's not moisture or heat resistant. The material is simple to work with and clean up.
What is tile adhesive made of?
Ans: Tile mastic is a sticky glue that comes in tubs that have already been blended. It's basically acrylic glue that's based on water. It's suitable for dry environments, unlike thinset, because it's not moisture or heat resistant. The material is simple to work with and clean up.
Last words
If you're installing tile in a Redi Niche, you might be asking if thinset can be used. Thinset is not suggested for tile Redi Niches. You can use epoxy grout, organic mastic, or tile mastic as alternatives.